Georgia River Network News Stream
September 2011

News
1. GRN Seeks Development Director
2. Will Your Grandkids Have Water?
3. The Alabama Water Agenda
4. Georgia River Network Regrants -Focus on Altamaha Riverkeeper
5. Nominate Your River for America River's America's Most Endangered Rivers

Workshops/Conferences/Calendar Items
6. Adopt-A-Stream Workshop at Southern Regional Water Conference
7. Ogeechee Riverkeeper's 4th Annual Rivers Rock!
8. Upper Chattahoochee Riverkeeper's Patron Appreciation Dinner
9. Hemlockfest 2011
10. Fall Paddle on the Ocmulgee River
11. Flint Riverkeeper Lower Watershed Membership Meeting & Awards Ceremony
12. Flint Riverkeeper Taste the Flint Lower Flint Paddle Trip

Grassroots Spotlight
13. Upper Etowah River Alliance

Nonprofit Resources
14. FAQ: Burnout
15. When Kids Volunteer
16. 11 Spam Words to Avoid in Your Subject Lines
17. Delight your Facebook Fans!

Fundraising Deadlines
18. Grant Opportunities

*******************************************************************
1. GRN Seeks Development Director
Georgia River Network seeks a full-time Development Director as part of our growing team working to protect and restore rivers and streams across Georgia. To learn more about the position, click here.

2. Will Your Grandkids Have Water?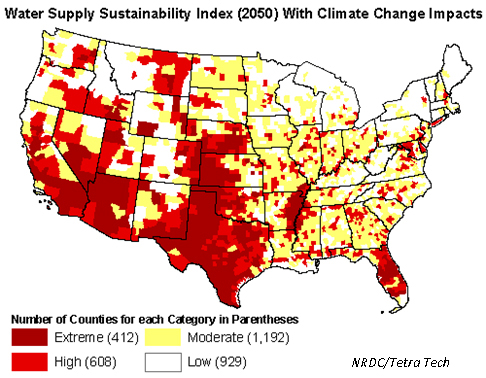 This map is one of the scariest maps we've seen. As our world warms, more than 400 U.S. counties are at extreme danger of running out of water by 2050, including much of the West -- but also many metropolitan areas east of the Mississippi. (With Texas, Oklahoma, New Mexico and Arizona already suffering record droughts, massive wildfires and enormous dust storms, we wonder if the USGS timeline may not be too conservative!) Looking at the map, one might be tempted to just move to the "water-rich" headwater areas in the Rockies, the North Woods or the Appalachians.

3. The Alabama Water Agenda
Recently, Alabama River Alliance and the Southern Environmental Law Clinic released an updated water agenda and recommendations to the state government of Alabama. The following are the four key points of the water agenda.
a. Water Policy-The Alabama Legislature should adopt a state wide comprehensive water management plan to protect water quality, water quantity, public health and ensure healthy ecosystems.
b. Enforcement-The laws to protect the water of Alabama are meaningless without adequate enforcement. Enforcement actions and fines should be increased to deter violations.
c. Agency Coordination-Currently seven state agencies oversee water issues in Alabama. The state should seek transparency between the agencies with the single goal of protecting the state's water resources.
d. Funding- State programs that monitor and protect Alabama's waters are grossly and chronically underfunded. The state legislature should provide responsible funding through the General Fund or other alternative funding options.

Click HERE to view the The Alabama Water Agenda.

4. Georgia River Network Regrants--Focus on Altamaha Riverkeeper
This year, the Georgia River Network Turner Regrant program awarded $40,000 in funds to local watershed groups. This month we share highlights from the work of Altamaha Riverkeeper. In 2010, Altamaha Riverkeeper (ARK) worked with citizens and volunteers and consulted with over 35 organizations on issues involving flow, pollution, permits, enforcement, comments on triennial review changes, coastal pollution and more. And, ARK participated in over 40 cases of enforcement work. In 2011-2012 ARK received a grant to focus legal and technical attention on unresolved issues affecting the Altamaha River, mobilize citizen concerns, and make progress on improving water quality. Among the many issues that continue to face the river, is the ongoing issue with pollution from the Rayonier plant. "Fish caught downriver from Rayonier don't smell like fish," said Deborah Sheppard, executive director of the Riverkeeper. "They taste and smell like the discharge from the mill." To learn more about their work on the Rayonier Plant, click HERE.

5. Nominate Your River for America River's America's Most Endangered Rivers
Every year, American Rivers generates a list of America's Most Endangered RiversTM. Ten rivers are selected each year for inclusion in the list, not because they are the most polluted, but rather because they are facing a turning point in the coming year that could negatively impact the river into the future. Rivers are selected based upon the following criteria:
· A major decision (that the public can help influence) in the coming year on the proposed action.
· The significance of the river to human and natural communities.
· The magnitude of the threat to the river and associated communities, especially in light of a changing climate.

The nomination form is available electronically HERE. Nominations will be due on November 1, 2011. To view the 2011 report, click HERE.

6. Ogeechee Riverkeeper's Rivers Rock!
Join Ogeechee Riverkeeper for the 4th Annual Rivers Rock! celebration for clean water. Thursday October 6, 7pm at Moon River Brewery in Savannah, GA. This event will feature craft beer by Moon River, music by Asheville NC's Now You See Them, great food and a silent auction.

This year "Rivers Rock!" will benefit Ogeechee Riverkeeper. Ogeechee Riverkeeper actively works to protect the Ogeechee, Canoochee and coastal rivers and is a Waterkeeper® Alliance member organization. Click HERE to register.

7. Upper Chattahoochee Riverkeeper's Patron Appreciation Dinner
Upper Chattahoochee Riverkeeper presents its 17th Annual Patron Appreciation Dinner on Thursday, Sept. 15, at The Foundry (916 Joseph E. Lowery Blvd., Atlanta GA, 30318). Honorees include River Guardian Award winner the law firm Smith, Gambrell & Russell, Tom Noonan, the Upper Chattahoochee Chapter of Trout Unlimited, Darryl Haddock of the West Atlanta Watershed Alliance, and the late Gandy Glover. Tickets $100. Reception 6:30 p.m., dinner and program 7:30 p.m. Call 404-352-9828 or visit www.Chattahoochee.org.

8. HemlockFest 2011
HemlockFest will be held at Starbridge Sanctuary, near Dahlonega, November 4th, 5th and is an all-ages, eco-friendly event featuring three days of live music, primitive camping, educational exhibits, arts and crafts vendors, a kid's nature village, rustic living demonstrations, great food, and free canoeing. Day and weekend passes will be available, and admission is free for kids (ages 15 and under with a supervising adult ticketholder).

HemlockFest proceeds aid efforts to minimize the impact of the non-native hemlock woolly adelgid parasite, which is devastating the hemlock trees of North Georgia at an alarming rate. HemlockFest has affected the raising of more than $100,000 to support predator beetle rearing labs at area colleges and universities. This effort to introduce predator beetles, which feed on hemlock woolly adelgids, and are a safe and effective biological control, may help to save our native forests and preserve our quality-of-life.

Visit the website at www.hemlockfest.org or call the Hemlock Hotline at (706) 867-5157 for more information about HemlockFest, the hemlock crisis, or to volunteer. For information on how to participate in this even as an exhibit, call 706-265-5282.

9. Fall Paddle on the Ocmulgee River
Family Friendly, 3 Day Fall Paddle and Camping Trip on the Ocmulgee River scheduled for Friday, October 7, Saturday, October 8, and Sunday, October 9th! Everyone Welcome! The Georgia Canoeing Association, The Georgia Conservancy and Pulaski Rivers Alive are hosting a 3 day Fall Paddle and Camping Trip on the Ocmulgee River at Mile Branch Landing in Hawkinsville, GA October 7-9. Tent camping (no fee) is available with restrooms, hot showers, barbecue pits, and 2 covered pavilions with electricity and water. Each day will provide a different paddle with free shuttle service. Friday's Paddle from Dykes Landing, Bleckley to Mile Branch Landing, Hawkinsville is 14 river miles. Saturday's paddle from Mile Branch Landing, Hawkinsville to Sandy Hammock (almost in Wilcox County) is 14 river miles. Sunday's paddle from Mile Branch Landing, Hawkinsville to a private landing is approximately 5 ½ river miles. Come all 3 days or just 1! There is a $20 one time donation for river park improvements. The Fall Paddle and Camping Trip is all part of an effort to help promote the new 54 mile Blueway from Twiggs County to Pulaski County on the Ocmulgee River. For more information or to register for the paddle please contact: Marie Short of the Georgia Canoeing Association at (404) 202-9546 or email mail4marieshort@bellsouth.net. You can also contact Chuck Southerland of Pulaski Rivers Alive at (478) 892-5489 or email pulaskiriversalive@comsouth.net

10. Flint Riverkeeper Lower Watershed Membership Meeting & Awards Ceremony
Date:Wednesday, October 5th
Time:11:30am to 1pm at the historic Bridge House in downtown Albany
Where:112 N. Front St., Albany, GA 31701
Cost:$10 lunch
Call 229.435.2241 to reserve your space.

11. Flint Riverkeeper Taste the Flint Lower Flint Paddle Trip
Date:Saturday, October 8th
Time:9am
Where:Meet at GA Hwy 37 Bridge/Newton Boat Ramp
This 4+ Hour Trip to Covey Rise Plantation includes shuttle. Bring a lunch!
Space is limited, reservations are required, canoes and kayaks available.
Register via PayPal at www.flintriverkeeper.org OR call 229.435.2241 for more details and to reserve your space on this great paddle trip!

12. Upper Etowah River Alliance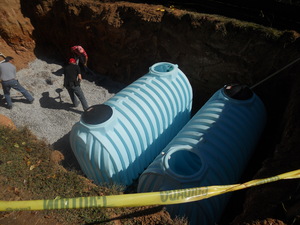 Neat things are happening in Georgia!

The Upper Etowah River Alliance (UERA) and the City of Canton have completed a project to reuse rainwater for the general operations of one of the fire stations in the city through the installation of underground cisterns. Through this project, the City and UERA are demonstrating various methods that can be used to collect rain water and use it instead of treated water in locations where treated water is normally used--like in toilets, on landscaping, and for washing fire trucks. This project has been funded by a federal 319 grant (UERA's,) the World Wildlife Fund and the Nature Conservancy and will demonstrate the cost savings and practicality of collecting and using rain water.

Fire Station #2 was chosen as the project site because of its high visibility in the community. A significant portion of the 6,800 sq. ft. roof area generates 4,200 gallons of water in a 1-inch rain and 210,000 gallons of water a year. This water runs into four 1,700 gallon cisterns located in the ground in front of the fire station. From the cisterns, the water is pumped into the building where a supply is filtered, purified with ultraviolet light and stored in a tank until needed.

Thanks to this system, Firestation #2 used rainwater exclusively in their toilets, truck washing station and for their landscaping between November and June in 2010-2011! For more information, email Diane Minick at dianeminick@msn.com.

13. FAQ: Burnout
Each month, Jesslyn Shields, Georgia River Network's Watershed Support Coordinator, answers a question she gets asked a lot by river group staff and boards. Here's this month's question:

Q: I've worked for a river group for several years, and even though I love the river I work to protect, I'm having a lot of bad days at work, I'm exhausted all the time, I feel constantly stressed about the sheer volume of work I have to do and the lack of funding to do it! I want to work to protect rivers, but working here is really starting to get to me. Do you have any advice on how I can balance my work with my sanity?

Click HERE to read Jesslyn's answer.

14. When Kids Volunteer
Make sure you know how to deal with your littlest volunteers!

15. 11 Spam Words to Avoid in Your Subject Lines
Click here to read the article.

16. Delight Your Facebook Friends Without Spending Money!
What can you give your organization's Facebook Friends?
17. Fundraising Deadlines
The following foundations are either new to our list of grants or have upcoming deadlines to submit proposals. To view grant makers that give throughout the year, visit the grants page of our website HERE.
• AEC Trust Technical Grants are made to charitable organizations seeking technical assistance. Click here for more details. Deadlines: April 1 and September 1.
• AGL Resources support environmental stewardship projects such as clean air, conservation, & green space. Unsolicited grants are welcome but are rarely approved. Deadline: Quarterly. Click HERE for more details.
• Ben and Jerry's Foundation provides grants ranging from $1,000 - $15,000 for grassroots organizing that leads to environmental change and addresses the root causes of environmental problems. Letters of inquiry may be submitted at any time and are reviewed three times a year. Click here for more information.
• The mission of the Educational Foundation of America is to improve individual lives and their surroundings through education and awareness, in hopes of bettering humanity and the world we inhabit. The Foundation's areas of interest include the environment, reproductive freedom, theatre, drug policy reform, democracy, peace and national security issues, education, medicine, and human services. Letters of inquiry may be submitted by email at any time. Visit www.efaw.org.
• Environmental Protection Agency: Source Reduction Assistance Grant Program EPA annually awards grants and cooperative agreements under the Source Reduction Assistance (SRA) Grant Program to support pollution prevention/source reduction and/or resource conservation projects that reduce or eliminate pollution at the source. The grant program does not support projects that rely on reducing pollution by using recycling, treatment, disposal or energy recovery activities. This solicitation announces that EPA's Regional Pollution Prevention (P2) Program Offices anticipate having up to $130,000, per region, to issue SRA awards in FY 2010. EPA will issue the awards in the form of grants and/or cooperative agreements. All funding will be awarded and managed by the EPA Regional P2 Program Offices. All of the forgoing estimates are subject to the availability of Congressional appropriations. Click HERE for more information.
• The Home Depot Foundation makes grants to 501(c)(3) tax exempt public charities for several purposes including community cleanup. Grants typically range from $10,000 to $50,000. Preference is given to proposals that encourage volunteerism and community engagement that result in the restoration or conservation of community and wildland forests for a healthier environment that address one or both of the following: restore urban or rural forests for environmental and economic benefit using community volunteers in planting and maintenance efforts, promote sustainable forestry management to ensure responsible harvesting and use of wood resources. Proposals are accepted throughout the year, and grants are awarded four times a year. Visit www.homedepotfoundation.org.
• The Impact Fund awards grants to non-profit legal firms, private attorneys and/or small law firms who seek to advance social justice in the areas of civil and human rights, environmental justice and/or poverty law. They seek to provide funding for public interest litigation that will potentially benefit a large number of people, lead to significant law reform, or raise public consciousness. The Impact Fund has awarded over $4 million in general and donor-advised grants, since its inception. The Impact Funds awards grants four times per year, with the average grant size being $10,000 - $15,000. The maximum grant amount awarded to any single applicant per year is $25,000. Pre-applications reviewed 4 times a year. Click HERE for more information.
• Ittleson Foundation supports innovative pilot, model and demonstration projects that will help move individuals, communities, and organizations from environmental awareness to environmental activism by changing attitudes and behaviors. Initial letters of inquiry due by April 1st or September 1st. Click HERE for more information.
• L.L. Bean and the American Canoe Association have teamed up to sponsor the Club Fostered Stewardship Program, which provides grants for projects that protect, maintain or restore recreational waterways, provide for or improve public access, or enhance safe navigation. Eligible projects include: Cleaning up waterways, Clearing in-stream safety hazards, Maintaining access areas, Erecting signs and controlling erosion, Establishing and maintaining paddle trails, Acquiring threatened access points, Provide sanitary facilities. Grants range from $100-$1000. Click here for more information visit.
• Mead Westvaco Foundation's primary focus is to enhance the quality of life in communities where MeadWestvaco has major operations and where MeadWestvaco employees and their families live and work. This includes providing direct grant support and encouraging active management and employee leadership involvement and volunteerism. Priorities for contributions in small and/or rural communities, where there are fewer sources of contributions, often address a broad range of needs. Support for urban communities is generally more targeted. Additionally, the Foundation seeks to provide leadership for advancing research, education and public dialogue on public policy issues of special interest, such as the economy, regulation and environmental stewardship. Proposals for grants are accepted throughout the year. Grants range from $250 to $10,000. Click here for more information.
• The mission of the National Fish and Wildlife Foundation is to sustain, restore, and enhance the nation's fish, wildlife, plants, and habitats. Through the Keystone Initiatives Grants Program, the Foundation awards matching grants in the categories of bird conservation, fish conservation, marine and coastal conservation, and wildlife and habitat conservation. Prospective applicants should contact the targeted category's Keystone Director to discuss project ideas prior to submitting requests in order to help ensure the relevance of funding requests. The upcoming preproposal deadline is September 1, 2011; full proposals are due November 1, 2011. Visit the Foundation's website HERE.
• Norcross Wildlife Foundation provides funding for equipment and publications. Grants range from $1,000 - $5,000. Visit www.norcrossws.org
• The Jessie Smith Noyes Foundation promotes a sustainable and just social and natural system by supporting grassroots organizations and movements committed to this goal. The Foundation provides support to organizations nationwide in the following funding categories: Protecting the Health and Environment of Communities Threatened by Toxics; Advancing Environmental Justice; Promoting a Sustainable Agricultural and Food System; and Ensuring Quality Reproductive Health Care as a Human Right. Applications are accepted throughout the year. Visit www.noyes.org.
• Techsoup - Discounted Computer Software Click on this website to purchase computer software at great prices. Must be 501c3. www.techsoup.org.
•The mission of the TKF Foundation is to provide the opportunity for a deeper human experience by supporting the creation of public greenspaces that offer temporary sanctuary, encourage reflection, provide solace, and engender peace and well being. The Foundation's Open Spaces Sacred Places National Awards Initiative funds the development of significant open spaces that are designed to address critical human factors related to the physical, mental, and spiritual wellbeing of individuals living in challenging urban environments. The current Request for Proposals (RFP) launches the first phase of the program and will provide funding for up to ten planning grants of up to $50,000 that support design and research studies to understand the impact of contemplative greenspace on urban dwellers. Eligible projects must have both an institutional and a community-based partner. The application deadline for planning grants is September 1, 2011. Visit the Foundation's website to learn more about the National Awards Initiative and review the RFP.

Join Georgia River Network!
If you find News Stream and other information and services provided by Georgia River Network useful, we would appreciate your financial support! Visit www.garivers.org and join today!

To be removed from this list, send an email requesting removal to info@garivers.org.