View the entire pdf of the August Print Edition of Confluence by clicking here.


Turner Regrants Awarded
Flint River Bill Threatens Rivers, Property Rights
Paddle Georgia: After 900 Miles of Georgia Rivers, the Flint Still Astounds
Chattahoochee Hidden Gems River Trip
Join GRN for the Remaining Hidden Gem Paddles
Group Spotlight: Savannah Riverkeeper
Save the Date - Percentage Night for GRN at Terrapin Brewery
Use Your Kroger Plus Card to Earn Rewards for GRN
Help Us Raise $36,000 for Georgia Rivers
Etowah River Users' Guide - On Sale Now!
Wish List
Take the 2013 Paddle Challenge
GRN Photo Contest
Get GRN News in our RSS Feed
---
Turner Regrants Awarded

Thanks to support from the Turner Foundation, Georgia River Network was able to re-grant funds to grassroots groups protecting Georgia's rivers. Grants were awarded to the following organizations:

Eleven applications totaling $72,966 were received. Five grantees were awarded a total of $40,000.
1. Altamaha Riverkeeper
To continue work to improve the revised NPDES waste water permit for Rayonier.
2. Chattooga Conservancy
To launch a Get the Dirt Out of Stekoa Creek campaign.

3. Coosa River Basin Initiative
To analyze local water conservation efforts, monitor land development and water supply development, and establish a fish monitoring program.
4. Ogeechee Riverkeeper
To appeal King America Finishing's permit, if issued as written, and continue the Clean Water Act citizen's suit against King America Finishing.
5. West Atlanta Watershed Association
To engage citizens in creating an environmental justice analysis of environmental and community health conditions in the Proctor Creek Watershed.
---
Flint River Bill Threatens Rivers, Property Rights

During the 2013 legislative session, a bill - SB 213 - was introduced as an attempt to revise the Flint River Drought Protection Act of 2000 (FRDPA), which originally set up an irrigation auction to address historic low stream flows. The best parts of SB 213 were designed to manage flows in the lower Flint River's tributaries to benefit farmers and endangered species. But even the best revisions were threatened by a poison pill: a dangerous and expensive scheme that threatens to alter fundamental property rights and long-standing Georgia water rights law.
This hugely expensive, billion-dollar scheme proposes to pump water from southwest Georgia rivers or shallow aquifers into wells drilled into deep aquifers, and then pump it back into creeks or rivers, through a process called aquifer storage and recovery or ASR. The water will then be allowed to flow to Florida – while Georgia farmers and other property owners are denied reasonable use of it. This scheme is designed to provide a water trade that will allow Georgia to meet river flow requirements into Florida while allowing Metro Atlanta to use more water and send less downstream. The cost is extremely high - project documents estimate the cost to be between $900 million and $1.2 billion to install approximately 150 wells - and cost an additional $1 million per day in operations and maintenance. Metro Atlanta utility ratepayers, who already pay the highest water bills in the state, were proposed to cover the costs. Read the entire story about the Flint River bill on page 6.
---
Paddle Georgia - After 900 Miles of GA Rivers, the Flint Still Astounds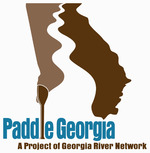 An excerpt from the Paddle Georgia Blog, by Joe Cook: Another Paddle Georgia is in the books. This year more than 370 people participated, covering 106 miles of the Flint River over seven days, and, as always, having one great time.

I can't remember when a river left me so astounded. The Paddle Georgia Navy has now covered more than 900 miles of Georgia rivers. In scouting for these various trips, the Georgia River Network staff has logged at least another 2000 miles. With all these miles under our belts, you'd think you've seen it all, but the Flint each day held new surprises–including surprises I have never before experienced on a river–hummingbirds alighting on hands, bats swimming across the river, barred owls posing in broad daylight, bone-numbingly cold blue springs and unparalleled boat play never before witnessed at Paddle Georgia. Read the full post and view photos by clicking here.

Thanks to our Paddle Georgia Sponsors:
Georgia Power; Hennessy Land Rover Centres; Patagonia; Oglethorpe Power Corporation; StreamTechs; Stack and Associates; Cedar Creek RV and Outdoor Center; Cellairis; Len Foote Hike Inn; Chambliss, Sheppard, Roland & Baxter LLP; China Clay Producers Association; Kettle Chips; Sea to Summit; The Outside World; Carrier Transicold; Cafe Campesino; Jackson Spalding; The Rain Barrel Depot; Half Moon Outfitters; Coca-Cola Refreshments

Paddle Georgia 2013 Partners: Georgia Canoe Association, Flint Riverkeeper, Georgia Adopt–A – Stream, Project WET
---
Chattahoochee Hidden Gems River Trip
Despite the 70% chance of thunderstorms, the rain bypassed us to the south, creating a misty and majestic paddling experience on this Hidden Gem experience on the Chattahoochee River in May. Chelsea Hopkins, Bonny Putney, Jason DuPont, Alicia Evans, Erica Weaver, Na'Taki Osborne & Sally Bethea gave fantastic presentations during the trip. Participants were inspired to get involved and join in river restoration and protection efforts with all partnering organizations: Georgia River Network, Chattahoochee Riverkeeper, Keeping it Wild, West Atlanta Watershed Alliance, Rivers Alive and Adopt-A-Stream.
---
Join Us for the Remaining 2013 Hidden Gem Paddles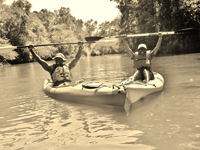 Join GRN for 2 more Hidden Gems Paddling Events. Three different occasions to discover some of the hidden gems on Georgia's waterways. Each river trip will include presentations along the route, ranging from natural history and water quality testing to river clean-up training and kayak fishing. Find details and register at www.garivers.org.

Sept. 7: Central Savannah Watershed Paddle with Georgia Kayak Fishing-Paddle 4 Tomorrow & Savannah Riverkeeper
Nov. 16: Altamaha River Watershed Paddle with Off Grid Expeditions, Rivers Alive & Altamaha Riverkeeper
---
Group Spotlight: Savannah Riverkeeper



Savannah Riverkeeper (SRK) was a recipient of a grant through Georgia River Network's Turner Regrant Program in 2012. Georgia River Network was able to re-grant $40,000 in funds to grassroots groups protecting Georgia's rivers in 2012. Savannah Riverkeeper used their grant to address water quality issues in four impaired waterways in Augusta: Rocky Creek, Butler Creek, Spirit Creek and Raes Creek. Augusta State University (ASU) and Southeastern Natural Sciences Academy (SNSA) helped identify these sites. SNSA has been focusing on the Butler Creek area, ASU on the Raes Creek area, and SRK on the downtown sites. SRK also worked with the utilities department to check all of the reported separated sewer/stormwater sites in Augusta and used sewer sniffing dogs to survey the sites on a regular basis. To read the full story about the Savannah Riverkeeper, click here.
---
Save the Date - GRN Percentage Night at Terrapin Brewery

Come on out and support Georgia River Network at the Terrapin Brewery in Athens, Georgia! Terrapin's big outdoor yard will feature lots of fellow river and beer lovers, photo opportunities, and is a perfect place for a game of Frisbee or cornhole. And if that's not enough of an enticement, there will also be a free brewery tour and special edition Georgia River Network-Terrapin Beer pint glasses available for purchase to use with your beer tasting! It's a family friendly affair so come on out and have a good time with Georgia River Network! Please mark your calendar and spread the word!
When: Thursday, September 19th from 5:30 - 7:30pm
Where: Terrapin Brewery 265 Newton Bridge Rd. Athens, GA 30607
Why: To support the protection restoration of Georgia rivers from the mountains to the sea!
---
Use Your Kroger Plus Card to Earn Rewards for GRN

You can now register your Kroger Plus card to earn rewards for Georgia River Network. If you don't have a Kroger Plus card, you can get one at the service desk at your local store. Then, register online at krogercommunityrewards.com to connect your card to Georgia River Nework. Rewards earned on purchases translate into cash donations to Georgia River Network.

• Click on Sign In/Register
• Most participants are new online customers, so they must click on SIGN UP TODAY in the 'New Customer?' box.
• Sign up for a Kroger Rewards Account by entering zip code, clicking on favorite store, entering your email address and creating a password, agreeing to the terms and conditions
• You will then get a message to check your email inbox and click on the link within the body of the email.
• Click on My Account and use your email address and password to proceed to the next step.
• Click on Edit Kroger Community Rewards information and input your Kroger Plus card number.
• Update or confirm your information.
• Enter NPO number (93881) or organization, select Georgia River Network from list and click on confirm.
• To verify you are enrolled correctly, you will see your organization's name on the right side of your information page.
---
Help Us Raise $36,000 for Georgia's Rivers

After our extremely successful $1,000 donor-match challenge last year (which raised over $20,000 for river protection) and upon hearing GRN's ambitious goals for 2013, several of our major donors created new challenges.

•Many of last year's $1000 donors have agreed to donate $1000 again this year, if their donation is matched by a new $1000 donation. $10,000 has already been pledged! Can you help us secure these donations and double them by meeting this challenge? This will be a dollar for dollar match.
•Another donor has put forward an opportunity for Georgia River Network to earn an additional $5,000 but for this opportunity they are going to match gifts of $500 or more from donors who have not made a one-time $500 gift to GRN before. Can you help us secure this $5000 donation and double it by meeting this challenge?
•Lastly, the Newland Family Foundation in Athens has graciously provided a grant that will match anyone who has made a $1,000 gift in the past but has not yet made a $1,000 donation this year. Can you help us double this grant?

To accept either of these challenges, simply go to our website (www.garivers.org) and click on the red "Donate Now" button or mail a check to our office at 126 South Milledge Ave., Suite E3, Athens, GA 30605 or contact Davin at davin@garivers.org.
---
Etowah River User's Guide Book - On Sale Now!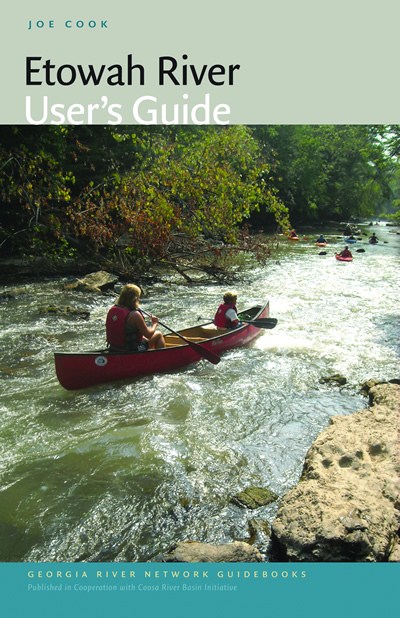 The first in a series of Georgia River Network Guidebooks, the "Etowah River User's Guide," authored by Joe Cook and published in cooperation with Coosa River Basin Initiative, is an appealing and handy look at the biologically diverse and beautiful Etowah River in North Georgia. Printed on waterproof paper by the University of Georgia Press, the book offers a fascinating history of the area and information valuable for novice or experienced paddlers as well as fishermen. Designed to educate river users, enhance their on-river experiences, and allow them to safely explore the river, each guide includes an introduction and overview of the river, chapters describing each river section with detailed maps and notes on river access and points of interest; a compact natural history guide featuring species of interest found along Georgia's rivers, notes on safety and boating etiquette, a fishing primer, and notes on organizations working to protect the river. You can buy the guidebook by calling us at 706-549-4508. Price: $21 including tax, $24 including tax and shipping.

The Chattahoochee River and Broad River User's Guides will be released next.
---
Wish List

GRN is looking for the following new or gently used items for our office: a picnic table or concrete outdoor patio set and tablecloths for events. Email info@garivers.org or call 706-549-4508 if you would like to donate any of these items.
---
Paddle Challenge 2013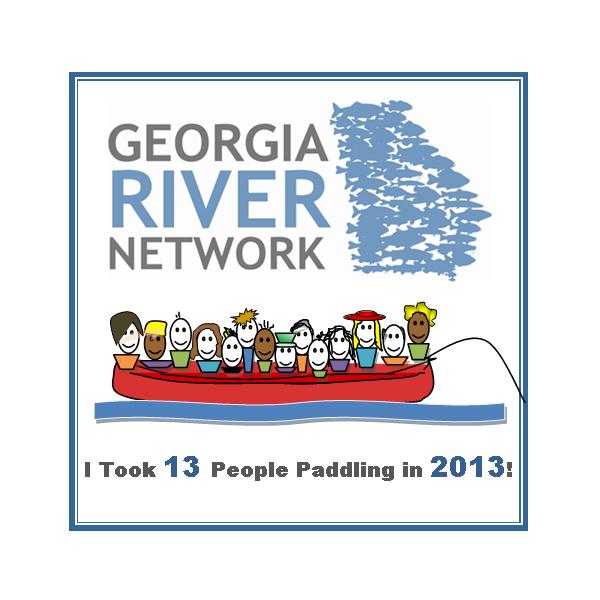 Georgia River Network is encouraging river lovers to celebrate Georgia's rivers – from wild places to urban waterways – by taking 13 people paddling in 2013 who might not otherwise go on their own. To join the list of paddlers participating, send an email to gwyneth@garivers.org with your name and address to sign up. When you have successfully completed the challenge of taking 13 people paddling on Georgia's rivers, who otherwise would not go on their own, send in documentation including photos, stories, videos and/or poems about the rivers you explored and with whom.


Click here to learn more about the Paddle Challenges.
---
GRN Photo Contest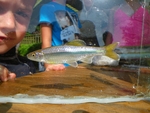 Each month we will have a different theme and invite you to send us a photo that you think best represents the topic of the month. The August photo contest theme is "Funniest Paddling Photo". Click here to learn more and submit your photos. Or, click here to visit our homepage to view a slideshow of the July entries and winner.
---
Get GRN News in Our RSS Feed

Not on Facebook? Want to see what is going on each day in the world of Georgia rivers? Go here: http://garivernews.wordpress.com/. Click on the "follow" button in the bottom right corner, enter your email address, and our daily news will be delivered to your inbox.
---