GRN Annual Report Online
Paddle Georgia 2014 Registration
Save the Date: Weekend for Rivers
15 Supporters Raise Money for GRN Using Their Kroger Card
Wish List
GRN Photo Contest
Get GRN News in our RSS Feed
---
Annual Report Now Online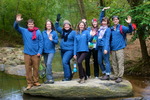 Check out our 2013 Annual Report to see the impact that GRN made in 2013! The GRN annual report is now online at http://youtu.be/ygH-hdVriOk


---
Paddle Georgia 2014 Registration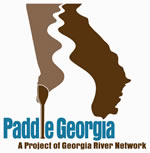 June 21-27, 2014. This will be the 10th Anniversary of Paddle Georgia, and we will return to paddle the original stretch of river that we did in 2005. As you know, we are offering priority registration to canoe-a-thon participants that raised $200 or more in the canoe-a-thon in 2013 as a way to thank them for their help to raise over $50,000 for our work to protect rivers throughout the year. Remaining spots for thru paddlers will be awarded by invitation/lottery. You can apply for thru paddler spots from Feb 10-27. We will also have a limited number of Paddle Georgia Lite 2014 spaces that will be available by invitation only to our supporters, special guests, and by lottery. You can apply for lite paddler spots from Feb 10-27. Full details on registration can be found on the Paddle Georgia website.

Georgia River Network will again sponsor the Hidden Gems paddling series of day long paddles in 2014 on the Chattahoochee whitewater in Columbus, Oconee River, Ogeechee River and Satilla River. Dates and details are posted at http://www.garivers.org/news/39-uncategorized/377-eventregistration.html.

We also plan to offer Paddle Georgia Fall Float on the Flint River - Join Georgia River Network Columbus Day weekend 2014 for a voyage on the Flint River that would fill Christopher Columbus with envy. Oct. 10-13, we'll travel 70 miles on the Flint from Albany to Bainbridge taking in the best of the Flint--beautiful blue hole springs, lively rapids, rich history, abundant wildlife and more! Fashioned after our annual week-long Paddle Georgia events, we'll tent camp at Chehaw Park and on the river two nights at Rocky Bend Flint River Retreat. Like our annual summer adventure, we'll enjoy catered meals, educational programs and great camaraderie as we make our way down one of Georgia's most beautiful rivers during a beautiful time of year. Tent camping only with limited options for indoor camping. Registration for this event will begin in late March at www.garivers.org/paddle_georgia
---
Save the Date: Weekend for Rivers

Weekend for Rivers 2014 will be held on April 5-6 at the Chattahoochee Nature Center in Roswell, Georgia. This is your opportunity to share your love for the rivers and streams closest to your heart—and spend the weekend hanging out with a whole bunch of other river lovers. The speakers will be its participants, and in 2014, Weekend for Rivers is celebrating the legacy of Georgia's waterways by focusing on "The History of Georgia's Rivers." Watch for registration details on our website at www.garivers.org in January.
---
15 Supporters Raise Money for GRN by Using Their Kroger Card – It's Easy! Join Them!
15 supporters helped Georgia River Network raise $78 by using their Kroger card over the last 3 months. $78 makes a big difference for GRN and you can help make that amount grow. You too can register your Kroger Plus card to earn rewards for Georgia River Network. If you don't have a Kroger Plus card, you can get one at the service desk at your local store. Then, register online at krogercommunityrewards.com to connect your card to Georgia River Nework. Rewards earned on purchases translate into cash donations to Georgia River Network.

GO TO KROGERCOMMUNITYREWARDS.COM
• Click on Sign In/Register
• Most participants are new online customers, so they must click on SIGN UP TODAY in the 'New Customer?' box.
• Sign up for a Kroger Rewards Account by entering zip code, clicking on favorite store, entering your email address and creating a password, agreeing to the terms and conditions
• You will then get a message to check your email inbox and click on the link within the body of the email.
• Click on My Account and use your email address and password to proceed to the next step.
• Click on Edit Kroger Community Rewards information and input your Kroger Plus card number.
• Update or confirm your information.
• Enter NPO number (93881) or organization, select Georgia River Network from list and click on confirm.
• To verify you are enrolled correctly, you will see your organization's name on the right side of your information page.
---
Wish List

GRN is looking for the following new or gently used items for our office: a picnic table or concrete outdoor patio set, tablecloths for events, and a high speed scanner. Email info@garivers.org or call 706-549-4508 if you would like to donate any of these items.
---
GRN Photo Contest

Each month we have a different theme and invite you to send us a photo that you think best represents the topic of the month. In January, the theme is "Favorite Photo on a GA River in 2013". Submit your photo to gwyneth@garivers.org. Click here to visit our homepage to view a slideshow of the entries and winner.

---
Get GRN News in Our RSS Feed

Not on Facebook? Want to see what is going on each day in the world of Georgia rivers? Go here: http://garivernews.wordpress.com/. Click on the "follow" button in the bottom right corner, enter your email address, and our daily news will be delivered to your inbox.
---
Forward this message to a friend