Paddle Georgia Highlights
Environmental Protection Division Recognizes Georgia River Network for Cleanup Efforts
GA Trend Magazine Recognizes GRN and Water Trails Program
Weekend for Rivers 2018 - Registration Open!
Do You Particpate in River Cleanups? Join our River Trash to Art Contest!
Cumberland Island Georgia Gem Registration Open
Spring 2018 Intern Leadership Team Reflections
Sign Up for GRN's Annual Member GA Mountain Hiking Trip to Len Foote Hike Inn
Fall Float on the Flint 2018 - Register Coming Soon!
GRN Board Spotlight: Welcome Tammy Griffen and Tammi Morris and farewell to Dee Stone
Register NOW for Full Moon Paddle on Upper Gainesville Lanier Water Trail
Pooch Paddle on the Yellow River Water Trail~ Save the Date!
Ripple Effect: Paddle Georgia Veteran Carroll Voss Reflects
Calling All Marketing Gurus
Protect Georgia
Georgia River Network is a Member of Earthshare
Not on Facebook? Get GRN and other Watershed Group News in Your RSS Feed
---
Paddle Georgia Highlights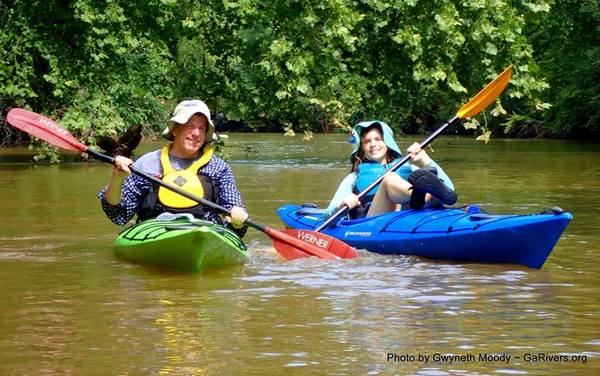 This year's Paddle Georgia event was a success, with hundreds of fun memories and thousands of raised dollars!

Congratulations to the Caneoathon Winners!
In all: 19 people raised $18,347.
The top 10 winners include:
Terry Pate

John Branch

Jim and Debbie Fountain

Leslie Raymer

Tammy Griffin

Karen Hill

Cindy Leighton

Tim Voss

Doug Mathews

Sarah Topper
The $250 first place prize for the Duck Race went to Susan Ray, who graciously
donated the duck race winnings back to GRN. Thank you!
The Paddle Georgia Volunteer of the Year was awarded to: Bubba D a.k.a Duane Beckett! Thank you for all of your hard work!
---
GRN Paddle Georgia Photo Album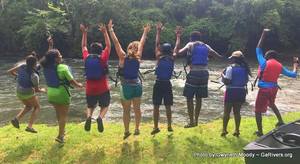 Don't forget to save your favorite photos from the week!
To view all of the moments captured on this year's Paddle Georgia Event, click here to view the Facebook
Paddle Georgia Photo Album
by Gwyneth Moody and here for Joe Cook's photos.
---
Paddle Georgia Daily Blog and Video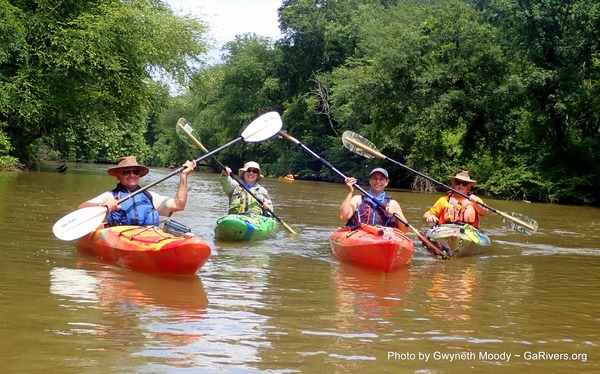 Check out all of the details from each day of the trip on the
Paddle Georgia Daily Blog
here
. Each daily blog is written by a different author who participated in the trip.

Click here to view the Paddle GA video that summarizes the whole week!
---
"It's the People You Remember Most"
Paddle Georgia blog post by Joe Cook

In the pantheon of Paddle Georgia lore, the 2018 edition of Georgia River Network's excellent adventure might be remembered as the year the buses, as often as not, didn't run—a first in 14 years.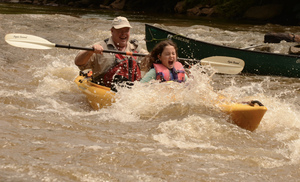 And, while the trials and tribulations with bus transportation certainly made campsite headlines, that's not what I
remember most from this year's journey.

I remember the sunrises at Danridge Farms and the soft bed of river weed that I sat in as I was massaged by the water flowing over the shoals of Lamar Mill Rapid. I'll remember the rugged beauty of the Yellow River's Annistown Falls and the cool, green flank of the Ocmulgee as it passed through the Oconee National Forest.

These beautiful sights I will store away and call upon sometime later when I need an escape, but what I will remember most—and the stories that I will recount to friends long from now—will not be about late buses or beautiful scenery. The stories I will tell will be of the people.

I'll recall the sheer joy of Cameron Visel's laughs as Jim and Debbie Fountain paddled her through the rapids at Annistown Falls. It was the 8-year-old's first time participating in all seven days of Paddle Georgia, and grandfather, Alan Kendall, later wrote to us: "Her squeals of delight going through the rapids were priceless. She started lobbying for her own kayak during the week!"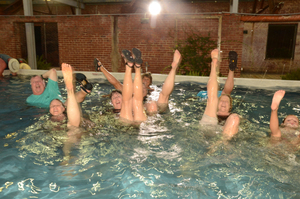 I'll remember the sure and steady work, and excellent humor, of Vincent Payne who directed our contingency of some 20 volunteer safety boaters from the Georgia Canoeing Association. Aside from directing boaters through our most challenging obstacles, this group helped us make the wise decision to bypass Cedar Shoals after the river rose nearly two feet overnight.

I'll never forget the resilience of more than 160 paddlers who, when faced with that unexpected bypass and portage, pitched in to move every boat downstream. Pete Smith Melissa Ballard and Duane Beckett took up their vehicles and trailers to do the job, and everyone else stepped up to make the move seamless, despite the rugged terrain and odiferous surroundings at Newton County's wastewater treatment plant.

I'll tell again and again the story of those who turned the Cedar Creek Park RV & Outdoor Center tug-o-war pool into their wet and wild dance floor during our party in Porterdale. There are those among the Paddle Georgia Navy that have a joy for life that is contagious: Ellen & Brian Cardin, Cynthia Cox, Anne Ledbetter, Carolyn Morris, Sarah Topper, Ruth Mead, Terry Pate, & Gwyneth Moody.

And, I'll recall the pride in the faces of the "yutes" from Camp Horizon as they expertly navigated a sizable shoal on Day 7 of our journey. In six short days, these kids had gone from beginners to competent, if not confident, paddlers. As they successfully shot the rapid cheers shot up from the crowd gathered below the shoals, who themselves were luxuriating in the cool water lapping a wide sandbar.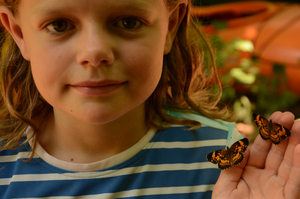 It was the kind of scene I have seen played out on virtually every other Paddle Georgia —at some point along the

route a pop up community forms at a shoal or sandbar to watch how others respond to the obstacle (or to simply ambush fellow participants with water canons). Inevitably, there is laughter and cries of joy. At these places, there is a strong sense of shared experience. The river unites and embraces us as we support and embrace one another.
It is, for a group of individuals from such disparate backgrounds, a little slice of heaven here on earth. If we could package it and sell it, we'd make a mint.

For all the beauty and fun that the Yellow and Ocmulgee served up during the week, the rivers taught us again that ultimately we are all on the same journey. Our needs are simple: we want to navigate the obstacles of life safely and have a great time doing it. Each of us is more successful when we support one another.

At least for seven days on the Yellow and Ocmulgee, we can declare mission accomplished.

Joe Cook
---
Camp Horizon - Making Paddle Georgia Possible for Youth
"Paddle Georgia Day 6: Close to the Horizon"
Excerpted from the Paddle Georgia Blog By Taylor Hunt
"This is Camp Horizon's third consecutive year of partnering to participate on this marvelous journey. Camp Horizon has served Atlanta's children and youth who have been abused and neglected for over 35 years. These are kids who have been in and out of the foster care system. These are kids who have rarely been in a canoe and who have never camped before this week."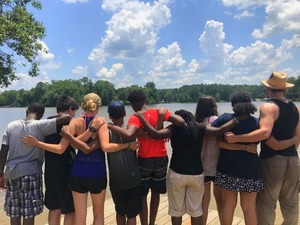 "I'm often asked if I really believe this trip makes a difference for them. My answer is always a resounding yes. Not only does to provide an opportunity for teens to be unplugged from technology and connected to nature which is a serious deficit in today's youth, it is week where these kids get to simply be kids. They don't have to go to a closure visit when their mother's rights are terminated. They don't have to worry about getting along with foster siblings. They don't have to move to a new house for the 5th time in year. They get to have an adventure. They get to play and swim and explore and laugh. They get to be with their family. It is a beautiful week."

Click to view the full blog post by Taylor Hunt.
---
Special THANK YOU to Paddle GA 2018 Sponsors and Partners!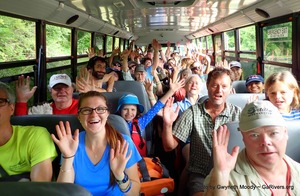 Sponsors: Hennessy Land Rover Centres; Cedar Creek RV & Outdoors; Cary Baxter, CPA; China Clay Producers Association; CYA Agency, Inc.; Oglethorpe Power; Storm Water Systems; Stream Techs; The Rain Barrel Depot; Terry Pate, PC, CPA; Nomadic Flow Outfitters; EarthShare of Georgia; Friends of Georgia State Parks; Len Foote Hike Inn; Patagonia

Partners:
American Canoe Association, Café Campesino, Georgia Canoe Association, Georgia Adopt-A-Stream, Project Wet, Altamaha Riverkeeper, Yellow River Water Trail, Ocmulgee River Water Trail
---
Paddle Georgia 2018 Reflections

Click here for an enlarged
image of the Reflections poster
:
---
WHAT'S THE RIVER FOR PADDLE GEORGIA 2019?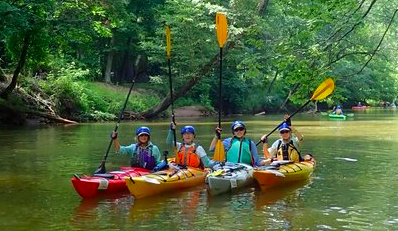 Paddle Georgia 2019 (our 15th anniversary) is set for June
15-21, but what river we paddle is up to you! Will it be the Flint? The Withlacoochee? The Savannah?

Help us pick our 15th anniversary destination by clicking here and responding to this poll.
---
Environmental Protection Division Recognizes Georgia River Network for Cleanup Efforts
Excerpted from Georgia Dept of Natural Resources - EPD Press Release
Volunteers and stream cleanup organizers from across the state met in Atlanta on April 19 to celebrate the accomplishments of the state's largest volunteer cleanup program, Rivers Alive, and to honor the efforts of those who are working to improve Georgia's waterways, one trash bag at a time. Rivers Alive is a program of the Georgia Department of Natural Resources Environmental Protection Division. Volunteers wade into rivers, lakes and coastal waters each year as part of the continuing statewide campaign to preserve the more than 70,000 miles of Georgia waterways.

During the 2017 cleanup year, 26,667 volunteers cleaned nearly 1,579 miles of waterways, removing 430,704 pounds of trash and recyclables. The Rivers Alive awards ceremony, held at Park Tavern in Piedmont Park, recognized volunteer groups, as well as individuals and businesses for their cleanup efforts.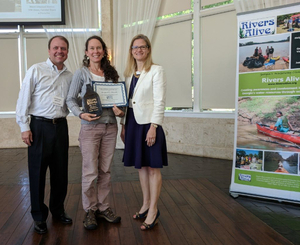 The 2017 awards and their winners are as follows:
Organizer of the Year – Kevin Smith of Keep Forsyth County Beautiful
Adopt-A-Stream – Tritt Elementary School
Georgia School – Discovery High School Environmental Club
4-H – Paulding County 4-H
Scout – Boy Scout Troop 39
Government Partner – City of Alpharetta & Alpharetta Natural Resources Commission
Spark of Energy – Georgia Power Company North GA
Keep Georgia Beautiful – Keep Walton Beautiful
Nonprofit Organization – Georgia River Network
Coastal Cleanup – Satilla Riverkeeper & Friends
Confluence – Help the Hooch
---
'Take It Easy' -
GA Trend Magazine Recognizes GRN and Water Trails Program
Excerpted from the Georgia Trend Magazine
By Karen Kirkpatrick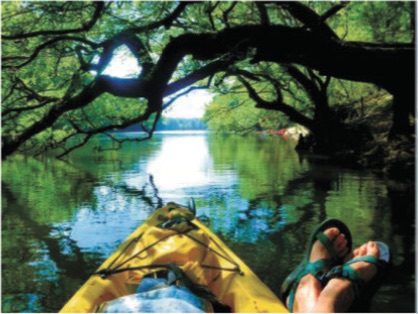 Georgia's rivers, lakes and a swamp offer paddlers, fishing enthusiasts and swimmers beautiful spots for hours of leisure.

If an afternoon – or a week – spent on the water sounds like a little slice of heaven, Georgia's got you covered. Rivers crisscross the state, from the Oostanaula in the northwest to the St. Marys that flows into the Atlantic Ocean and marks the line between Georgia and Florida.

Fifteen major lakes from Lake Burton in the far northeast to Lake Seminole in the southwest corner offer up hours of relaxation within driving distance to most all of Georgia's residents. And the Peach State is also home to North America's largest intact freshwater wetland, the Okefenokee Swamp.

While water recreation is great fun, it also has a great impact on the state's economy, with 238,000 jobs related to outdoor enjoyment and a $27.3-billion economic impact, according to a report from the Outdoor Industry Association.

So grab your sunscreen, your bathing suit and your kayak, and let's take a look at three different ways you can have fun while getting wet...

Up a Lazy River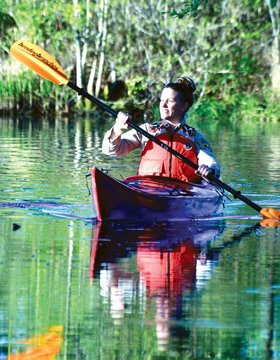 Georgia is home to miles of river, with more and more access opening up all the time. This is great for paddlers
who are looking for a day trip – and is in large part thanks to the network of Georgia Water Trails.
"A water trail basically means that you have access along the trail for recreation. That can be swimming or paddling or fishing, anything else like that," says Gwyneth Moody, director of programs and outreach at the Georgia River Network (GRN), the organization that facilitates creation of water trails.

GRN has certain criteria that a community must meet in order to have their part of the river designated a water trail. "There's six criteria," Moody says. "There has to be a put in and a take out. You don't want to be putting in a river and having nowhere to take out." The organization also requires proper signage, with maps, safety information and distance to the next take-out point; a website; parking; and a group dedicated to the trail.

"The most important piece," she says, "is that there is a group that is sponsoring and maintaining the trail … that they are working together on a regular basis and making sure that trail doesn't become dilapidated and unsafe."

Then she laughs and mentions one more thing. "[The trail] is on the water. It's not beside the river," she says. "Sometimes people get confused thinking [a water trail] is a trail beside the river. But it's not. It's the water itself that is the actual trail."

Georgia currently has 15 designated water trails and 18 more under development. And if you're thinking they all are on rivers, well, think again. The Gainesville Upper Lanier Water Trail is on Lake Lanier, for example, and the Augusta Canal alongside the Savannah River is a water trail.

The GRN doesn't just offer training and then they're done with a river. The organization sponsors day paddles along different water trails, and its signature event is Paddle Georgia – a weeklong paddling/camping/education trip for families.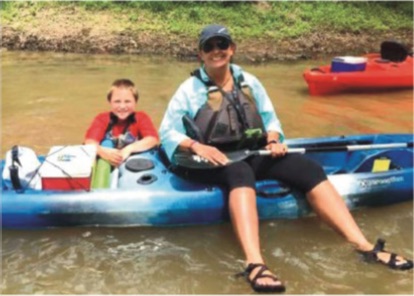 "It's kind of like a seven-day family summer camp," says Tonya Bechtler, a founder of the Yellow River Water Trail and a Paddle Georgia participant since 2012. "My daughter and I did that for a number of years. During the trip they offer water quality training from Georgia Adopt-a-Stream. And the whole goal of Paddle Georgia was to introduce you to a different river every year and to immerse yourself in that ecosystem and also to learn about water quality. Basically they teach you to enjoy [the river] so you'll protect it and take [your knowledge] back to your local rivers."


And take it back she did. She was regularly paddling the Yellow River in Porterdale with other kayakers, and the group began to talk about ways to make the experience better. "Georgia River Network came out and trained us over a period of eight months," she says. "You've got to really give Georgia River Network sole credit for anything that happens on the Yellow River Water Trail. We just followed directions. It set us up for success."

The Yellow River trail runs 53 miles through Gwinnett, DeKalb, Rockdale and Newton counties, with put-in and take-out points about every five to 10 miles. Access points aren't the only changes to the river since the trail went in. It's also noticeably cleaner.
"What people don't realize is that everything they throw out their windows, if it's not picked up, it's going to getin stormwater flow," Bechtler says. "And that stormwater flow is taking it straight down to the rivers. That trash doesn't come off that river unless it comes off by hand, piece by piece. Getting those hands down to the river to pull that trash off and bringing more and more people to enjoy [the river] has successfully brought outfitters in the business. And that's put more boats, more people, more hands, more eyes, more sharing, more caring, more protection, so it's a wonderful cycle that just keeps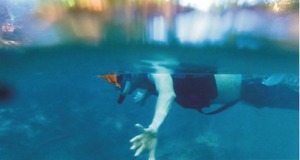 cycling and growing. And that's what's happened on the Yellow River Water Trail. It started with a few people, and it's evolved to a lot of people."

This month, the river will see a whole lot of people, when the 2018 Paddle Georgia trip comes to the Yellow River, along with the Ocumulgee River. Growing the numbers of people on the rivers is just one of the advantages to becoming a designated water trail.

"The other piece I think is key is that as we are bringing attention to the water trail, it also brings attention to any issues the river might have, like if there's any pollution going on," Moody says. "If there are certain access points that are potentially dangerous, all of that gets highlighted. People get very galvanized, and they want to make sure the river is a safe place to recreate. Nobody wants to be jumping in a dirty river or having kids play in a dirty river."

There's "this multiplier effect," she adds, "where the river becomes more and more important and celebrated. So that's kind of it in a nutshell."

Read the full article in Georgia Trend Magazine June 2018 edition.

---
Weekend for Rivers - Registration Open!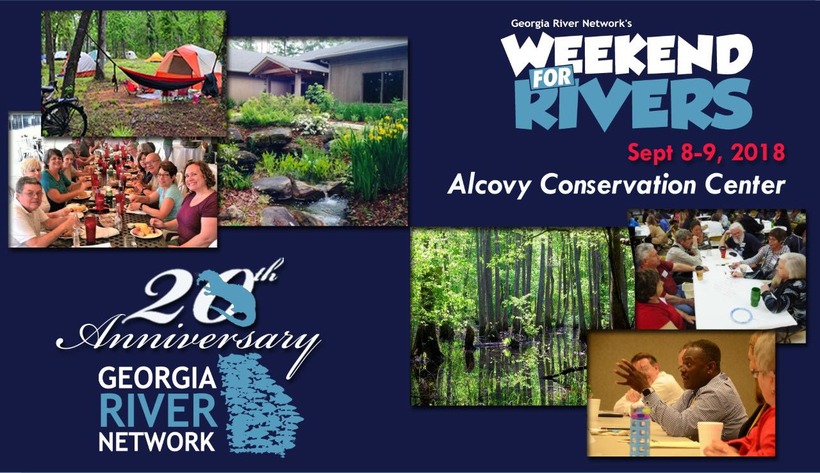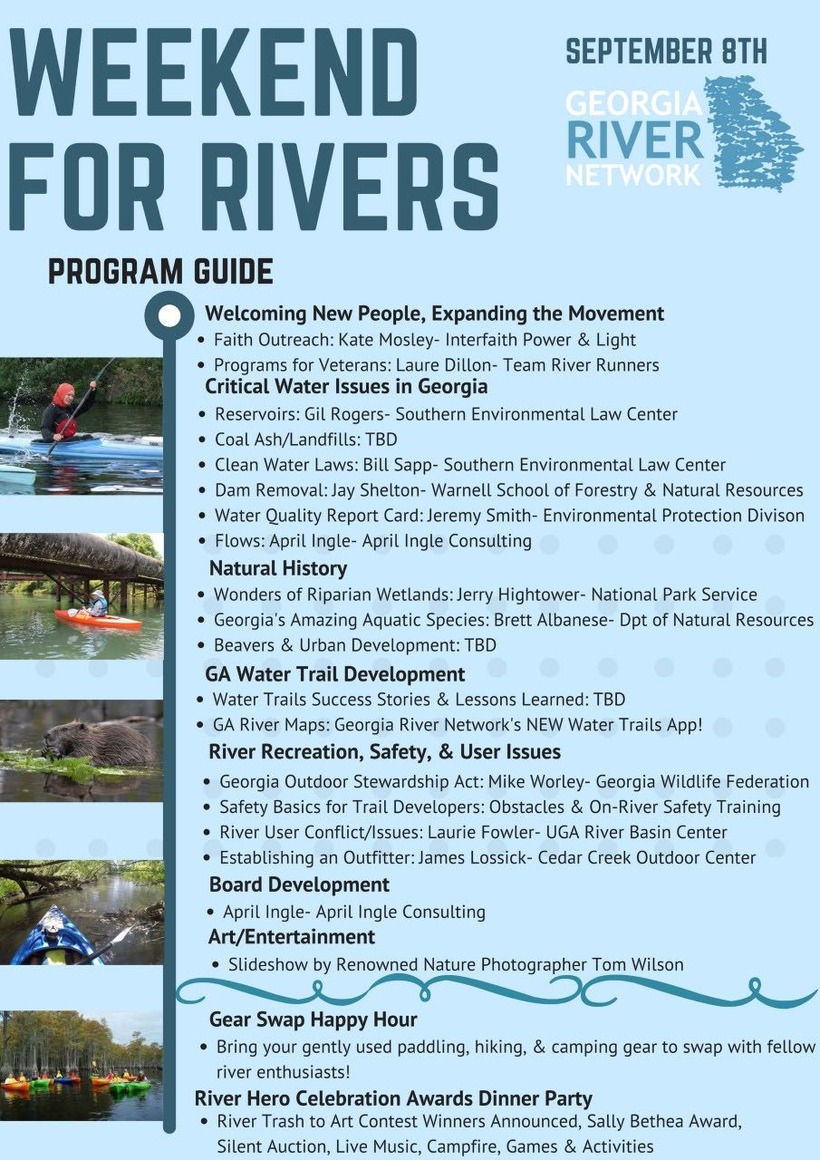 Register NOW for our Annual Weekend for Rivers Conference and River Hero Celebration Awards Party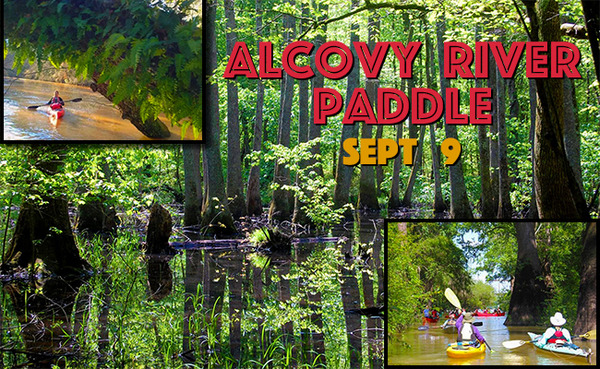 September 8-9, 2018 at Alcovy Conservation Center near Covington, GA.
Celebrate GRN's 20th Anniversary with Delicious Food & Live Music. Learn, network, ​and​ share with watershed groups ​and fellow river advocates while diving deeper into the work of ensuring healthy rivers. The weekend will include intriguing ​& informative speakers, Gear, Book & Handmade Craft Swap Happy Hour, River Hero Awards Ceremony, live music & live auction, camping/cabins with activities and games, and a guided paddle on th​e​ majestic Alcovy River.
Click here to
sign up for Weekend for Rivers
!
---
Do you Particpate in River Cleanups? Join our River Trash to Art Contest!
Georgia River Network will be presenting a Trash to Art Contest on September 8, 2018! We are encouraging as many participants as possible to submit their artwork that they create from trash that has been found at river/lake/ocean clean-ups. All ages are welcome to submit entries. There is no cost to register and the contest will award first to third place prizes. Email Gwyneth@garivers.org to sign up!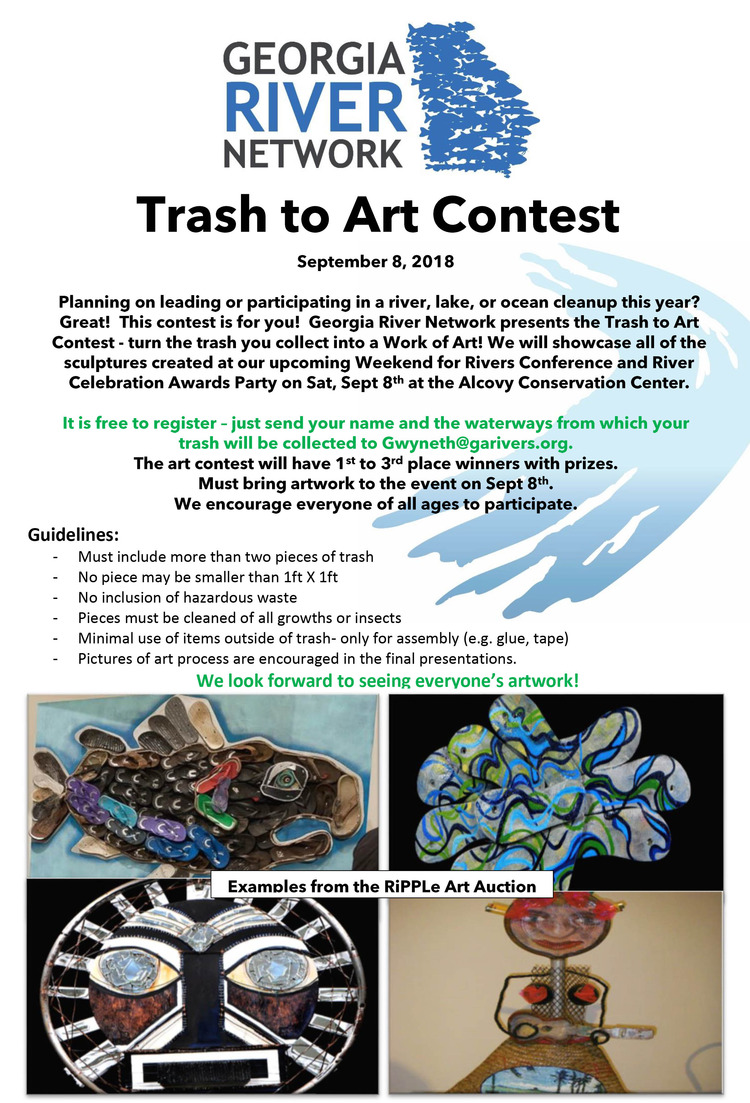 ---
Cumberland Island Georgia Gem Registration Open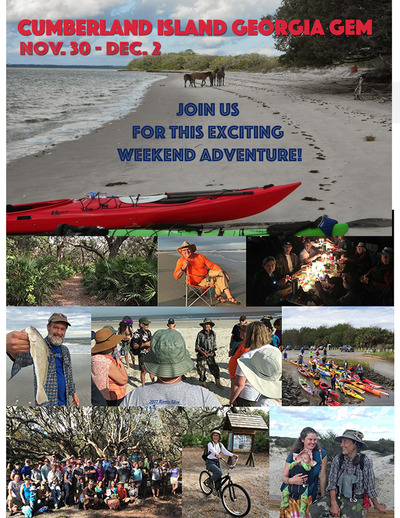 Nov 30 - Dec 2, 2018
Join Georgia River Network on the St. Mary's Water Trail for this special Georgia Gem Event. Participants will
enjoy delicious meals, live entertainment and tent camping near the beach under gorgeous live oak and palmetto forest. There will be fascinating presentations about wildlife, local lore, coastal restoration efforts and an
opportunity to enjoy and explore Cumberland Island by kayak/foot/bicycle.

Tickets are available for:

Physically fit paddlers with an intermediate level of sea kayaking experience who would like to join the group paddle from the mainland to Cumberland Island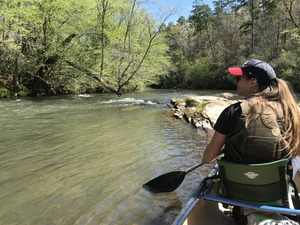 Hope Cochran:

Georgia River Network has facilitated my growth as a both a professional and water steward. Attending events with GRN and seeing the vast network of people that not only care about our rivers, but have dedicated their lives to protecting them was incredibly inspirational for me, a young individual who aspires to be a conservationist. Not only was I inspired by GRN members, but I gained invaluable office experience like learning how to navigate photoshop and make professional materials, or using a listserv to create mass emails, all important skills for someone entering the workforce to have. I feel very fortunate to have been mentored by such incredible women as Gwyneth and Dana, and I look forward to seeing the future successes of GRN and how they continue to influence legislation, communities, and people for the betterment of Georgia rivers.
Hannah Langston: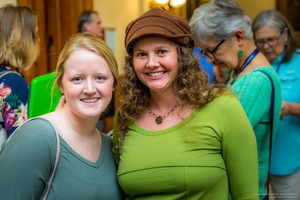 During my time as an intern at the Georgia River Network,I was able to gain valuable skills that will help me in
any line of work that I choose to go into, whether they be directly related or not. One of the most valuable skills was time management. Most weeks, I had several different tasks to complete and was able to learn how to prioritize and divide them out so that I was able to complete them. I had also previously had no experience with non profits so I was able to get a glimpse into all of the work that it takes to run one.

I would encourage other students to intern with GRN if they are looking for a flexible, passionate, and encouraging group of people. GRN was extremely flexible with my school schedule while also encouraging me to reach for all of my goals. Being around passionate workers such as Gwyneth and Dana was exciting to see and it takes people like this to continue to protect our environment and engage others in the protection of our environment, particularly our rivers. Working with GRN also gives you a vast skill set and exciting activities that will help to better prepare you for whatever you may do in the future.

Interning for the Georgia River Network has reassured me of what type of work I would like to go into in the future. I would like to do something where I am self- sufficient with few instructions. In addition, I would like to do something that is hands on and that helps others. My time with GRN was one of the most memorable and beneficial semesters of my college career.

---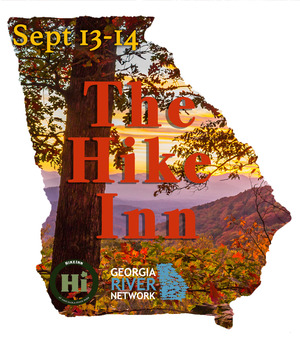 We are excited that Georgia River Network (GRN) has been offered the opportunity again this year to bring a group to the Hike Inn on Thursday September 13th – Friday September 14th and we want YOU to come!

The Inn has room for up to 40 people, so it's first come, first served, and the people we wanted to offer this opportunity to is YOU – our supporters, volunteers, members and colleagues, and your families - to join our staff and board and our families! It will be a great time for Georgia's river friends to spend time together and have fun.

Located near Dawsonville and Dahlonega, the Len Foote Hike Inn at Amicalola Falls State Park is a back country inn with 2-person private rooms with comfy bunk beds; hot showers, sinks, and compost toilets in the bath house; and prepared meals served in their dining room. The Inn is accessible only by foot over a moderate 5 mile hiking trail which originates at the top of the Amicalola Falls. The hike takes from 2 to 4 hours, and the beautiful trail is entirely within the Chattahoochee National Forest and Amicalola Falls State Park.

The Hike Inn is generously offering 50% off rates for our group! To reserve your spot go to the reservation link on their webpage and click the book now tab.

It will pull up the 50% discount rate. Enter the correct dates and on the bottom of the page enter promotional/group code river.

Sign up and learn more about the Len Foote Hike Inn trip here!
---
Fall Float on the Flint 2018 - Mark your Calendars!​
October 6-8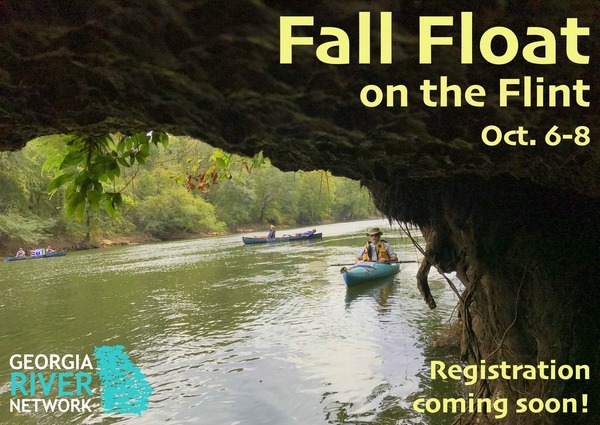 Join Georgia River Network and Flint Riverkeeper on Columbus Day weekend for a vo
yage down the Flint River
that would fill Christopher
Columbus with envy.
We'll travel 48 miles from Baconton to Bainbridge taking in the best of the Flint--beautiful blue hole springs, lively rapids, rich history, abundant wildlife and more! Fashioned after our annual week-long Paddle Georgia events, we will tent camp on the river two nights at Rocky Bend Flint River Retreat. Like our annual summer adventure, we will enjoy catered meals, educational programs and great camaraderie as we make our way down one of Georgia's most beautiful rivers during a beautiful time of year.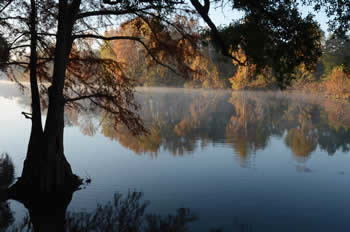 The Flint river in South Georgia is fed by massive underground aquifers and runs clear and cool. While other South Georgia rivers offer up a plethora of sandbars and lazy bends, the Flint flows between limestone bluffs, over shoals and between picturesque islands. Along the way, crystal clear spring pools bubble up to feed the river. Off river, we will have the opportunity to learn more about the river and the region through tours of area attractions and nightly activities at campsites that include entertainment, games and programs highlighting the river's cultural and natural heritage. It's every bit as much fun as the original Paddle Georgia…just a wee bit shorter.

Check out more information for Fall Float on the Flint!
---
GRN Board Spotlight: Welcome Tammy Griffin & Tami Morris and Farewell to Dee Stone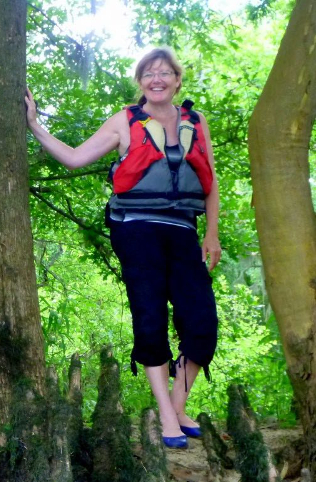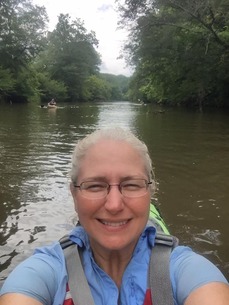 Tammy Griffin has been coming on Paddle GA since at least 2010, participates in
canoeathon
and attends our BBB
event. She is a parale

gal at King and Spalding and
lives in Loganville. She frequently
volunteers at our events.
Dr. Tami Morris is an involved and well-versed mass communications and public relations professor. While being involved with multiple non-profits like the Non-partisan Women's Empowerment Organization, Tami has taught at the University of West Georgia, Georgia College and State University, and Georgia State Univeristy, among others.
Cheers to Dee Stone by GRN Board Member Bonny Putney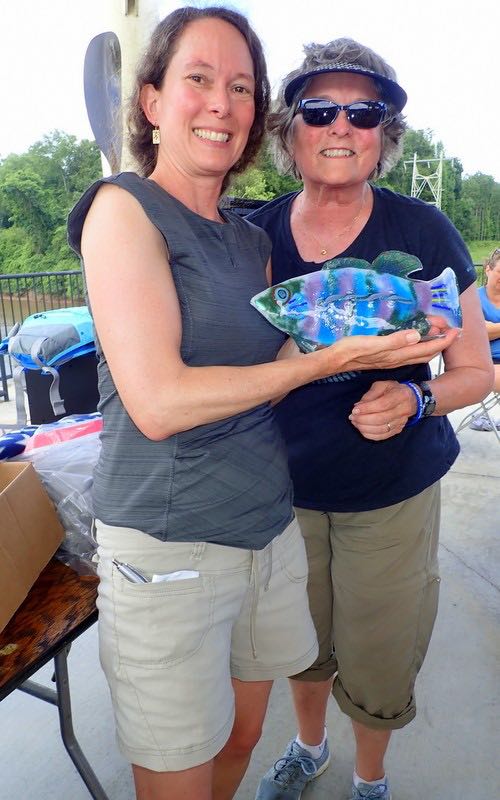 I met Dee Stone on Paddle Georgia 2005 when her paddle buddy for the trip Amber
Jensen introduced us. We started paddling together after Paddle Georgia and have been close friends and paddle buddies ever since.
Dee is always thinking about what she can do to help. It might be something small like picking up your water bottle when you forget it at a stop, or something huge like volunteering to be Secretary for the GRN board, and always being the "voice of reason" in any conversation.
Most people do not know she is a full Minister at the Peachtree Christian Church in Atlanta. I will never forget Dee leading us in prayer as we gave Parrie Pinyon's ashes to the Flint.
Most of us know her for her perfect paddle stroke. I can always spot her from a mile off just by her stroke. Dee is always up for an adventure, paddling with our "Paddle Family" or going to far away places like Scotland and Cuba where she has journeyed recently.
She is a huge advocate for GRN, has raised thousands of dollars for Canoethon and will continue to contribute to BBB party, Paddle Georgia and other GRN events. Dee will always be one of my true life heroes. Both of us look forward to celebrating our 15 years of friendship and paddling next year on Paddle Georgia 2019.
---
Register Now for the Upper Gainesville Lanier Full Moon Paddle ~ Aug 26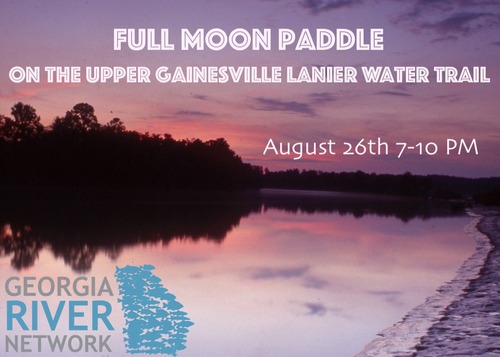 Join Georgia River Network for an enchanting full moon paddle on the Upper Gainesville Lanier Water Trail. The trip is an easy 2 miles from Holly Park to Longwood Park on Lake Lanier. We will have a power boat escort on the lake during the journey but all canoes and kayaks must have a light on the top of the boat. After our journey we will toast our adventure and the moon at the Longwood Park Pavilion.

You can bring your own boat or rent from an outfitter.

Tickets are $20. Includes American Canoe Association insurance.
Click here to
sign up for the Full Moon Paddle
!
---
Upcoming Pooch Paddle on the Yellow River Water Trail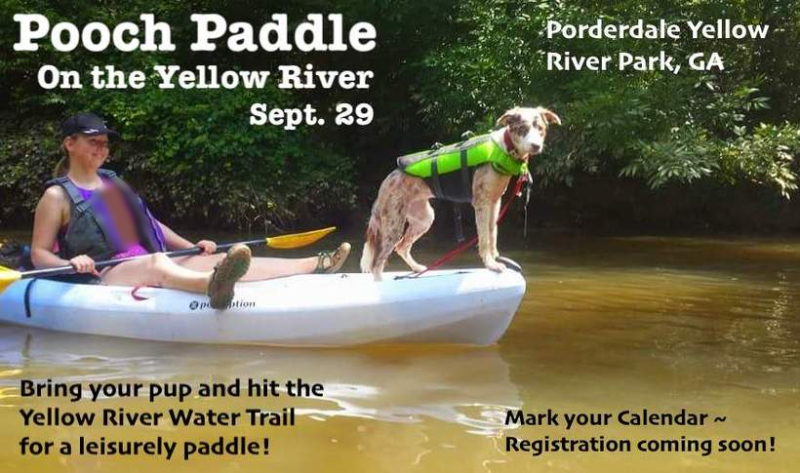 ---
Ripple Effect: Paddle Georgia Veteran Carroll Voss Reflects
GRN's events and resources provide inspiration and assistance to citizens and river groups around the state.
We HIGH FIVE when we hear examples of how our help, which is sometimes behind the scenes, inspires and empowers people and river groups to protect, enjoy and highlight their rivers. At the age of 85, Paddle Georgia veteran, Carroll Voss, reflects on his experiences.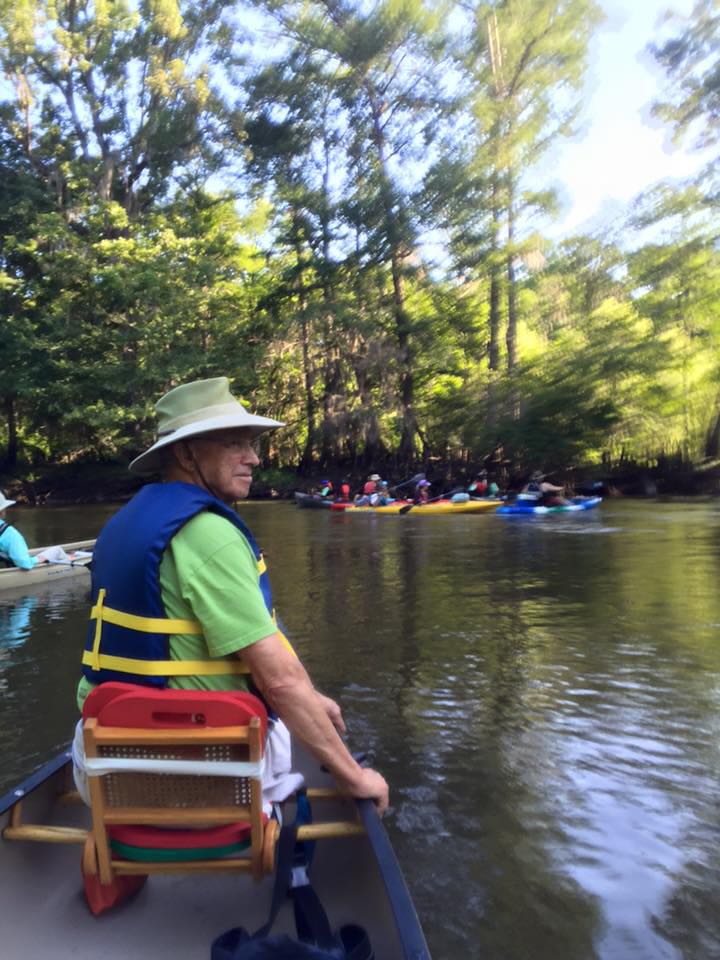 Having now completed ten yearly trips with Paddle Georgia, I am blessed to have experienced a unique appreciation of the rivers we have here in the beautiful state of Georgia.
I am expressly appreciative to the Georgia River Network's team of Joe, Dana, Gwyneth, Jesslyn and many others who made these week long trips possible.
My first canoe trip was on the Etowah River in 2006 with my wife Nancy. I remember it well because the river was near flood stage and moving fast. We completed the days run by Noon. We had several capsizes due to strainers and helped another capsized canoe.
Each river was unique. On one trip, my son Tim and I, helped a woman who had capsized in a strainer to get back in her canoe. She was so appreciative and thanked us over and over for saving her life.
Another plus for these trips is that it is a great way to involve the whole family in this experience. All four of our children, several of their spouses and six of our grandchildren and their friends have shared in these river trips, which has made a unique impression on their lives
I remember a river cleanup day when our grandsons, Chandler and Wesley, with a friend, completely filled their canoe with about ten black tires.
When we did the Chattahoochee, my daughter Virginia and I got caught in the most heavy rain storm of any trip.
I remember the rivers in south Georgia for the beautiful cedar trees lining the river banks.
The Ogeechee River was probably my favorite because it was narrow, had a good flow and a number of strainers, making it exciting to paddle through.
The last river trip, the Yellow and Ocmulgee, was definitely the most exciting because of the large number of shoals and rapids. Tim and I decided to do the Class II rapid.
We made it through the first drop but then capsized. I can truthfully say that everyone should capsize at least once because it is a great experience.
We also should do all that we can to protect our rivers so that others can have these great experiences.
Carroll Voss, June 2018
---
Calling All Marketing Gurus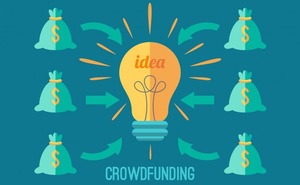 Georgia River Network is forming a special marketing committee for a specific project which will entail a small​ crowd-funding campaign. We are therefore looking for a few volunteers with useful skills to implement this crowd-funding effort.
Working with GRN board members, this Marketing Committee will
collaboratively define the overall marketing strategy for the project and will help drive the crowd-funding agenda.
If you or someone you know would like to learn more, please send an email to
info@garivers.org
with a note of interest.
---
Protect Georgia! Sign Up for Now for Action Alerts!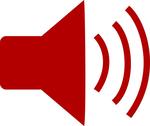 Protect Georgia is a collaborative effort among environmental and conservation organizations throughout the state to educate and mobilize their memberships through an electronic action alert system. This system provides the conservation community with a powerful means for getting their collaborative message out to elected officials, administrative decision makers, and leaders in big business and industry. Simply enter your name, address and email and the system will allow you to email important messages to your elected officials with a click of a button
To sign up, visit the Protect Georgia website!
---
Georgia River Network is a Member of EarthShare
Georgia River Network is a member group of EarthShare of Georgia

— a non-profit federation of over 60 Georgia non-profits, all of which work to educate, conserve, or protect our air, land, and water throughout Georgia. Through workplace giving campaigns at participating companies, EarthShare raises funds for the member group non-profit organizations in Georgia. Employers who include EarthShare as part of their annual pledge campaign empower their employees with additional ways to improve their world. EarthShare of Georgia, as part of the EarthShare national employee giving program, is part of a network representing more than 400 environmental groups working locally, nationally and internationally. You can support Georgia River Network easily through the annual campaign.

If your company would like add an EarthShare giving campaign, contact Dana at dana@garivers.org. Learn more at the EarthShare website.
---
N

ot on Facebook? Get GRN and other River News in Your RSS Feed
Want to see what is going on each day in the world of Georgia rivers? Go here: http://garivernews.wordpress.com. Click on the "follow" button in the bottom right corner, enter your email address, and our daily news will be delivered to your inbox.