In This Issue
Paddle Georgia 2017 - Recap
By Ryan Jones, Georgia River Network Intern
Paddle Georgia 2017 was a week full of fun! There was time spent laughing, playing, sleeping, and most importantly, paddling. This week-long trip is a family reunion of sorts. Whether a first-time paddler or a veteran of the river, the people who attend this event make it a family. From food lines to shower lines, you'll always find yourself laughing with a new friend.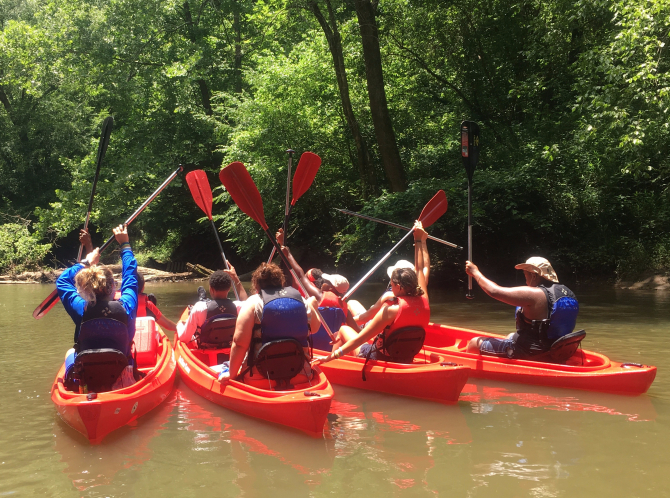 This year on Paddle Georgia, we paddled 106 miles down the Etowah River. We traveled through narrow, winding rivers, suspenseful shoals, large lakes, and beautiful marsh. On the river, there were water fights and lazy floaters enjoying the scenery. We immersed ourselves into the diverse ecosystem of the Etowah and got to see an abundance of wildlife. Although most of our days were spent on the river, there were also some fun activities off! We filled our nights with laughter, friends, and fun from the very beginning to the end. We watched as a few of our bravest displayed their talent or lack thereof in the "No-Talent Show". There was dancing, singing, and skits for us to enjoy. Friendly competition grew in the form of card games, trivia, Family Feud, and corn hole championships. The Corn Hole champions this year were Bret Eady and Jim Fountain, so congra
tulations to them!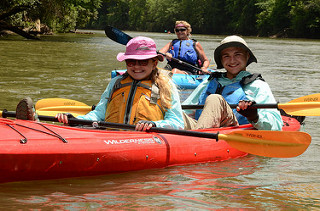 We even had some end of the week awards like the best foot tan, the oldest and the youngest paddlers, the person who flipped the most and more! Overall, we got to experience all that the river had to offer us. Through the heat, rain, and even a tornado, we spent the week learning, growing, and making lasting memories.

The people that made up this year's paddle Georgia family were all different, but shared one thing, they all loved rivers. Our group consisted of teachers, youth groups, scientists, legislators, medical & legal professionals, artists, and m
uch more. Everyone that comes has a different past and different story, but that is what makes this trip so unique! We were also joined by Café Campesino, a coffee roastery that sells fair trade, organic coffee that was absolutely delicious and the start to most people's day and Eddy, a massage therapist, who helped ease the tired muscles of the paddlers in the afternoon. Two wonderful bookends for days that were filled with endless fun.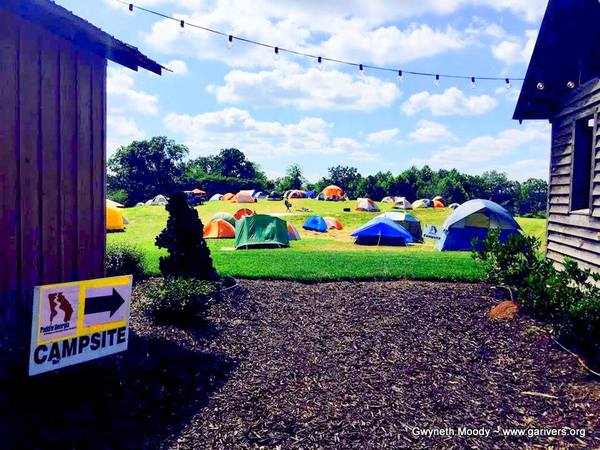 We were able to experience fun, hands-on educational experiences thanks to the Adopt-A-Stream team, the Naturalists Brett Albanese from the Department of Natural Resources and Katie Owens from the Nature Conservancy, and a group of teachers lead by Ruth Mead,

Sr. Environmental Educator at Phinizy Center for Water Sciences,

who joined our ranks for the week. The Adopt-A-Stream Team gave us daily updates on the water quality so we were aware of the health on the Etowah River
. The reoccurring theme was "no news is good news"
and the water quality kept coming back as healthy from the Adopt-A-Stream crew! The naturalists used seine nets to find out what fish and other critters live in the rivers and even found a few rare species including the Coosa Mad Tom! The youth group from Camp Horizon also joined us and for some it was the first time they had ever paddled. They got to experience the joys of paddling that so many already know. Groups like the youth group and the teachers are able to attend Paddle GA thanks to Georgia River Network's fundraisers that pay for their trip. We also had some
guest speakers, Diane Minick, with the Upper Etowah River Alliance and Mark Warren, of Medicine Bow. Diane spoke about the richness of life on the Etowah and the beauty that can be found there and in similar fashion
Mark spoke about the deep organic connection that can be found in nature and with nature. We had some campfire trivia led by Georgia River Network's own, Gwyneth Moody, about water trails and water basins. There was a lot on the line because the more questions you got right the more s'mores you g
ot to eat! All incredible stuff!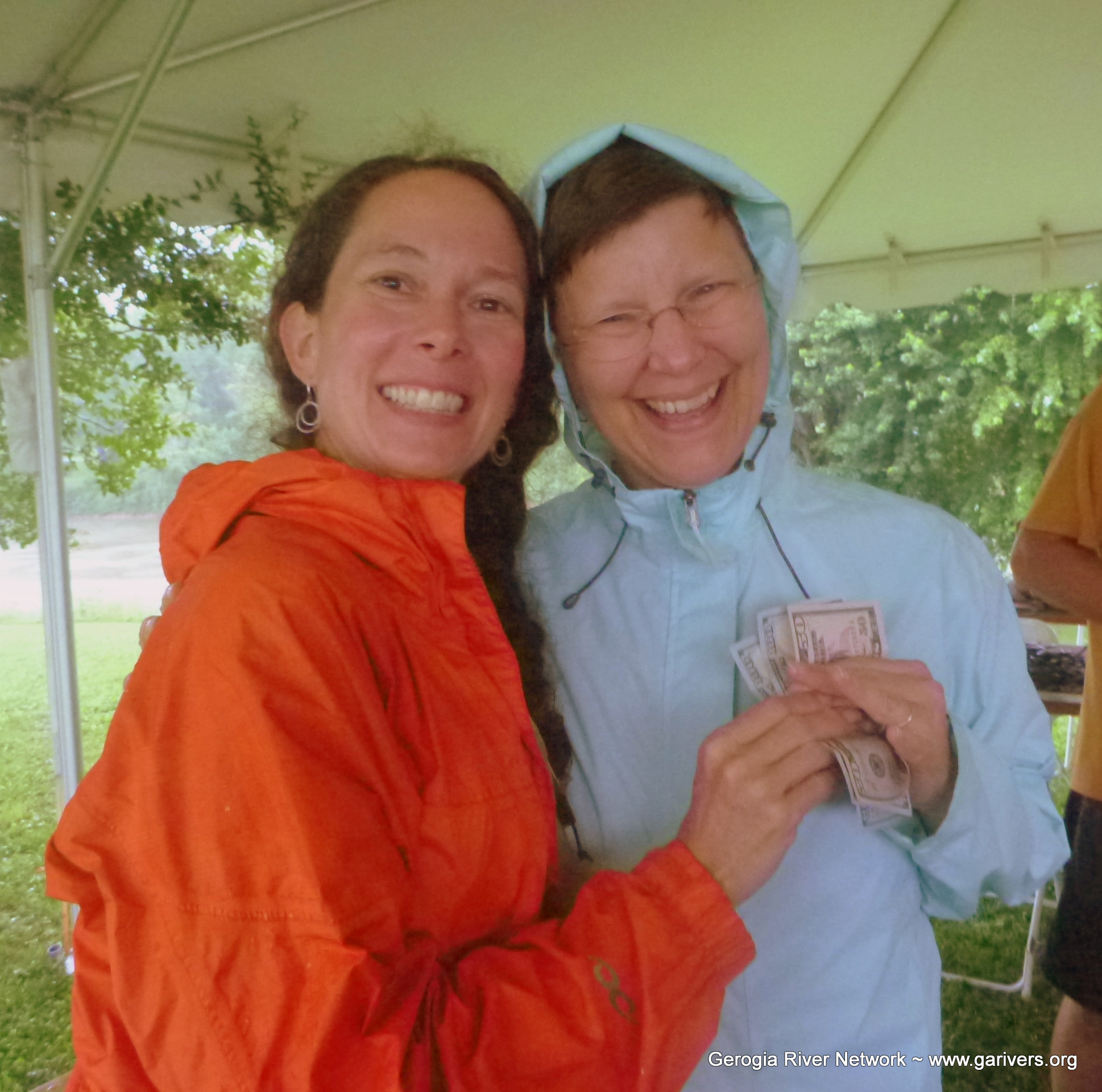 Along with the fun, we were also able to raise money for Georgia's rivers through fundraisin
g events like the Duck Race, Canoe-A-thon, and the live/silent auctions. An incredible $28,000 was ra
ised from C
anoe-A-Thon! The top winners of Canoe-A-thon were Jim and Debbie Fountain and the winner of the Duck Race was Lisa Johnson. Congratulations to you all!

This trip is nothing without our volunteers and this year everyone stepped up in a huge way! We are thankful for all our incredible volunteers and a special thanks to our volunteers of the week, Brian and Kyle Schnitzer. They were consistently helping direct people on the river and putting and taking out boats every day.

On the last day of the week everyone was excited and spirits were high despite the fact that it was a 24 mile paddling day. At the end of the long paddle they were greeted with cheers, cold drinks, and a big celebration with lots of food! Thanks to the Coosa River Basin Initiative, we had a fish fry paired with homemade hushpuppies and more. We also had a band to accompany our celebration. It was a perfect way to end the week! A big thanks to everyone who joined us.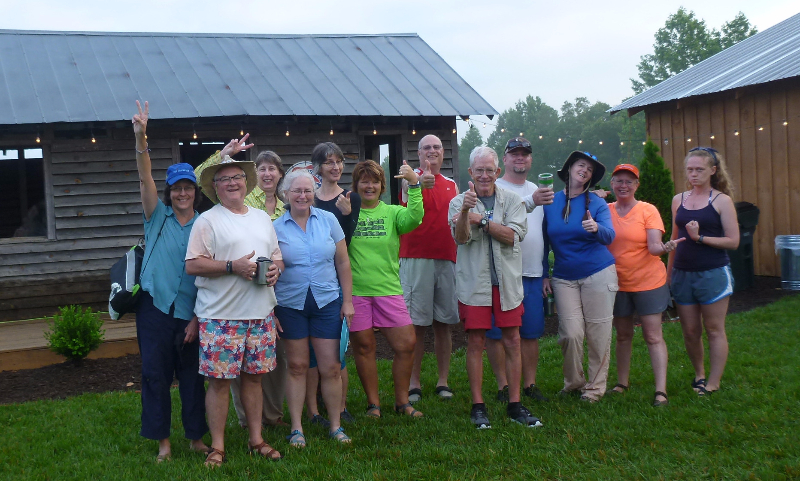 ---
Babbling Brooks of Beautiful Boaters
During Paddle Georgia we created a collective poem of our times on the river. Each person wrote down a 6 word phrase. Read below and enjoy the uniqueness of each person's perspective through their words.
I listen to nature talk, Found place to sit and think, Waiting just around the river bend,
Wet wilderness no stress, nature's best!,Wet wild and wonderful! Well, Whee,
Never cared less stinking near strangers, Will paddle faster for a shower, Singing sweet songs to whoever listens, I regain myself on rivers, When you look beside you… spiders!, Watch out for that strainer… damn!, Wild animals, nude beaches, all PG Scootin' over those darn hidden rocks,
Heard a bobcat on the bank, I love it because there's water fights, Alongside banks brimming with primal majesty, Awakens and restores all my sense; paddling:), Got to watch a duck dance, Regimented equilibrium: A Farce. Citation nature, Fleeting ecosystems,
casualty of mankind's lust, A peaceful float as butterflies catch a ride on your journey, Long-tailed, loitering, lounging, cozy, lengthy, Just keep paddling, Do not stop, Birds count for more turtle points, Best 7 days of my summer :), On the river having fun, Turtle points gathered in sewage water, Geckos go great with green grits, I'd rather portage than pay mortgage, Great job Bret we made it, Daughters are the best paddlers here, 42, I counted, turtles on the river today, Black tail redhorse of course, Frogs croaking as we paddle by, Of splashes and squirts, of floats and boats, is a tale as told by Paddle GA, On current of air and water we ride, Nothing cuter than a sunning cooter, Whip-poor-will can't be still, Dive deep here comes paddle GA, Two paths diverged on the river, I said, seagulls stop it now, Butterflies ,Butterflies, butter, River Shoals sooth the soul, Rockos in chacos, not my friend, Relaxing on river water wars inevitable, Beautiful river, great trip, lovely people, Wet, cold, slimy, fast, elusive, pretty, Emerald forest, clear water paradise found, River paddling helps me find myself, Paddle on, paddle strong all day, Happy friendly time for every one, Easy going, we are flowing; Etowah, Big blue boat blasting, Sparkling water glistening on the paddle, Want a date? Want t
​
o Mate?,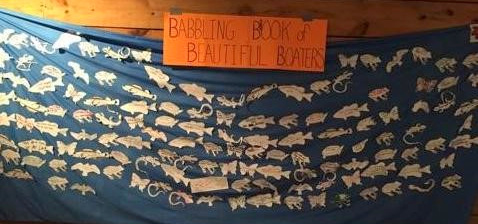 Flowing gently down the stream, Tiny turtle floating on a stick, Kingfishers and herons fly over turtles, Etowah, a beautiful river in Georgia, Sitting on top of tremendous rocks, River creatures love rivers, me too, Soaring, flying, gliding, Beaver, birds, turtles, dams, kayaks, canoe, Flying freely to beautiful places today, Tons of turtle in the river, Cloudy skies, sunny smiles, golden memories, All day on the river rocks, Forgot to lock the toilet door, Beautiful amazing wonderful, Sustainable, green, beloved, cold, calm, rushing, Salamanders slipping, sliding, in Etowah, Paddle, eat, socialize, camp, and repeat, Rain, shallow rocks, learn to swim, retrieve the kayaks- doing it again, Totally terrific turtle tanning on rocks, The river brings us together, Beautiful Etowah fun for all too, Rain crow… go away man go!, Spiritual Revelation of the beauty of creation, Rain Rain go away and come again another day, Paddling and flo
ating across rolling shoals, Loved the red-neck hot tub, Hop hop hop green frog zap, Rain, rain go away that's what all my haters say, The road less traveled was wet, muddy, rocky, trashy and shallow, Following fish swimming through fantastic waters, It's a skink don't you think?, Green heron gracing my morning paddle, Cliff swallows nest, bridges are best, My hard shell gives beavers hell, Fish are friends and never food, Butterflies don't taste like butter, Just keep swimming, just keep swimming, River cooter yellow and green, hide safely within your carapace, backwards C Forwards C, your design is a sight to see, Green frog boyng, cricket frog rattle, bird voiced frog chirp, Multiple turtles basking the sun, Counting turtles, watching h
erons, and bathing cows, Once a caterpillar… now a golden thriller, Fun with friends enjoying the river, To float on the river and play, Swap my garter- Etowah darter, The best time of my life, Turtles, fish, waterfalls, great blue harrier, More clean water for the Etowah Darter, Ventures in the trees, flapping wings, Etowah rivers, wonders abound… be attuned, Paddle faster I hear banjo music, Mad tom backwards is mot dam, Give me a kiss, lovely miss, Emerald shore blossoms, clean water flows, stacking stones, a paradise found, Wasn't it regal… saw bald eagle, Floating, birds and boats smiles galore, Pair of playful otters observes us, Regard the wild, keep mankind mild, Enjoying flowing swiftly down the stream, Sensuality in wilderness, GAEA's communion filled, I'm a toad on the river road, Butterfly floats, butterfly flies, on the sand, land on my arm, butterfly floats, butterfly flies, Attachment to attachments, shed the weight,
Gar-fish, gar-fish; oh, my you are swimming under, glad to see you already have lunch with ,between your sharp teeth, Damn dam portage, yellow jacket carnage, Dancing amber wings of a small dragon fly, Valley view made history come alive, Beautiful osprey caught fish with ta
lons, Are you a copperhead? "I ask as you swim serpentine by now you climb the tree and I see, In the oak, hear me croak, Squatting paddlers in a river of pee, Manifest your will, mother nature's son, Swim little fishes of the Etowah, Make this place your home where the paddle Georgia kayaks and canoes do roam, all the way down your lovely river to the city of Rome.
---
St. Marys Hidden Gem Paddle - Registration Opens July 31st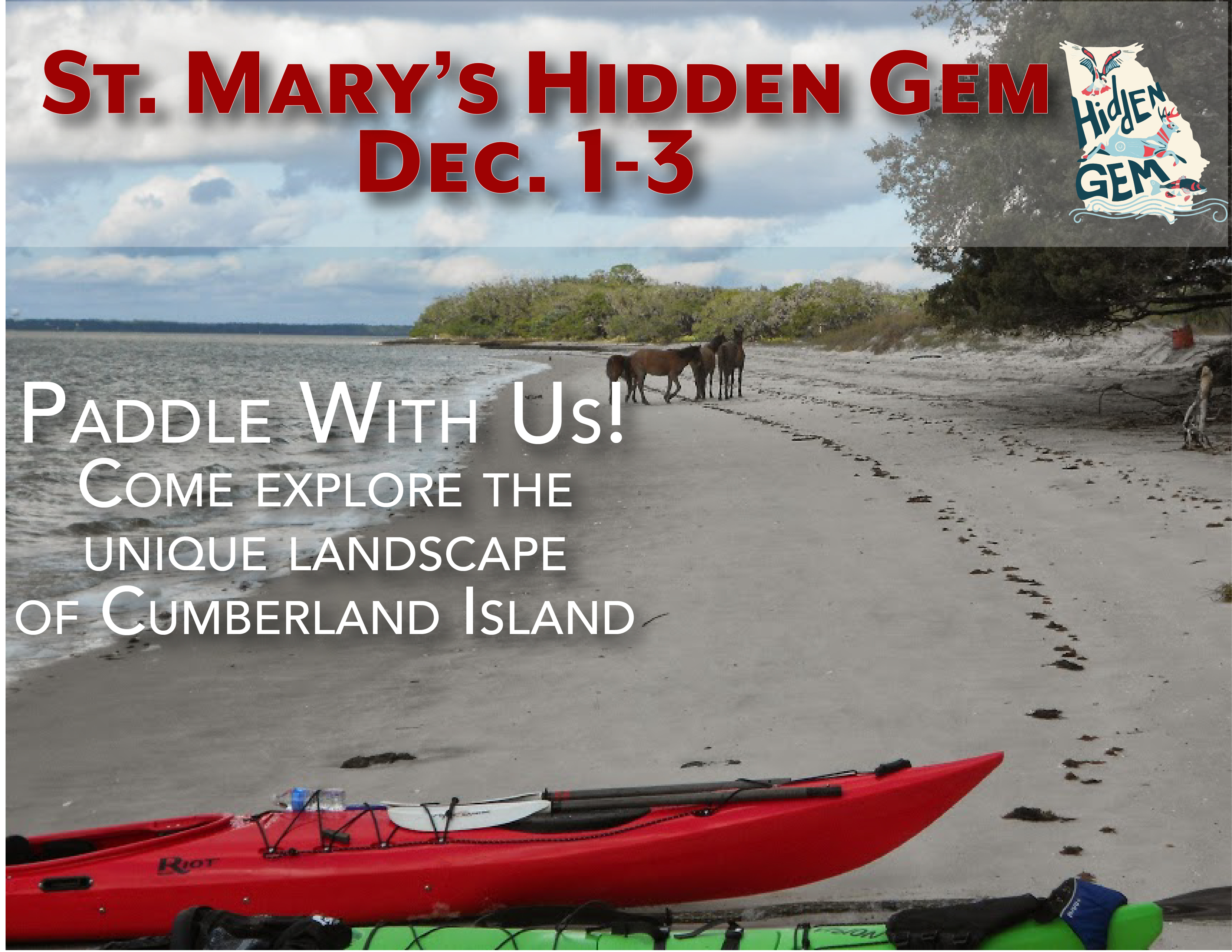 Join us for a unique paddling experience at Cumberland Island! With Beautiful marsh land and teeming wildlife this is definitely a trip you don't want to miss out on. You can see wild horses roaming the island as we paddle around St. Marys. St. Marys is the getaway to Cumberland Island, Georgia's largest and southernmost barrier island. Here pristine maritime forests, undeveloped beaches and wide marshes spread across the land showing us the true beauty of nature.

St Marys is the gateway to Cumberland Island, Georgia's largest and southernmost barrier island. Here pristine maritime forests, undeveloped beaches and wide marshes whisper the stories of both man and nature. Natives, missionaries, enslaved African Americans and Wealthy Industrialists all walked here. Cumberland Island is also home to over 9,800 acres of Congressionally Designated Wilderness.
Spots will be limited to people with ocean paddling/ sea kayaking experience. There will be a limited number of additional spots for people without ocean paddling experience but wanting to take the ferry over and join us for our weekend program on Cumberland Island.

Mark your calendar - Registration Opens July 30th.
---
Fall Float On The Flint - Registration Opens July 1st
Our Fall Float will be here quicker than you think, so mark your calendar!

Fall Float on the Flint is a not to miss 3 day paddling event taking place this fall on October 7th 9th with blue springs, cypress trees, and limestone caves! Paddlers from all over the nation attend this fabulous event!
We'll travel 56 miles from Albany to Bainbridge taking in the best of the Flint's beautiful blue hole springs, lively rapids, rich history, abundant wildlife and more! Fashioned after our annual week-long Paddle Georgia events, we will tent camp on the river two nights at Rocky Bend Flint River Retreat. Like our annual summer adventure, we will enjoy catered meals, educational programs and great camaraderie as we make our way down one of Georgia's most beautiful rivers during a beautiful time of year.

Find out more information at www.garivers.org and register here!
---
GRN Member Spotlight
- Jim and Debbie Fountain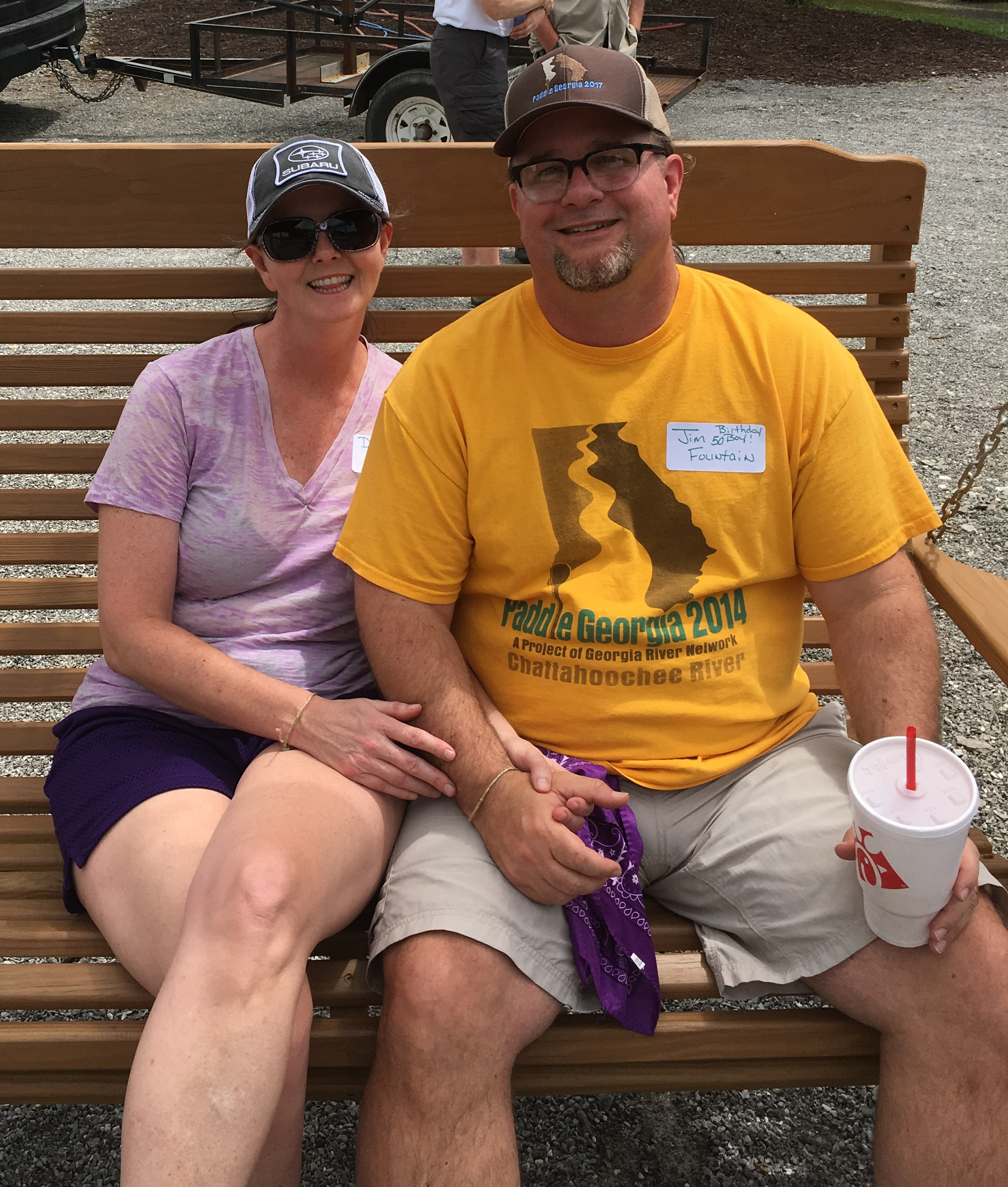 Jim and Debbie have supported Georgia River Network (GRN) for 10 ye
ars and when asked why they said, "It does a whole lot of good". "Clean water, you have to have it and somebody needs to help watch and be a safeguard". At GRN our main priority is protecting Georgia's waterways and we love having members that are as passionate as we are and support us in our efforts.
They have joined us on many rivers and multiple Paddle GA's because "They get to be a kid for a week". They have also been on other paddles that GRN hosts such as our Fall Float on the Flint and our Spring on the Satilla. Not only, do they attend GRN events they have also helped and supported us through the years. They have been on many river cleanups and contributed a lot of money through Canoe-A-Thon. In fact they happened to be this year's Canoe-A-Thon winners so congratulations!

We love all of our volunteers and supporters and we hope we can continue to partner and paddle with all of you in the future!
---
GRN's Paddle GA Makes Impact ~ President's Environmental Youth Award (PEYA)
1st year Paddle Georgia participants Rachel and Adam Enggasser (including youngest paddler of the year) will be receiving the resident's Environmental Youth Award this year for applying the environmental advocacy tools they were initially exposed to back in 2005. This is direct result of GRN's advocacy efforts to coordinate events like Paddle Georgia.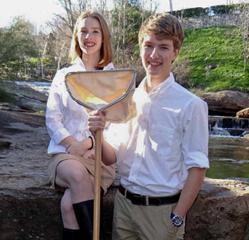 Congratulations to Rachel and Adam
who continue to work hard to protect our rivers!
"In South Carolina, two high school students Rachel and Adam implemented a Georgia citizen science initiative into their respective Greenville high schools, calling on fellow students to take charge in their watershed in order to prevent potential environmental health catastrophes. The program, Georgia's Adopt-A-Stream, is an initiative that trains individuals and groups in standardized water testing protocols. Once trained, citizens take monthly trips to their stream site(s) and sample for Dissolved Oxygen (DO), pH, conductivity, turbidity, and E. coli bacteria levels. Data is posted to a public database for analysis and baseline data storage."

Read full EPA article here.

---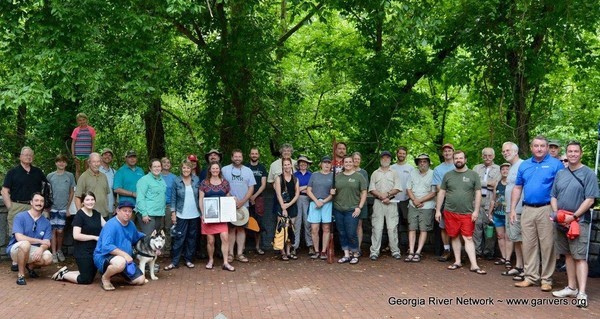 Athens has bike paths, a greenway and here and there, hiking trails. Soon the city might have another kind of pathway —water trails, or blue trails, for kayaking or canoeing.
The first trail got off to a quiet start a year ago when Athens-Clarke County had a ribbon-cutting in Ben Burton park for a ramp into the Middle Oconee River, a place where people can launch non-motorized rowboats, canoes or kayaks.

But to have a trail, you've got to have two or more places for access no more than a day's paddle apart, about 10 miles or so.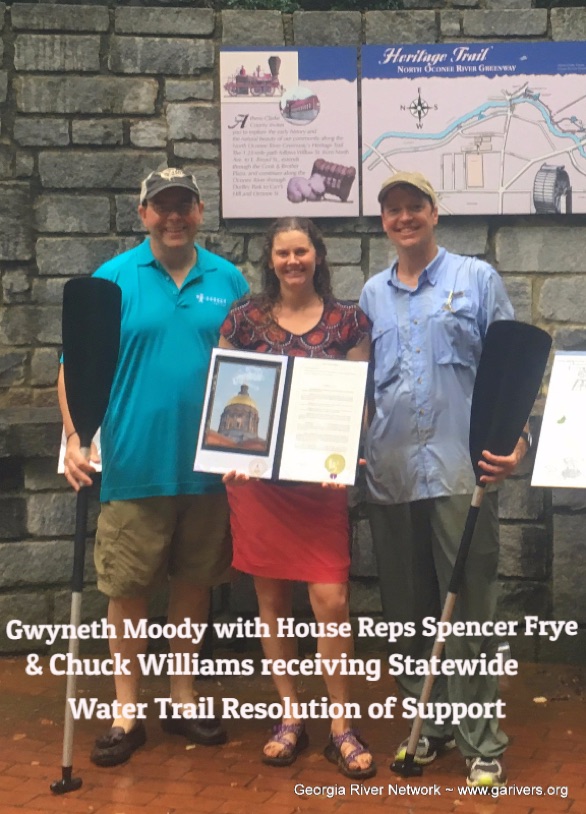 Mel Cochran-Davis has been talking to owners of land on the Middle Oconee about a second spot to launch and take out small watercraft, but there's so far nothing definite, she said. "The challenge is convincing property owners it's a good thing," said Gwyneth Moody, director of programs and outreach for the Georgia River Network.
Moody, Cochran-Davis — administrator of Athens-Clarke County Leisure Services' park services division — and others hope before long Athens could have water trails on both the North Oconee and Middle Oconee rivers. They and others working to establish some water trails for Athens invited elected officials and those who might help to a brief excursion on the North Oconee River on Monday. Several took them up on the offer, setting out in kayaks and canoes from a bank of the North Oconee in Dudley Park in what was at times a driving rain.

State Reps. Spencer Frye (D-Athens) and Chuck Williams (R-Watkinsville) got on the water. Sen. Frank Ginn (R-Danielsville), chairman of the Senate Natural Resources and the Environment Committee, didn't take part in the float but helped unload canoes. Frye also brought along a copy of a resolution he'd sponsored in the legislature in support of water trails. It passed the House unanimously, but carried no funding with it. It's still "a nice pat on the back," Moody said.
Georgia's state government doesn't have a
water
-
trails
program, and the nonprofit Georgia Rivers Network is spearheading the development of
water
trails
in the state, she said. Athens-Clarke County Commissioners Kelly Girtz, Jared Bailey and Melissa Link also got on the
water
for a short trip upriver and back.
Moody hoped the trip would help build support for
water
trails
here, which would become part of a growing statewide network of such
trails
. As conceived, the Upper Oconee
Water
Trail
would traverse 98 miles on the Middle and North Oconee, which join to form the Oconee River south of Athens. The Georgia Rivers Network website lists 15 established
water
trails
in Georgia, and 18 "under development," including an Upper Oconee
Water
Trail
, which would include segments in Athens. Nearby established
trails
include segments of the Yellow River in the Atlanta area and part of the Broad River north and east of Athens.
Read more about the North Oconee River
Water
Trail
VIP Paddle in
Online Athens.
---
Middle Schoolers Raise Money for Georgia River Network

Oak Mountain Academy Middle School Lead Teacher Linda Powers and her students held a chicken biscuit sale during the school year and raised money for the Georgia River Network and the West Georgia Pet Rescue. Chick Fil A provided the biscuits at a reduced rate and the students sold them in the morning before school. The fundraiser was sponsored by House of Parliament, one of the 4 houses in our middle school.
Linda also made a beautiful Paddle Georgia quilt for the Paddle GA 2017 live auction that raised $300.

Giving Linda and her students a BIG SHOUT and a huge thanks for their support!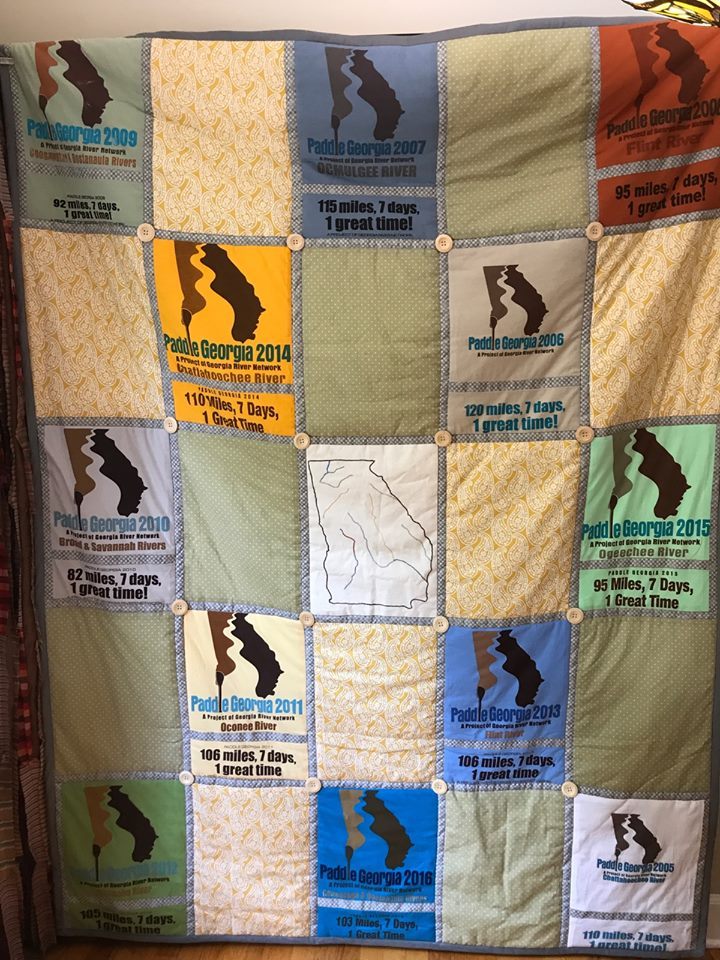 ---
GRN is looking for the following new or gently used items for our office: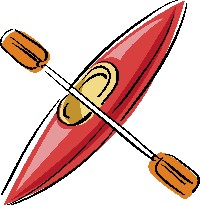 Sit on top kayaks, recreation kayaks, tandem kayaks, and canoes - in good shape

Graphic design and printing services

Donated office space in Athens

Adobe Creative Suite software

Covered trailer
Email info@garivers.org or call 706-549-4508 if you would like to donate any of these items.
---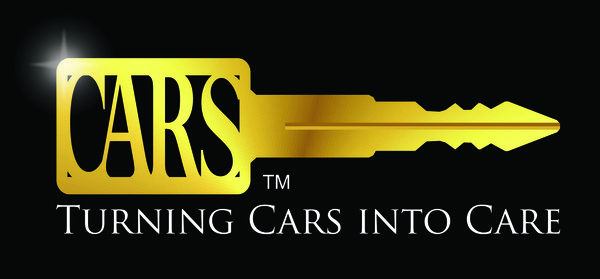 Donate a vehicle to GRN an
d help save our rivers! Turn your car, truck, RV, or boat into protection for Georgia's rivers.
We accept any vehicle - running or not - by working with
Charitable Auto
Resources. Your vehicle is towed free of charge and the donation is eligible for a tax deduction.
Contact Dana Skelton, at dana@garivers.org or 706-549-4508 if you are interested in taking advantage of this opportunity or for more information about the vehicle donation program.
---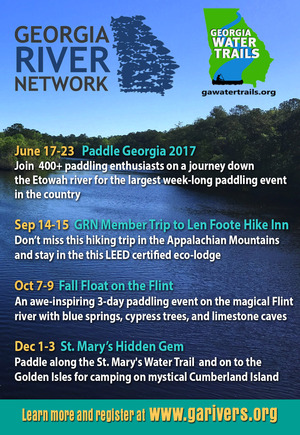 ---
Georgia River Network is a member group of EarthShare of Georgia

— a non-profit federation of over 60 Georgia non-profits, all of which work to educate, conserve, or protect our air, land, and water throughout Georgia. Through workplace giving campaigns at participating companies, EarthShare raises funds
for the member group non-profit organizations in Georgia. Employers who include EarthShare as part of their annual pledge campaign empower their employees with additional ways to improve their world. EarthShare of Georgia, as part of the EarthShare national employee giving program, is part of a network representing more than 400 environmental groups working locally, nationally and internationally. You can support Georgia River Network easily through the annual campaign.

If your company would like add an EarthShare giving campaign, contact Dana at
dana@garivers.org
. Learn more at the
EarthShare website
.
---
Want to see what is going on each day in the world of Georgia rivers? Go here: http://garivernews.wordpress.com. Click on the "follow" button in the bottom right corner, enter your email address, and our daily news will be delivered to your inbox.
Georgia River Network
126 South Milledge Ave.
Suite E3, Athens, GA 30605
(706) 549-4508


http://www.garivers.org




Become a Member Today -

Join