In This Issue
News Stream
News:
​Nonprofit Resources:
---
New CRK Grants Administrator Position
By Juliet Cohen

Chattahoochee Riverkeeper (CRK) is a nonprofit environmental and education organization with more than 7,200 members and offices in Atlanta, Gainesville and LaGrange, which works to protect the Chattahoochee River, its lakes, and tributaries through education, monitoring, outreach, and legal actions.

CRK is seeking a part-time (20 hours/per week) employee to serve as Grants Administrator. The Grants Administrator is responsible to ensure excellence in preparation, implementation, monitoring, management and reporting for multiple grants. The Grants Administrator contributes valuable services before award, during fulfillment, and beyond; resulting in an exceptional grant maker experience and advancement of our mission. The Grants Administrator will collaborate with staff to ensure timely completion of all grant deliverables, will coordinate budgets to ensure appropriate and on schedule grant spending, and will be responsible for internal and external reports.

The position will report to the Development Director and collaborate with program and development staff for relationship stewardship and as a resource for development of future grants. The Grants Administrator may serve as the day-to-day information contact for grant makers, as determined by staff, with the priority being the greatest level of effectiveness with the grant maker.
Read more about the CRK Grand Administrator Position.
---
Environmental Voter Project is Looking to Hire a Field & Digital Outreach Coordinator!
By Nathaniel Stinnett

The Environmental Voter Project is an innovative new nonprofit dedicated to dramatically increasing the number of environmentalists who vote in every election. Using data analytics and predictive modeling, we identify millions of environmentalists who do not vote. Then, we apply cutting-edge behavioral science to turn these non-voting environmentalists into consistent super-voters. All employees and volunteers should be willing to embrace an intellectually rigorous, campaign-style work environment, consisting of a small team of dedicated leaders. The Environmental Voter Project's work environment is also safe and open to all employees and partners, respecting the full spectrum of race, color, religious creed, sex, gender identity, sexual orientation, national origin, ancestry, age, disability, genetic information, veteran status, and all other classifications protected by law in the locality and/or state in which you are working.
The Environmental Voter project is seeking a Field & Digital Outreach Coordinator with at least one year of experience in political field work and social media communications. The Field & Digital Outreach Coordinator will work closely with the Field Director and Executive Director to manage and execute the organization's multi-state field campaigns, volunteer recruitment & training, digital mobilization, and social media communications. This is a full time position in Boston, MA, offering competitive salary and benefits.

Read more about the Field & Digital Outreach Coordinator Position.
---
Chattahoochee Parks Conservancy's Trail Restoration Campaign
By Sally Bethea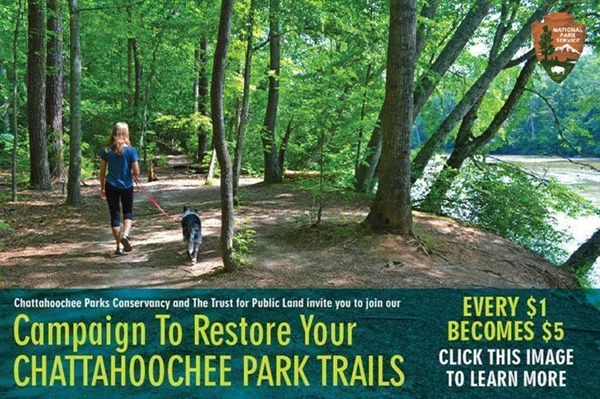 Thanks to The Trust of Public Land, we are able to match donations 4:1, so every dollar donated becomes $5! The funds will support a trail assessment and management plan to evaluate the condition of the 80-plus miles of trails in the Chattahoochee River National Recreation Area for the first time since the park was created in 1978! The plan will provide recommendations for trail standards, restoration and connectivity to local trails.

Campaign details can be accessed on our homepage (www.chattahoocheeparks.org) and on Facebook (https://www.facebook.com/chattahoocheeparks/)
---
Water Testing A Part of the Paddle GA Journey
Excerpted from Rome-News Tribune By Ramsey Cook
On Georgia River Network's Paddle Georgia 2017, Adopt-a-Stream employees and volunteers gather this week to test water quality on the Etowah River and its tributaries.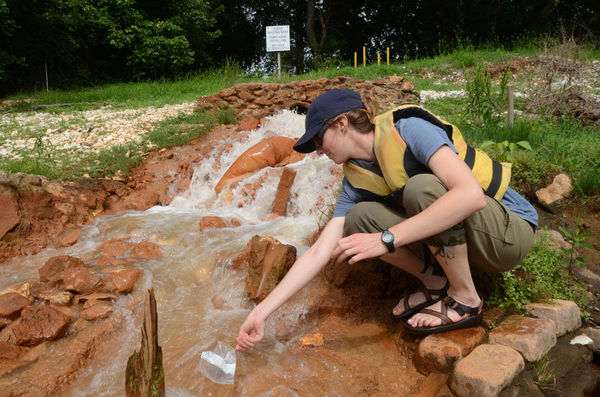 "Paddle Georgia is unique because normally monitoring is done by municipalities. Here, we are able to test from the headwaters to the end of the river," said Bob Born, an Adopt-a-Stream adviser and volunteer trainer and monitor. Born explains that this type of testing allows monitors to pinpoint problems as it provides a direct comparison of different sections of river. "It gives us a linear photograph of the river over this distance in time," Born continued.
Adopt-a-Stream provides a variety of reliable data. "We use chemical testing," explained Chris Thompson, a volunteer for Adopt-a-Stream on the Yellow River. With this system, volunteers test air and water temperature, pH levels, conductivity and dissolved oxygen. Adopt-a-Stream also looks at bacteria and nitrate levels. So far, collected data has shown no deviation from the norm and has indicated good water quality in the Etowah River.
Beyond being a unique source for water testing, Paddle Georgia also offers volunteers a chance to refocus their efforts when testing for water quality. "Paddle Georgia recharges me. It's interesting to be surrounded by people educated in chemistry and biology," said Thompson.
Paddle Georgia will continue to encourage awareness for the health of Georgia rivers, and will finish in Rome's Heritage Park on Friday.
---
Okefenokee Now Accepting Applications for Commercial Guiding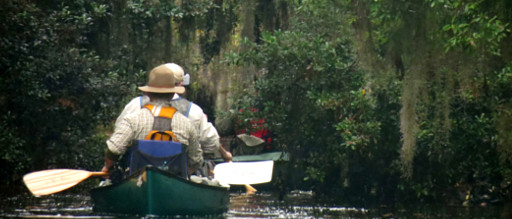 Okefenokee National Wildlife Refuge has opened the application process for 2017-2018 Day-Use and Overnight Guide Permits. If your organization charges a fee to participants to visit Okefenokee National Wildlife Refuge, whether you are for profit or nonprofit, you are required to have a Commercial Guide Special Use Permit.

This includes educational organizations, tour companies, and outfitters. If you have a guide permit already and would like to renew for 2017-2018, you still need to send in a complete package with application, copy of CPR/First Aid, insurance, and permit fees.

For complete guidelines and application forms, visit the refuge website.
Commercial Guide Special Use Permit applications are only accepted once a year and are due to the refuge by

August 5, 2017

. Permits will be awarded during August and will authorize the specific commercial services requested and approved by the Refuge Manager. The permit will allow the vendor to provide their authorized service to the public starting October 1, 2017 and until

September 30, 2018

. Permits are renewable annually provided the permittee adequately provides quality services to the public and closely follows the terms of their permit.
---
Atlanta Airport, Delta Airlines Aid Flint River Restoration Effort
Excerpted from The Atlanta Journal Constitution; By Kelly Yamanouchi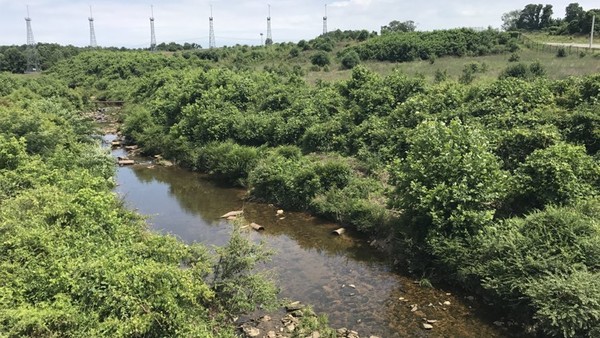 The world's busiest airport over the years hasn't been the friendliest neighbor to the Flint River, which flows underneath it.

Now, the airport and major tenant Delta Air Lines are part of an effort to restore the river, which feeds agriculture for farmers in southwest Georgia, by reducing water use.

Hartsfield-Jackson International and Delta are contributing to a project on Spring Creek, a Flint tributary, to retrofit irrigation systems to reduce the use of groundwater. That is expected to help restore the flow of streams in the Flint River basin, and it is one of the projects aimed at restoring 30 million gallons of water to Georgia waterways.

The Flint River is a resource for drinking water, agriculture and manufacturing in southwest Georgia and fosters wildlife, Hartsfield-Jackson general manager Roosevelt Council said.

But here, "the river faces a wave of adversity, from storm-water runoff to pollution to drought conditions," Council said at an event Wednesday. "Such conditions put a toll on the river, putting a strain on wildlife and reducing economic opportunities."

"Everyone is aware that a drop of anything that hits the ground has the potential to go to the Flint River, so you have to really protect it in your everyday work," said John Laughter, Delta's senior vice president of corporate safety and security.
Read the full Flint River Restoration Effort Article Here.
---
Float on the Flint Happens in October
Excerpted from WALB News; By Dave Miller
People who want to get to know the Flint River, up close and personal, can join the Georgia River Network's Float on the Flint River excursion, October 7-9.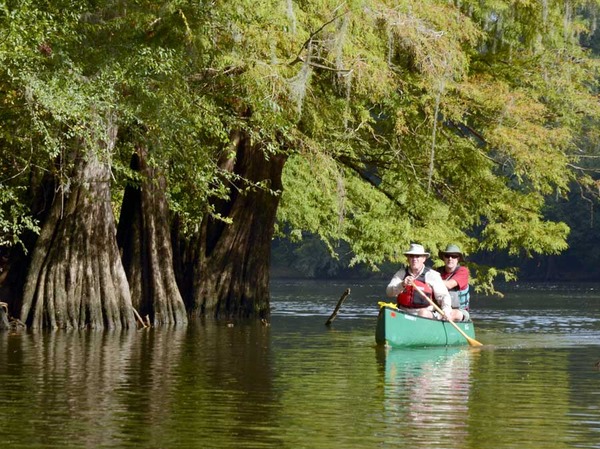 The Georgia River Network said in a release that this will be the fourth edition of Paddle Georgia Fall Float on the Flint.
The trip, produced in partnership with Flint Riverkeeper, will cover about 48 miles of the southwest Georgia river over three days, beginning near Baconton and ending in the backwaters of Lake Seminole, near Bainbridge.
Online registration is now open HERE. Registration fees are $325 for adults, $280 for children 8-17 and $140 for children 7 and younger.
Fees include six catered meals, camping facilities with restrooms and showers, shuttle service, event T-shirt and more.
"We're excited about partnering with GRN to bring people from across the state and nation to the beautiful Flint," said Gordon Rogers, Flint Riverkeeper. "We see the Flint River Water Trail as an economic development tool for southwest Georgia communities, and this trip shows the benefits of making our river accessible to visitors and locals."
"There's a great dose of fun as well as education. The food is great, the comradery is great. It's just a good time," said Rogers.
If you're interested in participating, you can get more information at the Paddle Georgia website, or by contacting Joe Cook at 706-409-0128 or joecookpg@gmail.com.
---
Adopt-A-Stream Volunteer Award Spotlight on Anne Ledbetter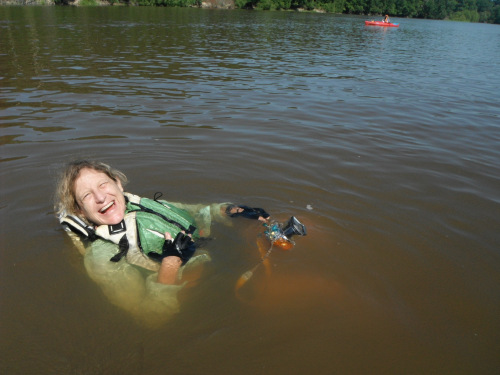 GRN would like to Spotlight Anne Ledbetter for receiving Georgia Adopt A Stream's Red Flag Award for
Cobb County ~ Chemical, Bacteria, & Macroinvertebrate Monitoring ~ Active Since 2012 ~ 16 Monitoring Events

Anne was first introduced to paddling on GRN's Paddle GA leading to her becoming an active paddler, river advocate, and AAS Monitor.

On February 13, 2016, when there had been no recent rain events, Anne knew to quickly report that Popular Creek had high flows and was very turbid. She took photos of the issue and provided a map of the suspected source. This information was helpful to the City of Smyrna officials who responded and soon found an issue with a nearby detention pond. Anne's actions helped to resolve a water quality issue and educate the retail developer, hopefully deterring them from repeating the violation at other locations.
Read more in the Adopt-A-Stream Newsletter.
---
Georgia's Little River Water Trail will Make a Big Splash
Excerpted from Columbia County Magazine By Kristy Johnson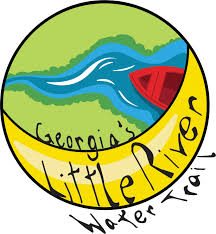 Georgia's Little River Water Trail will make a big splash in the area recreational, environmental and tourism community. The development of Georgia's Little River into a water trail has been unde
rway for several months, and the effort continues to build momentum.
Similar to a hiking trail, a water trail has safe public access points, information kiosks and signage, and family friendly amenities such as picnic areas and facilities along the route.
The trail flows 20 miles through Wilkes, Warren and McDuffie counties within the 15,000-acre Clarks Hill Wildlife Management Area, and it includes four public access locations – Highway 80, Highway 78, Holiday Park and Raysvillle Campground. The water trail is a wildlife sanctuary for bald eagle nests, river otters, turtles and other animals, and its history includes gold mines as well as Quaker and Native American Indian settlements.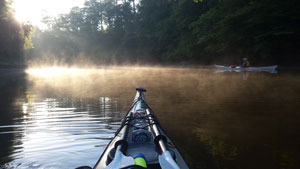 Developments include the passage of the Georgia's Little River Water Trail Resolutions of Support by McDuffie and Wilkes counties, social media updates and the design of marketing materials. Trail head kiosks have been put up at some access points, and kayak rentals are available at Raysville Campground.

"Ultimately, Georgia River Network hopes to see Georgia's Little River Water Trail join the statewide Georgia Water Trails Network consisting of the 15 water trails that have successfully fulfilled the six criteria required to become an officially established water trail."

The water trail will be divided into three sections – Highway 80/Wrightsboro Road Bridge in McDuffie County to Highway 78 (7.63 miles), Highway 78 to Holliday Park in Wilkes County (7.86 miles) and Holliday Park to Raysville Campground in McDuffie County (4.53 miles).

Read more about Georgia's Little River Water Trail and become involved!
---
Paddle GA 2017: 106 - Mile Kayak Trip Will Improve Teacher's Lessons
Excerpted from The Telegraph By Andrea Honaker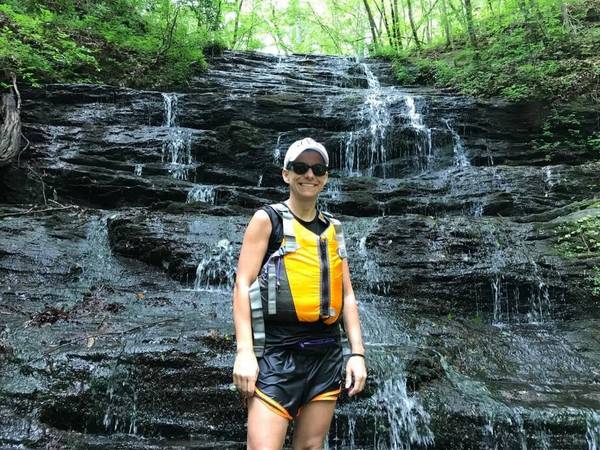 Jennifer Mitchell's summer prep wasn't limited to desk and computer work this year.

The Monroe County Middle School teacher spent seven days and 106 miles on the Etowah River, and she'll incorporate her new knowledge and experiences into her lesson plans.

About 400 people steered canoes and kayaks down the water from Dawson to Floyd County for the Georgia River Network's 13th Paddle Georgia trip. About 100 participated in just the first two days, and the rest did the full week, coordinator Joe Cook said.

Mitchell, who teaches math, science and special education on Monroe Middle's Banks Stephens Campus, was among seven educators who received scholarships for the event, which finished June 23.

The teachers had a day of workshops June 16 before the paddling started, and they learned how to collect data and do chemical water testing in streams, Cook said. They got certified in the Georgia Adopt-a-Stream program and were trained in the Healthy Water Health People curriculum from Project Water Education for Teachers, Mitchell said.

Mitchell plans to start an Adopt-a-Stream club at her school and work the environmental, conservation and math concepts that she learned into her classes. She'll share her knowledge with the other science teachers at Monroe County Middle and keep in touch with the other educators she met on the Etowah River.

"This was an even better opportunity to learn more about the state that I call home now," said Mitchell, a kayaker and lover of the outdoors. "Anything I can do to hook my students' interest is a bonus. I'm always trying to relate things I've done or things they're familiar with."
Read more in The Telegraph and learn more about Georgia River Network's Paddle GA Scholarship Program.
---
Big thanks to our Paddle Georgia Sponsors! We couldn't do it without you! 2017 Sponsors to date:

Columbia Sportswear Company; Cedar Creek RV and Outdoor Center; Cary Baxter, CPA; CYA Agency, Inc.; Oglethorpe Power; Terry Pate, PC, CPA; China Clay Producers Association; Georgia Mining Association; Patagonia; EarthShare of Georgia; Troncalli Subaru; Bending Branches; RS Industrial; Friends of Georgia State Parks; Hennessy Land Rover Centers; Southern Company Gas; StreamTechs; New Belgium Brewing Company; Shaw Industries; Stormwater Systems; Outside World; Georgia Secure Shred; Murphs Surf; Len Foote Hike Inn; and Euharlee Creek Outfitter
---
Buy a Deep River Outfitters Shirt & $5 of Proceeds Supports Georgia River Network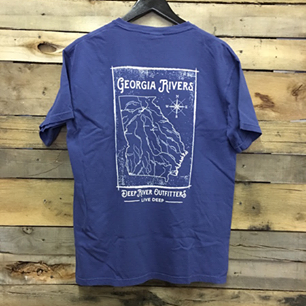 Deep River Outfitters supports Georgia River Network through the sale of their Georgia Rivers Tee! Buy a Georgia Rivers Tee and Georgia River Network will receive $5 for every shirt sold!

Visit http://shopdeepriver.com/georgia-rivers-china-blue to purchase your shirt and use coupon code "garivers17" to receive FREE shipping.

Offer good through July 31st.
---
Webinar Series: The What, Why, and How of Relevancy, Equity, Inclusion, and Diversity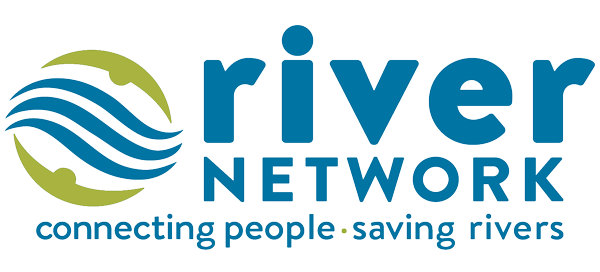 Excerpted from the River Network Website
Our work to protect and restore the rivers and other waters exists within the context of a society that is increasingly diverse. Nearly 40% of the U.S. population are people of color, and predictions suggest that by the mid-2040s non-whites and people of mixed-race will be a majority of our population.

To remain socially relevant, our organizations should reflect the diversity of society as a whole, requiring us to both reform our institutions from the inside and our approach to our river protection and restoration work. Further, threats to water affect vulnerable communities the most, and yet they are seen and heard from the least in our water conservation community.

Today, being an effective advocate for the rights of nature must include being an effective advocate for the human right to water and ensuring that we are working toward outcomes that are equitable to all members of our communities.

This 90-minute session (recorded on May 18th, 2017) was designed to serve as a foundation on the topics of diversity, equity and inclusion (DEI), and covers:
Working definitions of diversity, equity, inclusion, cultural competence, and cultural relevancy to ensure we are all speaking the same language;

A framework for discussing the reasons why DEI efforts are important in the realm of river and water protection and restoration, including River Network's own "mission case" for DEI as an example;

A discussion of how to get started on this work, using a four-quadrant framework and guiding principles for approaching DEI work in a holistic and sustainable way and providing sample strategies that River Network and other organizations have considered in this realm.
Check out the DEI Webinar Series!
---
Watershed Group Events Happening throughout the State: July 15 - August 15
Native Cane and Birding at Panola Mountain State Park with South River Watershed Alliance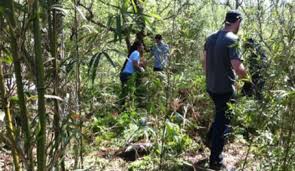 When: Sat, July 15, 9:00am - 11:30am
Where: Panola Mountain State Park, 2620 GA-155 N, Stockbridge, GA 30281
On this trip, South River Watershed Alliance will visit a river cane restoration project, established with the help of the South River Watershed Alliance. We'll walk along a section of the South River near Panola Mountain that joins the Arabia Mountain Trail where we'll visit a cane restoration area that is also part of the Power of Flight birding-banding research project. We'll learn about the importance of river cane and about our migrating songsters, and we'll listen for the distinctive call of the Swainson's warbler (which for you birders sounds like somewhat the beginning song of the Louisiana waterthrush plus the ending song of white-eyed vireo).
For more information, visit Native Cane and Birding at Panola Mountain.
Doggie Daze with Blue Heron Nature Preserve

When: Sat, July 15, 9:00am - 11:00am
Where: 4055 Roswell Rd NE, Atlanta, GA 30342
Bring your dog and make new friends. Go on a creek walk, go for a neighborhood stroll or Preserve tour; Make doggie photography and art, shop for hiking supplies for dogs, and snack on treats for you and your dog. Join the folks at Blue Heron for a Dog Gone Good Day.
Read more about Doggie Daze.
Ogeechee Riverkeeper's 1st Annual Moon River Race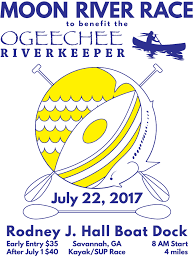 When: Sat, July 22
Where: Rodney J. Hall Boat Ramp (Butterbean Beach) 25 Diamond Causeway Savannah, GA 31406
Ogeechee Riverkeeper is so excited to be hosting our first annual Moon River Race to benefit Ogeechee Riverkeeper, a kayak and stand up paddleboard race. Starting at Butterbean Beach near Skidaway Island, racers will paddle 4 miles total, through the Branches and up the Moon River to a turnaround. There is also a 1-mile fun race for those wanting to try out kayak and SUP racing. Check in begins at 6:30am and the race begins at 8:00am. Registration is $35 until July 1, and $40 after July 1. Register early to save $5! All proceeds of the race will go to ORK's mission of protecting, preserving, and improving the water quality of the Ogeechee basin.
Read more about the 1st Annual Moon River Race.
Satilla Riverkeeper's 13th Annual Gala
When: Sat, July 29, 6:00pm - 10:00pm
Where: Strickland's Lodge near Raybon, GA
Join the Satilla Riverkeeper for dinner, live entertainment, and live and silent auctions as we celebrate the accomplishments of the Satilla Riverkeeper.
Read more about the 13th Annual Gala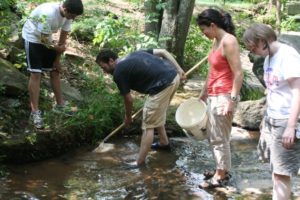 Summer Quarterly with Upper Oconee Watershed Network
When: Sun, July 30, 9:00am
Where:
Sandy Creek Nature Center, 205 Old Commerce Rd, Athens, GA 30607
Meet Upper Oconee Watershed Network at Sandy Creek Nature Center at 9am for a brief introduction to the water sampling methodologies we will be using. Then, they will send you out to select stream sites where you will monitor for biological, bacterial, and chemical water quality. No experience is necessary, and all ages are welcome to participate! Coffee and light snacks will be provided. Dress to get wet and dirty!
Read more about the Summer Quarterly.
A Sibley Pond Sunset with Chattahoochee River National Recreation Area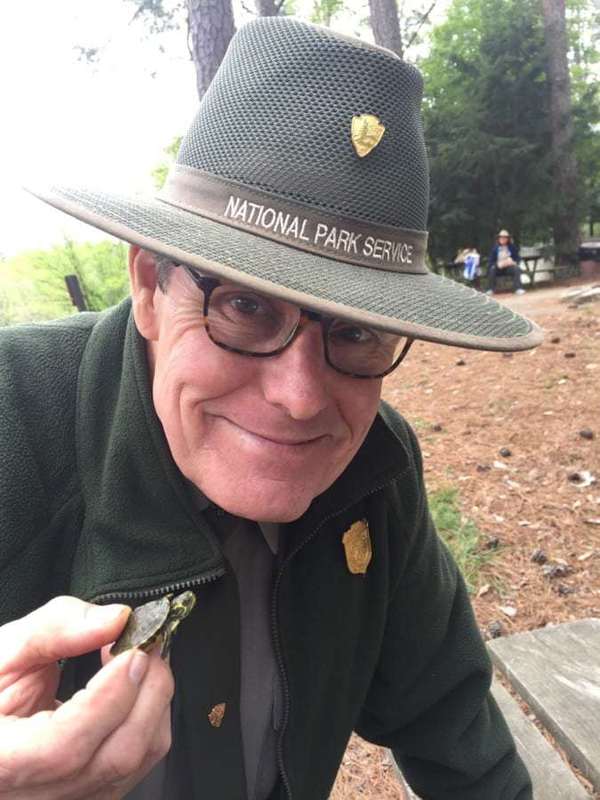 When: Fri, August 4, 8:00pm - 10:00pm
Where: 3760 Paper Mill Rd SE, Marietta, GA 30067
Join Park Ranger Jerry Hightower for a fantastic summer evening. Explore the aquatic environment at the pond's edge near the deck looking for tadpoles, frogs, and turtles. Then roast marshmallows around the campfire. Discover nature after the sun sets on a leisurely guided night time safari searching the shores of Sibley Pond for whatever nocturnal creatures might be out and about. Listen carefully for the crickets, katydids, frogs, owls, and more. Enjoy the evening and nature's chorus as you experience your National Park at night. The evening's activities are very casual and informal. Reservations are required; call 678-538-1200 for more information.
Find out more information about A Sibley Pond Sunset.
Summer Moonrise Campfires and Night Hikes with Chattahoochee River National Recreation Area
When: Sat, August 5, 8:00pm - 9:00pm
Where: 8615 Barnwell Road, Johns Creek, Georgia, 30022
Join National Park Service Naturalist Jerry Hightower for a campfire, guided hikes, and a beautiful late summer evening with the glow of the full moon overhead. Roast marshmallows over an open fire, and walk along a moonlit forest trail. Receive a complimentary Chattahoochee River Journal with wildlife lists and paw prints. Enjoy the campfire, the moon light, and the nocturnal sights and sounds of the Chattahoochee. For directions see www.nps.gov/chat. Parking is limited and carpooling is encouraged. Reservations are required by calling 678-538-1200.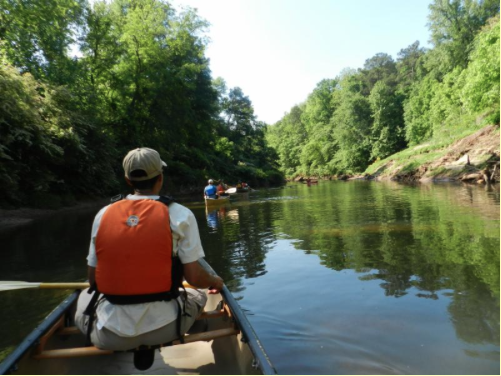 South River Water Trail Canoe Paddle
When: Sat, August 5, 9:00am - 3:00pm
Where: Lorraine Park & Trailhead; 3465 Highway 138, Conyers, GA
Experience the South River and its ecosystem from the inside out! Join South River Water Trail and paddle the South River from Lorraine Park & Trailhead to Oglesby Bridge Road and experience one of the best outdoor adventures you can imagine close to home. Enjoy lunch at end of paddle (included) and re-live your experience with new friends before heading home. Novice and beginner paddlers and kayakers are welcome. Space is limited. Additional trip information will be shared with those who sign up. Questions call Jackie, 404-285-3756.
Read more about the South River Canoe Paddle.
Canoe/Camp Perseid Meteor Shower with the South River Watershed Alliance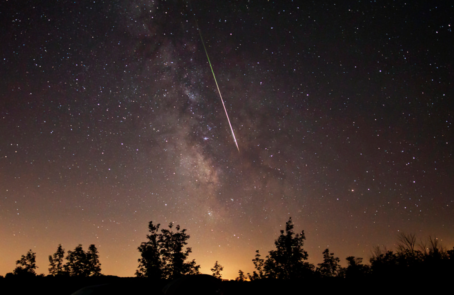 When: Sat, August 12, 10:00am - Sun, August 13, 2:00pm
What better time to spend a night on a sandy river bank than during a meteor shower! This is the weekend the Perseids will be at their peak. For our third South River outing, South River Watershed Aliiance (SRWA) will take canoes and kayaks and paddle a respectable 9-10 mile section of the South River before it reaches Jackson Lake. SRWA will listen for birds, learn about the remaining forest along the banks, and learn about the overall history and ecology of our river which becomes Georgia's dominant river after joining with Yellow River to become the Ocmulgee. In 1540, Hernando de Soto's men were fed roasted venison, wild onions, and corncakes by Native Americans in a town called Ichisi, located along the Ocmulgee river just south of today's Macon, Georgia. SRWA will put in on Saturday morning and camp out overnight in tents by the river, cooking over a campfire—bring your own edibles. Previous paddling experience is helpful but not necessary.
Read more about the Perseid Meteor Shower Canoe/Camp Trip.
---
Georgia River Network 2017 Events Calendar


---
The Funder's Network; Partners for Places

A successful matching grant program, Partners for Places creates opportunities for cities and counties in the United States and Canada to improve communities by building partnerships between local government sustainability offices and place-based foundations.

National funders invest in local projects to promote a healthy environment, a strong economy, and well-being of all residents. Through these projects, Partners for Places fosters long-term relationships that make our urban areas more prosperous, livable, and vibrant. The grant program will provide partnership investments between $25,000 and $75,000 for one year projects, or $50,000 and $150,000 for two year projects, with a 1:1 match required by one or more local foundations.

Learn more about Partners for Places and see how a Partners for Places grant helped Appleton, Wisc., turn an abandoned golf course into a urban garden that promotes a healthy environment, a strong economy, and the well-being of all its residents.
Read more about Partners for Places.
---
How to Create a Strategic Online Nonprofit Communications Plan
By Julia Campbell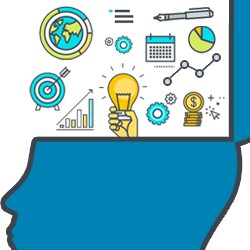 Join Julia Campbell, a nonprofit marketing strategist who has helped dozens of nonprofits create Strategic Online Communications Plans, and learn how to create your very own customized, workable, user-friendly Strategic Online Communications Plan for your nonprofit.

Your Strategic Online Communications Plan is the road map for all of your nonprofit communications work, to ensure that you are consistently and systematically using the best platforms to accomplish your nonprofit's unique communications goals.

In this webinar, we will walk you step-by-step through the goal selection process, how to determine your target audience, how to craft a compelling message, how to select and prioritize the online platforms that will work best for your specific nonprofit, and how to measure your results and report on progress and successes.

You will leave refreshed, focused, less stressed, and ready to get started!

During This Live Interactive Nonprofit Webinar You Will Learn:
How to create SMART (Specific, Measurable, Actionable, Realistic, Time-oriented) goals for your nonprofit online communications efforts

How to match actionable objectives to your SMART goals

How to identify your target audience

How to develop a compelling, emotional message for your online communications

How to choose the right online communications platforms for your nonprofit

How to best use the three most popular online communications platforms for nonprofits - a dynamic website, an email list, and Facebook Page

How to incorporate effective nonprofit storytelling in your Strategic Online Communications Plan

How to fill up your Editorial Calendar with great content topics so that the online well will never runs dry

How to determine which online metrics you should measure, where to find them, and how to put them into a Measurement Spreadsheet for easy analysis and reporting
The Webinar is Thursday, July 20, 2017 beginning at 3:00 pm.
Read more about the Live Webinar and how to register.
---
Join Georgia River Network!
If you find News Stream and other information and services provided by Georgia River Network useful, we would appreciate your financial support.

Make a difference and JOIN TODAY!
---