Georgia River Network News Stream
December 2012
News
1. Happy Holidays from Georgia River Network!
2. Presentation Proposal for Weekend for Rivers Due Monday
3. The Institute for Georgia Environmental Leadership Job Listing

Workshops/Conferences/Calendar Items
4. River Network's Online Map
5. Certified Stormwater Inspector Training
6. Webinar: Leading Networks and Coalitions

Nonprofit Resources
7. FAQ: Staying Engaged During the Legislative Session
8. What Stories Can Learn From Jokes
9. How to Schedule a Nonprofit Meeting

Fundraising Deadlines
10. New Grant Opportunities

*************************************************************************************

1. Happy Holidays from Georgia River Network!
"They both listened silently to the water, which to them was not just water, but the voice of life, the voice of Being, the voice of perpetual Becoming."
-Hermann Hesse, Siddhartha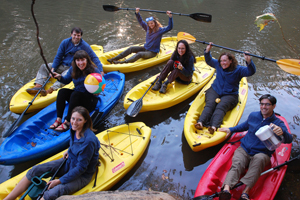 We hope you find some time this season to listen silently to the water. Also know that Georgia River Network and supporters like you are working together to protect that water.

You can also make a holiday gift now to support our continued work together in that effort by clicking this link.

2. Presentation Proposal for Weekend for Rivers Due Monday!
You know what we at Georgia River Network want for Christmas? We want YOU to tell us a story at Weekend for Rivers! And since we're currently accepting presentation proposals for Weekend for Rivers 2013, we'd love it if you submitted a story, a song, a great idea, a poem that illustrates why YOU value water.

And you best start thinking about what you want to present soon! Deadline for submissions is 11:59 PM on Monday, December 17th!

Weekend for Rivers will take place April 6-7, 2013 at the Chattahoochee Nature Center in Roswell, Georgia. We'd love to see you there even if you don't share a story with us, so make sure you put it on your brand new 2013 calendar!

For more information about presenting at Weekend for Rivers, view the call for proposals here.

3. The Institute for Georgia Environmental Leadership Job Listing
The Institute for Georgia Environmental Leadership (IGEL) is seeking a Development/Grants Manager to manage the organization's annual fundraising, sponsorship and grant activities. IGEL (www.igeleaders.org) is a non‐profit, 501 (c) (3) corporation dedicated to building and sustaining a diverse network of environmentally educated leaders to help resolve Georgia's environmental challenges.

4. River Network's Online Map
River Network's new clickable online map can connect you to your local river in some exciting ways! It can help you find a River Network Partner or other watershed group near you. You can see where River Network is working in specific communities throughout the U.S. or find real-time stream flows. Check out the online map HERE.

5. Certified Stormwater Inspector Training
The National Stormwater Center is offering Certified Stormwater Inspector training in Atlanta, Georgia. The date for the class is March 4-5, 2013. All instructors were previously NPDES enforcement officers.

For registration information, call Michele at 1-888-397-9414, email info@npdes.com or visit www.npdes.com.

6. Webinar: Leading Networks and Coalitions
When: February 19 - April 2, 2013, 12pm ET (7 week session)
Cost: $825 per organization
Leading a coalition or network is very different from leading a single organization or team. Even the most experienced leaders are challenged to adapt their leadership skills and practices to meet the unique dynamics of coalitions.

Grow your leadership skills and confidence in and outside your network through ICL's 7-week distance learning-plus program: Leading Coalitions and Networks. Leaders of Environmental and conservation coalitions or networks may register individually or as a leadership team.

Click here for more information about Leading Networks and Coalitions.

7. FAQ: Staying Engaged During the Legislative Session
This month, April Ingle, Georgia River Network's Executive Director, answers a question she gets asked all the time:

Question: The legislative session is coming up! How do I keep track of what's happening on issues that matter to Georgia's rivers?

Read April's response here.

8. What Stories Can Learn From Jokes
Read about a serious lesson organizations can learn from comedy.

9. How to Schedule A Nonprofit Meeting
The Rules for Scheduling Nonprofits Meetings.

10. Grant Opportunities
To view grant makers that give throughout the year, visit the grants page of our website HERE. But here are some good ones that have come to our attention recently:

Five Star and Urban Waters Restoration Program
The Five Star/Urban Waters Restoration Program seeks to develop community capacity to sustain local natural resources for future generations by providing modest financial assistance to diverse local partnerships for wetland, forest, riparian and coastal habitat restoration with a particular focus on urban waters and watersheds. The National Association of Counties, the National Fish and Wildlife Foundation (NFWF), and the Wildlife Habitat Council (WHC), in cooperation with the U.S. Environmental Protection Agency (EPA), USDA Forest Service (USFS), National Oceanic and Atmospheric Administration (NOAA), Southern Company, FedEx and others, are pleased to solicit applications for the 2013 Five Star/Urban Waters Restoration Program.

The partners are pleased to announce an expanded partnership with USFS, EPA, and NOAA through the Federal Urban Waters Partnership that will provide additional resources for restoration work in urban areas. In 2013, NFWF anticipates that approximately $1,500,000 in combined total Five Star/Urban Waters funding will be available.

Please note: this program has one application through the NFWF Easygrants system for all program elements and all sources of funding.

Environmental Justice Grants
The U.S. Environmental Protection Agency (EPA) is seeking applicants for a total of $1.5 million in environmental justice small grants to be awarded in 2013. EPA'senvironmental justice efforts aim to ensure equal environmental and health protections for all Americans, regardless of race or socioeconomic status. The grants enable non-profit organizations to conduct research, provide education and develop solutions to local health and environmental issues in communities overburdened by harmful pollution. One to five grants per EPA region will be made in amounts of up to $30,000 per award.

CamelBak Challenge
CamelBak wants to know what you would do with $500 and 100 water bottles. This grant aids pioneering projects and initiatives that are millennial-developed to address environmental issues and create sustainable, eco-friendly practices in local communities around water conservation. The top 10 ideas will be granted funding and water bottles along with technical support and guidance from Outdoor Nation. Apply by December 21st. .

Join Georgia River Network!
If you find News Stream and other information and services provided by Georgia River Network useful, we would appreciate your financial support! Visit www.garivers.org and join today!

To be removed from this list, send an email requesting removal to info@garivers.org.