​Nonprofit Resources:
---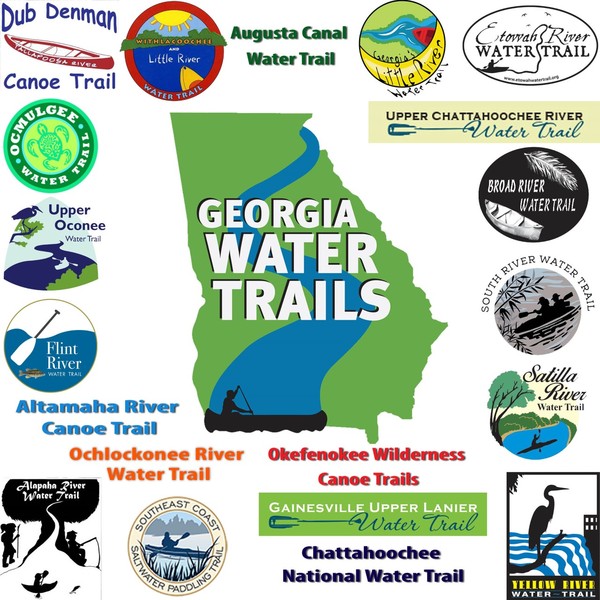 House Resolution 281, recognizing and encouraging the proliferation and use of water trails in Georgia and for other purposes, assigned to the Natural Resources & Environment Committee passed unanimously on March 13, 2017.


Georgia River Network would like to give special thanks to the following congressmen for sponsoring HR 281:
Representative Spencer Frye
Representative Lynn Smith, Chairman of Natural Resources & Environment Committee

Representative Tom McCall, Chairman of Agriculture & Consumer Affairs Committee

Representative David Knight, Chairman of Games, Fish & Parks Committee
Representative Chuck Williams, Agriculture & Consumer Affairs Committee
Re

presentative Debbie Buckner, Natural Resources & Environment Committee

Georgia's Nascent Water Trail Network Garners Support from State Lawmakers
Exerpted from Saporta Report by David Pendered

At the end of a dirt path that touches the Yellow River in Newton County, one piece of the future of Georgia's network of water trails is taking shape – a network that now has the blessings of the state House of Representatives.

Like all of Georgia's water trails, this one was developed by a public/private partnership. This group includes Keep Covington/Newton Beautiful; Porterdale, a former mill town said to have been the world's largest producer of twine; Newton County; Newton's Water and Sewerage Authority; Yellow River Water Trail Partnership; Georgia Adopt-a-Stream; National Park Service; Northeast Georgia Regional Commission; and Georgia River Network.

"We try to bring in anybody and everybody," said Gwyneth Moody, director of programs and outreach for the Georgia River Network

The House approved a resolution March 9 that endorses efforts by the Georgia River Network and its partners to create water trails. The resolution provides no funding. But in a state that doesn't provide funding for a statewide water trails program, the resolution sponsored by Rep. Spencer Frye (D-Athens) is seen as a step in the right direction.

"The members of this body recognize Georgia River Network and their water trail partners for their dedicated public service to the State of Georgia and encourage the exploration of existing water trails and the development of future water trails around the state."

Read full article here
---
The 2017 legislative term of the Georgia General Assembly ended on Thursday, March 30, also known as Sine Die. Though in truth, the legislators continued to move legislation well past midnight Thursday before adjourning until 2018.

Thank you to all GWC partners for your engagement and action over the past eleven weeks. Because of the work of the Georgia Water Coalition and its members, and our efforts to engage citizens in the legislative process, the coalition stopped damaging roll-backs to environmental regulations and advanced proactive measures to protect Georgia's waters for all Georgians.

As a reminder, the 2017 session was the first year of a two-year legislative cycle. Any bill that survived Crossover Day in 2017 remains "live" for action during the 2018 session.

Legislation Now Awaiting Action by Gov. Nathan Deal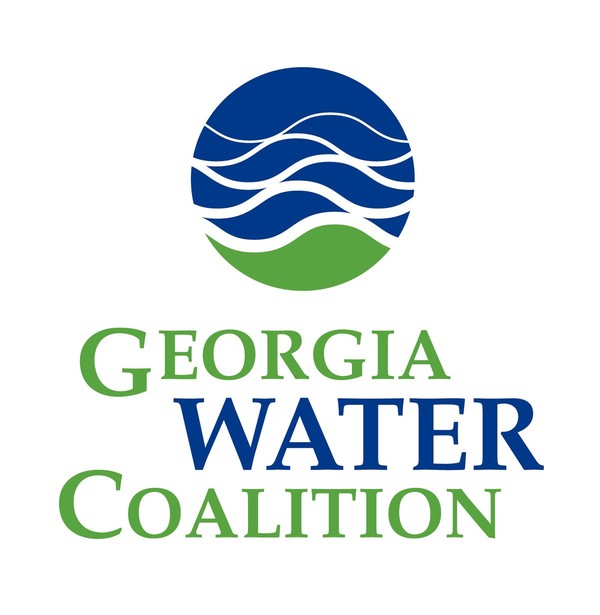 HB 413 – Regulating Pipeline Companies' Use of Eminent Domain to take
Private Property
HR 281, assigned to the Natural Resources & Environment Committee, passed unanimously on March 9, 2017.
​
Measures That Did Not Survive Crossover Day or
Sine Die
Other Legislative Issues GWC is Tracking
House Bill 271 – Changing the Shore Protection Act to the Shore Destruction Act
To get involved and stay up to date sign up for Protect Georgia Alerts.
---
Paddle Georgia Teacher Scholarships 2017
Exerpted by Forsyth County News - by Isabel Hughes
Georgia educators now have the opportunity to get their feet wet on a weeklong canoe and kayak trip on the Etowah River, which is scheduled for mid-June.
Teacher scholarship applications are now open for Paddle Georgia, an annual seven-day trip sponsored by the Georgia River Network, which will run from June 17-23.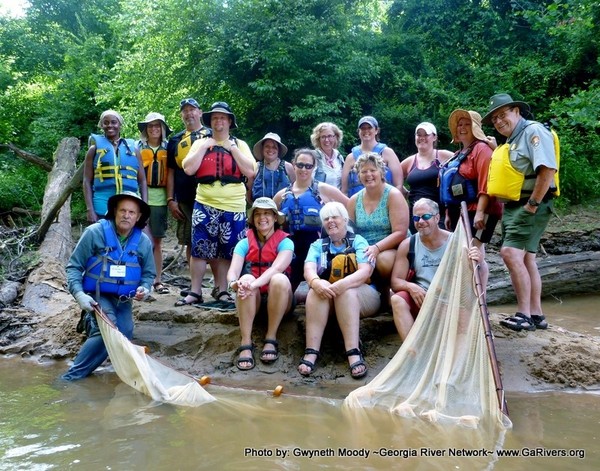 The Educators Scholarship Program gives teachers the opportunity to participate in the trip free of charge and also offers environmental education training throughout the week.

"The goal of the program is to have teachers use their experiences on the river and in the workshops to incorporate environmental education in their classrooms," said Joe Cook, Paddle Georgia coordinator.
On the journey, teachers will have access to Project WET, a water education program that contains more than 60 classroom-ready activities.



Applications are available at

www.garivers.org/paddle_georgia.
Winners will be announced April 20.



To read the full article visit Forsyth County News.
---
The McDuffie Progress - Area High School Students Create Logo For GA's Little River Water Trail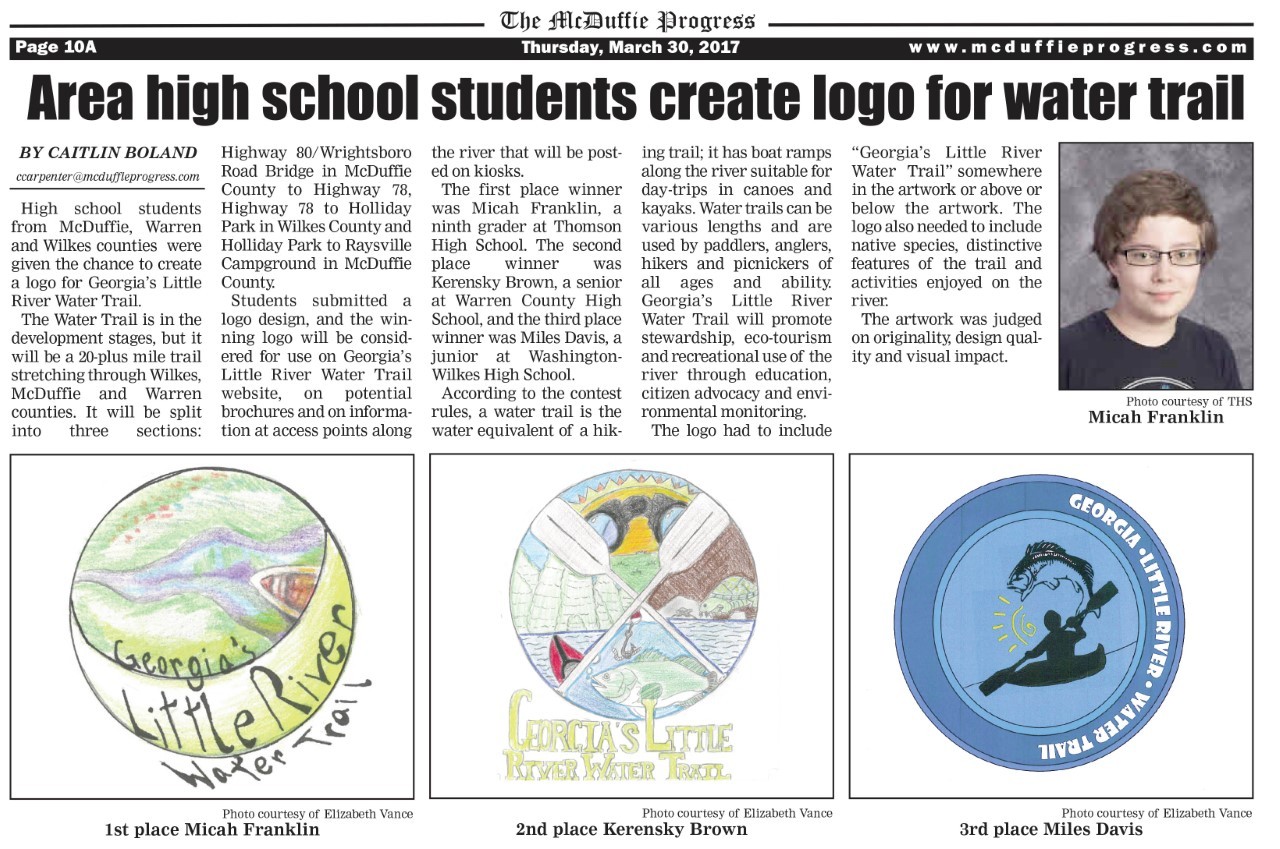 ---
Savannah Riverkeeper and Flint Riverkeeper Job Announcements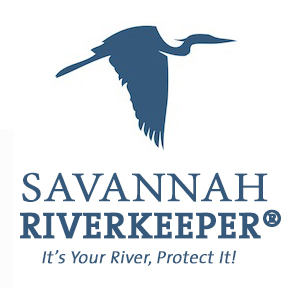 Savannah Riverkeeper Development Director:
Savannah Riverkeeper seeks a full-time Development Director as part of out dedicated team working to protect and restore the Savannah River basin in Georgia and South Carolina.

(40+ hours/week).

You must be self-motivated, outgoing, friendly, innovative and dedicated. We need someone who is productive, organized, involved in the community, willing to set goals and able to achieve them. You enjoy the outdoors, believe in nature. You know that you have a role in protecting these places and resources for current and future generations.
You will help design and implement fundraising campaigns, use metrics to track success, build our membership base, assist with grant work, cultivate donors, and ask for their support, execute our capital campaign, and meet strategic growth goals.

​
Application deadline:​
April 15, 2017.

Flint Riverkeeper Staff Attorney and Field Operative
The mission of the Flint Riverkeeper is to restore and preserve the habitat, water quality and flow of the Flint River for the benefit of current and future generations and dependent wildlife.

(40 hours/week including weekend work/full time exempt position).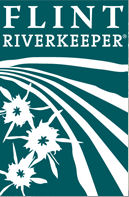 Requirements include e

xperience worki

ng in a team environment, working remotely using modern electronics from the field, home, and elsewhere.

Flint Riverkeeper is an equal opportunity employer with a

passion for clean, flowing water. Demonstrated writing/composition ability, public speaking ability.

Experience in field biology, chemistry, water quality, or wildlife; undergraduate degree in one of these fields preferred.
The roles of this job are; Implements field patrol, sampling, and case development for pollution complaints and legal cases. Briefs the Riverkeeper and the Board on pollution enforcement and potential legal actions. Works with other staff and volunteers to efficiently collect, store, and summarize field data. Works in conjunction with the Riverkeeper and key partners on flow issues: policy, legal, outreach. Start date: July 2017.
Visit GRN's River Jobs page on our website to learn more and apply!
---
by Gwyneth Moody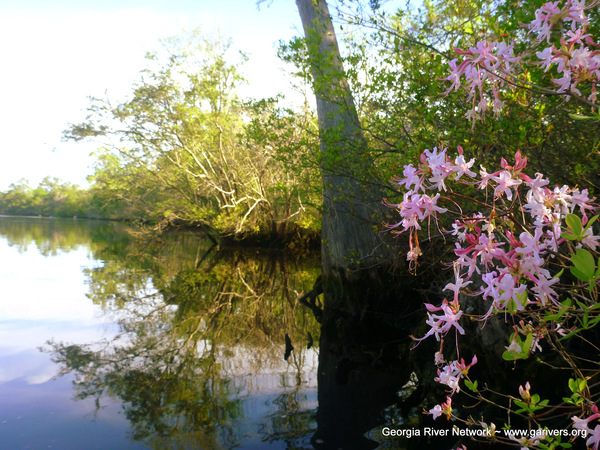 136 people joined Georgia River Network (GRN) and Satilla Riverkeeper (SRK) for the 3
rd
annual Spring on the Satilla near Woodbine, GA. The Satilla river is one of Georgia's wonders and especially during this time of year when Azaleas flank the blanks in full bloom, along with fresh tender buds and green vegetation draped in the swaying old man beards of dangling Spanish moss.
Folks rolled in on Friday throughout the day from all over Georgia and neighboring states (there was even a paddler from England!) to spend the weekend camping with fellow paddlers, meet new friends, and enjoy comradery and 2 days of paddling, while supporting a great cause!
First time participants had no idea they were about to experience such a magical hidden gem. The dark tannin stained waters created a rainbow of various shades of red, orange, and yellow depending on the river's depth which contrasted starkly with the glistening sugar white sandbars flanking almost every bend of the first 1
4 miles of our 28 mile journey.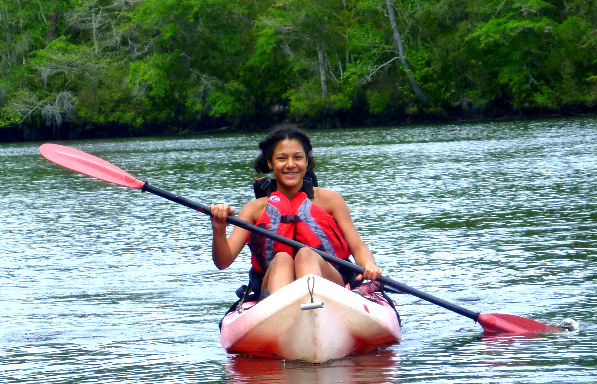 On our second day the river widened and sandbars gave way to banks held back with gnarled and cavernous stilted tree roots and knobby knees resembling fairy tale creatures. Signs of the coast
became ever more apparent as the trees changed to reeds, marsh grass, and rich mud that sunk up to your knees ...
Read the
full blog
about our journey on the Satilla River, and check out
Joe Cook
and
Gwyneth Moody's
Photos!
---
Georgia Trail Summit 2017 - Registration Ending Soon!
The annual Georgia Trail Summit, taking place April 20-22, 2017 in Columbus, GA, is a Southeastern Trust for Parks and Land project to connect Georgia's trail community every year. The goal is to encourage a connected trail network in every corner of the state.
GTS provides connections, share visions and knowledge, offers support, and furthers the trail projects already happening in Georgia. Trails includes rail-trails, greenways, blueways, multi-purpose paths, natural surface trails, and thematic trails based on history, culture and food.
Summit goers who stay in town can: Paddle the Hooch, Geocache the Riverwalk, Bike Callaway Gardens trails, Walk the tree canopy with Trees Columbus or the new MLK heritage trail, Mountain bike Flat Rock Park or ride horses at FDR.
For more info and to registrer click here!
Georgia River Network's Annual Weekend for Rivers Conference & River Celebration Awards Party will be held in conjunction with the Georgia Water Coalition's Spring Partner Meeting.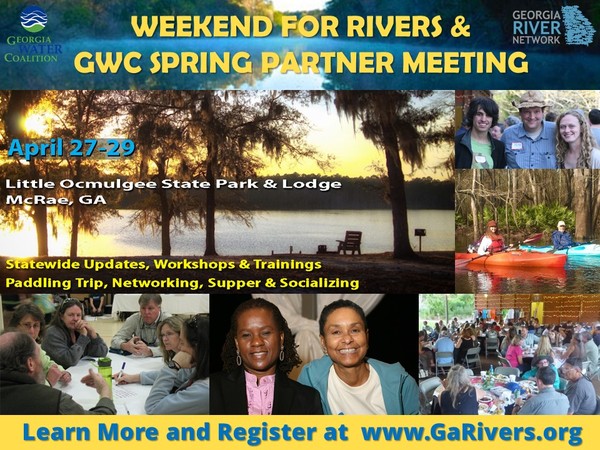 Fun & Informal Gathering to Celebrate Rivers

Learn, Network, & Share with Watershed Groups & Fellow Water Advocates

Dive Deeper into the Work of Ensuring Healthy Rivers

Intriguing & Informative Speakers

Advocacy Training Opportunities

Organizational & Water Trail Development Workshops

2 Dinner Parties & River Celebration Awards Ceremony

Guided Paddle on the Majestic Little Ocmulgee River
GWC Presentations & Advocacy Workshop
Friday April 28, 9AM - 4PM

GRN Weekend for Rivers Workshops
Saturday April 29th, 8AM - 3PM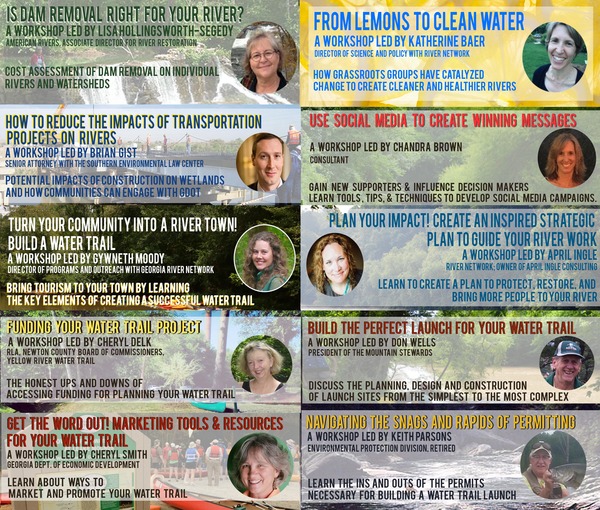 ---

Paddle Georgia Youth Auction - Last Day to Bid is Tomorrow!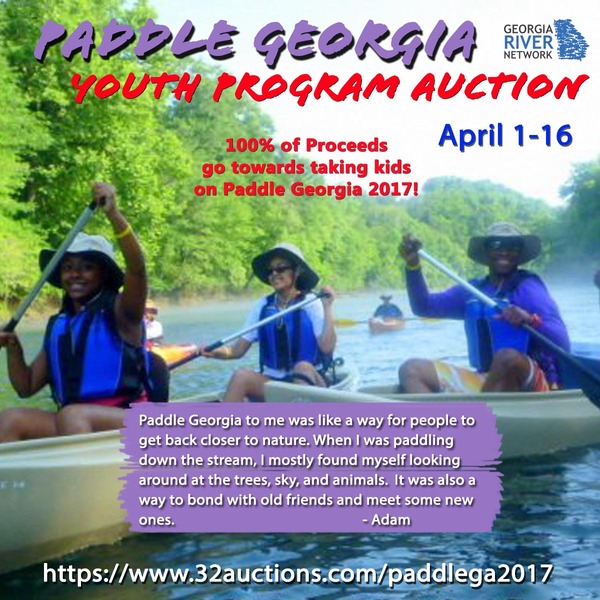 A
s you know, Georgia River Network (GRN) is a non-profit and depends on the financial support of people just like YOU to get things done! This year GRN will celebrate its 13th annual Paddle Georgia, a week-long paddle trip on a different Georgia river. Over 350 participants will paddle 106 miles of the Etowah River this June. We organize this trip because we've discovered it changes lives, and it furthers our mission to empower others to protect, restore and enjoy Georgia's rivers. But we can't do it without your financial assistance!
What makes this auction so special is that most of the items will directly benefit our Paddle Georgia Youth Program. Through the Paddle Georgia Youth Program we bring 10-12 underserved youth on the journey, most of whom have never been on a river or camped in a tent before.

This experience introduces them to the importance of river protection, and also the joys of paddling a river! All of the Columbia brand items were donated by Columbia Sportswear.
---
Little River Hidden Gem Paddle & Campout
Explore the Up-and-Coming GA Little River Water Trail (
May 20-21)
Paddle through the Clarks Hill Wildlife Management Area, enjoy rustic camping with family and friends, delicious meals from local businesses, and learn more about the native flora, fauna, and cultural history of the Little River.
Paddlers will enjoy live music, games, activities and enjoy a festive dinner , and roasting marshmallows around the campfire. Hot breakfast will be served Sunday morning followed by a leisurely paddle to the takeout.
Beginners are welcome and rental boats available upon request.
This will be a fun event for the whole family!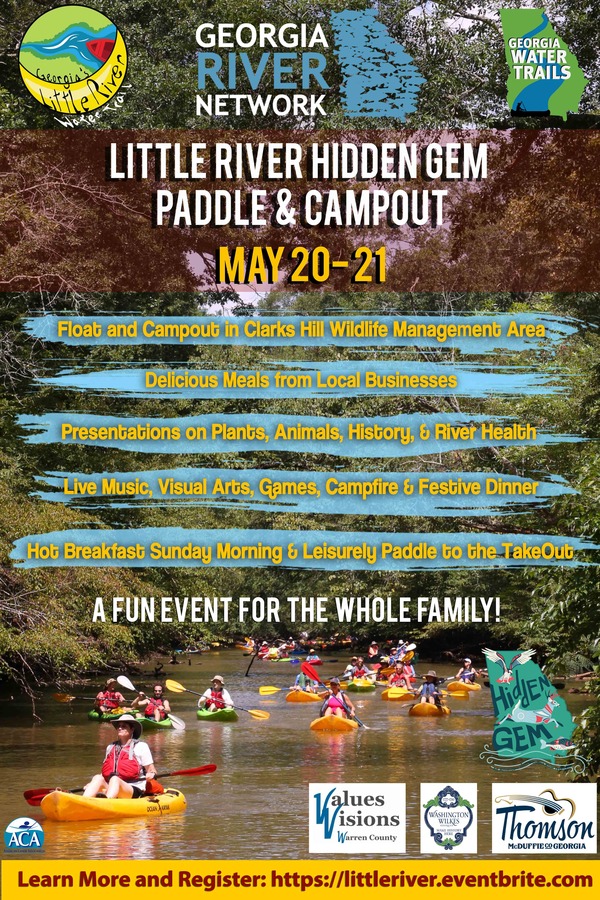 ---
Join Us on Paddle Georgia 2017 Down the Beautiful Etowah!
Register now for the 125 mile, 7 day adventure on the Etowah River June 17-23! This trip will include nightly camping with meals and entertainment, tours of historic sites, water monitoring opportunities, and camaraderie with hundreds of fellow paddlers, while also raising awareness for Georgia River Network, Coosa River Basin Initiative and Upper Etowah River Alliance.

The Etowah River is 163-miles long and with 76 native fish species, and is considered one of the most biologically diverse rivers of its size in the country. The river offers more than biological diversity by taking you back in time as you paddle through old Native American fish weirs, ancient Indian mounds, and civil war battle sites.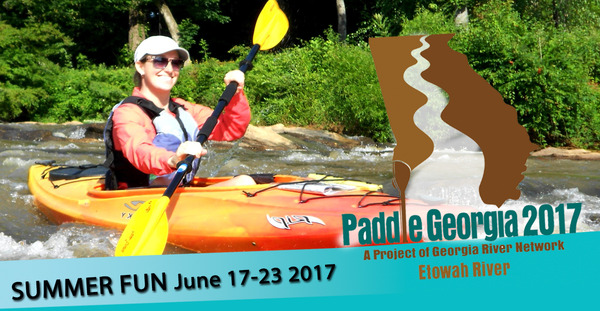 An educational adventure for the whole family, Paddle Georgia will show you Georgia as you've never seen it before.

If 7 days is too more time than you are able to commit, there is another option! Paddle Georgia offers a "Lite Paddler" option, which is an abbreviated trip held only for the first two days, June 17-18.

Registration ends May 31st, for more information and to register click HERE!
---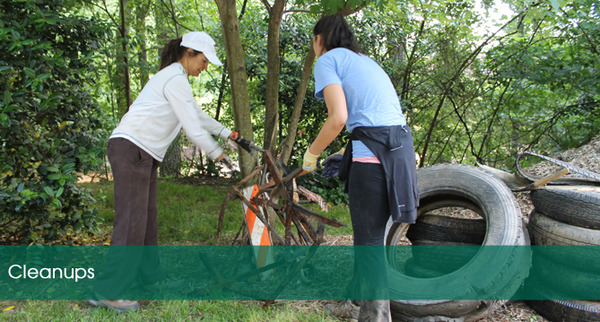 Augusta Canal Clean-up & Cookout- Natural Heritage Area
When: April 15, 9am – 1pm
Where:
Augusta Canal National Heritage Area.
Come celebrate National Parks Service Week with the Augusta Canal! We will start with a clean-up of the Augusta Canal trails and waterways. Let's keep this park beautiful!! Then we will thank our wonderful volunteers with a cook-out at the Mill Village Trailhead!​
For more info visit:
Augusta Canal Clean-up
Augusta Canal Music Cruise- Natural Heritage Area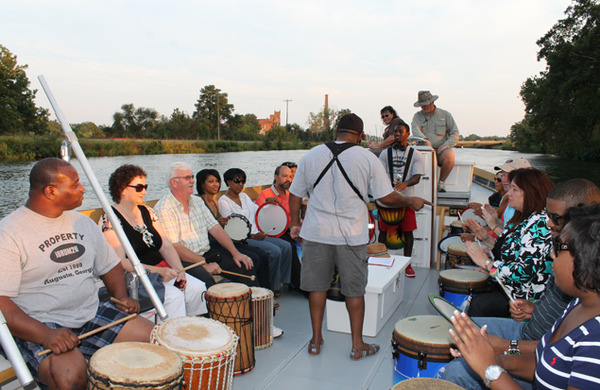 When:
April 21, 6:30pm – 8:00pm
Where: 1450 Greene St, Augusta, GA
Jazz Eclectic Collection of Americana, blues, folk, pop, & JazzAdults $25, Senior 60+, military, students $23
Call ahead for reservations! 706-823-0440 ext.
Bring refreshments and picnic to enjoy an evening out on the Augusta Canal!
For more info visit:
Augusta Music
Augusta Canal Trail Talk - Natural Heritage Area
When: April 23, 3pm – 4pm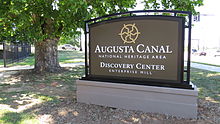 Where: 1904 Greene St, Augusta, GA
Buddy Peacock, local historian and longtime church member
Topic: Christ Church, Post-Civil War Harrisburg Episcopal Church
Meet at 3PM at the front door of the church. FREE admission, donations appreciated.
For more info visit:
Augusta Canal Trail Talk
Georgia Water Resources Conference - Georgia Water council
When: April 19th, 1pm – April 20, 2pm
Where:
University of Georgia Center for Continuing Education
For more info visit:
Georgia Water Conference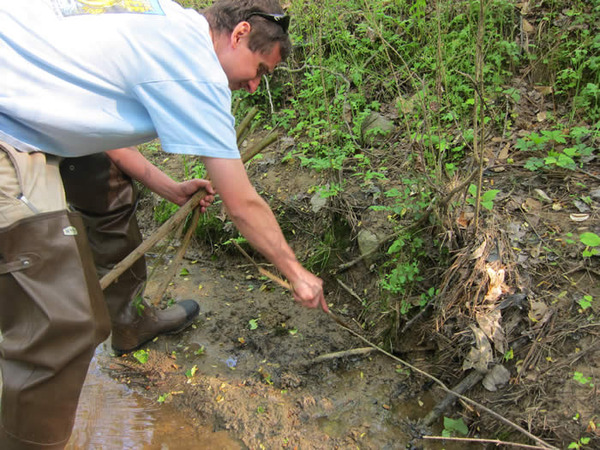 Earth Day Soque River Paddle Cleanup - CRK, SRWA
When:
April 22, 9:30am – 12:30pm
Where: Wildwood Outfitters, 26 Megan Dr. Cleveland, GA.
Join the Chattahoochee Riverkeeper & the Soque River Watershed Association for an Earth Day Soque River Paddle Cleanup on April 22nd.
For more info visit:
Earth Day Clean-up
Big Little River Paddle Event - WWALS
When: Sat, April 29, 8am – 2pm
Where: Reed Bingham State Park, 542 Reed Bingham Rd, Adel, GA 31620
DescriptionThe fifth annual BIG Little River Paddle Race, a fundraiser for WWALS and Friends of Reed Bingham (FORB). Last year there were 34 paddlers, and the traditional winner almost lost! Come on down and you can be a winner, if not first place, in one of many categories. Learn more here.
For more info go here.
Eco-Addendum
presents an author talk and panel discussion featuring Joan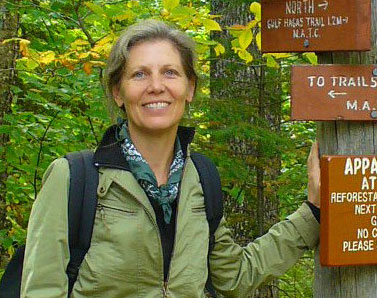 Maloof
When: April 25, 7pm – 9pm
Where: Emory University
Eco-A presents an author talk and panel discussion featuring Joan Maloof at the Emory University Math and Science Auditorium. Joans' engaging perspective is a welcome addition the global dialogue on forest value. She will share the newest research on the fascinating, complex relationships that sustain old growth forests.
For more info visit:
Author talk
Chattahoochee River National Recreational Area Sope Creek Unit; Sibley Pond (all ages)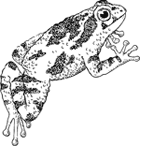 When: May 5, 8:30pm – 10:30pm
Where:
3760 Paper Mill Road; Marietta, Georgia 30068. From the bulletin board at the parking area follow the trail to the pond & meet at the campfire.
Join Park Ranger Jerry Hightower for these fantastic frog filled spring evenings. Young and young at heart start the evening in the shallows at the spillway looking for tadpoles and froglets and then roast marshmallows around the campfire and listen to the growing chorus of frogs. Finally discover nature after the sun sets on a leisurely guided night time walk searching the shores of Sibley Pond for frogs and whatever other nocturnal creatures might be out and about. Enjoy the evening and the cricket chorus as you experience your National Park at night. The evening's activities are very casual and informal.
Reservations are required.
For more info visit:
Frog Evening
Headwaters Water Trail Camp and Paddle Trip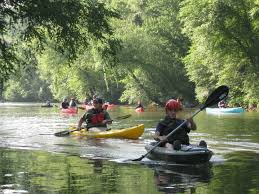 When: May 6, 8am – May 7, 5pm
Upper Chattahoochee Water Trail is a pristine section of waterway in the foothills of the Blue Ridge Mountains. All will enjoy Sections 1 thru 4 – with camping at Buck Shoals State Park. Class: I-II (III), therefore all participants must have basic paddling and bracing skills and be capable of self-rescue in the water. Helmets required, spray skirt highly recommended.
For more info visit:
Water Trail/Camp
The Half Moon Paddle -
Ocmulgee Water Trail
When: Sat, May 6, 8:30am – 1:00pm
Where: Dodge County Landing outside Eastman, GA
The Ocmulgee Water Trail is hosting its 2nd annual paddle event. The Half Moon Paddle will put in at the Dodge County Landing outside Eastman, GA. Take out is in Abbeville, GA at Half Moon Landing. Registration before 4/15 is $35 per person; after 4/15 the price increases to $40 per person. Registration includes a t-shirt and lunch served at the take out. On-site check in and registration begins at 8:30 AM at the Dodge County Landing in Eastman; the shuttle departs Half Moon at 9:00 AM for the approximately 15 minute ride back to the put in.
Register here.
Flint River Canoe Trip & Shoals Spider Lilies Walk

When:
May 13, 8:30am – 4:00pm
Where:
4429 Woodland Road, Thomaston, GA, 30286,
This beautiful river offers an interesting array of flora due to the Coastal Plain – Piedmont interface. This leisurely float begins at Spruill Bluff and winds along a five mile section ending at the outfitters.
For more info visit:
Flint River Canoe Trip
Wild & Scenic Film Festival
When:
May 13, 6:00pm – 9:30pm
Where:
Brenau Downtown Center, 301 Main St SW, Gainesville, GA 30501, USA
Join the Chattahoochee Riverkeeper to witness environmental and adventure films that illustrate the Earth's beauty, the challenges facing our planet and the work communities around the world are doing to protect the environment. Through these films',Wild & Scenic will inform you about the state of the world and inspire you to take action.
Learn more here.
Shoal Lily Float and Wildflower Walk
When:
May 13, 9:30am – 3:00pm
Where:
Broad River Campground, 8181 Elberton Hwy, Tignall, GA 30668,
The Broad River Watershed Association will host a canoe float on Saturday, May 13, to view the rare shoal lily along the lower section of the Broad River between Highway 17 and Highway 79 at the mouth of Clark Hill Lake.
For more info visit:
Broad River Watershed
---
Georgia River Network Event Calendar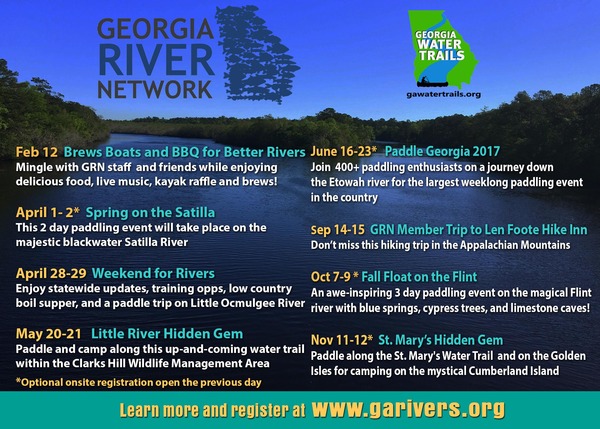 ---
WEBINAR: How To Get Hydrologically Impaired Waters On Your State's Impaired Waters List
Please join River Network and American Rivers for their upcoming Webinar! This will include an instructional webinar to learn how you can document hydrologic alterations and impairments in your river – and how to use that data to help your river.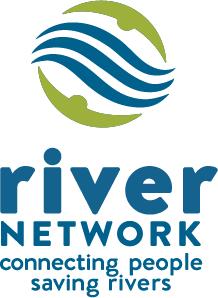 Learn about:
EPA's guidance for listing impaired waters
New USGS flow assessment tools
How to submit information to your state lists
First, you'll learn from American Rivers' Gerrit Jobsis about EPA Clean Water Act guidance that tells us how to report waters that have hydrologic impairments so they are included on your state's list of impaired waters in need of restoration, and why it's important. Then, Adam Griggs, River Network's Science Manager, will show you how to use new tools from USGS and others to analyze and document hydrologic alteration using data from your watershed. Finally, we'll learn what to do with the data and information you collect and the outcomes you can expect once you submit. There will be plenty of time for Q&A.
Details:
Thursday, April 20, 2017
10:00am to 11:30am
To Register: email your name, organization, and phone number to April Ingle at
aingle@rivernetwork.org
For further background, see:

---
DEPARTMENT OF NATURAL RESOURCES: Environmental Protection Division - Notice of Availability of Draft Regional Water Plans for Public Review and Comment
TO ALL INTERESTED PERSONS AND PARTIES:
Regional Water Planning Councils have developed draft updated Regional Water Plans that are available for public review and comment now through
May 19, 2017
.
Georgia's 2008 State Water Plan calls for on-going water planning that incorporates local and regional perspectives to ensure that the state's water resources are sustainably managed. Ten (10) Regional Water Planning Councils were established in 2009 and completed initial Regional Water Plans in 2011, which were adopted by EPD in November 2011.
The State Water Plan calls for the Councils to review the Regional Water Plans every five years. The Councils began a review and revision process in 2016 that resulted in the draft updated Regional Water Plans. The Councils considered updated water and wastewater demand forecasts and resource assessment analyses in their preparations of the draft updated Regional Water Plans.
The draft updated Regional Water Plans may be viewed at
http://epd.georgia.gov/draft-regional-water-plans
.
Instructions for submitting comments are also included on the website. Written comments are welcomed, and should be received by close of business on
May 19, 2017
. Comments should be submitted via the website so that EPD may properly capture and convey all comments received on behalf of the Regional Water Planning Councils. Comments may also be sent via regular mail addressed to: Georgia EPD, Attn: Jennifer Welte, Watershed Protection Branch, 2 MLK, Jr. Dr. S.W., Suite 1152, Atlanta, GA 30334.
For more information, please contact Jennifer Welte at
(404) 463-1694
.
---
Join Georgia River Network!
If you find News Stream and other information and services provided by Georgia River Network useful, we would appreciate your financial support.

Make a difference and JOIN TODAY!
---