Weekend for Rivers - Register Now
Join GRN at the Banff Film Festival in Athens
2014 Hidden Gems Paddles
Paddle Georgia Fall Float on the Flint
14 in 14 Challenge
GA Water
Georgia Water Wire - Can a Coal Ash Spill Happen in GA?
GRN Monthly Photo Contest
Contribute to our Weekend for Rivers Auction
Wish List
Support Year Round Giving
1% for the Planet
Get GRN News in our RSS Feed
---
Weekend for Rivers - Register Now!



Check out the exciting lineup, and register today at www.garivers.org.
Join us April 5-6 at the Chattahoochee Nature Center in Roswell, GA for a weekend of inspiration, education and connections with folks who love Georgia's rivers as much as you! Weekend for Rivers is GRN's annual conference and River Celebration event that gives us all a chance to celebrate Georgia's unique, beautiful rivers through storytelling, partying and paddling.
The theme of this year's Weekend for Rivers is "The History of Georgia's Rivers." Saturday, April 5th's program will include river-lovers of all kinds painting a broad picture of the state of Georgia's rivers and the people who protect, enjoy and honor them. Three tracks will explore Georgia's rivers from different angles. Highlights will include talks by Atlanta Journal-Constitution columnist Jay Bookman and retiring Chattahoochee Riverkeeper Sally Bethea, and films by Rhett Turner and David and Michael Hanson.
In the evening, we'll have a ton of fun at our annual River Celebration Party and then we'll camp at the Chattahoochee Nature Center (indoor and outdoor camping will be available, OR you can just get a hotel room). We'll wake up on April 6th and paddle a beautiful stretch of the Chattahoochee River--Bull Sluice Lake. Naturalists, historians and ecologists will be stationed around the lake to tell us more about the cultural and natural history of the area. Visit www.garivers.org to see the full agenda of presentations and programs and to register. We can't wait to spend the Weekend with you!
Sponsors: Chattahoochee Nature Center, Patagonia, Cedar Creek RV & Outdoor Center, Chattahoochee Riverkeeper, Flint Riverkeeper, American Rivers, GreenLaw, Southern Enviromental Law Center, Stormwater Systems, Upper Oconee Watershed Network, The RainBarrel Depot, Broad River Watershed Association, Hike Inn
---
Join GRN at the Banff Film Festival in Athens

The Banff Mountain Film Festival World Tour brings Banff films to audiences around the globe. Immediately after the Festival ends, a selection of the best films go on tour, and Half Moon Outfitters is bringing these films to Athens, GA on Friday, April 4th at 7pm at the Morton Theatre. A portion of the proceeds benefit GRN. Buy tickets now. Will call ticket pickup starts at 5:30.
---
2014 Hidden Gems Paddles

Enjoy four different occasions to rediscover some of the hidden gems on Georgia's waterways. Each river trip will include lunch and presentations along the route, ranging from natural history and water quality testing to cultural history and river cleanups.
Ogeechee River - May 10
Secrets of South Georgia's Tea-Colored Waters & White Barking Sands

Oconee River - August 23
Bobbin through Remnants of the Oconee's Historic Timeworn Textile Mills

Chattahoochee River - September 13
From Derelict Dams to Recreational Whitewater - Adventure on a Revitalized River in Columbus

Satilla River - November 15
Giant Magnolia's and Burnt Forts - a Glimpse of the Satilla's Unique Past

Stay tuned for information on how to register and learn more at www.garivers.org!
---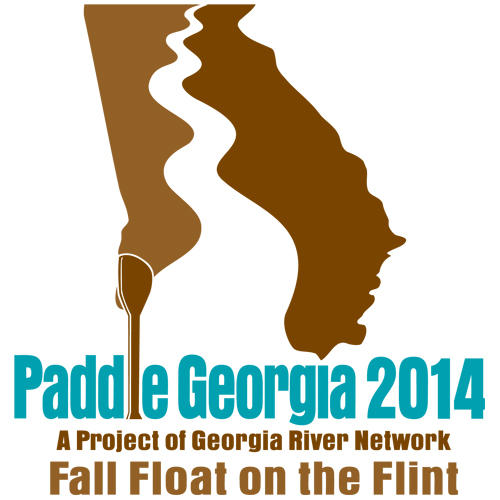 Join Georgia River Network Columbus Day weekend 2014 for a voyage on the Flint River that would fill Christopher Columbus with envy. Oct. 10-13, we'll travel 70 miles on the Flint from Albany to Bainbridge taking in the best of the Flint--beautiful blue hole springs, lively rapids, rich history, abundant wildlife and more! Fashioned after our annual week-long Paddle Georgia events, we'll tent camp at Chehaw Park and on the river two nights at Rocky Bend Flint River Retreat. Like our annual summer adventure, we'll enjoy catered meals, educational programs and great camaraderie as we make our way down one of Georgia's most beautiful rivers during a beautiful time of year. Tent camping only with limited options for indoor camping. Registration for this event will begin in April. Visit www.garivers.org/paddle_georgia/fallfloat.html for more information.
---
14 in 14 Challenge

Georgia River Network is challenging Georgians to get out and protect, restore, learn about, recreate and volunteer on Georgia's rivers by attending 14 river related events in 2014. Watershed groups throughout the state offer a variety of experiences such as family friendly paddling trips, river hikes, watershed workshops, conferences, river clean ups, water quality monitoring opportunities, and advocacy events, all of which qualify to fulfill the Challenge. The goal is to promote Georgia's growing movement in river restoration, protection, and engagement. Get outside, get active and get involved in river and watershed protection, restoration and engagement opportunities with friends and family. To learn more, visit http://garivers.org/news/440-grn-challenge.html
---
Georgia Water Wire Blog: Can a Coal Ash Spill Happen in GA?

Not unlike the answer to my last post regarding January's economically disruptive Elk River chemical spill in Charleston, WVa., toxic coal ash has spilled in Georgia as it recently did into the Dan River in North Carolina and Virginia. More troubling than Georgia's past coal ash spill is the reality that another toxic spill could easily happen in Georgia's future. Unless we decide we don't want that to happen. What is coal ash? Put simply, coal ash is a by-product of burning coal to boil water to generate steam to produce electricity. Coal ash is highly toxic and contains arsenic, mercury, cadmium, chromium, lead, selenium and zinc. Coal ash can be stored in a dry and a wet manner. However, coal ash sites – particularly wet coal ash ponds – are unlined. Unlined ponds can and do leak (14 of Duke Energy's North Carolina ponds are leaking) meaning that coal ash sites have and will continue to contaminate ground and surface water unless they are better managed and regulated.
Visit the Georgia Water Wire at gawaterwire.wordpress.com to read the rest of this post.
---
GRN Monthly Photo Contest

Each month we have a different theme and invite you to send us a photo that you think best represents the topic of the month. In March, the theme is "Sunset/Sunrise on GA Rivers". Submit your photo to gwyneth@garivers.org. Click here to visit our homepage to view a slideshow of the entries and winner.
---
Contribute to Our Weekend for Rivers Auction

Contribute an auction item for our Weekend for Rivers fundraiser auction. Email Debra at debra@garivers.org to make arrangements.
---
Wish List

GRN is looking for the following new or gently used items for our office: a picnic table or concrete outdoor patio set and a flat screen computer monitor. Email info@garivers.org or call 706-549-4508 if you would like to donate any of these items.
---
Support GRN Year Round

Start your year off by making a positive impact on our rivers and continue it all year long by signing up for GRN's Monthly Giving Program. It is easy and convenient. Simply click here. Then choose "Monthly" under the "donation frequency" section. You can give $14 a month in 2014 and your monthly support will help us create updates to empower citizens and watershed groups and allow us to monitor what is going on at the capitol and alert you to legislation that will have an impact on our rivers.
---
1% For the Planet Partner

Georgia River Network is a 1% for the Planet non-profit partner. Over 1200 companies are giving 1% of their profits to organizations in the network that are committed to creating a healthy planet. Learn more at www.onepercentfortheplanet.org.
---
Get GRN News in Our RSS Feed

Not on Facebook? Want to see what is going on each day in the world of Georgia rivers? Go here: http://garivernews.wordpress.com/. Click on the "follow" button in the bottom right corner, enter your email address, and our daily news will be delivered to your inbox.
---
Forward this message to a friend