Georgia River Network News Stream

News
Workshops/Conferences/Calendar Items
​Nonprofit Resources
Funding Opportunities
---
1. Development of Little River Water Trail Begins- McDuffie Progress
The development of the 20-plus mile Little River Water Trail stretching through Wilkes, Warren and McDuffie counties has officially begun!

McDuffie County has hired Georgia River Network to provide technical assistance for the development of the Little River Water Trail. GRN's Water Trail Technical Assistance Program helps communities form comprehensive water trail stakeholder partnerships comprised of landowners, local and state agencie​s, county and city officials, river enthusiasts, educators, watershed groups, local businesses, attorneys, outfitters, Boys & Girl Scouts etc., as well as providing these stakeholders with guidance and resources to begin developing a sustainable water trail.

Gwyneth Moody facilitated the Little River Water Trail stakeholder kick-off meeting in August in Thomson, Ga. The purpose of the meeting was to identify the long term vision and short term goals for the Little River Water Trail and get stakeholders actively involved in planning and developing the trail.

Stakeholders involved thus far include McDuffie, Wilkes and Warren Counties, Army Corp of Engineers, Department of Natural Resources, landowners, local business owners, Boy Scout Troop leaders, and local paddlers.

The beautiful Little river flows into the 15,000-acre Clarks Hill Lake Wildlife Management Area and is truly a wildlife sanctuary with bald eagle nests, river otters, turtles, and many other plants and animals.

The Water Trail will be split into three sections: Highway 80/Wrightsboro Road Bridge in McDuffie County to Highway 78 (7.63 miles), Highway 78 to Holliday Park in Wilkes County (7.86 miles) and Holliday Park to Raysville Campground in McDuffie County (4.53 miles). There has also been discussion of extending the trail by adding potential access points in the future.



If you are interested in getting involved p

lease contact Gwyneth@garivers.org to learn about our monthly meetings and project opportunities.
Learn more about this exciting development from The McDuffie Progress.

2. Satilla River Water Trail Ribbon Cutting Ceremony!
We are excited to announce that the Satilla River Water Trail will become an established water trail this month! The trails have been identified, the launch sites readied, the maps printed, the signs installed, the resolutions passed, and now, it is time - time to officially designate the Satilla River Water Trail as a Georgia Water Trail.

It's time to celebrate two years of hard work and dedication from over 15 partnering organizations from around the region. GRN provided SRWT with technical assistance to help form a comprehensive water trail stakeholder partnerships as well as provided these stakeholders with guidance and resources to begin developing a sustainable water trail.

Come celebrate with us at the ribbon cutting on September 29

th

at the Highway 121 Landing (on the Pierce/Brantley line) for the official Ribbon Cutting at 4:30 on Thursday, September 29.

Then come over to Nimmer's Camp, and enjoy some Smoke Risin' BBQ!

You are invited to the celebration! Click here to RSVP.

3. American Rivers is Hiring a Fellow in our Decatur Office
The Clean Water Supply Fellow will work to move Georgia communities toward a sustainable and integrated approach to water management while providing program support for American Rivers' Clean Water Supply program. The Clean Water Supply program focuses on ensuring communities and their rivers have enough clean water by promoting sustainable water management practices such as green stormwater infrastructure (e.g. rain gardens and green roofs), water efficiency and reuse. Working with local, regional, state, federal, and nonprofit leaders and officials, Clean Water Supply staff support the implementation of smarter water management policies and practices.

The Fellow will work on projects related to local, regional, and state policy and practice, with a focus on the upper Flint River and City of Atlanta. The Fellow will report to the Associate Director of Clean Water Supply and will be located in our Decatur, GA office. The Fellow will work collaboratively with multiple partners to advance a science-based approach to river health, and will work directly with municipal water utilities, state and local government agencies, and nonprofit organizations to advance sustainable practices in water supply, wastewater and stormwater management.

Get more information about the job on the American Rivers website.

4. Georgia Ratchets Up Drought Alert
Metro Atlanta's sustained hot weather and paucity of rain prompted state officials Friday to issue the year's first drought alert, with the prospect of warm and dry days continuing well into the fall.
Most of North Georgia is in a "severe" drought, according to the U.S. Drought Monitor, with large swaths experiencing "extreme" drought. The state Environmental Protection Division instituted Friday "drought response Level 1" for 53 North Georgia counties, a designation that requires public water systems to inform customers about drought conditions and what can be done to curtail water usage. Those counties include Carroll, Cherokee, Clayton, Cobb, DeKalb, Fulton and Gwinnett...

"EPD's announcement is designed to make folks aware that drought conditions do in fact exist, despite spotty showers and the tropical storm that marched across the southern half of the state," said Chris Manganiello, the policy director for the nonprofit Georgia River Network. "This is a good first step, particularly if this is indeed the early stage of a multiple-season drought."
Read more about Georgia's current drought conditions.

5. Lower Oconee Hidden Gem Paddle & Campout this Weekend! Last Chance to Register Friday at NOON!
When: Sept 17-18
Where: Milledgeville, GA - Lower Oconee Water Trail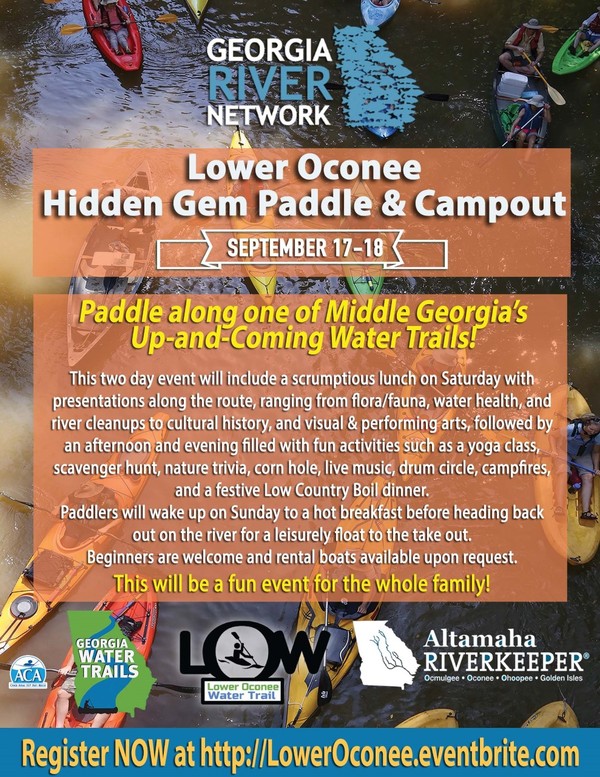 Register NOW.

6. Fall Float on the Flint - Registration Deadline Sept. 30
When: October 8-10, 2016
Where: Albany to Bainbridge, GA
Have you registered for Fall Float on the Flint 2016 set for Oct. 8-10? The deadline to sign up for this 3-day, 55-mile journey is Sept. 30. To get a taste of what you'll experience on Fall Float, check out this video about the original Fall Float in 2014.
If you would like to participate in this fun event please register on the Fall Float on the Flint event page by September 30!

7. Flint Riverkeeper - Annual Dinner & Auction Event
When: September 16, 4pm-9pm
Where: Patsiliga Plantation, Fielder's Mill: 780 Fielder's Mill Junction City, GA
Join Flint Riverkeeper at Fielder's Mill (est. 1840), home of Representative Debbie and Mr. Mike Buckner. One of Georgia's oldest operational grist mills, Fielder's Mill at Patsiliga Plantation is situated on Patsiliga Creek, a fall-line tributary to the Flint River.

For a schedule of events, and extensive directions check out the event website.
8. Upper Etowah River Alliance - Dedication Ceremony of the Etowah River Park Canoe Launch
When: September 17, 7pm - 8pm
Where: Etowah River Park
The Upper Etowah River Alliance is dedicating the Etowah River Park canoe launch to Parrie Jean "PJ" Pinyan. Parrie was a loyal Paddle GA participant, joining our trip every year since its inception in 2005. She made many friends on the river through these adventures. She was fit as a fiddle and an inspiration to others paddling strong into her 80's until cancer stopped her. After the dedication join the Upper Etowah River Alliance for a meal at Sidelines Grill at 147 Reinhardt College Parkway!
More information is available on the event website.

9. Coosa River Basin Initiative - Rivers Alive Clean-up
When: September 16, 8am - 2pm
Join the Coosa River Basin Initiative for the Rivers Alive Clean-up! Participants can choose from more than a half dozen sections of the river from Altoona Dam to Rome. The clean-up will run from 8 a.m. until 1 p.m. Canoes and kayaks provided...or bring your own.

For more information or to sign up to participate, contact Joe Cook at jcook@coosa.org.

10. Yellow River Trash Bash
When: September 17, 9am-1pm
Where: Yellow River Park Pavilion
Participate in a land, shore and river cleanup along the Yellow River Water Trail. Appropriate attire for participants is long pants and closed toe shoes.
Experienced kayaker and canoers are welcome, but pre-approval is required for those participants.

Send an email to Gwinnett@YellowRiverWaterTrail.org or check out the event website for more information.

11. Blue Heron Nature Preserve - Eco-A: Walk About Down Yonder
When: September 17, 9am - 11am
Where: Blue Heron Nature Preserve
Focus on native trees and wetland habitat, and then join the Blue Heron Nature Preserve for an optional tour of a nearby private garden with 25 years of maturity and rare plants.
12. Rededication of the Stephen Elliot Draper Center and Archives for the Study of Water Law and Policy
When: September 17, 1pm - 4pm
Where: Hargrett Rare Book and Manuscript Library: Exhibit Hall, Second Floor
Remarks by Stephen E. Draper and University Librarian Dr. P. Toby Graham. A reception will be after the program.

E-mail lnessel@uga.edu for additional information.
13. EcoAddendum - Walk through Johns Homestead in Tucker
When: September 22, 9am - 11am
Where: Specific map and directions will be sent to those who register
Johns Homestead is one of the original farms established in this area just johns homestead after the land lottery-grants opened up for mostly European-American settlement. The 1821 Treaty of Indian Springs resulted in the Muscogee Creeks ceding the land between the Ocmulgee, Flint and Chattahoochee Rivers to the State of Georgia. Though most of the original trees were cut, pockets of older soils and remnant forests species remain.

Register for the walk on the EcoAddendum website.

14. Upper Etowah River Alliance - Etowah Harvest Dinner
When: September 24, 6pm - 9pm
Where: Buckeye Creek Farm, 2115 Jep Wheeler Road, Woodstock, GA
Join Upper Etowah River Alliance for the Etowah Harvest Dinner. Enjoy a great meal from a local chef, as well as great local wine and cheeses. Cost is $50 per person. Limited space is available and reservations are required. Reserve your space by September 10.

Contact Diane Minick at dominick@etowahriver.org or visit the website for the Upper Etowah River Alliance for more information.

15. Ray C. Anderson Foundation - 4th Annual RayDay at Serenbe
When: September 25, 3pm - 7pm
Where: Serenbe Farms, 8715 Atlanta Newnan Rd, Palmetto, GA 30268, USA
The Ray C. Anderson Foundation invites you and your family to be their guests at the 4th Annual RayDay on Sunday, September 25th, 2016 from 3:00 p.m. until 7:00 p.m. on the field adjacent to The Inn at Serenbe in Chattahoochee Hills. Food, Beverages, Entertainment and Education provided. Celebrate the life and legacy of Ray C. Anderson, and join them for a unique experience to help create a brighter world for tomorrow's child.

Sign up for this great event!

16. Chattahoochee Riverkeeper - 22nd Annual Patron Dinner
When: September 28, 6pm - 9pm
Where: The Foundry at Puritan Mill, 916 Joseph E Lowery Blvd NW, Atlanta, GA
Save the date for Chattahoochee Riverkeeper's 22nd Annual Patron Dinner on September 28! Sally & Pete Parsonson - River Guardian Award Charles Smith - River Steward Award Ericsson - River Sustainability Award Bill Cox - River Hero Award.

The Chattahoochee Riverkeeper's website has more information about the Patron Dinner.
17. South River Watershed Alliance - Rendezvous at the River
When: October 1, 4pm - 7pm
Where: 4531 Flat Bridge Rd SW, Stockbridge, GA
South River Watershed Alliance is having the 4th Annual South River Jamboree! This event will take place October 1st from 4PM-7PM at 4531 Flatbridge Road, SW, Stockbridge, GA. Join SRWA at the Eifrid's 25 acre farm for kayaking, games, 1/4 mile walking trail, lots of river gazing, and much more!!! Enjoy appetite pleasing BBQ w/fixings, tasty spirits, and music by Georgia Mountain String Band!

Register now, or if you would like to be a sponsor of this event it would be greatly appreciated.

18. GreenLaw - Environmental Heroes Celebration
When: October 6, 6pm - 8:30pm
Where: Nelson Mullins, 201 17th Street in Atlantic Station, Atlanta, GA
The Environmental Heroes Celebration is one of the environmental community's premiere events. It recognizes members of our community who have shaped Georgia's future through environmental activism, conservation and legal advocacy. The event includes heavy appetizers, cocktails, music, networking, a brief honoree award ceremony and a thank you gift.

The Celebration will be held on Thursday, October 6, 2016, from 6:00 PM to 8:30 PM at Nelson Mullins at 201, 17th Street in Atlantic Station, on the top floor with stunning views of downtown.

Tickets are $150 for individuals and $250 for couples

Sponsorships and tickets for the event may be purchased at the GreenLaw website.

19. Ocmulgee Alive - Litter Clean-up
When: October 8, 8:30am - 11:30am
This is the 12th annual Ocmulgee Alive! Join the hundreds of others who will be out making a difference in our community by cleaning up the litter that ends up in our local streams.

To participate fill out the sign-up sheet.

20. Coosa River Basin Initiative - Paddling Through History
When: October 9, 1pm - 9:30pm
Where: Valley View Farm, Cartersville, GA
Join the Coosa River Basin Initiative in a tour of Historic Valley View and a 6-mile paddle on the Etowah, followed by dinner and drinks.

Go to the website for more information or to register.
21. Call for River Rally 2017 Workshop Proposals - River Network
When: Rally May 8-11, 2017; Deadline for proposals is October 7, 2016
Where: Grand Rapids, MI
The call for workshop proposals for River Rally 2017 is now open! What ideas, experience, or advice do you have for your fellow water advocates?

Share your practical knowledge with hundreds of river and watershed protection enthusiasts and concerned citizens from across the country and beyond related to these themes:
Tackling the Drinking Water Crisis and Water Affordability

Restoring Urban Rivers and Achieving Climate Resiliency

Connecting Communities to Rivers and Recreation

Protecting and Restoring Flows

Growing Organizational Momentum and Impact
If you have a workshop proposal enter it at the River Network website!
22. Outdoor Learning Symposium: Request for Exhibitors, Door Prizes & Goodie Bags items - GA DNR
When: October 24
Where: Southwest Atlanta Christian Academy
The Council of Outdoor Learning is hosting the 2016 Outdoor Learning Symposium (OLS) on October 14 at Southwest Atlanta Christian Academy. Approximately 250 educators representing public and private schools, home school cooperatives, universities, and nature centers across Georgia will be in attendance, eager to enhance their knowledge and skills in the field of outdoor education. This year's theme is "Innovation in the Outdoors."

Participants will attend sessions and meet representatives from various agencies, organizations and businesses through an Exhibit Hall/Common Area. To inform participants of the vast educational resources offered around Atlanta as well as through our great state, we invite you to be an exhibitor. Exhibiting at OLS gives you the opportunity to share your work, services, and/or products with this audience.

If you would like to support the Outdoor Learning Symposium in other ways, please consider presenting a session, donating items for goodie bags or door prizes, or even becoming a sponsor.

Contact Linda May, the Environmental Outreach Coordinator for the Georgia Department of Natural Resources, at Linda.May@dnr.ga.gov if you are able to support this event.

23. 2016 Climate Conference - GA DNR
When: November 2, 1:00pm - November 3, 5:00pm
Where: Jekyll Island Convention Center
This conference is being hosted by the GA DNR Coastal Resources Division in order to inform practitioners about hazards and resiliency planning and projects that are occurring in Georgia and/or may benefit Georgia. Persons such as public health officials, researchers, GIS users, lawyers, resource managers, local government officials, outreach specialists, economists, NGOs and from the private sector will benefit from the information exchange and networking opportunities available at the conference. The conference includes Concurrent Sessions, a Poster Session and Social, Networking Breaks, and a Keynote Luncheon with Carl Parker from The Weather Channel. Topics that will be covered throughout the conference include Public Health, Agriculture, Research, Mapping/GIS, Online Tools, Law & Policy, Invasive Species, Local Government, Communications, Economics, Resiliency & Adaptation, Habitat & Impacted Species, and Energy Resources. Continuing education credits for Planners and Floodplain Managers, as well as continuing law credits for Attorneys, may be available.
To learn more and register for the conference visit the event page set up by GA DNR.

24. Certified Stormwater Inspector Training in GA!
When: October 24
Where: Atlanta, GA
This course was developed by former Federal and State stormwater enforcement officials for the express purpose of training municipal stormwater personnel to conduct stormwater inspections of municipal, commercial, industrial, and construction activities. It includes instruction in the law (federal, state, local), illicit discharge detection and elimination, pollution prevention, post construction, public involvement and education, inspector protocols, and much more!

Register now to become a certified stormwater inspector.

25. Free Blue Trails Guide Webinar - Utilizing Interactive Maps to Prioritize Recreation and Conservation
When: Tuesday, September 20 at 1pm
Where: Online
Please join American Rivers for a free 30 minute webinar, "How can maps help you? Utilizing Interactive Maps to Prioritize Recreation and Conservation," next Tuesday, September 20th at 1 pm. To learn how to utilize interactive mapping tools like GIS and Google Earth to prioritize recreation and conservation initiatives along your river. Laila Johnston of American Rivers will lead a 30 minute webinar describing how maps can help inform conservation and recreation. Specifically, she will describe different types of mapping tools that are available, and will dive deeper into a case study example on the Waccamaw River and how she has gathered and utilized a variety of data sources to help create informative maps for conservation and recreation.

Tune in on Tuesday September, 20 and learn:
How to identify, gather, and utilize existing data sources to help create layers for maps including recreation access points, property ownership and conservation opportunities;
Suggestions on best practices for using GIS and other mapping tools to create maps and planning documents; and
Additional mapping tools, other than traditional GIS, that are available to prioritize initiatives along your river
Presenter: Laila Johnston, Winyah Bay Coordinator – American Rivers
Who Should Attend:
Nonprofits organizations
Governmental entities
Anyone who wants to learn more about the different types of mapping abilities to improve conservation and recreation planning
Register today for this informative webinar!

26. New South East Coal Ash Org Website Provides Coal Ash Resources and Information
This morning, the Southern Alliance for Clean Energy (SACE) unveiled the redesigned
southeastcoalash.org
website. They would be grateful for your help geting the word out by retweeting them and sharing their latest Facebook post. Both posts include a 30-second video which explains the features of the site.
Its map feature and facilities pages make it easy for advocates to find where coal ash is stored in a given area.
The southeastcoalash.org website was initially launched in December 2012 and is managed by SACE in partnership with Appalachian Voices, Southern Environmental Law Center, and North Carolina Conservation Network.
27.
West Marine Blue Future Grant - Oct. 1 Deadline
West Marine offers two BlueFuture grant cycles each year that benefit nonprofit organizations dedicated to youth waterlife recreation and education. Their grants provide much-needed funds so these valuable, community-based organizations may provide scholarships, purchase new equipment, maintain staff, add programs and do much more.
The entry deadline is October 1 for the fall cycle, make sure to
apply.
28. Oconee River Audubon Society - Conservation Grant - Oct. 15 Deadline
Oconee Rivers Audubon Society (ORAS) is currently accepting applications for the ORAS Conservation Grant program. Grant awards range from $300-$600. The deadline is October 15.
For more detailed information about the types of projects funded and the application process, visit the
grant webpage
.
Georgia educators have until only Sept. 19 to apply for a $1,000 DNR grant that will go to a third-, fourth- or fifth-grade public or private school teacher who demonstrates exceptional energy and innovation in teaching life sciences.
Science specialists covering those grade levels can also apply for the
Conservation Teacher of the Year grant
, according to the Nongame Conservation Section, part of DNR's Wildlife Resources Division.
The grant is coordinated by the Nongame Conservation Section and made possible through support from The Environmental Resource Network, or TERN, friends group of the section.
• Read the news release.
• Help conserve Georgia wildlife.
• Learn about wildlife conservation in our state.
---
Join Georgia River Network!
If you find News Stream and other information and services provided by Georgia River Network useful, we would appreciate your financial support.
Make a difference and JOIN TODAY!