In this Issue
---
Nancy O. Andrews Speaks at White House on Affordable Rental Housing
LIIF President and CEO Nancy O. Andrews participated in the White House's "Next Generation Housing Policy: Convening on Rental Housing" event in October. The event brought together 100 policy makers, academics and practitioners to discuss ehancing policy to better support low income families and neighborhoods and affordable rental housing financing. On her panel, "Rental Housing and Low Income Households," Ms. Andrews suggested opportunities for housing policy to help combat the problem of childhood poverty in America. Keynote speakers at the event included Melody Barnes, Director of the White House Domestic Policy Council, and Larry Summers, Director of the White House National Economic Council.
---
Industry & Financing Partners Gather to Launch New York Healthy Food Fund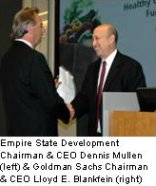 More than 100 people attended the launch event for the

New York Health Food & Healthy Communities Fund

on October 21. Goldman Sachs Chairman and CEO Lloyd E. Blankfein welcomed attendees to the event held at the Goldman Sachs offices in New York City. Goldman Sachs has committed $40 million to support the statewide initiative of which $20 million is currently available through the fund. Dennis Mullen, Chairman and CEO of Empire State Development (ESD), and Matt Morgan, Deputy Commissioner of the New York State Department of Agriculture & Markets, also spoke at the event. ESD provided the initial $10 million to seed the fund.

LIIF is now accepting applications for the $30 million fund which supports the development of healthy food markets in underserved communities. LIIF is partnering with The Reinvestment Fund and The Food Trust to administer the program, and the New York State Health Foundation provided a grant to support technical assistance and program administration for the fund. The New York Healthy Food & Healthy Communities Fund is part of New York Governor David A. Paterson's statewide initiative to promote economic development, fight childhood obesity and build healthy communities.

For more information, visit

www.liifund.org/healthyfood

.


---
LIIF Receives $6 Million from Inaugural Round of Capital Magnet Fund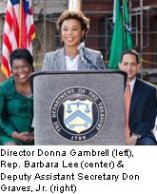 The U.S. Department of the Treasury's Community Development Financial Institutions (CDFI) Fund awarded LIIF $6 million from the inaugural Capital Magnet Fund. LIIF received the highest award of all 23 recipients nationally.
Director of the CDFI Fund Donna Gambrell, Treasury Department's Deputy Assistant Secretary for Small Business, Housing and Community Development Don Graves, Jr. and Congresswoman Barbara Lee participated in an event in Oakland to announce the awards.

Of LIIF's award Speaker of the House Nancy Pelosi said, "I have been proud to partner with the Low Income Investment Fund in the development, renovation and preservation of affordable housing in San Francisco... This proven national leader for affordable housing development is today's largest recipient of funds. I look forward to continuing to work with this innovative organization and advocate on behalf of affordable housing."
For more information about LIIF's award, read the organization's
press release
. Visit the
CDFI Fund website
for more information about the Capital Magnet Fund Awards.
---
Novogradac Awards LIIF "Operating Business QLICI of the Year" for POTS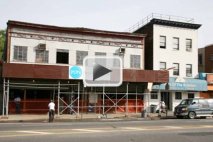 LIIF received a Novogradac Community Development Award for its work on the Part of the Solution (POTS) project in New York. The award was presented at the Novogradac & Company LLP's New Markets Tax Credit (NMTC) Investors Conference in October. LIIF received the Operating Business QLICI of the Year Award for providing an $8.8 million NMTC allocation to help POTS expand into a new facility. JPMorgan Chase provided a $2.4 million equity investment for the deal. POTS provides hot meals and social services to 10,000 low income Bronx residents annually in an area where 42% of residents struggled to find food last year.

Earlier this year, LIIF hosted a groundbreaking event for POTS, which was attended by local political officials including Congressman Jose Serrano.

Visit the links below for more information.
> About the award:

Award video

and the

Novogradac press release




> About the POTS project:

New York Times

and

New York Daily News




---
LIIF Supports Child Care & Education Facilities during California Budget Crisis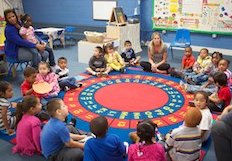 Among the most serious implications of California's budget crisis was the delay of millions of dollars in payments to community facilities relying on state funds, such as child care centers and charter schools. Without their expected payments, these organizations struggled to cover expenses and had to consider service reductions or even closure.

LIIF issued over $6 million in emergency repayable grants to child care programs waiting for payments through the support of the City and County of San Francisco, First 5 San Francisco and First 5 Alameda/Every Child Counts. These funds kept 3,700 children in quality child care programs, enabled parents to keep working and avoided layoffs and closures in centers in both counties. In addition, LIIF participated in the California Charter Schools Association's $6 million Charter School Growth Loan Program that provided bridge financing for schools waiting on state payments. LIIF partnered with the lead lender, the Nonprofit Finance Fund, and Enterprise Community Partners to provide much-needed working capital to 10 California schools during the state's budget crisis. LIIF's funds for child care centers and schools were a temporary and critical lifeline that kept children in programs, teachers working and youth in school.
---
Connect with LIIF at the 2010 Opportunity Finance Network Conference
LIIF is a Bay Area Co-Host for the 2010 Opportunity Finance Network (OFN) Conference, "Capital Justice: If Not Now, When?" in San Francisco. Several members of LIIF staff will be leading or participating in sessions at the conference. In addition, Senior Loan Officer Hannah Blitzer was selected to participate in OFN's CDFIs 2.0: Future Leaders Program as one of 24 emerging leaders in the community development industry. Corey Carlisle, LIIF's Director, Federal Policy and Government Affairs, is running for a board position with OFN.

Connect with LIIF staff members at these OFN conference sessions:

November 2
The Future of National Housing Finance Policy: The Role of CDFIs and GSEs, Nancy O. Andrews, President & CEO
November 3
Unlocking Capital for Healthy Communities, Nancy O. Andrews, President & CEO
The Opportunities and Challenges of Supporting Development of Green Housing and Community Facilities, Tara Siegel, Green Program Manager
November 4
Walking Tour of the Tenderloin and South of Market, Brian Prater, Managing Director, Western Region
Taking Stock: Lessons Learned from the Economic Downturn, Art Fatum, CFO
The Human Capital Element of the Community Capital Business, Nancy O. Andrews, President & CEO
Surviving the Great Recession: Risk Management Roundtable, Deborah Leland, Chief Credit Officer
November 5
Affordable Housing Loans Gone Bad: What Have We Learned?, Deborah Leland, Chief Credit Officer
Healthy Food Financing Initiatives, Judi Kende, Managing Director, Eastern Region
Linking Strategy to Implementation: COOs Report from the Trenches, Kim Latimer-Nelligan, COO
For the full conference agenda, visit the
OFN website
.
---
LIIF-Financed Schools Achieve Academic Success
LIIF has invested in some of the nation's highest performing charter schools that serve low income communities. Recently, several LIIF-financed schools have been recognized for their outstanding academic achievements.
Democracy Prep was the top performing public middle school and top performing charter school in New York City according to the New York City Department of Education's citywide school rankings.
North Star Academy was named a 2010 National Blue Ribbon School, the highest possible award given by the U.S. Department of Education. The school was also mentioned by Newark Mayor Corey Booker on The Oprah Winfrey Show as an example of an exceptional charter school.
Three Alliance College-Ready Public Schools ranked among the top 10 high schools in the Los Angeles Unified School District this year as measured by performance on state standardized tests. Alliance was also one of 49 winners of the highly competitive U.S. Department of Education's Investing in Innovation Fund (i3) competition and will receive a $5 million grant.

The average statewide assessment score of

Aspire Public Schools' 30 schools surpasses all

similarly-sized districts serving low-income communities

. The charter network was one of six schools awarded a $1 million grant from Oprah Winfrey's Angel Network.

National Council of La Raza named Los Angeles' Camino Nuevo Charter Academy its 2010 California Regional Honoree for outstanding work in its community.
---
New Publication: LIIF & Federal Reserve Issue Paper on CDFIs & TOD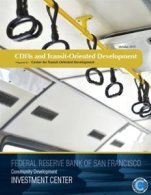 Transit-oriented development (TOD) is a critical tool to build healthy communities and create economic opportunity for low income people. LIIF commissioned a paper, published by the Federal Reserve Bank of San Francisco, that explores the role community capital can play in promoting equity within TOD projects. The paper,

"CDFIs and Transit-Oriented Development,"

provides specific recommendations for CDFIs to help scale financing in the TOD sector.

As part of its efforts to advance equitable TOD, LIIF, with the support of the Citi Foundation, MetLife Foundation and Rockefeller Foundation, convened a national advisory panel that met to provide the content for and advise on the paper, which was written by the Center for Transit-Oriented Development.


Download

"CDFIs and Transit-Oriented Development"
Additionally, in October LIIF's Managing Director, Western Region, Brian Prater spoke at the Urban Land Institute's Fall Meeting about
innovative financing solutions supporting TOD projects
.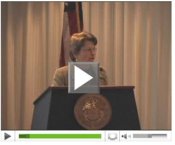 Recent Speaking Engagements
Nancy O. Andrews
President & CEO

> Testimony to the Office of the Comptroller of the Currency on Community Reinvestment Act (transcript or video)

> Panel at the Healthy Communities Conference hosted by the Federal Reserve Board of Governors, Federal Reserve Bank of San Francisco and the Robert Wood Johnson Foundation (video)

> Panel on "CDFIs and Economic Revival" at Reinventing Older Communities conference hosted by the Federal Reserve Bank of Philadelphia (audio)
---
LIIF in the News
New York Healthy Food Fund Launch
>
Grocers Attend NYC Launch Event
, Supermarket News, 10/21/10
>
Statewide Fund Launches
, Supermarket News
, 10/11/10
LIIF Receives $6 Million Capital Magnet Fund Award
> San Francisco Chronicle, 10/17/10
NMTC Become Part of the Solution to Alleviate Hunger
> Novogradac Journal of Tax Credits, August 2010
---
Projects in the News
LIIF is proud to have supported these innovative projects that are creating opportunities for low income families.
LA Mayor Villaraigosa Attends Glenoaks Gardens Apartments Groundbreaking
>Los Angeles Daily News, September 30, 2010
Aspire Public Schools and Uncommon Schools' North Star Academy Featured on The Oprah Winfrey Show
>
Newark Mayor and Oprah Highlight North Star Academy
, September 24, 2010
>
Aspire Public Schools Recieves $1 million from Oprah's Angel Network
, September 20, 2010
---