In this Issue
---
Congressman José Serrano and Deputy Mayor Linda Gibbs to Speak at Emergency Food Facility in the "Hungriest" District in the Nation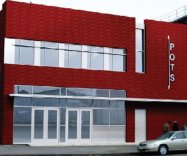 U.S. Congressman José Serrano of the Bronx and New York Deputy Mayor for Health and Human Services Linda Gibbs will join LIIF to celebrate the work of Part of the Solution (POTS), one of the first emergency food providers in the Bronx. The event is also a groundbreaking ceremony for the future site of a new facility for the organization. In addition to providing hot meals, POTS offers a food pantry, legal assistance, and medical and social services to the community. The new site will house all of POTS' programs under one roof and allow the organization to serve 10,000 low income Bronx residents each year. POTS' new facility was made possible through financial support from LIIF, JPMorgan Chase and philanthropic contributions.

This project could not come at a more critical time. New York's 16th District, where POTS is located, has been named the "hungriest" in the nation. Nearly 37% of district residents reported that they did not have enough money to buy food in the last 12 months, the highest rate in the country.

The event will be held on Monday, May 17 at 9:30 am at POTS, 2761 Webster Avenue, Bronx, NY. For questions or to receive an invitation to the event, please contact Cara Gold at cgold@liifund.org. The event is being made possible through the generous support of JPMorgan Chase.

---
San Joaquin Valley Business Leaders Convene to Support Early Care and Education
National and regional business leaders and
economic experts will gather on April 29th in Fresno, California to discuss how investments in early care and education can ensure the future economic vitality of San Joaquin Valley. The San Joaquin Valley Business Leader Summit on Early Care & Education is being sponsored by the David & Lucile Packard Foundation, Federal Reserve Bank of San Francisco and LIIF.
Keynote speakers include Rob Grunewald, Associate Economist, Federal Reserve Bank of Minneapolis, and Dennis Cima, Senior Vice President, Silicon Valley Leadership Group. The Fresno Bee published an op-ed by Larry L. Powell, Fresno County Superintendent of Schools, supporting investments in early education and encouraging local leaders to attend this week's business summit.

For more information about the event, visit the Federal Reserve Bank of San Francisco's website or contact Manuel Fierro at mfierro@liifund.org.
---
Nancy Andrews Joins Economists, Investors, Thought Leaders at Milken Institute
LIIF President and CEO Nancy O. Andrews joined a host of national and international thought leaders at the 2010 Milken Institute Global Conference in Los Angeles on April 26. Ms. Andrews participated on a panel discussing the challenges and opportunities of investing in the nation's moderate and low income communities. The session, "Investing in America's Emerging Markets," was moderated by Betsy Zeidman, Director, Center for Emerging Domestic Markets, and Research Fellow, Milken Institute.

The Milken Institute Global Conference is a forum for leading thinkers to gather and address global economic and social challenges. Speakers at this year's event include Georgian President Mikheil Saakashvili, Economist Nouriel Roubini, Eli Broad, Founder, The Broad Foundations, Founder, KB Home and SunAmerica, and Arianna Huffington, Co-Founder and Editor-in-Chief, The Huffington Post.

Ms. Andrews will also be speaking at the following upcoming events.
You can also hear from LIIF staff at the events listed in the "LIIF Near You" section in the sidebar.
---
Animo Pat Brown Charter School Wins 2010 EPIC Award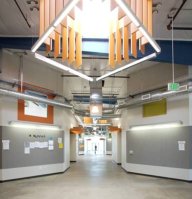 Green Dot Public Schools' Animo Pat Brown Charter High School (Pat Brown)
was one of 22 charter schools nationally to be awarded an Effective Practice Incentive Community (EPIC) Award for increasing student achievement.
LIIF provided $11.6 million in financing to enable the 570 students at Pat Brown to attend class everyday in a new, bright, LEED-certified building. The site's developer, Pacific Charter School Development (PCSD), obtained the financing from LIIF for the adaptive reuse of an industrial site. The state-of-the-art campus incorporates green features, such as a cool roof to reduce the heat island effect, drought resistant landscaping, and energy efficient HVAC, lighting and water systems.
In addition to Pat Brown, two other LIIF-financed schools, E.L. Haynes Public Charter School in Washington, DC and Alliance Gertz-Ressler High School, also received EPIC Awards this year. LIIF congratulates these schools on their exceptional work in improving educational opportunities for low income youth.
---
LIIF Closes Two New Markets Tax Credit Deals in March
In March, LIIF's New York team closed two New Markets Tax Credit (NMTC) deals for a total of $19.5 million. The transactions supported a transit oriented development in Washington, DC and a new facility for an emergency food provider in New York. "New Markets Tax Credits are a critical tool to attract private investors to the projects that Low Income Investment Fund seeks to finance," said Kim Latimer-Nelligan, LIIF's COO. "The recession caused many deals in low income communities to be put on hold. Now that investors are looking to put more money to work, LIIF has been in a great position to help important projects move forward by having an allocation of NMTCs ready to be deployed."
New Markets Tax Credit projects financed by the New York office:
For more information about LIIF's East Coast work, contact Judi Kende, Director, New York Region, at jkende@liifund.org.
---
Families, Community Come Out to Build LIIF-Supported Garden for Oakland Preschool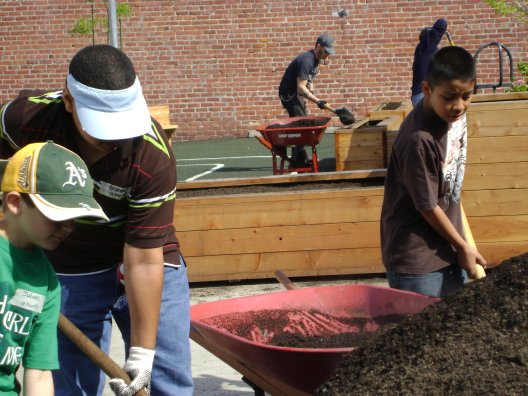 In March, St. Mary's Center Preschool staff and families were joined by community members, LIIF staff and City Slickers Farms to install a new garden in the center's yard. The center will grow fruits and vegetables to use as snacks and to teach children about growing plants and healthy eating. St. Mary's Center Preschool has served Oakland families facing severe hardship, such as homelessness, substance abuse issues and extreme poverty for 37 years. While the center's yard provides a safe place to play in the middle of one of Oakland's poorest neighborhoods, it lacked safe play equipment and shade. LIIF's Alameda County Child Care Facilities Fund (CCFF) provided a $50,000 two-year grant to St. Mary's to completely revamp its outdoor play space, including not only the garden but new ground surfacing and play structures.
For more information about CCFF grants in California's Alameda County, contact Kim Di Giacomo, Program Officer, CCFF Alameda County, at kdigiacomo@liifund.org.
---
Connect with LIIF at the National Charter School Conference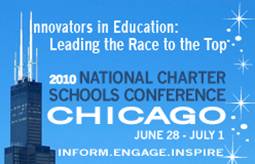 LIIF is looking forward to connecting with attendees at the upcoming National Charter School Conference June 28-July 1 in Chicago, IL. LIIF will
moderate a breakout session, "Creating Greener Charter Schools," to help schools identify cost-saving opportunities through green retrofits and provide resources and tools to help finance these improvements.
Additionally,
staff will be presenting two mini-sessions on greening charter school facilities and exhibiting in the green schools section of the exhibit hall.
We look forward to seeing you at the event!
If you would like to make sure you connect with LIIF at the conference or are interested in green financing for your school facility, please contact Matthew Haas, Deputy Director, California Lending, at mhaas@liifund.org.
---
Join LIIF's Work to Alleviate Poverty: New Job Opportunities
LIIF is hiring exceptional people interested in community development and committed to alleviating poverty for the positions below.
San Francisco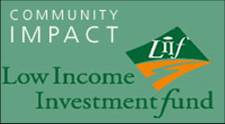 Senior Loan Officer/Loan Officer

Green Program Manager
New York
Senior Loan Officer/Loan Officer

Healthy Foods Fund Program Manager
Interested applicants should email a cover letter and resume to careers@liifund.org. Please include the position title in the email subject line.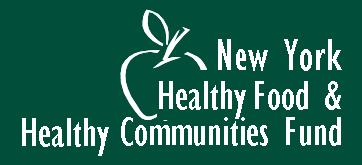 "We need to continue to support successful organizations like the Low Income Investment Fund, The Reinvestment Fund and the Food Trust that help green our state's economy, empower food markets in underserved areas, and provide New York families critically needed access to healthy, local food."
– U.S. Senator Kirsten Gillibrand
> Download the New York Healthy Food & Healthy Communities Fund Pre- Application:
www.liifund.org/healthyfood


---
LIIF Near You
Connect with LIIF at these upcoming events
► April 27-28:

Housing California, Sacramento, CA
► April 29:

San Joaquin Valley Business Summit, Fresno, CA
► May 13:

East LA Community Corporation's Las Margaritas Groundbreaking, Los Angeles, CA
► May 17:

Part of the Solution Groundbreaking, Bronx, NY
► June 28-July 1:

National Charter Schools Conference, June, Chicago, IL
---
LIIF in the News
Article by Nancy Andrews Spurs Conversation in Social Enterprise Sector
"Fuel for the Field," REDF, 4/2/10
California State Energy Program Highlighted by US Department of Energy
"Energy Empowers," US Department of Energy, 3/23/10
---
Projects in the News
LIIF is proud to have supported these innovative projects that are creating opportunities for low income families.
Public-Private Partnership Finances DC Transit Oriented Development Project
Washington Post, 4/4 /10

LIIF-Financed Schools Receive EPIC Awards: E.L. Haynes Public Charter School, Green Dot Animo Pat Brown Charter High School, Alliance Gertz-Ressler High School
LA Sentinel
, 3/24/10
---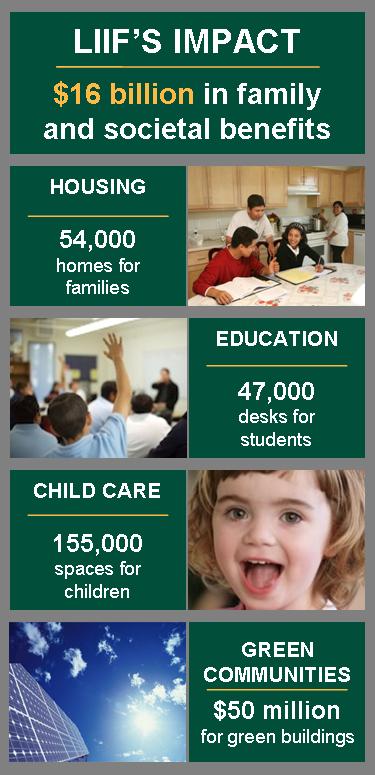 ---