"
If you thought science class was boring, perhaps this insane spectacle of dance, acrobatics, and video will be more to your liking. In their latest performance, science-based dance troupe Okeanos takes on the ocean"
"...outstanding and enchanting dancers of Capacitor."
Wired

"Something to watch and listen to...environmental consevation with a twist, or ten twists."
7x7

"...capturing with uncanny precision, the jerky grace of a plant in a time-lapse movie."
"ATOMIC ENERGY - Maybe it's something in the San Francisco water supply. Maybe it's the hot Californian sun. Whatever the reason, American performance group Capacitor are a most unusual bunch ... just allow yourself to be entertained - hugely."
"...an elegant tangle of athletic modern and aerial dance, film, fashion design, and metal work. Dancers in costumes that somehow integrate water, ribbon, and light morph into plants and animals with the use of interactive props."
...enlightening and entertaining."

Dear Sarah,
Okeanos is coming up the second week of April. We don't want you to miss it! We only premiere a completely new show about once every two years and we put absolutely everything into it. It is going to awesome!

You can hear me describe the process at a recent TEDxBerkeley.

Every night there will be an Ocean Solutions Cafe so we can share a drink and reflect with you.

See you after the show!
Best, Jodi

CALENDAR DATA
WHAT: Capacitor presents "Okeanos" with Pre-show talks presented by TEDxSF, National Geographic, and BLUEMiND
WHEN: Thursday - Sunday, April 12 -15
[Talks at 6pm, Show at 8pm, Ocean Solutions Cafe 9pm]
WHERE: Herbst Pavilion at Fort Mason, SF
TICKETS: $25 [1st 100] $30 [2nd 100] $35 [Remainder]
fort mason or
www.capacitor.org
or
(415) 345-7575
**Phone in your order for 10+ show tickets and they'll only be $25/each. If you are coming Friday - Sunday, we'll throw in the preshow talks for free as well (a $55 value!).
PRESHOW PROGRAMS

Thursday - April 12th TEDxSF presents Big Blue
[tickets:

tedxsf.org

] Andy Sharpless (Oceana.org), Patri Friedman (Seasteading Institute), Jenefer Palmer (OSEA),

Kristin Hoffmann, Mkalani Souza, Casson Trenor, Amos Nachoum (Big Animal Expeditions) & more.

MC Deborah Bassett (Sea Shepherd)
Friday - April 13th Diving into Deep Sea Technology
Chris Welsh (Virgin Oceanic), Brett Hobson (MBARI), Erika Montague (Liquid Robotics), and
Sterling

Zumbrumm (sterlingz.net). MC Dr Tierney Thys (Nat Geo Explorer).

Saturday - April 14th Ocean Explorers
National Geographic presents Dr Sylvia Earle, David de Rothschild (Plastiki), Jenifer Austin (Google Ocean), and Barton Seaver (Cod and Country). MC Dr Tierney Thys (Nat Geo Explorer)

Sunday - April 15th Your Mind On Blue
BLUEMiND presents Dr Wallace J Nichols, Farhana Huq (browngirlsurf.com), Dr G (greensteininstitute.com) & more.
MC Sarah Kornfeld (BLUEMiND)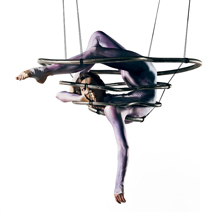 Capacitor Performance synthesizes the human body with abstract structures and interactive media to create science-inspired shows that deepen audience connection with the natural world.
Capacitor has performed for many organizations including Google, CNET, TED, Celera, SONY, The Webby Awards, Volvo, NASA, the Exploratorium, California Acad­emy of Sciences, Yerba Buena Center for the Arts, San Jose Museum of Art, Oakland Museum, and other international venues.
"Okeanos" is part of the In Performance Series at the Cowell Theater at Fort Mason Center, which is supported by Grants for the Arts/ San Francisco Hotel Tax Fund, The William and Flora Hewlett Foundation, and the Fort Mason Foundation. 'Okeanos' is also supported by the SF Grants for the Arts, the Voluntary Arts Contribution Fund, Plankton Productions, and the Zellerbach Family Foundation. Banner: Joseph Seif Photography of Jodi Lomask. Picture: RJMuna Photography of NancyKate Seifker
c
apacitor.org