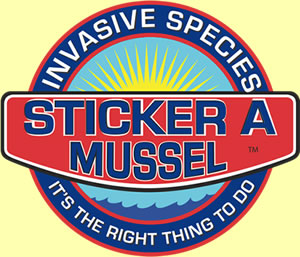 Trending 1: The Lake Havasu Marine Association is on a mission to make boaters more aware about the potential AIS contamination caused by boat anchors and anchor lines. One of our LHMA members, Ryan Dvorak, is the owner of one of the leading trailer boat anchor manufacturers in the country, Slide Anchor. Ryan has agreed to initiate a pilot program where all new Slide Anchors will be shipped to retailers and customers with a brief but informative AIS prevention message attached to each anchor. Draft message wording has been sent to Elizabeth Brown, Invasive Species Coordinator, Colorado Parks and Wildlife, Chairperson, Western Regional Panel on AIS to receive approval from the executive committee. This new campaign is tentatively scheduled to launch later in 2017.
Trending 2: The Lake Havasu Marine Association is pleased to again participate at the annual Colorado River Law Enforcement Agency (CRLEA) Conference in Laughlin on January 24-25 at the invitation of Tim Baumgarten, Boating Law Administrator for Arizona. We will be sharing a display space with Dee Davis, Pacific States Marine Fisheries WID Trainer from Lake Mead, Nevada, dispensing educational materials to various branches of law enforcement agencies about aquatic invasive species and the work that needs to be done. Then on January 26, the LHMA will be attending the annual Lake Havasu Quagga Coordination Team Meeting in Lake Havasu City to discuss progress and plans to continue the fight against the spread of AIS to non-contaminated bodies of water in the Southwest. Dr. Sharon Harvey, ASU professor, will be joining us at that meeting to offer a fresh prospective to the evolving AIS challenge.
Trending 3: Our LHMA ASU Havasu mentor, Rich Miers, reports that the student study groups under the guidance of professor Sharon Harvey are making good progress in their assigned AIS curriculum. Students are focusing their efforts on the question of sustainability versus adaptability in the fight against AIS contamination. Results and conclusions will be forthcoming in early spring 2017.