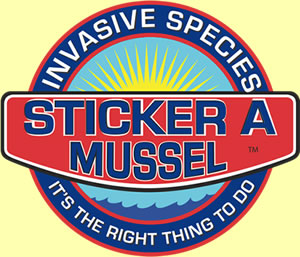 Need a sticker? List of "stickerers" on our web site www.lhmarineassn.com
Trending 1: We want to acknowledge the good work done by Kate Steighler of Arizona Game and Fish for staffing an aquatic invasive species booth at the recent Sand-Water-RV Expo at Lake Havasu State Park on November 19-20. This support only enhances our combined effort to remind boaters that AIS is a continuing problem that needs everyone's cooperation. The Expo attracted a record crowd of over 5,000 for the weekend, many of whom were boaters.
Trending 2: The Lake Havasu Marine Association's new website is on schedule for a launch in early January 2017 including new content and features about aquatic invasive species prevention. Please stay tuned.
Trending 3: We are pleased to announced that ASU Havasu and professor Sharon Harvey are once again including an AIS component to the curriculum for the coming spring semester. There will be two student study groups charged with the task of creating the best approach for educating millennials about the potential harm caused by mussels and other aquatic invasive species. These projects will culminate with the design and creation of a specific power point presentation that appeals to the millennial demographic. Thank you to LHMA volunteer Rich Miers who continues to be the lead mentor in this valuable education program.