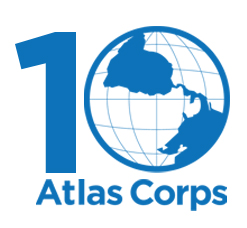 Hello Friend!

A visit to The White House - what a great way to start July! It was the highlight of an inspiring four weeks where our Fellows attended more than 10 conferences to learn, share, and continue their growth as social change leaders. In fact, today, I will be joining a group of Fellows to kick off the Nexus Global Youth Summit in New York! Follow the highlights at #AtlasCorps10.

Scroll down to see Fellow highlights from the Points of Light Conference in Detroit, RESULTS International Conference in Washington, DC, the World Bank's Global Youth Forum 2016, and the Building Bridges Coalition 10th Anniversary Forum.

You can also read highlights on our Fellow Blog.

Thank you for inspiring our network of social change leaders!




P.S. If you are in DC, join for Taste of Shaw/Atlas Corps Class 22 Welcome Event on September 21 and our Atlas Corps 10th Anniversary Gala on November 19!


Washington D.C. — The Indian Treaty Room of the White House was the setting for an engaging conversation between Atlas Corps Fellows from more than 25 countries and President Obama's Deputy National Security Advisor, Ben Rhodes.

In this meeting, Atlas Corps Fellows from Cuba and the Palestinian Territories, Yuleidy González (Class 21, Host: IPPF) and Asmaa Abumezied (Class 19, Host: Internet2), had the opportunity to speak about their #AtlasCorps10 experience and also about the state of affairs in their countries. "I hope in the future we will have a lot of Cuban Fellows like me at the White House," shared Yuleidy.

Mr. Rhodes talked with the Fellows about the importance of civil society in the building of democracy and peace. He also addressed questions from our Fellows regarding Darfur, U.S. economic sanctions, diplomatic relations with Latin America, among others. Watch our "meet & greet" with Ben Rhodes here.
Detroit, MI — Atlas Corps Fellows Mehak Toseef (Pakistan, Class 20, Host: Atlas Corps) and Anna-Kim Robinson (Jamaica, Class 20, Host: Heartland Alliance International) were part of the Points of Light Conference on Volunteering and Service, which is the largest service-related convening of nonprofit, government, business, and civic leaders in the world.

"This was an empowering experience to engage with more than 3,000 people from the volunteer sector," shared Anna-Kim. "It reinforced my belief in the power of the individual, and reassured me that as changemakers, we are united in the belief that there is a role for every citizen." Similarly, Mehak reflected, "This conference was an inspiring experience that helped rejuvenate the spirit of volunteerism and understand how important it is for us, future changemakers, to be civically engaged. It was exciting to hear such diverse ideas and opinions...."

Another special moment of this conference was that Mehak and Anna-Kim shared the experience with their fellow Fellow and member of the Atlas Corps Alumni Council, Jonathas Barreto (Brazil, Class 7, Host: Points of Light) who continued as a full-time team member when he returned home after the Fellowship. #AtlasCorpsRepresent!
Social Change Leaders from Brazil, Russia, and Venezuela Commit to"Ending Poverty" at the RESULTS International Conference!

Washington, D.C. — The power to end poverty was the topic of this year's RESULTS International Conference. In this gathering with the best social change leaders, Atlas Corps Fellows Alanna Sousa (Brazil, Class 20, Host: Liter of Light), Ilona Filimonova (Russia, Class 20, Host: Taproot Foundation), and Giannina Raffo (Venezuela, Class 20, Host: Atlas Corps) were part of the hands-on advocacy event. Our Fellows spent three days hearing from leading experts, learning new skills, and meeting advocates committed to the end of poverty.

"We need to stop glamorizing success, leadership, and entrepreneurship," summarized Alanna. "As Tavis Smiley pointed out, success is about being great. And greatness comes from loving and serving others."

At Atlas Corps, we are proud to partner with an incredible organization like RESULTS—a movement of passionate, committed everyday people, using their voices to influence political decisions that will bring an end to poverty.

World Bank's #YouthInDev:

Almost Everything Great Has Been Done by Youth

!
Washington, D.C. — The World Bank Group and its Global Partnership for Youth in Development organized the Global Youth Forum 2016, where more than 150 partners and representatives from the public and private sectors, civil society, and young people gathered to exchange new and innovative ideas. The Forum was designed to discuss the most effective ways to address both opportunities and challenges facing young people and to engage young people in development. Atlas Corps Fellows from Colombia, India, Nigeria, Pakistan, Russia, South Sudan, Sudan, and Zimbabwe exchanged experiences and effective practices on topics like LGBT rights, youth development, education, women empowerment, among others.

"The Global Youth Forum added a lot to my knowledge about youth leadership," reflected Anesu Masube (Zimbabwe, Class 21, Host: American Express Foundation). "It introduced me to the challenges faced by the people and what the youth around the world can do about it. I was so inspired by the speakers and young leaders.
Washington, D.C. — "There are challenges in this world that are significant. But there are leaders that are greater." With this brilliant quote, Atlas Corps CEO Scott Beale started his talk at the Building Bridges Coalition (BBC) 10th Anniversary Forum. This event provided a multi-stakeholder platform for the advancement of innovative U.S.-global alliances with NGOs, faith-based entities, university consortia, and the private sector.

As part of the Atlas Corps delegation, Fellows from Bangladesh, India, Mexico, Pakistan, South Sudan, and Zambia, attended to several panels and discussion on how to provide a multi-stakeholder platform which encourage global alliances to engage volunteer service abroad programs.

"Volunteer programs have been strongly criticized for not offering equal opportunity for everyone to get involved, regardless of status," commented Atlas Corps Fellow Niza Castañeda (Mexico, Class 19, Host: AYUDA). "Facing this criticism, the BBC event emphasized that we need to expand private capital to "democratized" volunteer opportunities, and also to allot more public funding to support international service in partnership with universities and nonprofit organizations. I think that is brilliant!"

Alumna Fights for Political Transparency in Nepal

Katmandú, Nepal — Atlas Corps collaborations continue on a global level. Most recently, Atlas Corps Alumna Samita Thapa (Nepal, Class 17, Host: TechChange) joined Atlas Corps Host Organization Accountability Lab's Nepal team. Samita, a Resident at the Accountability Lab Incubator in Nepal, works to engage young people to build accountability in their societies. She is joined in her efforts by Atlas Corps Alum Narayan Adhikari (Nepal, Class 14, Host: Accountability Lab) who served at Accountability Lab in Washington, DC, and continues in a full-time capacity from their Nepal office.


"I learned about the work of Accountability Lab during my Atlas Corps Fellowship in DC last year. I am so excited to join an incredible team that also includes awesome Atlas Corps Fellows, like Narayan, Lawrence Yealue (Liberia, Class 17, Host: Accountability Lab) and Fayyaz Yaseen (Pakistan, Class 14, Host: The Atlantic Council)" commented Samita. "I'm excited for all the amazing work we do with citizen, youth engagement and government accountability." We send our best to Samita and the entire Accountability Lab Team!