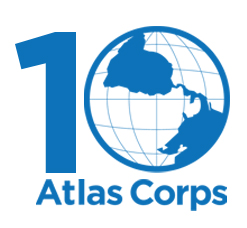 Hello Friend!

The future is now! We have virtual technology, cars that drive themselves, and nonprofit leaders that are inspiring major impact. When I started Atlas Corps 10 years ago, I thought a lot about the future—the vision, the possibilities, the goals. Now, that future is here! Atlas Corps is an established organization with a thriving network and an exceptional track record. I am as motivated by the opportunities of the future as I am satisfied by the achievements of our past.

Today, join me in celebrating our "emerging leaders" who are actually established professionals achieving today.

Thank you for being an inspiration to our network!




P.S. Save the Date! If you are in Washington, DC, on November 19, join us at our 10th Anniversary Gala at the Renwick Gallery. Sign up to receive the latest updates!

Atlas Corps CEO Nominated as Independent Sector NGen Leadership Award Finalist!

Washington D.C.—Atlas Corps congratulates our Founder and CEO Scott Beale for being selected as an Independent Sector NGen Finalist. Scott receives this honor for his unique contributions to developing the sector, which includes the success of Atlas Corps. Over the past 10 years, Atlas Corps has built a network with more than 500 leaders from 76 countries —the latest one being from Cuba— who have served in the United States, Colombia, and Australia.

It is important to note that Atlas Corps is only one of Scott's many accomplishments. He is a Presidential Leadership Scholar, teaches at Georgetown University, and was part of the first class of Independent Sector's American Express NGen Fellows in 2009. Previously, Scott served with the U.S. Department of State, worked at Ashoka and the White House, authored the first book on Millennial politics, and was named "one of 30 people under 30 changing politics in America."

Congratulations to the other inspiring finalists including: Steve Choi of The New York Immigration Coalition; Jessica Gonzalez-Rojas of National Latina Institute for Reproductive Health; Trista Harris of Minnesota Council on Foundations; and Diana Nambatya Nsubuga of Global Health Corps (an Atlas Corps partner organization!). Follow the conversation on how these innovative leaders are inspiring the sector at #ngenleads.
New York—We are excited to announce that Atlas Corps Fellow, Ana Paula Barreto (Brazil. Class 19. Host: IPPF), is one of the nominees for the 120 Under 40 Award!

Since 2004, Ana has been a volunteer to promote human rights and teach sexual education in Brazil. From her years of undergraduate research and study, she learned of the many complex inequalities that affect women, and especially women of color.

"I am very happy and honored to represent my amazing Host Organization (I was nominated by my supervisor and the Regional Director) as well as Atlas Corps!" Ana shared. She continues to help promote women in Brazil, even now during Brazil's political crisis. She believes that her use of advocacy tools and rights-based programs will empower women in Brazil.
Class 21 is Ready for Service...and Already Started!

International—Congratulations to Atlas Corps Class 21. They completed two weeks of Orientation and Immersion and officially started at their Host Organizations on May 31! A highlight of their two weeks in Washington, DC, was the Welcome Event on May 25.

The event included hundreds of supporters and some valuable advice from the network, including these insightful words from Duha Elmardi (Sudan, Class 21, Host: DC Scores). "This journey will surely have its ups and downs. We will miss loved ones and will realize that life goes on without us. We will miss lots of birthdays, weddings, and maybe deaths of those close to us. Our faces will be missing from the pictures be taken yet we will find a way to deal with all that, because we too, will move on in life in a new place with new people….We will realize that Humans—no matter where they are from are all the same. Color, race, language, religion, and social status are all barriers we create in our head, we are all the same."

Class 21, welcome to Atlas Corps. These 23 Fellows from 13 different nationalities represent more than 9 ethnicities and 5 different religions and share our passion to make the world a better place.

"Emprendimiento" is Our Favorite Spanish Word
Washington D.C.—Social impact partnerships are one of the Atlas Corps long-term goals. Our latest collaboration is with the U.S. Department of State, Meridian International Center, and Entrepreneurs' Organization to launch President Obama's Young Leaders of the Americas Initiative—YLAI.

YLAI empowers entrepreneurs and innovative civil society leaders to strengthen their capacity to launch and advance their entrepreneurial ideas and effectively contribute to social and economic development in their communities. In Fall 2016, 250 YLAI Professional Fellows from Latin America and the Caribbean will expand their leadership and entrepreneurial experience through fellowships at businesses and civil society organizations across the U.S. Through the YLAI Entrepreneurship Institute and the individualized Entrepreneur Mentorships, YLAI Fellows will accelerate their commercial and social ventures' success and develop specific action plans to carry out upon return to their home countries. The selection process continues with the 250 fellows to be announced later this year.
Washington D.C.—"Once a Fellow, always a Fellow" is the Atlas Corps motto. We are inspired to learn how our Alumni continue to raise their voices to advance good causes. Most recently, Atlas Corps Alum Tushar Malik (India, Class 13, Host: Human Rights Campaign) who is making a difference in the world of human rights. Tushar, who is passionate about LGBTI rights, recently spoke at the "Conference at the US Capitol: The Geopolitics of LGBT Rights." The event was sponsored by the Institute of Current World Affairs in partnership with Johns Hopkins SAIS – Center for Transatlantic Relations and the Pulitzer Center on Crisis Reporting.
"It is extremely symbolic when 15 activists from across the world are invited to speak at Capitol Hill, the temple of American Democracy. It's symbolic since in a world where western understanding of global LGBTIQ rights prevails, activists like me from Africa, Asia, Latin America, and Europe were able to come in and talk about our work and experiences, contributing to a broader dialogue about our regions and our issues," shared Tushar. "I personally loved the fact that my fellow panelists and I were able to talk about so many different nuances of the geopolitics of LGBTIQ rights, and in turn contributed to our combined knowledge of the issues that our community faces worldwide." he said. Way to go Tushar—keep leading by example!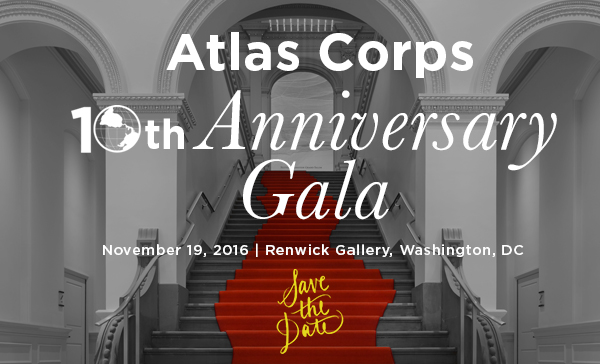 How likely are you to recommend the services of Atlas Corps?