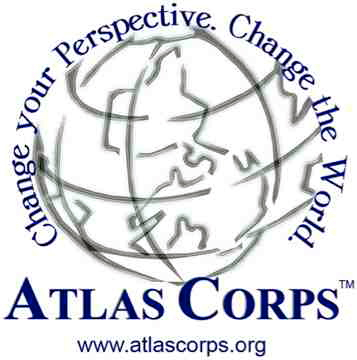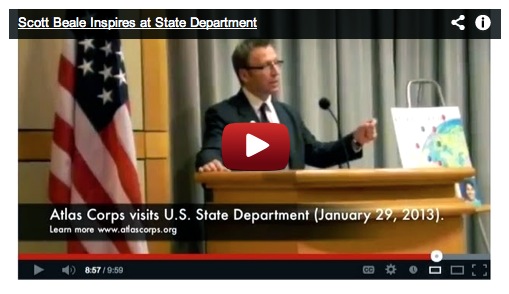 Hello!
2013 is off to a great start for Atlas Corps! In January, we welcomed our Class 11 Fellows - 15 leaders from 13 unique countries - bringing our network to 155 Fellows from 49 countries supported by thousands of volunteers throughout the world (like YOU!). Click on the video to see some highlights from our welcome reception. We diversified our network with two new partnerships: the Sudanese Civil Society Leaders Fellowship in partnership with the Office of the Special Envoy to Sudan and South Sudan and the Think Tank LINKS Fellowship in partnership with the Center for International Private Enterprise (CIPE). We launched our new Atlas Corps Global Leadership Lab - an enhanced professional development series for our Fellows and Alumni. We also announced a new public-private partnership with the U.S.-Japan Council through the TOMODACHI Initiative. Scroll down for details, videos, and more!

Now, how are you marking the start of 2013? Today is a great day to get involved with Atlas Corps. Currently, we are recruiting Host Organizations located in the United States for our May 2013 and September 2013 Classes. Are you ready to benefit from engaging a global leader in your organization for 12 to 18 months? Learn more during our upcoming Potential Host Organization Informational Call (February 20, 1:00 PM EST).

Thank you for an inspiring start to 2013!




Scott Beale, Atlas Corps Founder & CEO

Fellows Embrace Role as Citizen Diplomats - watch the highlights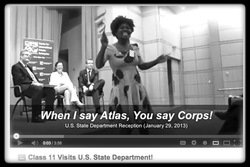 On January 29, 2013, Atlas Corps made history - our first event at the U.S. State Department hosted in collaboration with the Office of the Special Envoy for Sudan and South Sudan. More than 150 attendees celebrated the arrival of our newest Class of Fellows, including our first
Sudanese Civil Society Fellows: Hiba Salih (Host: Association of American Medical Colleges), Khawater Makki (Host: Atlas Corps), and Taha Sharif (Host: Mobilize.org).
To highlight our network of "citizen diplomats," Fellow Cleopatra Ndlovu (Zimbabwe, Class 11, Host: InsideNGO with support from the U.S. Embassy Harare) energized the crowd as she taught the official Atlas Corps Cheer. Other highlights included inspiring words from the following speakers (click on names to watch videos):



White House Office of Social Innovation Headlines Launch of Atlas Corps Global Leadership Lab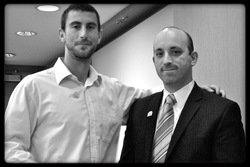 On January 28, 2013, Atlas Corps added a new chapter to our global service model with the launch of the Atlas Corps Global Leadership Lab - 200 hours of experiential learning provided during three, four-day "training immersions" convened over the course of the Fellowship in January, May, and September. Our Atlas Corps Fellow and Training Manager, Dipanwita Das (India, Class 10), leading implementation describes the Lab, "Fellows participate in sessions led by innovative social change leaders who share practical strategies and personal journeys. This professional development series combines hard skills (like business planning and proposal writing) with soft skills (like conflict resolution and leadership)." A highlight of the four-day immersion was a conversation with Jonathan Greenblatt, Special Assistant to the President and Director of the Office of Social Innovation and Civic Participation (pictured to left with Fellow Steve Caron - Canada, Class 11, Host: Charity Navigator). The in-person trainings are supported by a virtual platform that facilitates monthly webinars and online discussions for current Fellows and Alumni.


U.S.-Japan Council to Support First Japanese Fellows as part of TOMODACHI Initiative



Forward this message to a friend
---
---
Atlas Corps
1825 K Street NW Suite 210
Washington, DC 20006
USA


Read the VerticalResponse marketing policy.