Hello Sara!
The world is our oyster and our network is the pearl of our achievements. Sounds beautiful, right? Well, at Atlas Corps, it is more than just beautiful. It is our inspiration. It is an idea supported by fact. The facts that describe our exciting and ever-expanding global network.. Here are just a few of these interesting facts.

It is a fact that...
we have engaged 108 Fellows from 32 countries.

we have placed our Fellows in 8 cities in 2 countries.

we have received applications from more than 130 countries.

we have more than 250 active volunteers in our virtual network.

we will welcome our 10th Class of Fellows in September 2012.
Over the past few weeks, we have been especially focused on building this global network. From Spain to Stockholm to Sao Paolo, our staff and Fellows have traveled and engaged in conversations, shared their perspective, and enlightened us with these new ideas. In addition, our newly formed Selection Board of volunteers from around the world more than doubled the capacity of our Recruitment Team to review the high volume of applications. The Selection Board also demonstrates a unified commitment to global service and leadership development. They invest their time as volunteers to help us identify the outstanding applicants that we can send to our potential Host Organizations.

Today, we share with you some of the highlights of these recent travels and announce some new additions to our organization. And, stay tuned, the next "pearl of our achievements" will be announced in a few weeks when we present Class 9 - our first June Class of Fellows!

Thank you for your inspiring support for our global vision!
Scott & the Atlas Corps Team

PS Do you have experience in financial management and/or partnership building with a heart for international service? Atlas Corps is currently hiring in Washington, DC. Check it out!

---

Atlas Corps Speaks the Language of Service in Spain Summit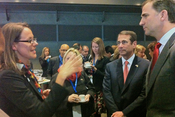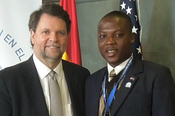 The spirit of service transcends political boundaries and language barriers to achieve positive community impact. It is this innovative ideal that inspired the convening of the Service Innovation Summit in Madrid, Spain, during March 2012. Organized by the U.S. Embassy in Spain, Fundacion Rafael del Pino, and Meridian International Center, the Summit brought together a broad cross section of service leaders from Spain, the United States, and the world. Atlas Corps, represented by our Chief Development & Engagement Officer Abby Flottemesch (pictured above with U.S. Ambassador Alan Solomont and His Royal Highness the Prince of Asturias) and Windy Previl (Class 6 Fellow, Haiti - pictured above with Special Representative for Global Partnerships, U.S. Department of State), shared our innovative global service model. "Collaboration, it is the foundation of service," shared Abby. "We all have talents and knowledge to share. We just need the opportunities to put those skills into action for the benefit of our communities. Our Fellows are a great example of individuals seizing the opportunity to share knowledge on a global level and excelling as service leaders." In our first eight Classes, three Spaniards have served as Fellows in the United States and Colombia. We look forward to
continuing our expansion in Spain, as well as, the whole of the European continent.
---

Fellow Shares Sustainable Living Ideas During Stockholm+40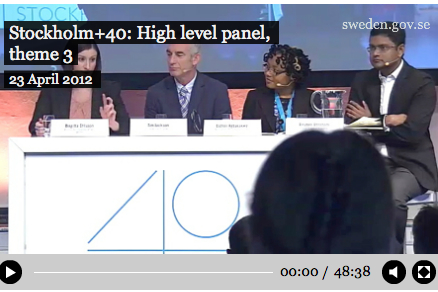 In another high-profile international event, our Fellow Esther Agbarakwe (Class 7, Nigeria, serving at Population Action International - pictured above third from the left) participated in the Stockholm+40 Conference. The event, occurring from April 23-25, 2012, organized by the Ministry of the Environment and the Ministry for Foreign Affairs commemorated the first UN Conference on the Human Environment held in Stockholm in 1972. Esther presented on the high-level panel, A Supportive Framework for Sustainable Choices. During the panel, she shared her views on youth sexual and reproductive health and rights and the relation to sustainable living. Her perspective as an emerging leader in Nigeria, enriched with her recent exposure as an Atlas Corps Fellow, provided depth of knowledge and unique insights.
---

Expansion Continues in USA and Latin America
As of this moment, Atlas Corps Fellows serve in eight cities in two countries. By 2013, our goal is to place Fellows in 10 cities in 4 countries. "Interest in Atlas Corps is at an all-time high and more organizations and individuals are seeking ways to be involved," shares Erin Lawless, senior partnerships director. "The sustainability and scalability of our model allows us to enter new markets to seek out these opportunities. I encourage people to contact us. We are always eager to brainstorm ideas." Target countries on the horizon include: Brazil, Chile, and Mexico. In addition, Atlas Corps still plans to increase its presence in Washington, DC, as well as our other cities in the United States: Atlanta, Minneapolis, New York, Norfolk, and San Francisco. Interested in learning more as an organization or individual? Attend an upcoming in-person or virtual event that features our local partners and Fellows: bit.ly/atlascorpsevents.
---

Board Additions Reflect Rapidly-Growing Global Network
Atlas Corps proudly announces the appointment of three new Board members to lead our rapidly-expanding global network. The new Board members are Augusta Babson (U.S. Department of State - Washington, DC), Jeff Riddle (ReTargeter - New York City), and Steven Wozencraft (Private Foundation and Nonprofit Consultant - New York City). "In our first six years, we achieved 108 Fellows from 32 countries," shares Scott Beale, Atlas Corps Founder and CEO. "These dynamic new additions to the leadership of our organization will help us to double our size in the next few years. We are thrilled to welcome their expertise and global perspective to the Atlas Corps network." You can read their full biographies and that of the other members of our 12-person Board of Directors at www.atlascorps.org/board-of-directors.php.
---

Join Our Team - Atlas Corps Hiring Two Positions!
Do you have experience in financial management and/or partnership building with a heart for international service? If you answered, YES!f, Atlas Corps may be the opportunity that you seek. Currently, we are hiring an Office Manager and Partnerships Manager in our Washington, DC, headquarters. Apply today! Application review already started.
"Why work at Atlas Corps?" Our Founder & CEO, Scott Beale, tells all in this video.