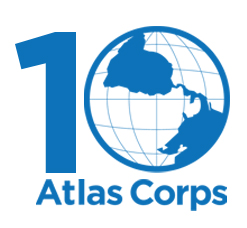 Hello!

Have you ever pursued an opportunity without knowing the future? Some call it a "leap of faith." For me, that leap of faith happened 10 years ago on April 6, 2006. I took "temporary leave" from my job at the State Department to launch Atlas Corps. I even applied to the Echoing Green Fellowship, which was ultimately not successful. Though, it proved to be the base of a solid business model that is now celebrating 10 years, 450 Fellows from 75 countries, and 130 Host Organizations in the United States, Colombia, and Australia. In fact, Echoing Green even hosts our Fellow Syed Ali (Pakistan, Class 19).

This rejection was a wake-up call: Scott, your vision won't go as planned, achieving your goals will be hard, and you will face some setbacks. But, your dream of supporting hundreds of leaders from all over the world will come true and they will, in turn, make the world a better place.

This short-term setback only reinforced my commitment to Atlas Corps. I knew that my leap of faith was the correct one. For our Fellows and Host Organizations, the decision to be involved with Atlas Corps is also a leap of faith. They trust our established model and successful track record. They step outside of their known circles of colleagues, community, and country to embrace new opportunities. I challenge you to find and take your leap of faith—what opportunity awaits you?
Read on to see how our Fellows and partners are embracing new opportunities!
Thank you!
P.S. Join us as we continue to celebrate our 10-Year Anniversary with the
Class 21 Welcome Celebration on Wednesday, May 25!
Invite others #AtlasCorps10!

Fifty Innovative Nonprofit Leaders Convene at American Express Leadership Academy Global Alumni Summit
New York — Atlas Corps is proud to partner again with American Express to host the second annual Leadership Academy Global Alumni Summit, celebrating nine years of an industry-defining program that has developed more than 2,000 nonprofit and social purpose leaders. The distinguished program alumni participated with representatives from the 10 Academy partners—top leadership development and entrepreneurship organizations including Aspen Institute, Ashoka Changemakers, Points of Light, and Thunderbird School of Global Management—to advance the sector's impact on society.
Produced in partnership with Atlas Corps, the Summit featured a variety of workshops and panel discussions, designed to provide participants with a stronger network and vital leadership skills.





Atlas Corps Program Director,

Meredith Newmark

, shared her experience as a participant and alumna of the Leadership Academy,

"With the Academy and now the Summit,

I had the opportunity to know the best leaders in the world and share best practices in social entreprene

ursh

ip."

Also, we are honored that two Atlas Corps Alumni,

Trina Talukdar

(India, Class 15, Host: American Express Foundation)

and

Arturo Gonzalez

(Mexico, Class 15, Host: Kids' Food Basket)

, were selected to participate in the Summit.



You can join the discussion on the Ashoka-facilitated Twitter chat on Thursday, April 21, 12:00 PM EDT. Follow #amexleads.
New York — We're excited to announce that Atlas Corps Fellow Mahwish Javaid (Pakistan, Class 19, Host: Concern Worldwide) has been named to serve as a Deputy on the UN Secretary-General's first ever High-Level Panel on Women's Economic Empowerment. "It is an unprecedented effort not only to partner with thought leaders but also to look at social and economic gender inequalities with a fresher perspective," shared Mahwish. "I'm honored and thrilled!"

The panel, which held its first meeting on March 15 and opened with remarks from Secretary-General Ban Ki-moon, will recommend concrete actions that governments, private sector, the UN system, and others can take to close economic gender gaps and put women's economic empowerment at the top of the international agenda. As an Atlas Corps Fellow, Mahwish serves at Concern Worldwide U.S., supporting their Innovations for Maternal, Newborn & Child Health initiative in Kenya.
Washington D.C. — Atlas Corps was founded in 2006 with a simple vision: "talent is universally distributed, but opportunity is not." Over the years, we have provided emerging global professionals with the opportunity to grow personally and professionally through overseas service. Now, 10 years later, our network has grown to 450 Fellows, from 75 countries, serving at 130 Host Organizations in the United States and Colombia (with future international expansions on the horizon)!

Join our 10-Year Celebration as we welcome the newest Class of Atlas Corps Fellows—Atlas Corps Class 21—on May 25, 6:00 PM. Meet them before they begin their year of service at dynamic organizations in D.C., New York, Virginia, and Atlanta! Details and RSVP at bit.ly/WelcomeClass21.
Colombia — Do you want to impact, inspire, and educate in Latin America? Interested in international development and increasing social mobility? Apply for Colombia's largest bilingual program—Atlas Corps English Teaching Fellowship in partnership with Heart for Change and Volunteers Colombia!

Benefits of this prestigious fellowship program include a living stipend, health insurance, teacher training, ongoing professional development, and engagement in the global Atlas Corps network of more than 450 leaders from 75 countries!


Applications accepted on a rolling basis. Priority deadline is 5/1/16. APPLY NOW! bit.ly/AtlasCorpsTeachInColombia
Armenia — Atlas Corps Alumna Anna Ayvazyan (Armenia, Class 8, Host: Lutheran Social Services of Minnesota) recently started working for Peace Corps Armenia. Currently, Anna works with Peace Corps Volunteers who provide English language instruction and youth development activities. A highlight of this new role is that after her experience several years ago in Atlas Corps, Anna is now applying her overseas service knowledge as an Atlas Corps Fellow to welcoming these Peace Corps Volunteers as they engage with their new Armenian communities.

Anna is also still active with the Atlas Corps Network. She is part of the Atlas Corps Alumni Council as one of the Class 8 Representatives. The current Alumni Council membership includes 36 Fellows hailing from 18 different countries.


We congratulate Anna on her endless devotion to help others and to create a better Armenia for all!