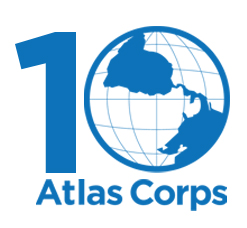 Although hard to believe, this year Atlas Corps reaches a significant milestone, the Atlas Corps 10 Year Anniversary!

In 2006, when I "temporarily" left State Department to launch Atlas Corps, 2016 seemed a far distant future. Each year has had significant victories and challenges, that a decade of these intense years seems hard to believe. We have so much to be proud of, especially the 500 Fellows (to the United States and to Colombia) from 75 countries and hundreds of Host Organizations. Perhaps most importantly, we established a model and a base from which we can make an even greater impact.

I invite you to join the celebration. This newsletter kicks off a series of highlights that will include newsletter stories, social media features, and events, culminating in our 10 Year Anniversary Weekend on November 18 & 19, 2016. Stay tuned and follow us online at #AtlasCorps10!
Let the countdown to 10 begin!

Atlas Corps CEO Named Presidential Leadership Scholar
United States - Scott Beale, Atlas Corps founder and CEO, is one of 61 leaders selected to participate in the prestigious Presidential Leadership Scholars program co-launched by the presidential centers of George W. Bush, William J. Clinton, George H.W. Bush, and Lyndon B. Johnson. Over the course of several months, the Scholars will travel to each participating presidential center to learn from former presidents, key administration officials, and leading academics. They will study and put into practice varying approaches to leadership, develop a network of peers, and exchange ideas with mentors and others who can help them make an impact in their communities. As Atlas Corps celebrates our 10-Year Anniversary, this recognition for the inspiration behind our organization is a testament to Scott's impact on the broader nonprofit sector. We commend Scott and the 60 other professionals who were chosen because of their desire and capacity to take their leadership strengths to a higher level in order to help their communities and our country. Congratulations!



Welcome Atlas Corps Class 20: All about diversity!
They join our vibrant network of more than 450 leaders from 75 countries and 150 Host Organizations. They are also part of the Emerging Global Leaders Initiative (EGLI)―Atlas Corps Fellowship, our partnership with the U.S. Department of State, which was launched by the White House at the Clinton Global Initiative!

Serving a Cause Greater than Yourself — a Conversation with Senator Coons
Washington, DC - In January, 85 Atlas Corps Fellows gathered in Washington, DC, as part of our Global Leadership Lab (GLL)—the 12-part management training for Fellows. This Deloitte-facilitated training focused on project management and fundraising. Other highlights included the annual Professional Exchange Series at the U.S. Department of State and a visit from Senator Chris Coons

(pictured to left)

,

a U.S. Senator from Delaware and a leading member of the Senate Foreign Relations Committee.

Beyond his career in public office, Senator Coons shares the Fellow commitment to global service. His engagements include numerous overseas initiatives. He also volunteered in Kenya as a relief worker in his early career. This experience changed his perspective and reaffirmed his commitment to serve a cause greater than himself. It inspired him to establish his professional path in local government. He also spoke about the importance of engaging youth for serving their community in various capacities.

"GLL is more than training!" said Atlas Corps Fellow, Mehak Toseef (Pakistan, Class 20. Host: Atlas Corps). "It is an international interaction at its finest AND we had a government official join the training - amazing!"
Atlas Corps Launches Alumni Council
Global - "Once a Fellow, always a Fellow" is the Atlas Corps motto. It is also one of the most significant benefits of being a Fellow—lifelong membership in this dynamic global network! In honor of our 10-year Anniversary, Atlas Corps enhanced its Alumni engagement with the launch of the Atlas Corps Alumni Council. The Alumni Council consists of representatives of each of the 17 Classes that have successfully completed the Fellowship to date. Current membership includes 36 Fellows hailing from 18 different countries! At the head of his dynamic group are Board of Directors Members and Alumni Representatives, Danielle Goldberg (USA, Class 2, Host: Give2Colombia) and Sudeshna Mukherjee (India, Class 6, Host: GlobalGiving).

"We all know that Atlas Corps is a family"

shared Danielle.

"Such meaningful engagement among Alumni is vital to the longevity of Atlas Corps as an organization AND also to the Fellowship as an experience—before, during, and after our service"

. The Alumni Council will play a key role in celebrating the 10-Year Anniversary throughout 2016, culminating in some exciting Alumni announcements during the celebration event in November.
Diplomatic Courier & Atlas Corps Discuss NextGen Policy Leaders
Global - Diplomatic Courier recently announced Atlas Corps as a "thought partner" in their The World in 2050 - The Future is Now (#World2050) series to foster the next generation of foreign policy leaders. The partnership was announced early January, immediately preceding the Global Talent Summit. As part of the Summit, Atlas Corps Founder & CEO Scott Beale shared his expectations for the collaboration in this video. In addition, three Fellows attended the Summit to learn and engage on this key global issue. You can read their perspectives on their blog posts. Just click on their names to access the posts for Asmaa AbuMezied (Palestinian Territories, Class 19, Host: Internet2) and Niza Castenada (Mexico, Class 19, Host: Ayuda).

"There is a rapidly accelerating pace of change in our lives due to revolutionary technologies, such as artificial intelligence, 3D printing, robotics, biotechnology," reflected Asmaa. "The Fourth Industrial revolution and the disruptive technological changes accompanied with socio-economic, geopolitical and demographic developments are changing the employment and talent landscape." Join Asmaa, Niza, and others in this timely discussion on the future of youth employment! You can follow and join the conversation online at #World2050.