Drive Out Child Abuse at Dixieland Speedway!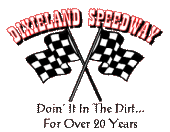 Please join us on Friday, June 3rd to "Drive Out Child Abuse" at Dixieland Speedway! In addition to Dixieland's regular lineup of racing, Kids First will be hosting POWERWHEEL RACES- so bring the kids out for their very own racing experience at the track! A donation is requested for participation, trophies will be awarded for first through third place, and every participant will receive a prize! Preregister to guarantee a space for your child by calling Courtney at (252)338-5658. (Paid admission to Dixieland is required for participation, race age limit is 12, no gas engines allowed.)
Additionally, throughout the night you can purchase tickets for a chance to win an autographed Clint Bowyer #33 trunk! Drawing tickets are $3 or 3 for $5.
This event is proudly sponsored by Havoline XpressLube of Elizabeth City. Dixieland Speedway is located at 1531 Northside Road, Elizabeth City. Gates open at 5:00pm, qualifying begins at 7:00pm, racing begins at 8:00pm, and the Powerwheel Races will be held at approximately 8:30pm.
For more race info on Dixieland Speedway, visit them at www.dixielandspeedway.net
Send Your Friends a "Pinwheel Party!"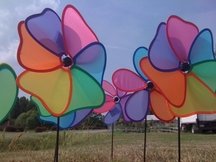 If you're passionate about helping abused children through Kids First, and know other people that are as well, then consider sending your friends a "Pinwheel Party"! Kids First volunteers will deliver a colorful assortment of pinwheels to decorate the recipient's lawn as a challenge to make a donation to Kids First. This campaign will also spread much-needed awareness for Kids First and the victims we serve. To send a Pinwheel Party, or to volunteer for this program, please call Courtney at Kids First at 252-338-5658, or e-mail her at ccottrell@kidsfirstinc.org .
Towne Bank of Currituck: A True Community Bank!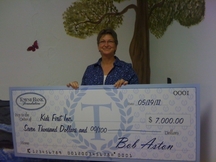 The Towne Bank of Currituck demonstrated that they are truly a community bank when they selected Kids First as a beneficiary of their foundation's annual charity golf tournament. Last week, our Director, Rhonda Morris, and Board President, Louise Woodworth, were thrilled beyond words to receive a check in the amount of $7,000.00 at the tournament in Suffolk. According to Ms. Morris, "The Community Reinvestment Act mandates a certain amount of financial giving by banks, but it cannot mandate kindness, compassion, or the genuine caring about a community's needs that Towne Bank demonstrates on a regular basis. It is very obviously part of their culture and is woven into the fabric of who they are as a business."