LIVE from CESAR CHAVEZ!
Author Sheldon Siegel in Conversation With Lori Gilbert
Get out a red pen and mark yourself "busy" on your calendar for Monday, December 10th at 6:30pm! New York Times bestselling author Sheldon Siegel will be in town at the Cesar Chavez Central Library. Lori Gilbert, reporter from The Record, will interview Mr. Siegel for the second installment of the Live from Cesar Chavez! series.
Sheldon Siegel has written several legal thrillers, including his first book, Special Circumstances, which he wrote on a commuter train traveling to his job in San Francisco as a corporate lawyer. Mr. Siegel's books are sharp and smart with nail biting courtroom scenes and lots of subtle humor.
The Live from Cesar Chavez! series is sponsored by the Library & Literacy Foundation for San Joaquin County. The goal of the series is to bring more authors to the library to engage and excite the readers of San Joaquin County. The first event was held in August when author Amy Elizabeth Smith spoke on her book All Roads Lead to Austen.
The Library & Literacy Foundation for San Joaquin County was incorporated as a non-profit, tax-exempt organization in 1990 in response to the specific need to fully fund the Stockton-San Joaquin County Public Library's fledgling adult literacy program. In more recent years, the Foundation has not only focused on literacy programs but also on providing funding for library materials. The Foundation's primary fundraising event is the annual Trivia Bee. This year's Trivia Bee will be held on March 15 at the Stockton Civic Memorial Auditorium from 5-9pm. For more information visit www.sjcliteracy.org.

---
A DAY IN THE LIFE OF TRAINING WHEELS
An Interview with the Training Wheels Team
Written by Kaye Leuck
Part Time Library Assistant
Training Wheels is a specially outfitted bus entirely devoted to taking story-time on the road to various preschools all over San Joaquin County. The outside of Training Wheels is predominantly white and blue and decorated with pictures of happy babies, toddlers and preschool children in various poses enjoying books and reading.
When one first enters the bus mid-way along one side, they are greeted by cheerfully decorated walls and shelves upon shelves of children's books. A bright blue carpeted walkway leads back to a slightly wider area with a colorful story-time rug printed with a variety of animals the children recognize as favorites. There's also a bench with a bright red cushion in this area where one of Training Wheels' two human partners sits to read stories and sing songs with the children.
This story-time area is at the opposite end of the bus from its two seats: One for the driver, Ms. Lisa Lee, and one for the navigator, Ms. Kaye Leuck. There's also a pesky pigeon on board who often tries to help drive the bus, but he is nowhere to be seen today (thank goodness!).
Also on board are other friends and characters from some of the children's favorite books, such as Harry, of Dirty Dog fame; and George, also a dog, who meows, quacks, oinks and moos in his book. There's also a dinosaur that goes to school, and Leonardo, the little monster who's not so terrible after all. Ms. Lisa and Ms. Kaye also work at two desks with bright red chairs and a special laptop computer that keeps them connected to the Library when they are out and about with Training Wheels. Let's Connect caught up with the team recently for a short chat.
Please note, it appears as though the Training Wheels Bus is the talkative one!
LC = Let's Connect
TWB = Training Wheels Bus
LC: First, let me just thank you all for agreeing to talk with me today. I understand that Training Wheels very rarely speaks to others--
TWB: You're right, I don't. But it's not that I don't want to talk. It's just that most people can't hear me. You need your imagination for that, you know. I'm glad YOU can hear me! We just got back from a wonderful time with the children today. We had 48 children and 10 adults altogether, and that's a pretty typical day for us.
LC: Wow! Now, do you have all those children on the bus at one time? Where do you put them all? Maybe you could take us on a little walk through your day, please?
TWB: I'd love to. We don't have all the children come on the bus at the same time. As you can see, I'm very compact inside! When we arrive at the preschool we are visiting, we remind the teachers that we can read to about 12 children at a time with at least one adult to accompany them on board. At the preschool we visited today, there were two groups of 12 in the morning, and two groups of 12 again in the afternoon. Ms. Lisa and Ms. Kaye take turns reading to the children, so they each read story-time twice. You know, most preschools have morning and afternoon classes, so it works out pretty well for Ms. Lisa and Ms. Kaye to have lunch in between (they have to eat sometimes.)
LC: What's your favorite part of the day, Training Wheels?
TWB: Oh, that's easy--It's story-time! First, I hear the children's voices as they come up to me. They are so excited to come on board. Then, Ms. Lisa or Ms. Kaye will greet them and help them get seated, crisscross-applesauce, so they all fit. Once everyone is comfortable, story-time begins. Sometimes there's a hush as the kids listen to a story…but, sometimes they howl with laughter. Then, I hear their voices again when they sing: Twinkle, Twinkle Little Star, or If You're Happy and You know it…The Seals on the Bus…Then, they read more stories…
LC: The Seals on the Bus?
TWB: Yes, that's one of my favorites! "The Seals on the bus go 'erp, erp, erp,' erp, erp, erp'…all around the town." We have a book of the same name to help the children learn the words.
LC: It sounds like the children have a lot of fun when you visit their preschools!
TWB: We like to think they do. If smiles and laughing are any indication, they do. Sometimes they don't want to leave. But, when they do, Ms. Lisa or Ms. Kaye gives them each a sticker and a book, plus a book for their classroom.
LC: Thank you, Training Wheels, for sharing your day with us. You know, we haven't heard a word from your human partners…
Lisa & Kaye: We thought Training Wheels did just fine…
If you are interested in having Training Wheels visit your school or daycare, give us a call and let's get to planning! (209) 937-8143.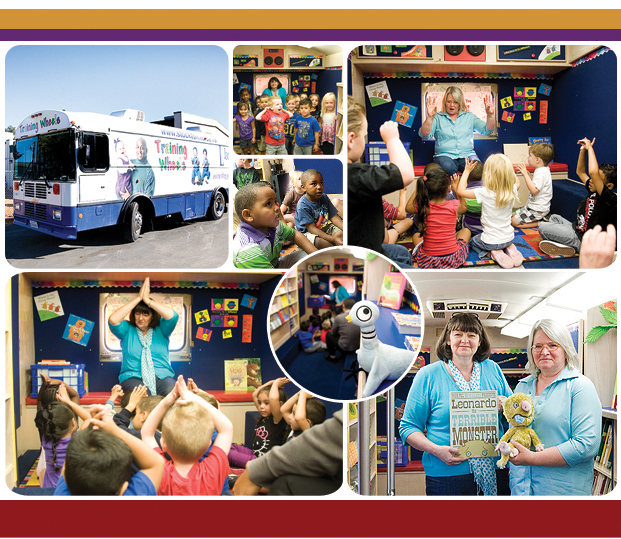 ---
FRIENDS OF THE STOCKTON PUBLIC LIBRARY
NOW ON FACEBOOK
We are proud to announce that the Friends of the Stockton Public Library are now online and proud of it! The new Facebook page will help to share out information about their bookstore, about reading, and about programs, events, and projects that the Friends sponsor.
Check them out, give them a Facebook "like" and "share" the information with your friends! The Friends of the Stockton Public Library Bookstore is an amazing hidden treasure that would like to be fully discovered! A wide variety of books fill the shelves with more titles being donated every day! Prices are low and the customer service is high! Visit them and let them help you find the perfect book for you or a friend.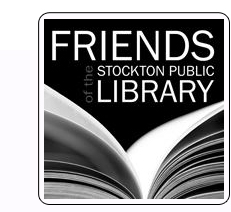 The Facebook page is: www.facebook.com/FriendsSPL
The bookstore is at 1724 W. Hammer Lane
within the Parkwoods Shopping Center.
The hours are:
Mon - Tue: 10-6
Wed, Fri-Sat: 10-4


The Friends of the Stockton Public Library, a non-profit, tax-exempt organization, was incorporated in 1958 "To cultivate a closer relationship between the citizens and the library," with the specific purpose "To promote knowledge of the functions, resources, and extension and improvement of library services and resources, and to develop adequate housing of library facilities in the City of Stockton, California."

---
While we are sharing out new FACEBOOK pages, it's also worth noting that our Community Services partner, the Recreation Division, is also on Facebook! The Library Division and the Friends of the Stockton Public Library are happy to share out literacy news, programs, and resources, but now you can add in what's happening with Recreation, too! Get your family reading AND playing. Join a sports league, take gymnastics or dance classes, or come enjoy the workout rooms! Website: facebook.com/COSrecreation
If you log on now you can learn about the upcoming sport leagues as well as the Winter Camps for Kids that are being offered! That's right! Winter Camps! Are your kiddos out of school, but you still need to work and are without childcare? City of Stockton Recreation Division has you covered! Check out the brochure for more details.
---
NEW AUDIO AND EBOOKS TO CHECKOUT!
Audiobooks and eBooks continue to be a big hit for our customers! Circulation numbers grow each month! Here are the covers of some of our newly added eBooks and Audiobooks – see something you like? Check it out today, and have it loaded to your preferred device!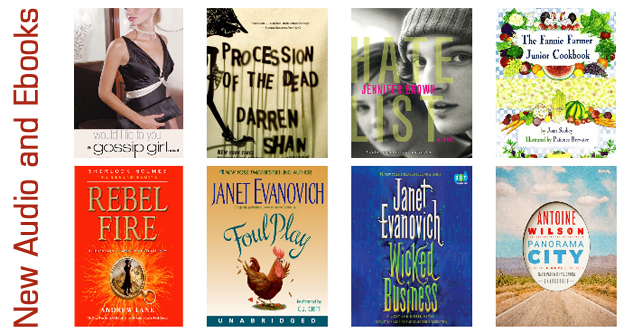 Don't forget our NEW NOOKS! They are in circulation and easily searched in our catalog. Just type "Nook" for the search term and find all the available devices. Each device has about 12 books and that number will continue to grow! Devices are categorized by reading genre. Check out fiction, non-fiction, mystery, romance and more! These are great to check out for business trips, road trips and weekend getaways! Finish one book? No problem, just keep reading through all the titles on one simple device!

---
Contact the Library at (209) 937-8221 or email heather.mompean@stocktongov.com to learn how
you or your organization can support the Stockton-San Joaquin County Public Library.
Support the Library by sharing our news! Forward this to a friend who might be interested! Or, if you received this from a friend and would like to subscribe to receive your very own email, click here!
The Stockton-San Joaquin County Public Library would like to thank the Friends of the Stockton Public Library for their generous donation to sponsor the Let's Connect newsletter.

The Friends of the Stockton Public Library, the Friends groups in Escalon, Lathrop, Linden, Manteca, Mountain House, Ripon, and Tracy, and the Library & Literacy Foundation for San Joaquin County are non-profit agencies that collaborate, support, and financially assist with the programs and services we provide to our communities.