Monday, October 2: John Marshall: His Landmark Cases and His Legacy
Join ConSource, the John Marshall Foundation, and the James Wilson Institute for a half-day colloquium on Chief Justice John Marshall's landmark cases and his lasting legacy.

1:30pm-5pm
DACOR Bacon House
1801 F St. NW
Washington, DC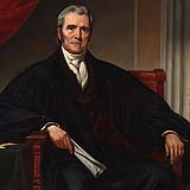 Panel 1: John Marshall's Landmark Cases
1:30pm-3:00pm
Prof. David Forte, Cleveland-Marshall College of Law
Prof. Melvin Urofsky, American University
Prof. Hadley Arkes, James Wilson Institute (Moderator)

Panel 2: The Legacy of John Marshall on Our Jurisprudence Today
3:00pm-5:00pm
Prof. Kevin Walsh, University of Richmond Law School
Derek Webb, Sidley Austin LLP
Judge Richard J. Leon, District Court for the District of Columbia (Moderator)

Closing Reception
Drinks & Light Fare (5:00pm-6:30pm)
*CLE: We are in the process of securing CLE credit for lawyers attending from the Virginia Bar.
~ ~ ~
Thursday, October 5: Women and the United States Supreme Court
Please reserve a seat for the event here
Join ConSource and the National Archives for a special program exploring the legacy of the four women who have served on and the 726 women who have argued before the United States Supreme Court.
7 pm – 8:30 pm
William G. McGowan Auditorium
National Archives

Moderated by Amy Howe, the co-founder of SCOTUSblog, panelists include Judge Patricia Millett, United States Court of Appeals for the District of Columbia Circuit; Deanne Maynard, co-chair of Morrison & Foerster's Appellate and Supreme Court practice; Sarah Harrington, Partner, Goldstein & Russell, P.C.; and Marlene Trestman, author of Fair Labor Lawyer: The Remarkable Life of New Deal Attorney and Supreme Court Advocate Bessie Margolin. A book signing for Fair Labor Lawyer will follow the program.
This program will be livestreamed online here.