---
Volume II, Issue I June, 2011

---
The Pennsylvania Lyme Disease Awareness Committee (PLDAC) is a collaborative effort of members from the Chester/Delaware County Farm Bureau, the Lyme Disease Association of Southeast Pennsylvania, Inc. (LDASEPA), and the Chester County Health Department (CCHD). The goal of the committee is to raise awareness about methods of prevention and treatment of Lyme disease.

PLDAC is pleased to offer this newsletter on a bi-annual basis to keep state and local legislators and officials up-to-date on the latest committee and Lyme disease news including event recaps, Lyme disease information and data, as well as upcoming meetings and events. We welcome your feedback and hope to see you at future committee meetings!
---
Update on Lyme Disease in Chester County

Lyme disease is a bacterial disease caused by the spirochete Borrelia burgdorferi and is transmitted to humans by the bite of infected black-legged ticks (commonly known as deer ticks). Early signs and symptoms of an infection include fever, headache, fatigue, or a skin rash called erythema migrans ("bull's eye rash"). Left untreated, health problems can affect the joints, heart and nervous system. A Healthy People 2010 (HP 2010) objective charges public health professionals with reducing the annual incidence of Lyme disease to 9.7 new cases per 100,000 population in states where the disease is
endemic
(Connecticut, Delaware, Maine, Maryland, Massachusetts, Minnesota, New Hampshire, New Jersey, New York, Pennsylvania, Rhode Island, Virginia and Wisconsin) (Center for Disease Control and Prevention (CDC, 2007).
In 2009, there were 38,000 cases nationwide and Pennsylvania had 4,950 confirmed cases of Lyme disease, an increase of over 1,000 cases compared to 2008. Pennsylvania is among the top three states in the country for the greatest number of reported cases of Lyme disease. Much of Chester County is rural and suburban, making it a prime habitat for ticks which can carry the Lyme disease bacteria and increased risk of getting bit by an infected tick. In 2009, 828 cases of Lyme disease were reported to the Chester County Health Department (CCHD, 2010), making the incidence of Lyme more than 12 times the HP 2010 goal. The CDC (2005) estimates that only 1 out of 10 cases of Lyme disease are reported.
Confirmed cases for 2010 will be available later this summer.
For more information on Lyme Disease, visit the Chester County Health Department
---
PLDAC supports Senate Bill 210

Lyme disease can be a chronic disease if not diagnosed and treated promptly. Some states in the United States have established legislation for the prevention and treatment of Lyme disease.
There is current legislation in the Senate,
Senate Bill 210
, titled
Lyme and Related Tick-Borne Disease Education, Prevention and Treatment Act
. The bill was designed to:
Establish a task force on Lyme disease and other tick-borne illnesses
Empower the Department of Health, the Pennsylvania Game Commission, the Department of Conservation and Natural Resources, and the Department of Education to disseminate the information and raise awareness to execute prevention and education strategies
Ensure physicians, certified registered nurse practitioners, insurers, patients and governmental agencies are educated that multiple standards of care exist

Ensure physicians and other medical professionals provide patients with sufficient information about all standards of care to enable patients to make an informed choice as part of informed consent and respect the autonomy of that choice

Ensure physicians have the right to exercise their clinical judgment in diagnosing and treating their patients and in applying short-term or long-term antibiotic therapies for a therapeutic purpose to eliminate infection or to control a patient's symptoms as reflected in the patient's medical record
Provide insurance reimbursement for treatment rendered in accordance with the standard of care chosen

If passed, the bill will help Pennsylvania reduce the incidence and prevalence of Lyme disease in the state and also reduce morbidity incidence caused by Lyme disease. The bill would create effective strategies to prevent and treat Lyme disease which would help improve the quality of life of Pennsylvania residents. The PLDAC strongly recommends that PA legislature establish a task force on Lyme disease that would have representation from the medical community, insurance providers, public health professionals, epidemiologists, patients, and others to begin a conversation on these issues.
---
Recent Events: Movie Night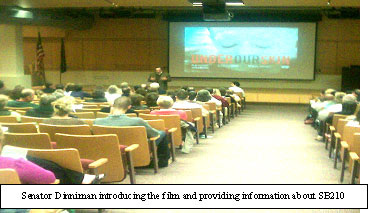 State Senator Andy Dinniman and the PLDAC hosted a public viewing of
Under Our Skin

,
an award winning documentary about Lyme disease, at the West Chester University on April 18th with over 175 people in attendance.
Under Our Skin
is a gripping tale of microbes, medicine and money. Each year, thousands go undiagnosed or misdiagnosed, often told that their symptoms are "all in your head." This was a unique opportunity to understand Lyme disease better and how it affects the lives of so many, especially in southeastern PA.
Visit

Under Our Skin
to learn more about Lyme disease and feel free to share this information with your constituents and residents
---
Engaging Townships in the variety of Tick Control Methods for a Community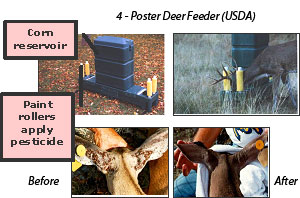 Dr. John Carroll, Research Entomologist with the U.S. Department of Agriculture, educated over 25 township officials, County employees, and large property owners on methods to control tick population growth. Dr. Carroll is a microbiologist who investigates methods of suppressing populations of the black-legged tick, the vector of the pathogen causing Lyme disease. tick control methods discussed included the 4-Poster Deer Feeder which attracts and feeds deer while simultaneously treating them with acaricide to effectively kill the ticks residing on the deer (acaricide is safe for deer). For more information about the 4-Poster Deer Treatment Bait and Feed Station, visit
Dandux® Outdoors
or email
ars@crdaniels.com
---
Upcoming Meetings - you're invited!

PLDAC meetings are held monthly and dates and times are available by contacting Don Hannum at bentpinefarm@comcast.net if you wish to attend.