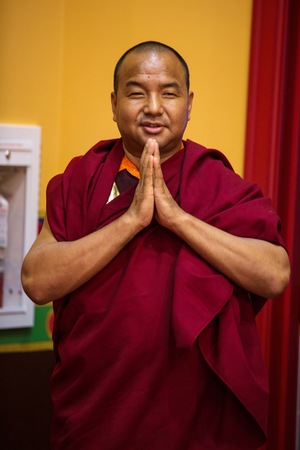 Lama Pema Tsewang will be teaching at
E-Vam Institute next week
Two Talks: March 27th & March 28th 2013

"Spiritual Motivation"
Wednesday 27th March
6:30pm
E-Vam Institute, 171 Water St, Chatham, NY, 12037
Cost: $25
Open to all
"Medicine Buddha"
Thursday 28th March
7:30pm
1455 Lexington Ave, #2B, New York, NY, 10128
Cost: $25
Open to all
Spiritual Motivation
, also often referred to as the "four thoughts", are traditional contemplations in the Tibetan Buddhist tradition, designed to enrich our understanding of reality. These contemplations are used to motivate and inspire us on our quest for personal and spiritual growth. Lama Pema Tsewang will give an explanation of these contemplations and how to incorporate them into our meditational practices.
Medicine Buddha
: Through the practice of Medicine Buddha we not only achieve benefit for ourselves, but can cultivate the ability to profoundly benefit others, as well as our environment. Lama Pema Tsewang will explain the practice and meaning of Medicine Buddha, considered the fundamental practice at the heart of all the Tibetan Healing arts.
Lama Pema Tsewang
is currently the head resident lama of Thrangu Monastery in Canada, and the chief representative of the Venerable Thrangu Rinpoche in North America. In 1983, Lama Pema became a monk, and in 1989, took full ordination vows of a Gelong Bikkshu commencing rigorous training in the teachings and practices in the Karma Kagyu tradition of Tibetan Buddhism. In 1993, he entered a three-year retreat at Namo Buddha Retreat Center in Nepal, under the guidance of Thrangu Rinpoche. Lama Pema travelled to Vancouver in 2003 to lead the development of Thrangu Monastery. He travels regularly to give Buddhist Teachings in Cananda, America and other parts of the world. We are delighted to welcome Lama Pema to teach at E-Vam Institute for the first time.
For enquiries and bookings - E-Vam Buddhist Institute
Email
: office@evam.org
Phone
: (518) 392 6900
---
---
E-Vam Institute
171 Water Street
Chatham, New York 12037
US


Read the VerticalResponse marketing policy.