A is for Alebrije
and for Alejandro
and for Art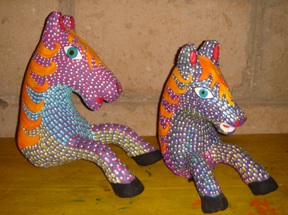 Alejandro Camacho Barrero is a true 'Maestro' from Xochimilco, Mexico, whose imaginative art takes life from wood, cardbord and vegetable fibers.

Alejandro has had no formal art schooling and works in the family workshop, primarily with his wife. They work together inventing new techniques and designs for their toys and alebrijes.
Alejandro has been tasked with creating the giant alebrije, Michicihualli, that Feria Maestros del Arte will be sponsoring on November 9 in Mexico City (See article below).
You can see Alejandro's wonderfully creative and unique alebrije toys and art at the Feria in November and you can
Read more about him here:
MEXICO CITY
The date: November 9th.
The place: Mexico City
The event: The Alebrije Parade
This year, the Feria is sponsoring an alebrije in the Mexico City Alebrije Parade and has asked Alejandro Camacho Barrero to use his amazing skills to create "Michichualli", the mythical Lady of Lake Chapala.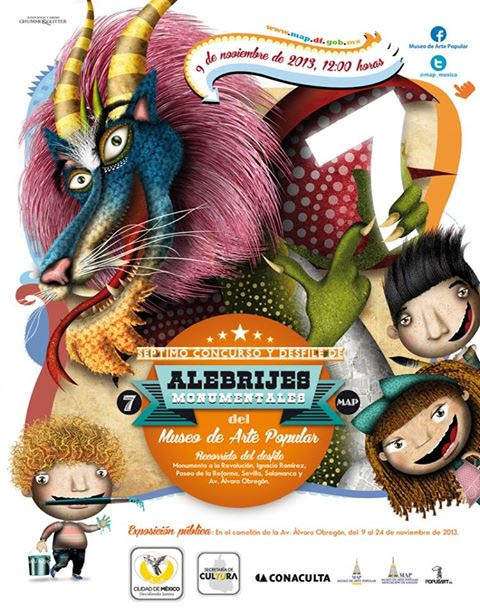 Alejandro's 'Michichualli' will be coming to reside here at Lakeside after a short stay in Mexico City. Watch out for it at the Feria - although it will be VERY hard to miss!


MORE THAN JUST AN ART SHOW
The Feria is much, much more than the wonderful event that occurs every November. The Feria goes on all year long, seeking out artists in every corner of Mexico, encouraging them, helping them to find the resources they need, helping them network with other artists. There is transportation to organize, for both artists and their work. There are hosts to be found for their stay in Chapala. There are tables to rent, advertising to design (and pay for), parking to arrange. And then we take everything down and start all over again. All of it costs money (to the Feria, not to the artists) and without your support we couldn't do it. But donations are getting harder and harder to come by in these economic times.
Won't you please help us
help an Artist?

It's easy - and every dollar counts. Just click the button below to send your donation through Paypal.

Thank you. Your donation makes a HUGE difference.


Art comes in many forms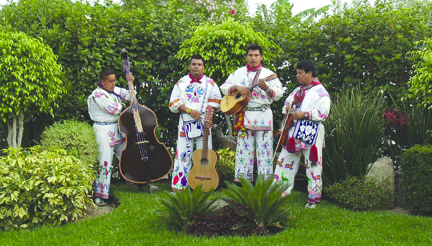 You come to the Feria knowing you will find incredible art - the wonderful, colorful, unique and traditional art of Mexico. But that's not all you will find there.
This year, the stage will be graced, as always,by
folklórico
dancing.This type of dancing is composed of ballet steps and
zapateados
, steps which involve percussive heel-stomping and all the dances provide a tapestry of tempos.
The Mariachi Feminil Mujer will be returning again this year. The ten-members of this all-female
mariachi
group came together in 2004 to become one of the best-known female mariachi bands in Mexico. They never disappoint!
New this year
will be Huichol music.
Very different to their visual art of brightly-colored yarn and beadwork, Ne Iwama Wixárika's music will reach certain parts of your brain and wake up places that were asleep.

Then there's
La Recicleychon,
a group of young men from Guadalajara who have taken music to a new level.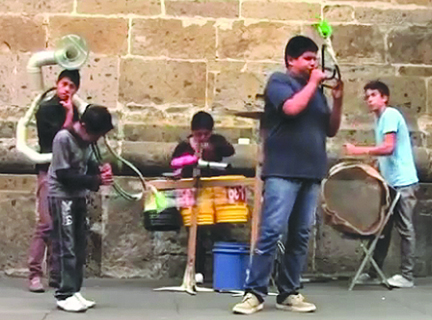 Juvenal
Álvarez (founder) takes PVC pipes, hoses, cartons and other junk on the streets to
make
trumpets, drums, tubas and other instruments.
Speaking of recyling, this year the Feria
has partnered with TerraCycle and we are getting "cash for trash". Believe it or not, collecting food wrappers and other items makes money that we use to help the artists. Please use the special

Terracycle

bins you see around the Feria and read more about it here.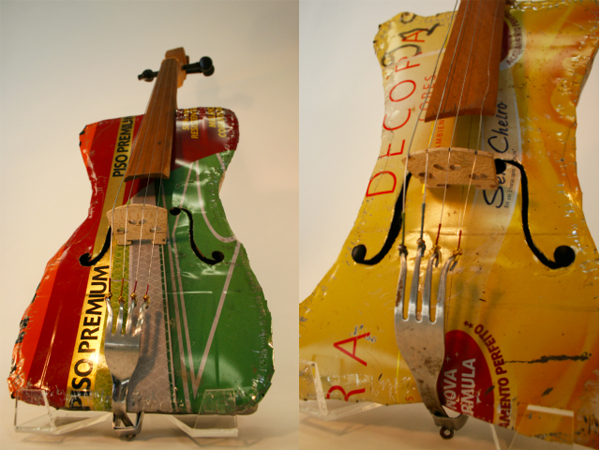 La Recicleychon, the "Recycled' band, you will hear at the Feria, fits in perfectly with our 'Terracycling' theme.
WONDER WOMAN!
The Musical
Is coming to Ajijic - and the proceeds will
benefit the Feria Maestros del Arte
The original Wonder Woman created by Harvard professor William Marston in 1941 continues to be a symbol of female courage at age 72. Not only is she still going strong, she has become the "grandparent" heroine of five year olds around the world.
Although Wonder Woman has entered the "prime of life", certain elements remain consistent: she boldly confronts corruption and cruelty wielding the famous Lasso of Truth and at age seventy two, she elevates sexual power and spiritual femininity while questioning the purpose of our lives.
The Wonder Woman musical at El Piano Rojo is aptly entitled "More Than Meets The Eye." Proceeds go directly to sponsor Mexican artists from all corners of Mexico who are invited to attend the 2013 Feria Maestros del Arte.