Your support of Circle Tail helps us help dogs who help people. Donate toward their care at www.circletail.org.




Volunteer Spotlight
Tracy
Our volunteer spotlight shines onTracy!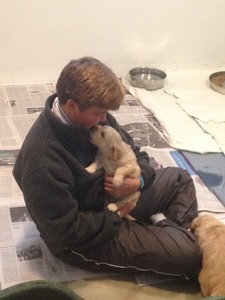 "Twenty years ago, I decided that I wanted to volunteer at a place with dogs. I didn't think I had time for my own dog, so this was the next best thing. After a couple of tries, I found the perfect organization: Circle Tail. It was a small organization that had just started. There were about 10 dogs and two goats onsite. They had a barn with a couple of runs and play areas and had just placed its first hearing dog, Sydney. Fast forward 20 years, I have watched Circle Tail grow into the sprawling campus and bustling organization that it is now.

Throughout that time, I have done a little of everything: I sat on the Board of Directors, in every position. I have taken hundreds of obedience lessons so I can help guide our recipients, fosters, volunteers and of course, dogs! I have fostered too many dogs to keep track of, making sure they have the confidence, manners, and work ethic to become high quality service/ hearing dogs. I assisted with almost all the in-public and in-home service/ hearing dog placements and follow-ups. On the administrative side, I have led two rounds of Assistance Dog International (ADI) Re-accreditation pre-work and updated the Policy & Procedure Manual twice in 5 years. I have headed up the offsite volunteer program, which entailed setting up events and talks to promote Circle Tail and rallying the volunteers. I have done countless talks and presentations about Circle Tail. I have also adopted a ton of dogs as pampered pets. And the list goes on and on.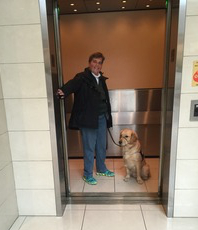 Although I have done a lot for the organization, I have received far more than I have given. Circle Tail brought balance to my life, increased my confidence, fulfilled my passion to work with dogs and gave me the opportunity to make life long friends. Finally, over the past 20 years, I have adopted 10 of the best dogs a person could ever ask for: Tarka, Sabaka, Oz, Tang, Kali, Jet, Jax, Davina, Legend and Liam. Life is good!"
Nero: Newest Member of
School Crisis Team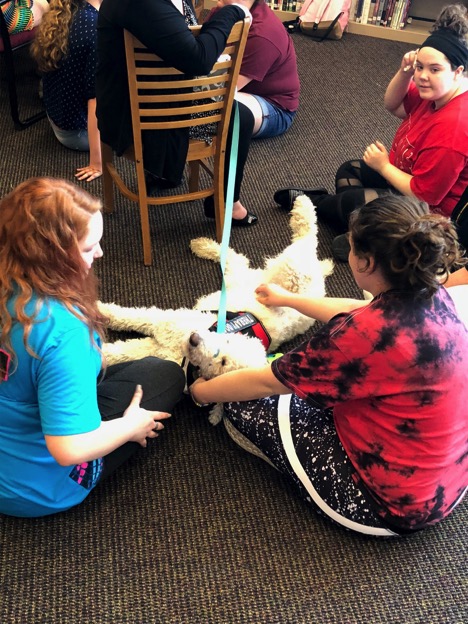 Nero, a Standard Poodle, was placed with Springfield City Schools as a therapy dog in April. His handler writes, "Nero has been an amazing addition to the Springfield City School District Crisis Team. He has provided comfort and support to more than 100 students who were suffering the loss of friends and a teacher. Nero was giving his all by allowing these children to touch and pet him. He developed a fan club and we are keeping a board of the cards he received. He was very appreciative! One student wrote "I love him so much because he is kind and soft". He delighted the students with his skill in pulling Kleenex out of the box and presenting the tissue. It was heartwarming to see how he could elicit a smile from a crying student.

He also visits the classrooms for students with multiple disabilities, autism, and emotional disturbances. It is interesting to see the students wait patiently and listen to directions to take a turn with Nero.

Nero has changed my life. Having lost my husband to cancer after a five year battle, I had an enormous void in my life and was suffering from loneliness and loss. Having Nero by my side to provide me with love and affection has been the greatest gift I have ever received. Thank you to Circle Tail for providing this amazing training and community service."
---
New Arrival - Welcome Bradie!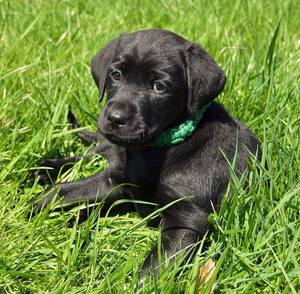 Bradie is one of our newest service dogs in training. Born in February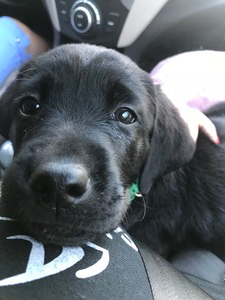 2018, this adorable black lab comes to us from Southeastern Guide Dogs

near Tampa, through the Assistance Dogs International breeding co-op. Bradie's transporters report she was the perfect passenger on the drive up from Florida!
---
Check out Circle Tail's
CALENDAR
for:
Pet first aid classes, dog training classes, campus tours, community education events, and fundraising events!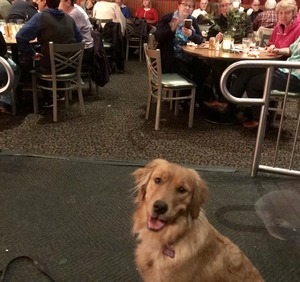 Cygni at the Fluidity choral concert at The Redmoor. Thanks to all who came and supported this wonderful event!