Your support of Circle Tail helps us help dogs who help people. Donate toward their care at www.circletail.org.



Get your tickets today for

Circle Tail's 8th Annual
Dinner, Art, & Wine for Canines!
Saturday, March 3rd from 6 - 10 pm
Receptions in Loveland,
10681 Loveland-Madeira Rd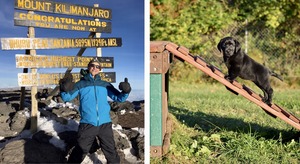 Bring your friends and enjoy an evening of fine wines, delicious food, raffle prizes, silent and live auctions, works by local artists, and meet-and-greet with our service dogs in training!

And as a special treat, Maura the painting service dog will be creating works of art during the evening. All proceeds from her paintings support Circle Tail.
Keynote speaker is Dr. Michael Kreines, proud foster parent. He will share his journey of climbing Mt. Kilimanjaro, and the journey from puppy to partnered service dog.

Your support helps us provide service and hearing dogs to people with disabilities at no charge.​

Deadline for tickets is February 26.
Get yours today at
circletail.org
.
Partnership Spotlight
Courtroom Dog, Dao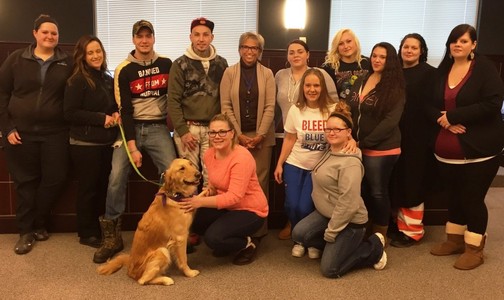 Circle Tail is about finding the right job for the dog, and 18-month old Golden Retriever Dao seemed better suited for therapy work than service work. So, in December 2017, he began his career as a courtroom dog for the Portage County Municipal Court's STAR Court. His job is to help ease tension for clients.

His handler Theresa says, "I can honestly say Dao is changing lives in Portage County. His sweet demeanor and love of people make him the perfect fit for us. Our clients and staff light up when he is around and they look forward to seeing him as much as he looks forward to seeing them. In the short amount of time he has been with us, we have had clients in distress and he has instinctively gone over to them and put his head in their lap. It is so heart-warming to see their tears turn to smiles. We have had comments like, "He made my day" and "I just love seeing him".

He is spending a lot of time with the Drug Court clients - they have really connected with him. He LOVES the children, and the children are so excited that there is a dog at the Probation Department they can pet. The Mental Health and Drug Court clients have Dao right beside them in court when addressing the Judge. It comforts them to be able to pet him and reduce their stress. We couldn't be happier!"

---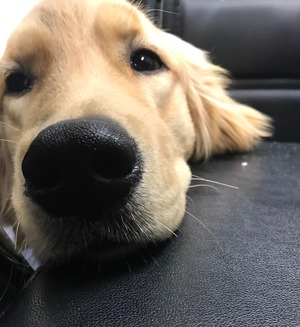 Check out Circle Tail's
CALENDAR
for:
Pet first aid classes, dog training classes, campus tours, community education events, and fundraising events!