Your support of Circle Tail helps us help dogs who help people. Donate toward their care at www.circletail.org.



Enter to Win a Grill
& Accessories!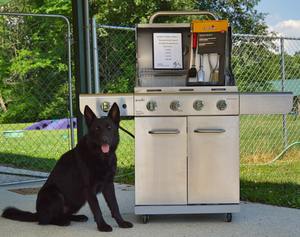 The drawing for this Char Broil Advantage 4 Burner Stainless Steel grill takes place Sunday, August 7 at the Fifty West Wag Fest.

Buy as many tickets as you like; no need to be present to win.
Get your tickets today at www.circletail.org!
Upcoming Events
Fifty West Wag Fest
Sunday, August 7, 11 am - 5 pm
Fifty West Production Works
7605 Wooster Pike in Mariemont
Learn about the Fifty West brewing process, take a tour of the new Production Works location, and meet the service dogs in training!
Hanover Winery Service Dog Benefit
Saturday, September 17, 4 - 10 pm
Hanover Winery
2121 Morman Rd, Hamilton

A fun day of helping 2 and 4 legged friends! Enjoy a wine tasting of award-winning wines, live entertainment, shop vendor booths, bid on auction items, and more!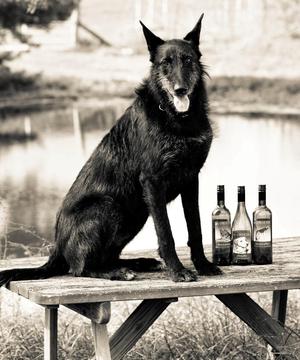 Arnold's Presents:
Barks, Beer, & Brunch
Sunday, October 16, 12 - 2 pm
Arnold's Bar & Grill

210 East Eighth St., Cincinnati
Enjoy an exclusive brunch at the iconic Arnold's Bar & Grill, meet the Circle Tail service dogs in training, be the first to taste Hoppy Tails limited edition microbrew, and much more! Tickets on sale soon at www.circletail.org!
---
Check out Circle Tail's
CALENDAR

for:
Pet First Aid
classes,
dog training classes,
volunteer orientation,
community education events,
and fundraising events!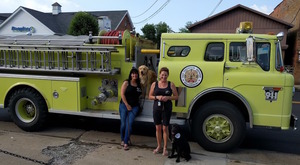 Follow us on Facebook and Instagram for the latest updates and photos!
Help us help dogs who help people. Donate today at
www.circletail.org
.

Service Dogs at the Airport

Service/Hearing Dogs Train at CVG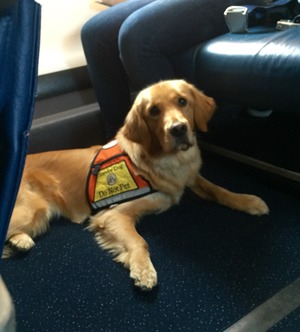 Service dog in training Rhys. Thanks to Delta for letting us practice boarding the plane!
Circle Tail service dogs in training and partnered teams practiced going through security, riding the train, boarding a plane, sitting (and fitting!) on the plane, and checking out baggage claim. This training not only helps the dogs and their handlers, but helps TSA gain valuable experience working with assistance dogs and their handlers.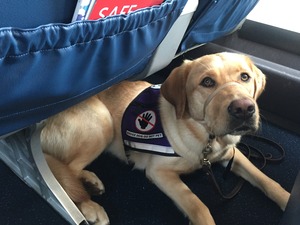 Rani practices fitting under the seat -
not so easy with her long legs!
---
Circle Tail Adoptee Becomes Registered Therapy Dog
Nova came to Circle Tail as a family release in 2015. At almost 6 years old, she was too old to enter our service dog program, so instead, she is fulfilling her purpose as a Therapy Dog. She and her person are now a registered Therapy Dog Team!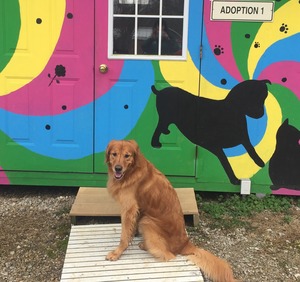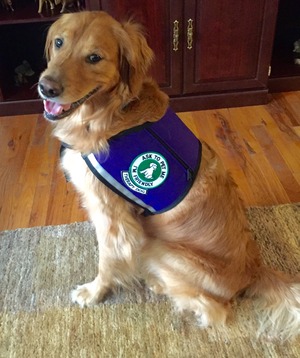 Have a Happy Beginnings story to share about your Circle Tail adoptee? Share it on our

Facebook page

or email it to adoption@circletail.org!
---
Volunteer Groups
Make an Impact
Volunteer groups made a lot of improvements to the grounds this spring and summer.

Go Cincinnati volunteers from Crossroads Church and Cincinnati Stix freshened up the landscaping at the training center, memorial garden, and service/hearing dog kennel.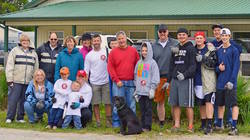 Johnson & Johnson's Ethicon Endo-Surgery Regulatory Affairs Department cleaned out the food buildings and helped finish construction of the new bridge between the kennel and the training center - no more jumping mud puddles!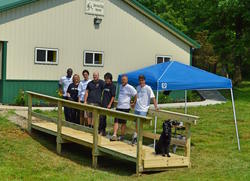 The Circle Tail Board of Directors worked together to clean out the area behind the service/hearing dog kennel to prepare for fencing.

Way to go everyone - everything looks great!