Your support of Circle Tail helps us help dogs who help people. Donate toward their care at www.circletail.org.



Upcoming Events
Circle Tail's 6th Annual
Dinner, Art & Wine for Canines
Saturday, March 12, 6 - 10 p.m.
Receptions in Loveland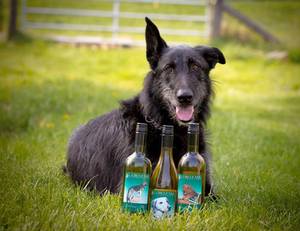 Bring your friends and enjoy an evening of fine wines, delicious food and the works of local artists, while supporting a great cause!

The festivities will be hosted by Amy Tobin of Amy's Table, heard on Q102, and keynote speaker is Julie Bauke, Chief Career Happiness Officer of The Bauke Group.
Tickets are $55 per single ticket, $100 per ticket pair, and $400 for a reserved table of 8.

Wine tasting, art exhibit, dinner, raffle prizes, silent auction, live auction, open beer & wine bar all evening, all
to benefit the dogs of Circle Tail and the people whose lives they change.

Prices go up March 1, so don't delay!

Details and tickets at
www.circletail.org
!
---
Maura: Hearing Dog, Artist

Last issue we introduced you to Hearing Dog, Maura - but did you know she has even more talents? This dog can paint!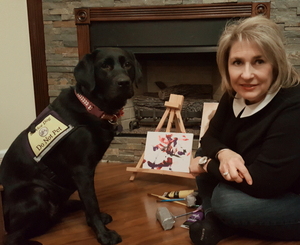 One of her paintings, titled "Circle Tail - Because You Care", and signed by the artitst (note the paw print in the lower corner) will be available for auction at our Dinner, Art, & Wine benefit. Meet Gerria & Maura and see their artwork - tickets at
www.circletail.org
.
Hearing Dog, Shade, Wins Animal Hall of Fame Award

Angie & Hearing Dog, Shade

Hearing Dog, Shade, was selected to receive the Professional Animal Hall of Fame award by the Minnesota Veterinary Medical Association.

Shade is a 5 year old German Shepherd partnered with Angie in 2012. He provides Angie with daily assistance, alerting her to sounds like the doorbell, microwave, someone calling her name, etc. He also serves with Angie doing thereapy work, visiting the elderly and sick.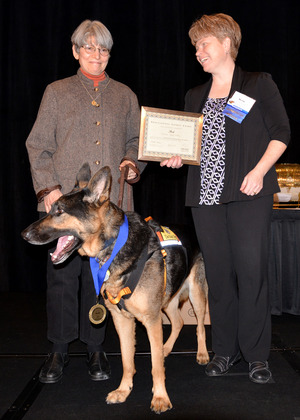 Angie reports that Shade was phenomenal at the awards ceremony. When he received his medal and ribbon, he sang to the audience as they clapped for him!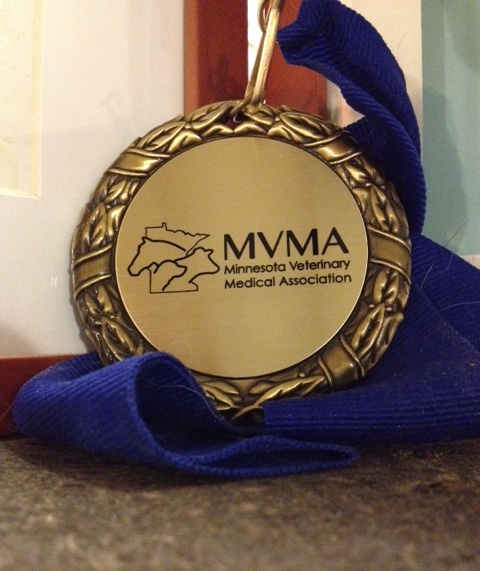 Congrats to Angie & Shade!
---

Help us help dogs who help people. Donate today at www.circletail.org.