Barn "Razing":
Part 2!
A huge paws up to everyone who helped with day 1 of tearing down the barn! This is the first step toward Circle Tail's shelter makeover. The fun continues this Sunday, July 29 starting at 8 a.m., and we need plenty of help throughout the day.
So come on out and be a part of improving and increasing the housing for our dogs. We'll close in the section of the barn we're keeping with aluminum siding, and taking down the rest of the barn, including the concrete block wall.
Bring work gloves, and any tools you might have: we need crow bars, wrecking bars, hammers, and chain saws, so we can have multiple saws going at once.
If you'd like to help, park at the Training Center (on your left as you come down Carey Ln), and walk down to the barn/kennel area. Email volunteer@circletail.org with questions.
THANK YOU!!
---
Visit our website for the latest news & updates!

Jeff & Service Dog, Cozer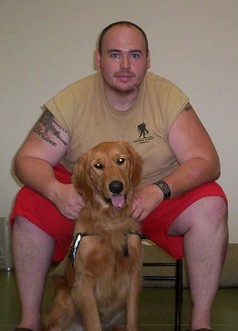 Jeff is a veteran of Operation Iraqi Freedom and served from 2008-2009 in Baghdad, Iraq. He is being partnered with service dog Crozer, a 2-year-old Golden Retriever. Jeff says, "So far the partnering has been going well. Crozer is very friendly and acts like a goof ball at times, but I love him, and his behavior is outstanding. I took him out to the VA during lunch and he did great! There was a ton of people and he paid attention only to me. He is learning new tasks very quickly and is a lot of fun. I cannot wait till I am fully partnered with him!"
---
Tails from the Inside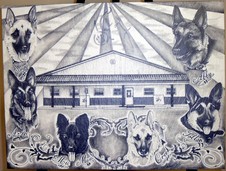 Artwork by A. Graham
"I had not seen a dog in 9 years before I went to Ross Correctional. I saw an inmate with a dog. I was awed being a dog lover. It wasn't long before they moved an inmate with a dog in the block I was in. I just had to go pet the dog and find out what I had to do to get a dog myself.
I got to know the inmate and he helped me get in the dog program as a backup dog handler. At that time (2001) I never thought dogs could do so much for a person. I thought it would be great to have a pet in my cell. I figured sit, down, play fetch, yeah, good boy! But as I started going to the dog meetings and learning to train the dogs, I was shocked at what dogs could be taught to do to help a person with a disability. I got offered an inmate dog training job in 2002, and I took it. My first dog was a black and tan German Shepherd named Panache. She was a great first dog. She was smart and loved to learn. I never had a dog I didn't like.
I have been through some dogs over the years, and some have stuck out more than others. As I look back at the dogs that have shared these years with me, I have taught a lot of dogs a lot of things. I have been part of placing a few service dogs and I feel blessed to have been a part of that. I have learned more than teaching dogs to turn on and off lights or open and close doors and drawers or to put objects in a person's hand or just to compete a task for a person that is not able to do themselves.
I have learned that the dog program has changed my life. It has taught me responsibility, patience, caring and how to give back and to love and to have respect. All this has been possible because of Marlys Staley, Circle Tail, and all the dogs that took their time to teach me who I am. I thank you so very much."
- A. Graham, Inmate Handler
New Date for Shelter Makeover
Thursday, October 4, 2012
We have until September 4 to match the $25,000 donation from P&G Pet Care for our shelter makeover - donate at www.circletail.org today!

---
Like us on Facebook