Your support of Circle Tail helps us help dogs who help people. Donate toward their care at www.circletail.org.



Volunteer Spotlight
Our Volunteer Spotlight shines on Rachel!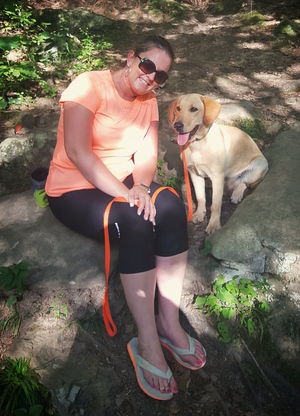 Rachel with service dog in training, Garret,
at Cumberland Falls

Rachel writes, "I was searching for a way to give back and be involved with animals. I also wanted to do something to help people with various special needs.

I found out about Circle Tail through VolunteerMatch. It was perfect! I have gotten to be there twice for dogs to get partnered. I have loved watching the dogs grow and develop their skills. But the part that has had the biggest impact on me is watching a person's face when they meet their dog and seeing the dog's reaction when the match is made! It makes all of the time and effort I have invested worth it!

The first time we went to Dragonfly Foundation, there was a little boy who I think walked every single dog and puppy. The smile on his face was priceless! He was so happy when he left, he hunted me down to tell me "thank you" and he was glad to have met me.

Finding Circle Tail has filled a space that has been missing in my life. I am fortunate to have the opportunity to help, and look forward to helping for many years to come!"
Upcoming Events
Arnold's Presents:
Barks, Beer, & Brunch
Sunday, October 16, 12 - 2 pm
Arnold's Bar & Grill

210 East Eighth St., Cincinnati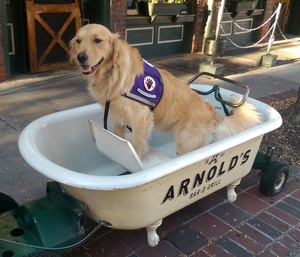 Enjoy an exclusive brunch at the iconic Arnold's Bar & Grill, meet the Circle Tail service dogs in training, sample the Hoppy Tails limited edition microbrew, and much more!
---
Pet First Aid/CPR Class
Sunday, October 2, 12:00 - 4:30 pm
Circle Tail Training & Education Center

Learn lifesaving skills for your pet. CPR, rescue breathing, injury and wellness assessment, and more. Class is $40, pre-registration required.

Email training@circletail.org or enroll at
circletail.org
.
Happy Semi-Retirement, Pierre!

Team Update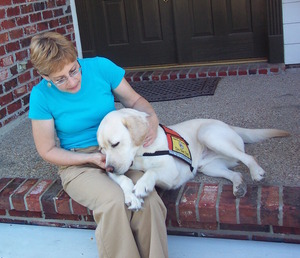 Barb with Service Dog, Pierre
We are often asked what happens when it's time for a service dog to retire. Barb shares her story of preparing to retire Pierre:
"The decision to start moving Pierre into retirement didn't come easily. But, while just ten years old, Pierre had been giving me more frequent clues that retirement was right for him.

Before going ahead I need to go back. Diagnosed with incurable blood cancer in 2010, I spent a total of four months in Houston in 2015 going through two stem cell (bone marrow) transplants at MD Anderson Cancer Center. My long hospitalizations and recoveries required my husband Jim to care for Pierre in every way. By the time I was finally able to resume most of Pierre's care a few months ago, Jim and Pierre had bonded deeply. I even have incriminating photos of Jim on the floor next to my beautiful Labrador, Jim's arm on Pierre, both sound asleep.

The relationship between Jim and Pierre caused confusion for Pierre when I began to work with him again. Some days he'd do his job, other days he wouldn't. It was difficult for both of us.

Fast forward to August 2016. Pierre's Vet team found arthritis and other problems in his neck and back and arthritis in his hips. This explained his reluctance to go out with me - just jumping into my SUV was challenging. We are working with the Vets to try a variety of treatments to keep him functional and comfortable.

For now I call Pierre semi-retired. He still comes with us to the hospital for chemo-therapy. At home he can do some retrieval tasks when I am fatigued, and he can signal to me when I'm too tired to care about wearing my hearing aids. When I don't feel good or when I get frustrated, he is there to hug and hold. At the hospital he's not just my very own therapy dog; he gets plenty of smiles from all the other patients and staff he sees.

Pierre and I are still a good team and best friends living life in a slightly slower lane."

---
A Life Celebrated: Mattock Drew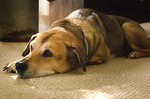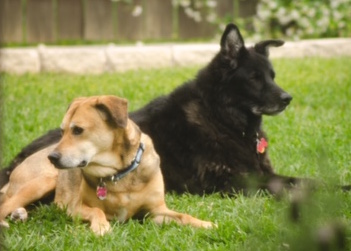 Twelve years ago, a dog with serious separation issues found love and security with her new buddy - and taught him to be a happy, playful dog in return.
Read more
about this touching memorial to Matty
here
.
Check out Circle Tail's
CALENDAR
for:
Pet First Aid classes, dog training classes, volunteer orientation, community education events, and fundraising events!