Your support of Circle Tail helps us help dogs who help people. Donate toward their care at www.circletail.org.



6th Annual Dinner, Art, & Wine for Canines a Huge Success!
Thank you to everyone who supported Dinner, Art, & Wine for Canines 2016! We raised a record amount - over $34,000 that will directly benefit our service & hearing dogs and the people whose lives they change!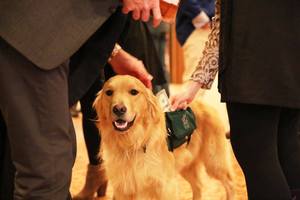 Service dog in training, River,
working the crowd for tips!
---
Upcoming Events
Old Firehouse Brewery Pints for Pups
Saturday, May 28, 4 - 8 pm
Old Firehouse Brewery,
237 W Main St, Williamsburg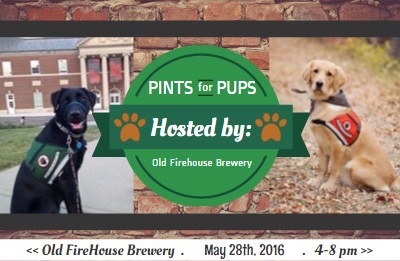 Old Firehouse Brewery is donating $1 per beer sold to Circle Tail! Meet some of our service dogs in training, try your hand at winning a raffle or auction item, and enjoy the family friendly, dog friendly, community oriented Old Firehouse Brewery!
---
Check out Circle Tail's
CALENDAR

for:
Pet First Aid
classes
(next class is April 17!),
dog training classes,
volunteer orientation,
community education events,
and fundraising events!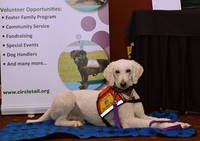 New Partnership

Lauren & Hearing Dog, Warner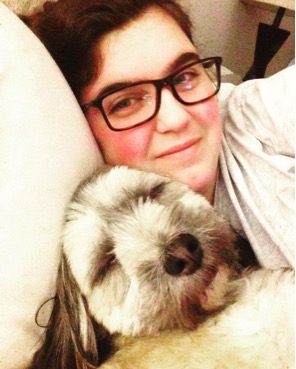 Warner is very alert to sounds. His favorite thing to do in the world is to wake up Lauren in the mornings when her alarm goes off. He loves to jump on the bed and won't stop licking her until she gets up and out of bed. No such thing as a snooze button with Warner!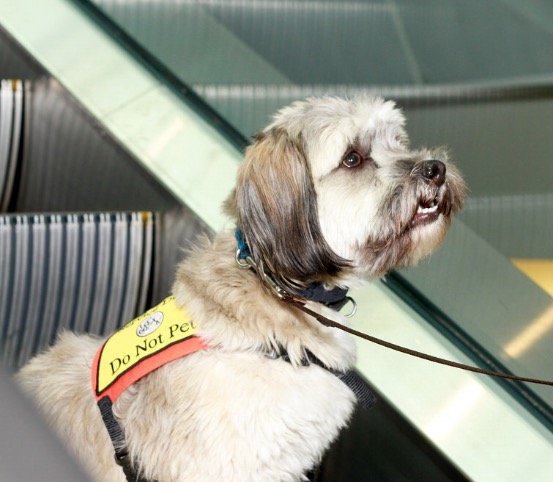 Warner also alerts Lauren when she receives a phone call or text, when someone knocks on the door, when the microwave beeps – whatever sounds Lauren needs to be aware of. He also provides a sense of security at night while her husband works third shift.


Warner also loves to retrieve things that have fallen on the floor. One day at work one of the ladies dropped a $10.00 bill on the floor. Warner sprinted off his place, picked up the $10.00 bill, and sprinted back to Lauren. Lauren says, "the lady just looked at me and we had a laugh at how excited and proud Warner was to bring me that $10.00 bill!"

---
Circle Tail's
Wall of Sharing
Celebrate life or share a memory - donate a commemorative tile for a friend or loved one, or of course, your dog!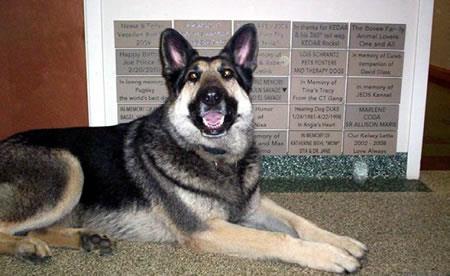 Be a part of the Circle, and order today at www.circletail.org!
---
Help us help dogs who help people. Donate today at www.circletail.org.