June 14th is Give Across America!
Twive & Receive is a 24-hour online giving competition - help Circle Tail win!
Click here
to donate - you can help us match the pledge by P&G Pet Care for our shelter makeover (see story, right).
And be sure to share - Facebook, Twitter, email to your friends...spread the word!
---
Rescue Dog Finds His Calling Helping the Bereaved
By Julie Flanders

Visitors to Serenity Funeral Care in Covington, KY often find a surprise waiting for them at the front door. Jackson, an English Labrador Retriever, is always there to greet families when they arrive at the funeral home, and he brings a natural warmth and gentleness to his work that his human colleagues can't match.
Jeff Routt, Jackson's owner and the director of Serenity, adopted the chocolate lab nearly two years ago from Circle Tail, Inc. After making the decision to adopt a dog, Routt specifically wanted one that could be trained to work in his funeral home. Jackson turned out to be the perfect choice.
Read full story here.
Hi everyone,

We're so honored and excited to be selected by P&G Pet Care to receive a Shelter Makeover!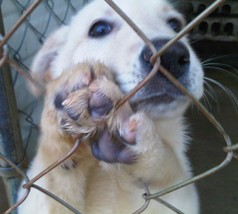 They've pledged $25,000...help us to match these funds by August 6, and make your donation dollars go further!!
It's easy to donate online. You'll be able to see all the improvements you helped make possible after the big day on September 6!
---
Circle Tail's 5th Annual Golf Classic
Legendary Run Golf Course -
18 holes of championship golf, with ALL proceeds going directly to provide service & hearing dogs to people with disabilities at no cost to the individual.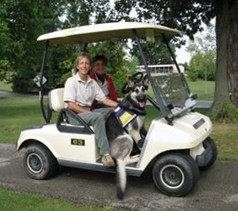 $125 per person / $450 per foursome

Registration begins at 12 p.m., golf begins at 1 p.m. Fee includes: golf cart, green fees, gift & dinner.

Don't golf? Sponsor a tee, and/or join us for dinner - dinner only packages available for $25.00 per person. (approximately 6 p.m.)

Visit www.circletail.org or email events@circletail.org for details and registration form.
We and the Circle Tail dogs hope to see you there!
---
Visit our website for the latest news & updates!

Featured Events

Friday, September 14: 5th Annual Golf Classic
Saturday, November 10: Rusty Ball 2012
Join the fun while supporting a good cause - see our calendar for complete list of upcoming events and classes.
---

Check out the wonderful documentary on Circle Tail by UC student Katye Riley!