Your support of Circle Tail helps us help dogs who help people. Donate toward their care at www.circletail.org.



---
Volunteer Spotlight

Our Volunteer Spotlight
shines on Amy!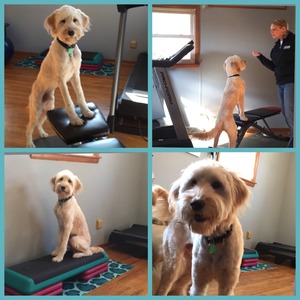 Amy's first foster dog, Nikola

Amy writes, "I started volunteering because I enjoy training and wanted to help Circle Tail. But I can't put into words how much it has helped me this past year. I was diagnosed with scleroderma two years ago. My diagnosis has been not only a physical struggle, but a mental struggle. Becoming a foster and training service dogs is something that has given me such joy, hope, laughs, and a sense of accomplishment. It's so rewarding watching these guys learn so much.

---
New Nosework Class
Offered at Circle Tail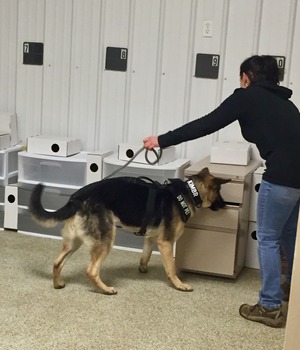 Circle Tail now offers Nosework classes to the public. Nosework is a fun search and scenting activity that allows your dog to develop his natural scenting abilities.

It can help build confidence and focus in your dog, and provide much needed mental and physical exercise, and is a great chance for you and your dog to bond.

Visit
c
ircletail.org
for more info and to register.
Upcoming Events
Hearts for Paws
Purchase a "heart" at the

PetPeople Montgomery

location from January 27 - February 12, and your donation goes to Circle Tail!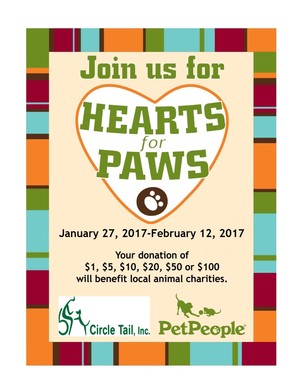 Tickets on Sale for
Circle Tail's 7th Annual
Dinner, Art, & Wine for Canines
Saturday, March 11, 2017 from 6 - 10 pm
Receptions in Loveland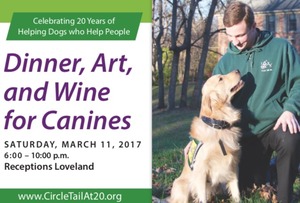 Celebrate our 20th Birthday with us as you enjoy a wine tasting, raffle prizes, silent and live auction, works of local artists, buffet dinner, and keynote speaker Marlys Staley, the founder and Executive Director of Circle Tail. Details and tickets at
circletail.org
.
Stay tuned for details about
our spring events!
Congrats to our New Teams!
Meet our final partnerships of 2016

Elizabeth with Boulder
and
Kathleen with Rani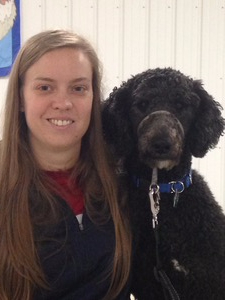 Elizabeth & Boulder
Elizabeth was partnered with Boulder in December. Boulder helps Elizabeth by retrieving items and providing some stability while walking. Elizabeth is working on teaching Boulder the difference between her water bottle and Gatorade bottle, and retrieving her medication when the alarm goes off to make sure she takes it.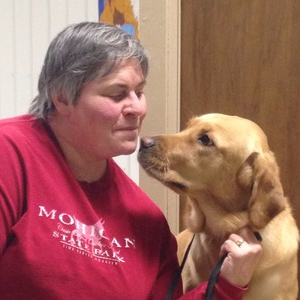 Kathleen & Rani
Kathleen and Rani were partnered in December. Kathleen reports that Rani is already "awesome with picking things up for me, especially at work. When she hears something drop, she comes running to pick it up." Rani is also helping Kathleen improve her focus on her balance and speed of walking.

---
Thank you to some very generous kids!

8-year old requests donations to Circle Tail instead of birthday gifts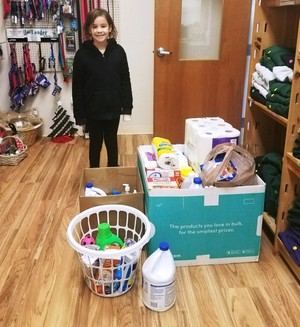 For her 8th birthday, Lily asked for donations to Circle Tail instead of gifts for herself. She dropped off all these donations she collected - we and the dogs thank you for your kindness, Lily!
Third graders make treats for the dogs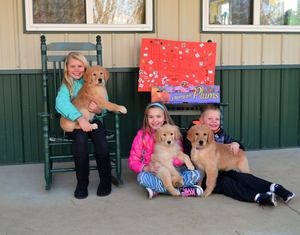 Thank you also to Mrs. Blount's 3rd grade class at South Lebanon Elementary for making treats for the dogs at their holiday party! Some of the kids got to visit with puppies when they delivered the treats!
---
Check out Circle Tail's
CALENDAR
for:
Pet first aid classes, dog training classes, volunteer orienation, community education events, and fundraising events!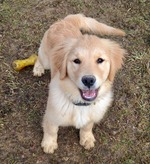 ---
Your contribution makes a difference
in many lives.
Help us help dogs who help people!