Pet Memorial Service
Saturday, May 23, 2015
at 2:30 pm, Circle Tail Memorial Garden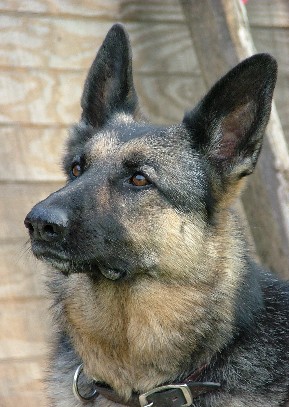 Join us for a Pet Memorial Service in our Memorial Garden behind the Training & Education Center. A short ceremony will be held to remember and celebrate those animals with whom we have shared our lives and who have now gone to the rainbow bridge. If you are unable to attend, email the name of your beloved pet to
training@circletail.org
and we will read your pet's name at the ceremony.
---
First Birthday Party
for Service Dogs in Training!
You and your leashed, well-mannered dogs are invited to join us on May 23 from 3:30 - 4:30 pm at the Training & Education Center to celebrate.

For anyone who wants to bring gifts, their list includes paper towels, 13 and 30/33 gallon trash bags, bleach, vinegar, dishwasher detergent, laundry detergent, and TREATS - small dog biscuits make for yummy training tools.
The birthday party will take place after our Pet Memorial Ceremony. Honoring the past, celebrating the future
. RS
VP to
events@circletail.org
.
---
Community Walk -
Support Circle Tail just by walking your dog!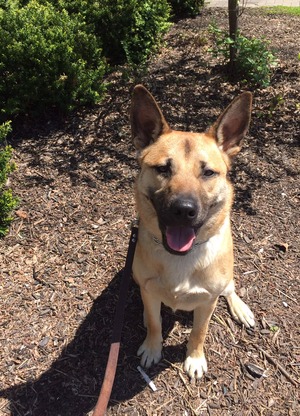 Get the FREE Wooftrax "Walk for a Dog" app and designate Circle Tail as the beneficiary, and Circle Tail receives a donation!

And join us for our next community walk Sunday, May 24 at 1:30 pm at Symmes Township Park, 11600 Lebanon Rd, Loveland. All are welcome in
cluding your good-natured 4-legged friend on a leash. We plan to walk about 4 miles, but you're free to turn around at any point. If you don't have a dog and would like to walk one, contact us at
volunteer@circletail.org
and we'll bring a dog for you!
---
Rusty Races
Run*Walk*Fun*Rock
Sunday, July 19 at Coney Island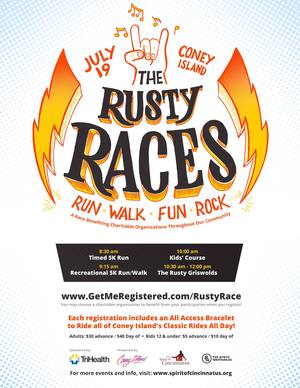 Pick Circle Tail as your charity to support!
$30 Adults/$5 Kids
Registration available at GetMeRegistered.
Another fun benefit with The Rusty Griswolds! This is going to be a great day of family fun while helping local charities like Circle Tail!
Patrick & Ganes,
Camp Counselors
Patrick & Service Dog Ganes
at Camp Flame Catcher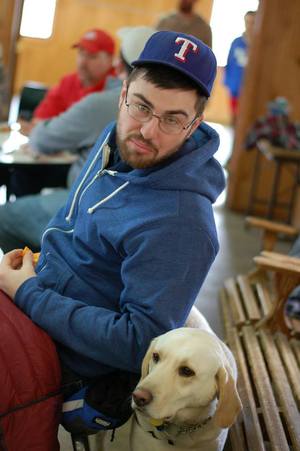 Patrick writes, "Early this spring, I was able to be a counselor at Camp Flame Catcher, a camp designed to give children with epilepsy the typical camping experience that their peers enjoy, with the added guidance of trained epilepsy specialists to care for their specific needs.

This time I was also able to bring Ganes, my service dog. Ganes' devotion and ability was shown both in and out of vest. He listened to all my commands and seemed happy to do so. A great addition to our experience was that some campers had previously owned service dogs and Ganes put a big smile on their faces!

Ganes did a great job paying attention to me even though he was in a completely new environment. It was also new to have to be in vest for so long each day, but he did a wonderful job and both of us will be very excited to go back to Camp Flame Catcher in the summer!

Foster Family Focus
Marcy & Dean Clarke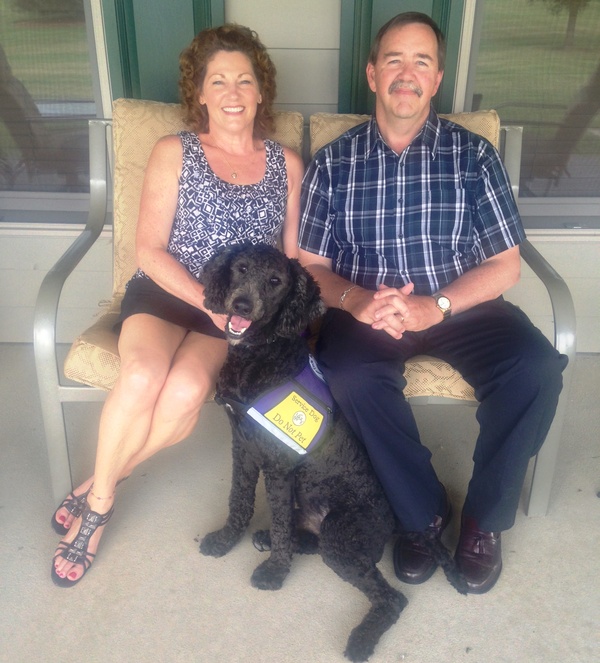 We have been fostering Circle Tail service dogs for over 3 years and have been "hooked" since day one. Our first dog, Gatlin, a black lab/golden stole our hearts, especially Dean's. We currently foster Boulder, our 12th CT dog. We love taking the dogs out, and the response from the public is heartwarming.

It is hard work, to be sure, but we have honed our training skills over the years which is personally very rewarding. We've also had countless laughs as the dogs would surprise us with goofy and sometimes unexpected behaviors like walking through the kitchen and nonchalantly pushing a drawer shut, or walking into the room with a laundry basket in their mouth, up in front of their face so they couldn't see where they were going!

One of our favorites was when I was looking out our back patio door one morning only to have Gatlin calmly walk up and sit down beside me, gazing out into the backyard as well, while gently holding Dean's glasses in his mouth as if it was his job!!

In 2014 Dean and I also started to help out with all of the building and landscape maintenance on the CT Campus. Dean especially puts in numerous hours in this area every month, whether it is mowing, plumbing, wiring, fixing fences or installing the new Circle Tail signs on the campus.

Our work as fosters, trainers and general volunteers for Circle Tail has given us a new perspective on how amazing these service dogs are, and a respect for the incredible organization that Circle Tail is, so much so that Dean has recently joined the Board of Directors.

~ Marcy ~
---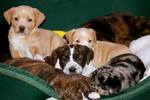 Check out Circle Tail's calendar
for our training classes, volunteer orientation, and community and fundraising events!


Your support of Circle Tail helps us help dogs who help people. Donate toward their care at www.circletail.org.