Your support of Circle Tail helps us help dogs who help people. Donate toward their care at www.circletail.org.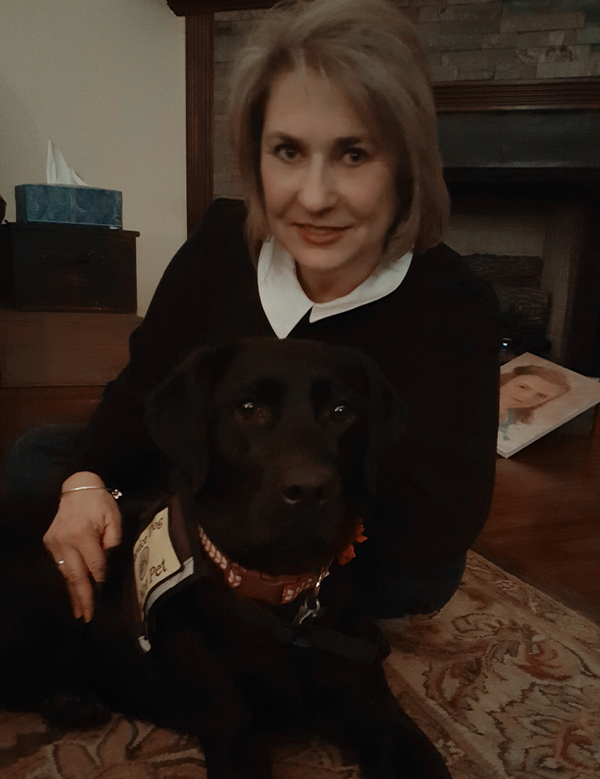 Gerria & Hearing Dog, Maura
---
Upcoming Events
Circle Tail's 6th Annual
Dinner, Art & Wine for Canines
Saturday, March 12, 6 - 10 p.m.
Receptions in Loveland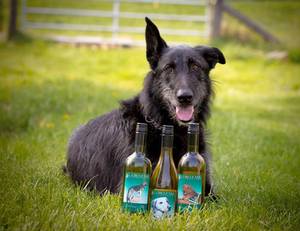 Bring your friends and enjoy an evening of fine wines, delicious food and the works of local artists, while supporting a great cause! The festivities will be hosted by Amy Tobin of Amy's Table, heard on Q102, and keynote speaker is Julie Bauke, Chief Career Happiness Officer of The Bauke Group.

Wines of the World Wine Tasting, Dinner, Art Exhibit, Raffle Prizes, Silent & Live Auction to benefit the dogs of Circle Tail and the people whose lives they change.

Tickets are $55 per single ticket, $100 per ticket pair, and $400 for a reserved table of 8 prices go up March 1 so don't delay!

Price includes Wine Tasting, Dinner, and Open Beer & Wine Bar throughout the evening. Details and tickets at www.circletail.org!

New Partnership

Gerria & Hearing Dog, Maura
"Maura came as my heart was healing; I had not been with a service dog for 2 years. My hearing aids had started giving me issues and I told Marlys I was ready. One day she called and asked me about Maura as a possible partner. Now I remember when Maura came to Circle Tail for training, this cute little Black Lab puppy. I had seen pictures from time to time that her foster parents, Emily and Bobby, posted. Since I had watched her 'grow up' I kind of felt like I knew her already.

I was not prepared for this energetic, smart and happy dog - she stole my heart when she met me. Maura started jumping – not on me – but straight up and down. What fun and joyful energy she has. We immediately started to bond; I so love my partner Maura.

I desperately needed Maura, as my hearing has continued to decline. I could not even hear my alarm to get up for work since I can't sleep in my hearing aids. When my husband was out of town I could not sleep; I realized it was the uncertainty of not hearing the fire alarm, tornado siren or an intruder. Maura takes care of that by waking me up. Maura is petite, so reaching me in our king size bed was sometimes impossible if I was near the middle. Maura quickly solved the problem by jumping on the bed, giving me a quick nudge, and jumping back down until I'm awake.

Maura has also alerted me to a pump issue in our Koi pond that I would never have heard until it was too late for our Koi. Not hearing warning signs like a pond pump going bad, or brakes grinding before we have to replace everything…Maura alerts me to so many things, I can't even begin to list them all.

Maura and I also have fun together – it's not all work. We went sledding with my grandchildren and Maura and myself got on the sled together and down the hill we went!

Maura and I are now starting to share a hobby: we are both painting on canvas. I paint for pleasure; Maura is painting to donate to Circle Tail for future fundraisers. We are hoping that this may help bring more service partners together in the future....stay tuned for some sneak peaks!

I'm forever grateful for every person that is involved with Circle Tail. I would not be the same without the Circle Tail family and most definitely without Maura. Kind of like a love story, I didn't think it was possible to love a service dog again until I saw this beautiful lab excited to see me! My quality of life would not be the same without Circle Tail."
---

Help us help dogs who help people. Donate today at www.circletail.org.