Partnership Update: Bennett & Jill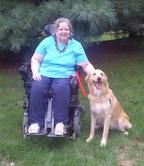 Bennett was partnered as an in-home service dog for Jill last year and is doing great! Jill writes, "I had surgery and had to be in a nursing home for 5 weeks. Bob brought him a number of times and said it always took awhile for him to get back to my room, as everyone wanted to pet him.
He is so eager to help out with picking up things and with getting "Daddy"! If Bob doesn't respond fast enough, Bennett gets a Frisbee and walks behind Bob, bumping him on the back end with it!
Every time I get something out of the cart next to my bed, he will run and stand watching to see if I drop anything so he can get a treat! You can just tell he is thinking, "Oh boy, I hope she drops something!"
He just is a blessing from Heaven! Thank you! Circle Tail is doing a great job for so many dogs and people!"
---
Visit our website for the latest news & updates!

6th Annual Golf Classic
Friday, September 13!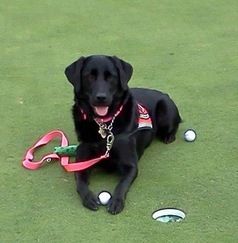 Hearing dog Leisel "helping"
at last year's event
Circle Tail's 6th Annual Golf Classic at Legendary Run is approaching fast!
To make this the most successful year ever, we're kicking off our "Drive from Tee to Green". So become a sponsor today, and help us birdie all 18 holes!
Find complete details, register online for golf or our dinner-only option, or become a sponsor at www.circletail.org.
---
In Loving Memory of Mokie and Tollan
Circle Tail said goodbye to two of our beloved companions this past month.
Mokie, Mayor of Circle Tail, was an Irish Wolfhound/Great Dane mix rescued as a puppy. One of the nicest dogs ever, his gentle, friendly nature made him an ideal Mayor.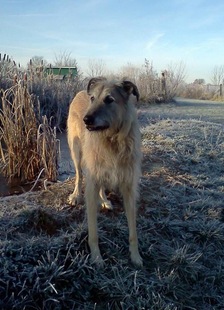 Tollan, Circle Tail Ambassador, was left in an apartment when his owner went to jail. He went to a county shelter, and they called Circle Tail. He had a wonderful life as an ambassador for Circle Tail. If you've taken a training class or attended volunteer orientation, you were probably greeted by Tollan - he loved to say hi to everyone! He also loved hanging out in the car - if you opened your door...or trunk...you risked him hopping in!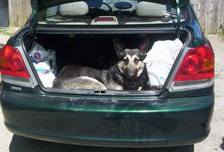 Circle Tail Supporter Appreciation Summer Gathering
Sunday, August 4 2:00 - 4:00 p.m.
We invite you to join us for an afternoon of drinks, snacks, and conversation as we
THANK YOU,
our wonderful supporters, for all you do for Circle Tail.
Family friendly, and well-mannered dogs on leash are welcome!
RSVP by August 2 to admin@circletail.org or 513.877.3325.

Koko's smiling about everything supporters like you have made possible.
Thank you for helping us help dogs who help people!
---
Like us on Facebook