Your support of Circle Tail helps us help dogs who help people. Donate toward their care at www.circletail.org.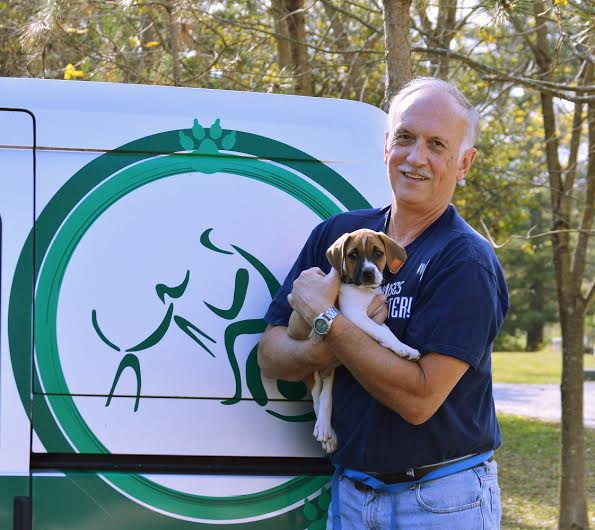 Tom with one of the puppies he's cared for
---
Upcoming Events

The Rusty Ball 2015
Saturday, October 24, 8 p.m. - 12 a.m.
Duke Energy Convention Center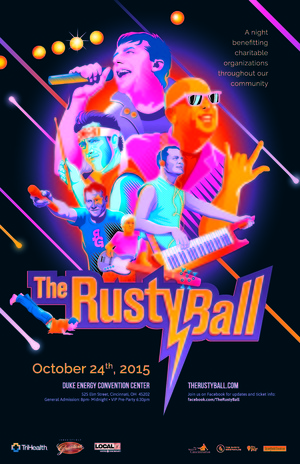 Rock out to an awesome 80's band while supporting the dogs of Circle Tail. Buy your Rusty Ball tickets
online
and select Circle Tail as the beneficiary - we and the dogs thank you!
Pet First Aid / CPR Class
Sunday, October 25, 12 p.m. - 4:30 p.m.
Circle Tail Training & Education Center

Pre-registration required. Class includes lecture, demonstration, and hands on skill practice in areas of CPR, rescue breathing, injury and wellness assessment, management of choking, shock, bleeding, heat/cold injuries, and more. Participants receive an informative 42-page reference book. Cost is only $40 and helps support the programs of Circle Tail.

Preregistration is required - email training@circletail.org for questions or to enroll in the class, mail your $40/person check to Circle Tail, Inc., 8834 Carey Ln, Pleasant Plain, OH 45162.
Circle Tail Volunteer, Tom
Our volunteer spotlight
shines on Tom:
"I was recently asked why I volunteered at Circle Tail. That's easy to answer: it's the dogs! You do it for the dogs to make their life a little better.

After retiring last July 2014, I was looking for something to keep me busy, so I first started volunteering at the USO centers. Having had two Golden Retrievers over the past 25 years, I wanted to do something with dogs. Our vet recommended Circle Tail, so I went through their classes and then was allowed to work in the kennels. It's a little of everything: you work with dogs, clean up after dogs, feed dogs, and follow through on training that the dogs receive in classes.

But the best part is you get to play with puppies! Now that does not happen every day, but when it does, it's all smiles! Except anyone that has had a puppy knows puppies eat, sleep, play, and...well you know. But accidents happen. In fact when you're the new guy like me, sometimes you're asked to take six puppies in the play room to play and give them some socialization time. Boy I thought that would be great! Wake up 6 puppies and have puppy play time! Remember what I said before about accidents...you learn real fast.

Another thing I learned about volunteering is that you end up doing anything and everything. Maintenance is always the last thing people think about. And guess what, not everything can be fixed with duct tape and a hammer! So I repair things now. Remember it's about the dogs. The dogs at the kennel are being trained to assist people with needs, young or old someone is always in need of a special loving all caring dog. So when someone asked why you volunteer at a kennel, especially one that trains service or therapy dogs, I just say it's a way of giving back but mainly I say: IT'S FOR THE DOGS!"

The wonderful services - and dogs - that Circle Tail provides throughout the Tri-State area would not be possible without kind volunteers like Tom.
Please consider donating today!


Help us help dogs who help people. Donate today at www.circletail.org.



---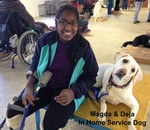 Check out Circle Tail's calendar for our training classes, volunteer orientation,
community education
and fundraising events!