Your support of Circle Tail helps us help dogs who help people. Donate toward their care at www.circletail.org.




Want to support Circle Tail while participating in the 20th Anniversary of the Flying Pig Marathon? Here are
three easy ways
:
Volunteer
with us on Friday, May 4 from 5 - 9 pm at Lot D, near Sawyer Point and Paul Brown Stadium, to stuff bags for the Piglet Run! Circle Tail receives a donation for our help. Anyone age 14+ can join us.
Email admin@circletail.org for the registration link to sign up!
Donate
to our
fundraiser
by clicking
here
Collect pledges
on your own! Are you running in one of the events? Ask your friends and family to sponsor you per mile.
Pet first aid classes, dog training classes, campus tours, community education events, and fundraising events!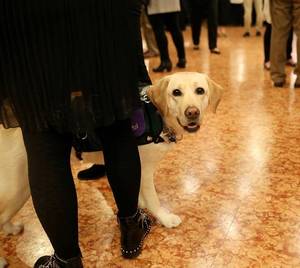 Rey, collecting "stuff the vest" donations at Circle Tail's 8th Annual Dinner, Art, & Wine for Canines
Team Spotlight
Linda & Service Dog, Viz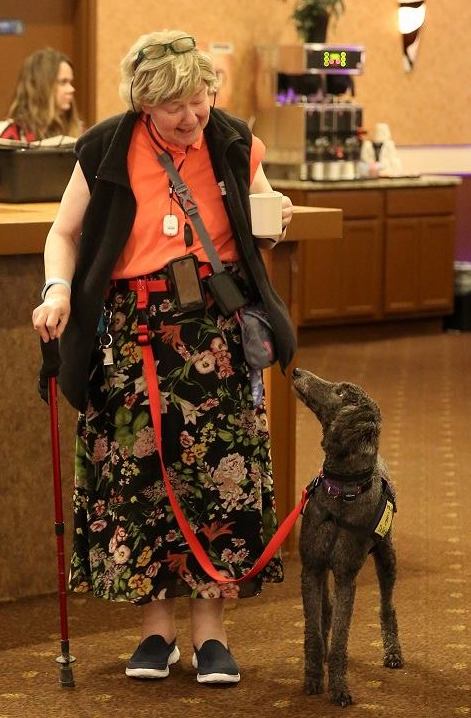 Linda & Viz at Circle Tail's 8th Annual
Dinner, Art, & Wine for Canines
In 2017, Circle Tail partnered our first Diabetic Alert Dog. Linda says, "Although Viz is already trained as a Circle Tail Service Dog, she's learning to detect when my blood sugar is low because of Type I Diabetes. She sleeps with me so she can smell when my blood sugar drops, and alerts me by waking me or pawing me when I'm awake.

For instance, I checked my blood sugar which was at the low end of my normal range. I spent a while getting something to eat...meanwhile, Viz came over and sat on my heels. I checked my blood sugar again and it had decreased by 11 points. It was getting closer to being in the low range - Viz took the initiative to tell me something was wrong!

I think Viz has a sense of humor: once while washing my hands in a darkened powder room, Viz closed the door on me. I swear when I opened the door with a 'what was that all about' look, she was smiling! She also adores snow - skips around, dances, or runs and will come inside covered up to her knees in snow.

I have owned a hedgehog, two turtles and a ferret for many years, so Viz has learned to ignore other animals in the household by respecting their space."
---
Volunteer Spotlight
Our volunteer spotlight
shines on Lisa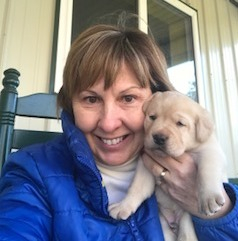 Lisa writes, "I learned of Circle Tail through the United Way BOLD Program in the spring of 2017. I had recently lost my Standard Poodle, Smokey, who passed away in May 2017 at the age of thirteen, and I was grieving and missing a dog in my life. So, I decided to check out Circle Tail, and after a visit, I fell in love with their mission and all those cute puppies!

In the summer of 2017, I started to attend Saturday obedience classes and learned how to socialize and handle puppies with the help of the volunteer captain, Jen, and soon after, I was able to visit the kennel on a weekly basis to socialize puppies. I smile and laugh the entire time I'm with the puppies, and it is so neat to watch them grow and see their personalities evolve!

I have so much admiration for Marlys, Circle Tail's founder, and all the many dedicated volunteers who share so much of their time and energy to make this organization successful."