Your support of Circle Tail helps us help dogs who help people. Donate toward their care at www.circletail.org.



Upcoming Events

Liberty Center
Change for Charity
July & August 2017
Liberty Center, 7100 Foundry Row

Throughout July and August, Circle Tail, Inc. will be the charity honoree of the Liberty Center Foundation's Change for Charities program where a portion of parking meter proceeds at Liberty Center benefit local non-profits.
Six charities were chosen by the Foundation earlier this year, and Circle Tail is honored to be one of them!
And stay tuned for details on our upcoming vendor show at Liberty Center on October 22!
July 9, 1 - 3 pm
Greater Cincinnati/Northern Kentucky Airport (CVG)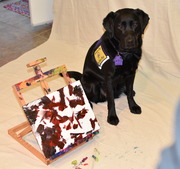 Circle Tail team Gerria & Hearing Dog Maura will be at the airport, as Maura exhibits her painting skills. Circle Tail will also be socializing some of our service puppies in training. Check out some of Maura's art on her
Facebook page
! And don't miss the chance to meet her at Fifty West Production Works - details below!
Fifty West Wag Fest
Sunday, August 20, 11 a.m. - 4 p.m.
Fifty West Production Works,
7605 Wooster Pike, 45227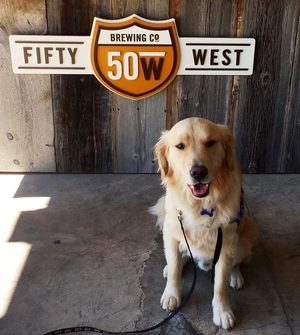 Join us to learn about the Fifty West brewing process, and meet some of Circle Tail's service dogs in training. A portion of sales go to Circle Tail.
And as a special treat, Maura the Painting Dog will be there - come see her in action as she paints to raise funds for Circle Tail!
Pet first aid classes, dog training classes, campus tours, community education events, and fundraising events!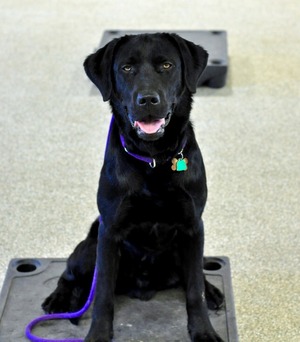 Partnership Update:
Kathleen & Rani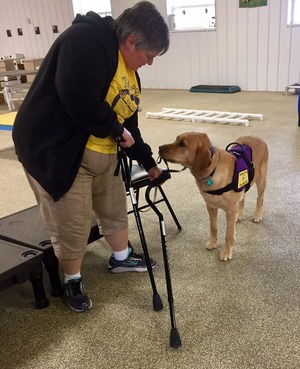 Kathleen and Rani were partnered in 2016. Kathleen reports that Rani is doing great! She likes Kathleen's new scooter. When she hears something drop, whether it is one of Kathleen's canes or a tool at work, she comes running to retrieve it. She even carries things like the TV remote back and forth.

For fun, Kathleen and Rani are starting to train for AKC Rally and Obedience trials - both are enjoying that as well.
---
Volunteer Spotlight

Our volunteer spotlight shines on Sherrie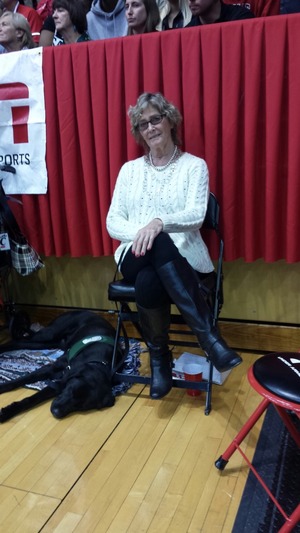 Sherrie writes, "
I have volunteered for Circle Tail for a few years now, fostering, helping at the kennel, and planning and participating in fundraisers. My experience has been wonderful. Playing and working with the wonderful dogs is so great, and raising much needed funds to support the mission is very satisfying. Meeting the other terrific volunteers, board members, and staff, as well as Marlys has given me an understanding of the need for service dogs and the tremendous amount of dedication and work it takes to train a dog to help people.
I first learned of Circle Tail when a volunteer brought a German shepherd to my Cincinnati Rotary meeting to do a presentation. I thought about Circle Tail for several years and then decided to jump in. The day I decided, I drove around for about 2 hours trying to find the location in Pleasant Plain! When I arrived, several men were building fences, and one of them, board member Dean, offered to show me around.
I was convinced immediately that this is an organization I wanted to help
."
---
Meet Gage!
Circle Tail's New Ambassador
Irish Wolfhound Gage,
born in March 2017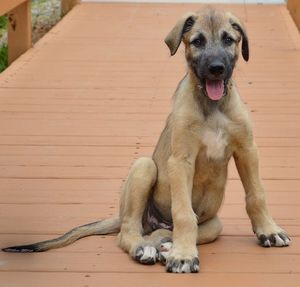 Many of you may remember Mokie, Mayor of Circle Tail. Gage is following in some pretty big paw steps, but we think he will make an excellent ambassador for Circle Tail!