Marlene & Foster Dog Sky
Marlene & Sky at Disneyworld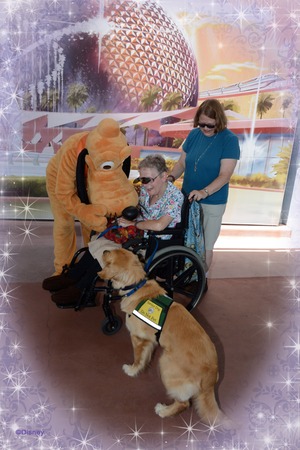 The week of June 14-21, Marlene and Sky along with family members visited Walt Disneyworld in sunny Florida. Sky took her first airplane trip and became a pro at riding the Disney buses. In addition to taking the ferry between the Disney resort and Downtown Disney, Marlene and Sky were able to enjoy quite a few rides, some on water and others on land. Their favorite was Kilimanjaro Safari, a truck ride at Animal Kingdom. They saw giraffes, elephants, lions and various animals indigenous to Africa. Sky met several Disney characters and bravely sniffed in the direction of Pluto when visiting Epcot, although she wasn't too sure about the other characters she met along the way. Sky was a terrific ambassador for Circle Tail and even met another service dog, Jafar, from New Horizons where she came from. Despite the record high temperatures for the week, the trip was a huge success and was a source of lasting memories.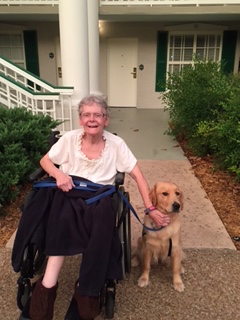 Run for Balance
Sunday, August 9, 2015
9:00 a.m. Armco Park, Lebanon, OH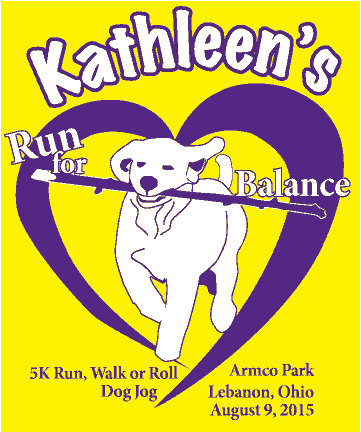 5k Run or Walk, Dog Jog, & Virtual 5k
Run & Walk or Roll – 5k loop on park roads within Armco Park in Lebanon, OH. Physically challenged participants welcome, including wheelchair, handcycle, and ambulatory participants.
Can't make it? You can still sign up for the virtual race. Just enter your best 5k time when you register.
Packet Pick-up Saturday August 8 is at Messerfit:
706 Deerfield Rd Unit B, Lebanon, OH
Sunday Schedule of Events:
Race Day Packet Pickup and Registration at Armco Begins – 9:00 am
Run Start – 10:00 am
Dog Jog Start – 10:15 am

Details and registration:
http://www.racepenguin.com/event/runforbalance/
.
Register Here
PUPPIES!
We've taken in lots of moms and pups, and need your support to feed, vaccinate, and keep them in good health.

Read about some of our new arrivals, and donate online to be a part of the Circle:

Quinta: One of the sweetest dogs you'll ever meet, this gentle soul came to us from Guide Dog Foundation to have her puppies. Circle Tail will keep a couple pups from the litter to enter our service/hearing dog program.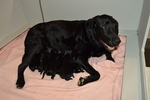 Lab/Hound Puppies: We acquired 3 pups from a family. Mom is a Bloodhound, Dad is an English Lab. Kaiser and Tuff are in our service/hearing dog program, and their sister was adopted as a pampered pet.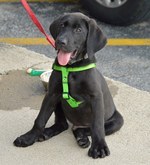 Lab Mix Puppies: This litter of 10 came from a county shelter in Kentucky. Kibet is in our service/hearing dog program and his siblings were adopted.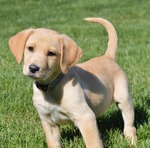 Katrin & the "Chia Pets": Katrin the Chihuahua was a family release who came to us pregnant. Two weeks later, she delivered 2 boys and 2 girls. All are darling!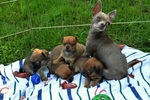 Ros & Pups: Ros is a Scottie mix who came to us with her newborn pups from a family. They are being cared for by the inmate handlers at Ohio Reformatory for Women. Ros is such a nice girl, we'll look at a couple of her pups for our service/hearing dog program.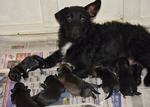 Poodle Pups: Donated from a breeder, the four bundles of energy are in our service/hearing dog program. They are a joy to be around!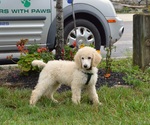 We estimate it costs about $15,000 to fully train and partner a Service or Hearing Dog. We provide this at no cost to the individual with a disability. So we rely on your help to keep this program going.
Help us help dogs who help people. Donate today at www.circletail.org.



---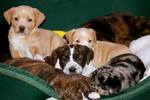 Check out Circle Tail's calendar
for our training classes, volunteer orientation, and community and fundraising events!

---

Your support of Circle Tail helps us help dogs who help people. Donate toward their care at www.circletail.org.