---
Dear friends and comrades,

Another busy year of struggle is almost behind us. This will be the last eBulletin of 2009. We will soon enter 2010 under continuing conditions of economic crisis, through which the capitalist class is making working people pay for the failure of this decrepit system.

The need for renewed and increased struggle is apparent. Only through mass, militant, action can working people change these conditions in their favour.

For our part, the YCL will continue to fight to build the youth and student movements and to bring forward socialism as the solution to the poverty, exploitation and oppression of capitalism.
---
Help build Rebel Youth magazine!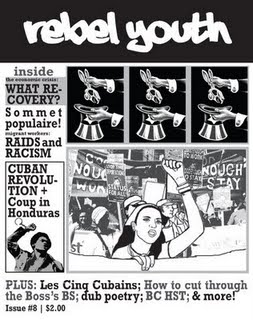 By now many of you will have seen a copy of the new issue of Rebel Youth magazine. Lot's of positive feedback has been streaming in from around the country as Clubs begin the important work of distribution. This is the eighth issue of Rebel Youth that we have published, and we are proud to say that our magazine is continuing to improve as is the level of participation from YCL members and friends in the process of producing the magazine. This issue carries lots of really great content including coverage of the coup in Honduras, socialist democracy in Cuba, the struggles of young workers and students around Canada, and more.

Rebel Youth is starting to become more and more well known amongst progressive youth. With our goal of new issue to be released in January, and a fast approaching December 1st submission deadline, we have a two-fold task in front of us in the coming month.

We ask our members, friends, and supporters to purchase a subscription to Rebel Youth. It's only $12 for one year and every cent helps us to ensure the continued and improved publication of the magazine. Please consider how you, or your Club, can help. Do you have a subscription? Have you sold any subscriptions?

Rebel Youth is Canada's only Marxist-Leninist, pan-Canadian, bi-lingual, youth and student magazine. Whether you are a YCL member, a subscriber or frequent reader, or a fellow activist, we look forward to hearing from you and invite you to help us build the magazine that fights for peace, jobs, education, and socialism on every page and in every issue!

---
Student Movement under attack!

The recent announcement of petitions circulating on thirteen campuses affiliated with the Canadian Federation of Students calling for de-federation has caused justifiable concern among many progressive students. This attack comes at a time when the Conservative government is spending billions on an imperialist war in Afghanistan while students face a crisis in tuition fees, student debt, youth unemployment, poverty minimum wages and now the so-called "jobless recovery" from the recession.

From our perspective, the need for unity to confront and reverse this attack on students and youth is urgent.

Students have long rejected the parameters of Canada's flawed Constitution, placing education as a provincial concern, and fought hard for a federal-level student movement. And although the federal government's role in funding post-secondary has been shamefully abandoned, the necessity for that role hasn't changed. This year marks the 40th anniversary of the deeply mistaken demise of the Canadian Union of Students in 1969. Even after the formation three years later of the National Union of Students (renamed the CFS in 1981) the student movement took years to recover from this disastrous fracture. Those claiming the CFS can't be reformed and must be destroyed don't address the objective necessity for students to have a cross-Canada organization.

---
YCL in Action

Vancouver: The YCL celebrated the October Russian Revolution this month in Vancouver. They also organized a pro-choice demonstration, co-organized a Left Film Night, held a monthly meeting, and had part two of it's study group on dialectical materialism. They are organizing a fundraiser dinner & movie night on December 5th, 6pm, 706 Clark Dr. For details e-mail redstar@ycl-ljc.ca

Trail: The Trail YCL Club has something to celebrate this month - the formation of a new Communist Party Club in Trail! Last month, they participated in a zombie walk against tuition increases organized by the CFS. They also held a meeting/discussion group.

Kamloops: The Kamloops YCL will be holding its next meeting in early December. They are working to build the YCL and the left in Kamloops. Some members are also involved in a street team for the revolutionary band Street Sweeper Social Club. Others have written contributions to the next issue of Rebel Youth magazine.
---
Rebel Culture: YCLTube

Did you know that the YCL has it's own YouTube channel? Check out YCLTube for video over views of Rebel Youth issues, video versions of YCL statements, educational materials, and more. Check out the videos of our new issue of Rebel Youth, the Che Guevara Volunteer Work Brigade, our statement in solidarity with Gaza, and more!

Do you make YouTube videos? E-mail us at ycl_bc@ycl-ljc.ca if you are interested in helping to produce future additions to YCLTube.
---
International Solidarity: Students' Militant Front formed in Greece

The Students' Militant Front [MAS] of Universities and Technological Institutions was created on November 6th at the University of Athens. Its creation constitutes a historic moment and great achievement of the students' movement in Greece.
More than 700 representatives of 110 Militant Committees and 17 Student Unions participated in the founding assembly for the establishment of the MAS; the "AULA" amphitheater of the Athens Faculty of Philosophy was full of students.

The representatives of the class forces in the Greek trade-union movement were present and saluted the creation of MAS. Moreover, the assembly received the salutations of the representative of the Progressive Movement of Cypriot Students, as well as the written salutations sent by the World Federation of Democratic Youth (WFDY) and the Federation of University Students of Cuba (FEU).
---
Rebel History: Annie Buller

Annie Buller was born on December 9th, 1895, in the Ukraine and emigrated to Montreal with her family as a young girl in the early 1900's.

During World War I she became politically active and studied Marxism at the Rand School of Social Science in New York. On her return, she was a leading figure in the foundation of the Montreal Labour College. Then, in 1922, she participated in the conference which founded the Workers Party of Canada, now known as the Communist Party of Canada.

During the 1920's and 1930's she traveled Canada as a Communist and a union organizer. She worked organizing the needle trades, supporting the struggles of steel workers and miners, and even leading a general strike for the dressmakers of Toronto.

In 1931, her involvement in the Estevan Coal Miners Strike led her to be framed on charges of inciting a riot. She spent one year in North Battleford Prison for fighting her fellow workers. But this did not dissuade her from taking up the fight once again upon her release. In 932 she ran for Toronto City Council as a Workers United Front candidate. She was jailed once more from 1940-1942 in Portage La Prairie for her Communist activities.

She continued her revolutionary activities throughout World War II and the Cold War, running as a Labour Progressive (Communist) candidate in the riding of St. Paul's in 1952 and the Spadina Ward in 1957. She managed a variety of Communist Party publications throughout the years, traveled the USSR, and was politically active all her life fighting for peace and socialism.

Annie Buller was a great Canadian woman and a great Canadian Communist. Like most who contributed so much to Canada's working class movement, she is largely forgotten by bourgeois official history. But she is remembered by those who continue the fight that she championed till her death in 1973.
---