Dear friends and comrades,
This month has been marked by increasing struggle against the Liberal government. The main focus of the struggle has been the Harmonized Sales Tax (HST), a regressive tax which threatens to significantly increase the tax burden of working people in our province, not least of young workers and students. The tax will siphon dollars from the pockets and bank accounts of British Columbians, including those who are struggling to survive on Canada's lowest minimum wage, into the coffers of big business.

Anger at the HST scheme has been expressed at rallies around the province including a rally in Vancouver which brought out well over 5,000 demonstrators.

The YCL points out that this is not just a bad tax, not just a bad Premier and not just a bad political party in office. While all these things are true, what we are really dealing with is just one facet of a bigger plan by the capitalist class to make the working people, including the youth, pay for the continuing economic crisis that they have caused.

It's time for young workers and students to tell the Liberal government and the class interests they represent No HST! We won't pay for your crisis!
---
How Can You Help Stop the HST?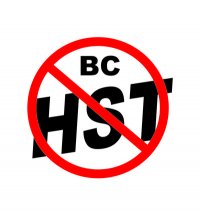 1. Contact your local YCL Club and find out what we are doing to oppose the HST. Don't know how? E-mail ycl_bc@ycl-ljc.ca to find out. Help distribute the YCL's statement against the HST.

2. Join the anti-HST Facebook group at http://www.facebook.com/search/?q=HST&init=quick#/group.php?gid=105998706732&ref=search&sid=656850401.2086182416..1

3. Attend anti-HST rallies, forums and other events in your community.

4. Write to your MLA and tell her/him that you oppose the HST. Find your MLA here: http://www.leg.bc.ca/Mla/3-1-1.htm

5. Write a letter to the editor to your local newspaper or call in to your local radio station. Spread the word!
---
New Issue of Rebel Youth Released!

The YCL is excited to announce that the Fall issue of Rebel Youth magazine is out now! The new issue of Rebel Youth covers the most pressing issues facing young workers and students today; the economic crisis, the fight for affordable and accessible education, minimum wages and working conditions, the environment, the 2010 Olympics, the HST, migrant workers rights, and more as well as international issues like the coup in Honduras and a look at democracy in Cuba!

There's also music and movie reviews, interviews, letters from Rebel Youth readers like you and other features!

Pick it up your copy today! Don't know where to get one? E-mail us at ycl_bc@ycl-ljc.ca
---
New YCL Website Launched!

A brand new YCL website was launched this month. The new site includes articles, statements, information on the YCL, YCLTube video's, updates from YCL and Rebel Youth blogs, polls and lots more.

New content appears almost daily. Some segments are still under construction but will be completed shortly.

Check it out today and let us know what you think!
---
YCL In Action

Vancouver: The YCL in Vancouver started out the month with a study group looking at the Three Sources and Three Component Parts of Marxism by Lenin. On Labour Day, the YCL participated in the local celebration at Trout Lake Park which was organized by the Canadian Labour Congress. The following weekend, the YCL held its monthly meeting followed by a Left Film Night showing the new film Che: A Revolutionary Life. We also participated in a rally of over 5,000 against the HST where we sold anti-HST buttons and distributed YCL and Communist Party leaflets on the issue.

Trail: The Trail YCL also celebrated Labour Day this month at an event organized by the local labour council where they set up a YCL table and invited a friends band to play. Earlier in the month, the traveled to the nearby town of Nelson to participate in the Pride Parade and show support for LGBTQ rights. The Trail Club is also getting active at schools and campuses with the start of the new semester.

Kamloops: The Kamloops YCL held its first formal Club meeting after several months of activity. Already six young comrades were in attendance and many more youth and students are showing interest. The YCL is about to take off in Kamloops!

Nanaimo: In Nanaimo the YCL is working to re-establish a Club. YCLers in Nanaimo have been postering, petitioning, and leafleting over the summer as well as participating in the work of the Malaspina University-based Popular Participation Movement. The YCL in Nanaimo will have a meeting coming up in the next month, please e-mail if you are in the area and interested!

The Provincial Organizer will be visiting Kamloops, Nanaimo, Prince George and possibly other cities in the coming months. If you are interested in a meeting in one of these cities - or even somewhere else - please e-mail us at ycl_bc@ycl-ljc.ca
---
Working Class Culture: Project Boneyard

In 2004, when racist boneheads Panzerfaust Records released "Project Shoolyard USA," a collection of shitty Nazi anthems aimed at recruiting white youth into the fascist movement, something had to be done.

It wasn't long until an anti-fascist Skinhead/Hardcore/Punk Rock label out of Ontario by the name of Insurgence Records took up the task. They released Project Boneyard, a sampler made up of 16 powerful tracks which was distributed by their street team and other anti-racists around Canada.

Well, not surprisingly "Project Schoolyard" didn't exactly take off. Unfortunately for the boneheads, most Canadian youth aren't fooled by their racist lies.

But just to make sure, our friends at Insurgence have teamed up with the Turn It Down campaign against white power music to produce Northern Aggression: Project Boneyard 2. Northern Aggression picks up where the first Project Boneyard left off with another 16 hard hitting anti-fascist tracks. The first of several runs of 10,000 is hitting the streets now!
---
International Solidarity: The Struggle for Democracy Continues in Honduras

Honduran President Manuel Zelaya, who was forced into exile following a military coup in the country on June 28, defied the coup regime's efforts to keep him out of the country by staging a return to Honduras on September 21. Despite a hastily-imposed curfew, thousands of Hondurans defied the coup regime's orders and gathered in front of the Brazilian embassy in the capital, Tegucigalpa, where Zelaya is currently in refuge, to support the democratically-elected President.

The coup regime is responding with a brutal crackdown on the Honduran democracy movement. We are receiving reports by the hour of cases of brutal military repression and assaults which have resulted in a large number of injuries and an unconfirmed number of deaths, including that of an eight year old child. The military has surrounded the Brazilian embassy and is out in force in poor neighbourhoods. The national stadium is reported to have been converted into a large holding center for the detained.

click here to read this and more coverage on Honduras and to see how you can help!
---
Rebel History: The Persons Case

A famous Feminist once said "Feminism is the radical notion that women are people." This might sound silly to some, but it was only 70 years ago that a historic case was won in Canada which declared that women were "persons."

It all started when Emily Murphy put her name forward to then Prime Minister Robert Borden to be named a Senator. Borden's response was a definite "No." He claimed that under the British Common Law ruling on 1876, "women were eligible for pains and penalties, but not rights and privileges."

It was then that Emily Murphy, along with Irene Marryat Parlby, Nellie Mooney McClung, Louise Crummy McKinney, and Henrietta Muir Edwards (known as the Valiant Five) took the issue to the Supreme Court. They did not do so empty handed. They had collected 500,000 petitions from Canadians who were calling for equal rights for women.

Unfortunately, the Supreme Court was not particularly concerned about the views of the Canadian people, their ruling was perhaps even more despicable than Bordens. The Supreme Court ruled that the definition of "qualified persons," under the British North America Act did not apply to women. Women not person!? Outrage spread and the "Valiant Five" didn't give up.

They took the case to the British Privy Council which eventually overturned the ruling of the Supreme Court in October 1929, declaring that women were "persons" under the law with equal political rights to men.

This October as we mark Women's History Month we should remember how less than a century so many of us did not have even the most basic of democratic rights. Sexism, as well as racism, homophobia and other bigoted ideas only serve to divide the working class and weaken us all. We should remember how far we still have to go and that we get nothing without a fight.
---