Why did we devote this edition of the GSA E-Newsletter to the theme of gratitude? Because we can attach a plan for action to everything for which we are grateful. Because if we look at the people in this world who are leaders, they are most often people who express gratitude in their lives. And because people who look at their lives as a gift are people who can make a difference in the lives of others. What a beautiful message to teach our grandchildren as the season of Thanksgiving approaches!!!!!!!

Several weeks ago, I was sitting in my local Starbucks and I met a young boy named Jered S. from Cincinnati. I asked Jered if he was grateful for something. He responded "I am grateful for life." Jered's mother went on to explain that her father had died of cancer, so she was grateful for health. Jered's sister said she was grateful for clothes. And Jered's father said he was grateful for friends and family.

My suggestion is to do the following with your family: have a discussion about the things in our lives for which we are grateful. Further the discussion by thinking about what actions can you take that will make your gratitude become significant in the lives of others. For example, if you are grateful for clothes, then go through your closet and choose those clothes that you can contribute to others. Perhaps even suggest to your friends or your family or to your favorite organization, church, or temple, that this may be the time to have a clothing drive of winter coats, mittens, etc. as the cold weather will be upon us soon.

If you are grateful for health, take your family to a fundraising walk for a cancer research organization. Visit a sick friend or neighbor. Make sure to consider yourself too—take care of your body, and do all you can to stay healthy.

If you are grateful for life, then I hope that you think about what you want to accomplish in your life to make the world a better place. When my daughter was in college, she had an assignment to write a eulogy for me. She wrote, "My mom always wanted to change the world. So far, she's made a dent." After I cried with tears of joy, I told her that all I wanted to do was to make a dent, and I would be happy if that was all she learned from me. What are you teaching to your grandchildren about the message of your life? What are they learning that might be the message of their lives? There's a story of when Ghandi was on a train. A man standing on the platform saw him and held up a sign, saying "What is your message?" Ghandi wrote something, and held it up. It said, "My life is my message."

Finally, if you are grateful for friends and family, you might write a letter telling your friends and family that you are grateful. You might call an older relative a bit more often than you do. You might call your grandchildren. They might love you a lot, but are too busy to call. They would love to hear from you by phone or email. Don't ever stand on ceremony about who owes whom a phone call. You might make a contribution to an organization in honor of a friend or a grandchild, not just on an important birthday, but just anytime because you are thinking about them.
This is only a beginning. I am sure you all have many more ideas. Be sure to talk about them, to think about them and to do them. Finally, I must say that I am grateful that all of you are so interested in making a difference in the lives of the next generation- and knowing that our lives have meaning which we can transmit to the younger generation.
Sharon Morton
---
Quick social action ideas for emphasizing gratitude!
Whenever a child shows kindness, remind him how grateful you are to see that attribute in him.
Sign up for Areyvut's Kindness-a-Day online calendar. They always have wonderful ideas on showing kindness and explaining what tradition tells us about that attribute.
What concerns you? Decide what action you can take to alleviate the concern.
Be sure to have "gratitude conversations" at your Thanksgiving dinner table.
Write thank you letters to people you love and to whom you are grateful.
Do a random act of kindness for an elderly neighbor. He/she will be very grateful.
After reading a book like Molly's Pilgrim, be kind to another person who you think might be feeling different.
Discuss the difference between feeling grateful and feeling obligated.
Call or email notes to people who have written to you or sent you birthday cards.
As always, share your thoughts! Write to sharon@grandparentsforsocialaction.org and tell me what you do to evidence your gratitude. We will publish your ideas!
---
Molly's Pilgrim, a reading guide
Because we are thinking about Thanksgiving and gratitude, I hope you all can read the story of Molly's Pilgrim by Barbara Cohen to your grandchildren, or even just for yourselves.
The story is of a third grade Jewish immigrant from Russia at a new school in the U.S. The other students in her class make fun of her. The story unfolds so that the students, the teacher and Molly end up feeling good about one another.
Themes of the story include conflict, self-esteem, communication, and bias. After reading the story, you might ask the following questions, and of course, any questions that occur to you.
1. How was Molly different from the other students?
2. What does it feel like to be different from other people? Have you ever felt that way?
3. What did Molly not understand?
4. What would you do if someone in your class did not understand an assignment?
5. Why was Molly grateful at the end of the story? To whom was she grateful?
6. Do you know any real stories that were like that?
7. For what are you grateful?
---
Judaism and Healthy Living: Gratitude and Blessing
contributed by Rabbi Deborah Helbraun
Rabbi Deborah Gardner Helbraun holds a BA in Elementary Education from Washington University in St Louis, Mo, and both her Masters in Hebrew Letters and Rabbinic Ordination from HUC-JIR in Cincinnati, Ohio. Over the years, she has sought ways to connect Jewish text and tradition with every-day living in order to create balance and harmony of body, mind, and spirit.
I have found that some days get better simply by changing my attitude. Rather than looking at the things that have gone wrong, as is the case in most of our news programs, I must, instead, focus on that which is good and positive. If I think about the many blessings that I can count every day, I often realize that I am, indeed, a very wealthy person. Pirke Avot, The Ethics of Our Fathers, recounts the words of the great sage Ben Zoma, who asks the question, "Who is rich?" and answers it by saying "the one who is content with his or her lot."
Given the current state of our world, it is often hard to be content, but those who are able to find that inner peace are ultimately more capable of handling all of the stressors that are thrown at them on a daily basis.
In Judaism, the first prayer that we recite, even before getting out of bed, is Modeh Ani, a prayer that literally expresses gratitude to God for restoring our souls to our bodies, enabling us to begin a new day. I look at Modeh Ani as a way of thanking God for the opportunity to begin the new day with a clean slate, knowing that tomorrow is past and today is a new opportunity on life. Every day is a blessing filled with hope, promise, and opportunity.
What is it that you are thankful for as you begin a new day?
---
Attitude.. Not a Season -- a new guide from Sharon Halper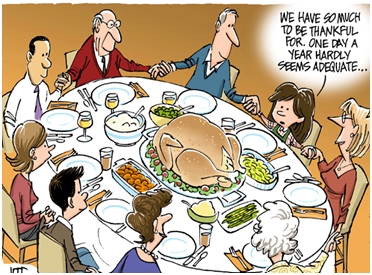 Monthly GSA contributor Sharon Halper gives us a guide about the things we should be thankful for. Click here to read Sharon's latest guide!