In this issue:




Connect with us!
We're on Twitter and Facebook!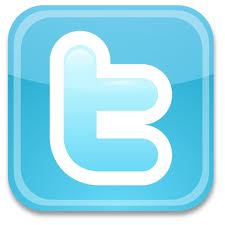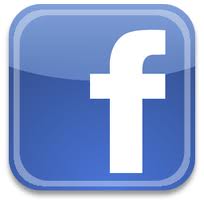 ---
Book Recommendations
THE TREES OF THE DANCING GOATS
By Patricia Pollaco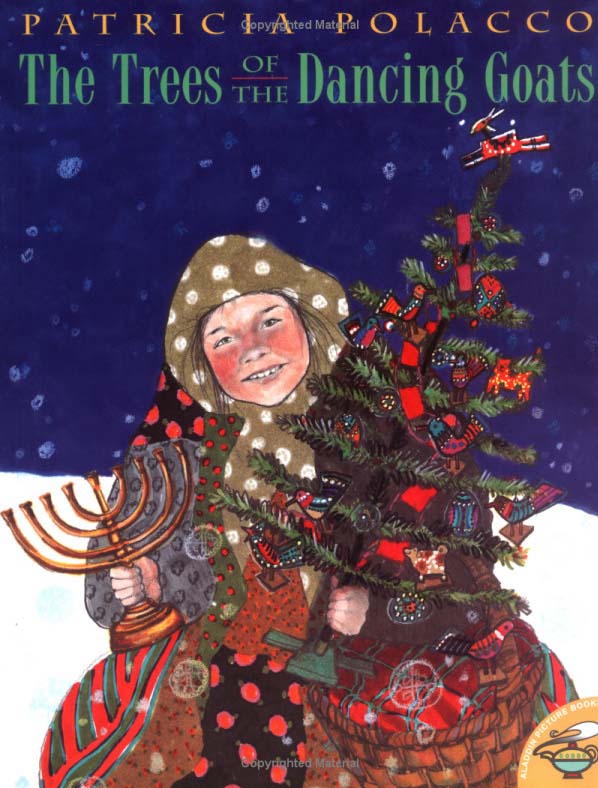 Trisha loves the eight days of Hanukkah, when her mother stays home from work, her Babushka her Babushka makes delicious potato latkes, and her Grampa carves wonderful animals out of wood as gifts for Trisha and her brother. In the middle of her family's preparation for the festival of lights, Trisha visits her closest neighbors, expecting to find them decorating their house for Christmas. Instead they are all bedridden with scarlet fever. Trisha's family is one of the few who has been spared from the epidemic. It is difficult for them to enjoy their Hanukkah feast when they know that their neighbors won't be able to celebrate their holiday. Then Grampa has an inspiration: they will cut down trees, decorate them, and secretly deliver them to the neighbors, "But what can we decorate them with?" Babushka asks. Although it is a sacrifice, Trisha realizes that Grampa's carved animals are the perfect answer. Soon her living room is filled with trees -- but that is only the first miracle of many during an incredible holiday season.
Based on a long cherished childhood memory, this story celebrates the miracle of true friendship.
Read more.
---
Volunteer Opportunities
Tov Sandy Relief Mission

Join TOV as it partners with NECHAMA -- Jewish Response to Diaster -- to help rebuild communities reeling from the aftermath of Hurrican Sandy.

Winter Mitzvah Mania

Winter Mitzvah Mania, a calendar of one-time volunteer projects, is running through January 6th, 2013. Whether you're looking to organize and pack up leftover Chanukah toys at the Chicago Chesed Fund or serve a New Year's Eve meal to the homeless at Inspiration Cafe, there is a project for everyone!

Deliver Meals on Christmas with Hands on Heroes

Hands on Heroes is a new program that offers families with young children the opportunity to do mitzvot (good deeds) together. Each month, Hands on Heroes provides families with age-appropriate volunteer opportunities.

Click here for details on these events and more!
---
Websites to Inspire
A couple of web sites to see this month as we think of social action activities to start during the holiday season:

Repair the World: When you go to this new organization's website, www.WeRepair.com, there is an explanation that the Hebrew term for world repair is tikkun olam, but the websites that you access are secular and can apply to everyone. There are links to plenty of different organizations that provide ideas and venues for various activities that you can do to make our world a better place. Check them out! You will surely find something. Then, let us know what you do. We will advertise your act of kindness in our January newsletter!
An e-Card with a real result: We know that email-based greeting cards aren't quite for everyone, but if you choose to send this one, "A Message of Joy," Kraft Foods will donate 10 meals to the poor for each message sent. Take a look and see what you think!
FreeRice: This is a great website run for the United Nations World Food Program. For every trivia question you answer correctly, a developing country gets 10 free grains of rice. With triva categories from vocabulary to mathematics to geography, grandchildren can play it for hours-- and the best part is that if one misses an answer, the question repeats. It is a great source of knowledge. And the very best part is that they really send rice to those who are in need! Check it out at www.FreeRice.com.
---
Words to Inspire
The Talmud teaches that these are the obligations without measure, whose reward is also without measure:
To honor one's parents.
To perform acts of love and kindness.
To engage in lifelong learning.
To welcome the stranger.
To visit the sick.
To celebrate with the bride and groom.
To console the bereaved.
To pray with sincerity.
To make peace when there is strife.
And religious learning is equal to them all...
Because it leads to them all.
---
About Us:
Educating and engaging seniors to do social action;
Empowering grandchildren to make the world a better place;
And creating a legacy from one generation to another.
840 Vernon Avenue
Glencoe, Illinois 60022
(847) 948-5556
Forward this email to a friend
---

I am lucky enough to be on a cruise to French Polynesia, and lucky enough to have met Gary and his wife, Cheryl here. Gary is a person who lives life to the fullest with no boundaries, every single day. Although he is 62 years old, he runs marathons, is a motivational speaker and and considers many people to be his heroes. He lives with cerebral palsy, but he won't let it conquer him. His indominable spirit carries him on.
I was on a tour with him to a waterfall in Tahiti. He wanted to climb up the rocky, wet, slippery path, but wasn't sure if it was possible. He started up and many people came along to hold his hand, give him support, both physically and emotionally. He said, "They gave me a hand up." He told all the people who helped that they were his heroes. Everyone got a whole new set of heroes that day. When Gary reached the top, he screamed, "Just think of what we would have missed if we hadn't done this." He threw his hands up in the air, like "Rocky," and was happy beyond belief.
There are so many lessons to be learned from this short story. I will leave it to you to ponder what they are and how to teach those lessons to your children and grandchildren who face their own challenges, and who all want to be heroes.
One other story that I simply heard from a passenger who became a friend on the cruise. This is written by Sy. He is 86 but looks younger.
I experienced somewhat of an epiphany today. It came to me from a mundane source: It is something that I think I knew all along, but had never articulated.
"Imam, the maitre d' admired one of my (too) many Hawaiian shirts. I asked him if he would like to have it and he quickly, enthusiastically acknowledged in the affirmative. (It happened to be one of my favorites).
"This morning I delivered it to him with this declaration: If something means little or nothing to you and you give it away, it's no big deal. On the other hand, if it is something you cherish, it has great meaning as a gift. This is the way I feel about the shirt and the affection that I have developed for this remarkable person. His expression, both physically and vocally, gave me a warm feeling. (the kind that one gets for doing even the simplest mitzvah.)"
---
Joe The Butler

By: Danny Siegel
Years ago in another one of my books, I retold a story I had read in the newspaper. It was about a certain Joe Lejman who used to dress up as a butler and serve in a local shelter for victims of domestic violence. I thought it was a brilliant idea. The article I had read was a short blurb, so there was only one incident‐moment that the reporter chose to relate. I had hoped for more, but, in retrospect, and with years to reflect, I understand the reporter's wisdom. The incident was The Incident, the one that would teach us almost everything we needed to know about Joe Lejman and his marvelous Mitzvah. 

As it happened, one day, Joe had finished serving a meal for the residents, then poured the coffee. He poured for one woman, and then lit her cigarette. She began to cry. She cried because she told Joe that this was the first time she could remember that anyone had done something nice for her. 

Now, years after reading that story, my mind is wandering and I am beginning to wonder — Is it possible that this woman regained every shred of her lost self-respect because of Joe Lejman's single act of unadulterated caring and radiant goodness? It's possible.
 Did she then tell the social workers she had emerged from her despair, regained her energy, and wanted to go job hunting the next day? She might have. 

Did she then get a job, give the appropriate portion of her first and every subsequent paycheck to Tzedakah, do homework with her kids at night, and help get them through high school and into college? Perhaps. 

Did the children then go to college, graduate, get jobs, give the appropriate percentage of their first and every subsequent paycheck to Tzedakah, and raise their families to do the same? Maybe they did.

 Were the other women in that shelter so inspired by what she did that they did the same, start life all over again because of Joe Lejman? Maybe they did, too.

 How many more heartbeats were added to the world's total? Billions upon billions.

 How far out into the entire population of Planet Earth did the concentric circles reach because Joe Lejman, one man, got this crazy idea to be a butler in a shelter for women, who, by all reasonable possibility, should have sunk into lifelong oblivion?
 Grand total, how much did Joe spend on a butler's outfit? You save one life, you save the world.
---
Quick Ideas
My Rabbi has an expression "to make the ordinary into the holy". We do that by looking at any day and thinking about what opportunities there are, how we can make others feel good, what new things we can learn, and how we can change the world just a bit for the better. To that end, I have solicited several people this month and asked them what they do on vacation to help improve the world.

Before you go on vacation, and before the holiday, call the St. Vincent de Paul Center at (312) 943-6776 or call the Jewish Children's Bureau at (847) 412-4350 and ask for a family wish list for the holidays. Before you pack all your clothes, go shopping and go through your closets to find things for your assigned family to make their holidays brighter.

An easy one… or not—A grandparent needs to be a model. Children learn what they see, not what they hear.

When talking with your family, try to elevate your conversations. Don't dwell on the bad, but about the ways we can turn the bad into good.

When packing, think about what you might leave for someone in the hotel, on a journey, on the street.

Is there a person in the same hotel, on the same ship, in the same museum, who has a mobility challenge of some sort? Can you help them in some way?

Is there a person in your hotel who is eating alone? Might you ask them to join you, or if you feel that is not appropriate, then can you be sure to say good morning or hope all is well?

Think about contacting an international organization so that if you are overseas, you might devote one day to helping a poor community.

Send postcards from foreign places with foreign stamps to someone in your hometown who is sick. You can even ask others to do the same if they are going to different places.

When shopping in a foreign country, try to buy things that are handmade by the locals- or from a shop where the people have started their business with microloans.

If you travel with books, leave them for people when you finish with them.

If you are on a beach, consider bringing a plastic bag and collecting litter.

If you are coming back on a plane from a foreign country, be sure to save some money. The flight attendants always collect money for UNICEF, the United Nations International Children's Fund.

Want a bigger idea? Suppose you meet someone who needs a loan to help them make a community project. How can your family help? I did some research and found these step-by-step instructions from an article called Raising Money for an Organization You Meet While Traveling by Peter Dietz.
So this vacation season, don't let your social action take a vacation… put it to work on yours!