In this issue:
---
Book Recommendation and Reading Guide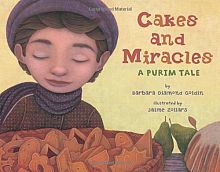 A great book about Purim is
the story,
Cakes and
Miracles
. It's about Hershel, a
blind boy who was fun loving
and tried to do the right thing.
He desperately wanted to
help his widowed mother
make Purim Cakes to sell in the market to raise money to feed and clothe the two of them. His mother did not think Hershel could make the cakes, but he had faith in himself and succeeded in making delicious Purim Cakes. Then he and his mother sold the cakes, and everyone loved them. Hershel could not "see" the excitement but felt it, and he could picture himself as one day being a baker, a shoemaker or something more. The possibilities were boundless.

Read the book with your grandchild.

Enjoy reading this book with your grandchild and discussing the questions below:
How are you like Hershel? How are you different?

In what ways did Hershel try to be kind to his mother?

Why did his mother suggest that Hershel couldn't help to make the cakes for Purim?

What else might she have said to him to have faith in his abilities, to build his self esteem and to allow him to help?

In what ways can we see with our eyes closed?

What did you learn from the story?

Why is this a good story for Purim? What happens here that reminds us of the holiday.
---
Volunteer Opportunites
Spring Mitzvah Mania 2011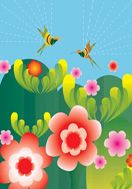 The JUF TOV Volunteer Network's Spring Mitzvah Mania 2011, a calendar of one-time volunteer opportunities, runs Sunday, March 13 through Sunday, May 16.

Chicago Chesed Fund Volunteer Opportunities

Men and boys (teen and older) are needed to move and arrange furniture for display at the warehouse

Calling All Tutuors!

TOV, in collaboration with the Associated Talmud Torah (ATT) Schools of Chicago, is looking for tutors every Sunday for one hour.

TOV MTV- Monthly Teen Volunteering

Teens can spend a couple of hours a month making a difference visiting with the elderly, organizing a food pantry, packing boxes for the Passover holiday and more.

Volunteer With JVS Chicago

JVS Chicago is looking for volunteer tutors for the English as a Second Language Program.


---
About Us:
Educating and engaging seniors to do social action;
Empowering grandchildren to make the world a better place;
And creating a legacy from one generation to another.
840 Vernon Avenue
Glencoe, Illinois 60022
(847) 948-5556
Forward this email to a friend
---

Dear Friends,


When I established the name "Grandparents for Social Action" for the organization, people asked, "What if someone is not a grandparent?"

I responded that certainly anyone who is of grandparent age is welcome because part of the program is about community building and perhaps they would have "grandfriends."
Then people asked, "Exactly what is social action?"

For me, the subject is divided into three parts.

Chesed: Kindness to others.
Tzedek: or justice--These are the actions which create a better day in the life of a person in need, and in all of our lives.
Tikkun Olam: To repair the World-These are the actions which will transform the lives of groups of people.

I thought that today I would suggest a few ways to do social action, based the book Cakes and Miracles which discusses a boy with disabilities. We know that each category is important.

Chesed or Kindness
Talk directly to a person with disabilities. Sometimes people talk "around" them.
Never underestimate the abilities of any other person.
Give encouragement to those who might not know how to do something, for whatever the reason.
When you meet a child with a disability, find out what does that child like to do? What can you do to make him feel good about himself?
Tzedek
Don't be afraid of the unknown. Learn something from a person with disabilities in your school or community.
Volunteer for a day at Special Olympics or other activity for the disabled.
Contact the local Center for the Blind. How can you help?
What does your school do to include those with disabilities? How can you help?
Record stories for the blind (or dyslexic). or help with their assignments.
Tikkun Olam
Write letters to the government suggesting that all public buildings are equipped with handicapped accessibility.
Donate money for research for blindness.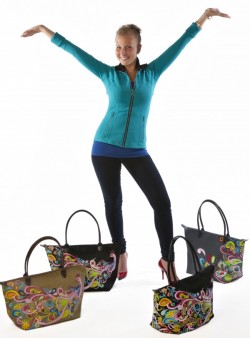 Yali is the granddaughter of Lisa and Aaron Derman, two Holocaust survivors who both recently passed away. After they came to America, they devoted their lives to helping others and to teaching their grandchildren to do something to make the world better.

Yali certainly took to heart the lessons from her grandparents (and parents!) and wanted to make the world a better place. Yali is a thriving 20 year old handbag designer and cancer survivor. She has a limited editon tote bag that symbolizes the challenges and triumphs of her cancer experience. All profits from made from selling this bag willl go to Children's Memorial Hospital. Reserve one online at yaliscarryon.com.

All honors to you, Yali.
---
Stories to Inspire
Meet Some Amazing Teens
And the Winner Is...
Bnai Mitzvah Video Essay Contest Winners!

Areyvut (a social service agency) is proud to announce the winners of their 3rd Annual Bnai Mitzvah Video Essay Contest. From Agoura, CA to Atlanta, GA they had entries from all across the United States. The teens they learned about are committing themselves to important projects from funding research for rare genetic diseases to donating comfort items to soldiers overseas. We are truly inspired by the good works these teens are involved with and hope you are too.
Mazal Tov and congratulations to all the winners!

Read their personal stories
---
When you're sick the world can seem can like a very lonely place. Even if it's just for a few days, it seems as though life is happening with out you.

Imagine it's more than just the flu, and people who visit stopped or your illness prevents visitors. How lonely! Fortunately there are lots ways you can still have a "caring" visit.

In Jewish tradition, visitng the sick is a command action (a mitzvah), modeled on God visiting Abraham when he was recovering from his circumcision. Bikkur cholim (visiting the sick) is expected of everyone, not just relatives or professionals.