In this issue:




Connect with us!
We're on Twitter and Facebook!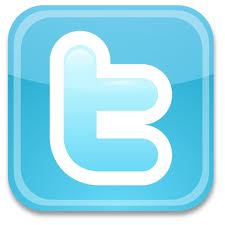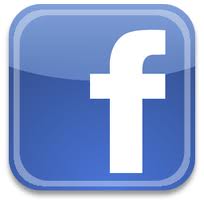 ---
Book Recommendation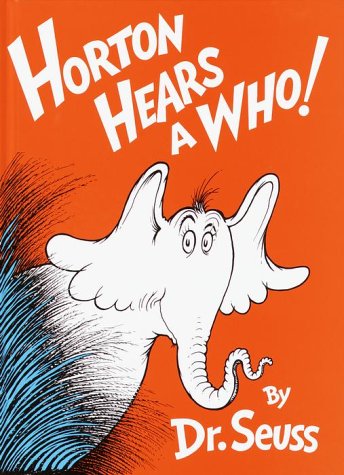 "Horton Hears a Who"
By Dr. Seuss


Horton the elephant is splashing in water one day when he hears what he thinks is a speck of dust speaking to him. He suddenly realizes it's a very small planet with inhabitants so small they cannot be seen, and apparently Horton is the only one who can hear them due to his large elephant ears. He is asked to protect the planet and agrees to do so.

When the other animals find out about this planet they do not believe Horton, because they cannot see or hear anything, and they lock Horton up. It isn't until one character gets the entire planet to yell loudly so everyone can hear them that the others believe Horton.

The book speaks about diversity and kindness to all people at all times with the moral "A person's a person no matter how small."

---
Volunteer Opportunities
Fall Mitzvah Mania offers one-time volunteer opportunities from September 9 - October 14. Projects vary in scope and include family-friendly and inter-generational options. Whether you come as a group or on your own, there is something for everyone! Find out more by visiting their website.

Opportunities are available for social action throughout the year through the Tov Network of the JUF. An online e-booklet is produced each season featuring a collection of volunteer suggestions as well as places to go to volunteer. More information can be found on their website at http://www.juf.org/Interactive/mitzvah_mania/index.htm or by calling (312) 357-4762.

Check out this amazing web site from St Louis: www.jewishinstlouis.org/calendar.

Since launching in 2005, JewishinStLouis.org has become one of the most successful Jewish community websites in the United States. The site includes participation from more than 150 Jewish agencies, congregations, organizations and groups in the St. Louis area.

A service of Jewish Federation of St. Louis, JewishinStLouis is a valuable tool – providing easy access to the entire Jewish community. It is continually updated with local happenings, stories, Jewish learning and Jewish life. It is an excellent reflection of a Jewish community that is truly thriving. Together, the entire community continues to be invested partners.
---
Quote of the Month

"You cannot hope to build a better world without improving the individuals. To that end, each of us must work for our own improvement and, at the same time, share a general responsibility for all humanity." --- Marie Curie.

-------------------------------------------------------------------


About Us:

Educating and engaging seniors to do social action;

Empowering grandchildren to make the world a better place;

And creating a legacy from one generation to another.
840 Vernon Avenue
Glencoe, Illinois 60022
(847) 948-5556
Forward this email to a friend
---

How 9/11/01 brought strangers together

During the middle of September in our Jewish congregations we will read the Hebrew scripture in which Moses is making his last speech to the people before he dies, beginning with Deuteronomy 29:9. First Moses tells the people that they are all standing together, "the tribal heads, the elders, officials, the strangers, from the woodchopper to the water drawer to make a covenant, " an agreement with God. Moses tells the people they must repent and offer good deeds and actions. The text continues with "Instruction is not too hard for you, nor is it beyond your reach.... The thing is very close to you,... So walk in God's ways and keep His commandments, His laws and His rules... So Choose life, by loving God, and heeding his commands."
As I was reflecting on this passage, a friend sent me a story from mid September 2011. It fits what our lesson from the Torah is trying to teach us -- what we can do if we stand together, even in the face of horrible tragedy. The story tells us what can be accomplished if we band together.
The story is about Delta Flight 15, on its way back to the United States. A crew member aboard that flight recounts what the crew did when they found out they had to divert to the nearest airport and what happened to the passengers after the plane landed.
"On the morning of Tuesday, September 11, we were about 5 hours out of Frankfurt, Germany, flying over the North Atlantic Ocean. All of a sudden the curtains parted and I was told to go to the cockpit, immediately, to see the captain. As soon as I got there I noticed that the crew had that "All Business" look on their faces. The captain handed me a printed message. It was from Delta's main office in Atlanta and simply read, "All Airways over the Continental United States are closed to commercial air traffic. Land ASAP at the nearest airport. Advise your destination."
Please click
here
to read the entire, incredible story
- Sharon "Bubbe" Morton
---
Change Starts Within Yourself
Be The Change
In the 1960s, President Eisenhower received the gift of a rare white tiger named Mohini. For years, Mohini lived in the Washington Zoo and spent her days pacing back and forth in a 12-by-12 foot cage. Finally the zoo decided to build her a larger cage so Mohini could run, climb and explore. But when Mohini arrived at her new home, she didn't rush out eagerly adapting to her new habitat. Rather, she marked off a 12-by-12 foot square for herself, and paced there until her death, never enjoying the new opportunities in front of her.

Mohini exemplifies the classic conditioning most of us live within. Although she was a magnificent, powerful creature, Mohini was convinced her "place" was just a 12-by-12 foot square. We all have the propensity to behave exactly like Mohini. Based on our conditioning, we create invisible cages for ourselves, limiting our lives within their boundaries.

But we don't have to succumb to our internal imprisonment. At this time of year we must ask, "What enslaves us? What weighs us down? What baggage do we hold onto?" And then we must let it go. We have an opportunity to break free from our self-imposed cages, to find our route to freedom and live life with renewed passion beyond our boundaries of the past. A study has told us only 17% of seniors volunteer unless they are asked. However, when asked, 84% volunteer. Ask yourself. Ask others. Change the world today, and you be the change!!!!!

Adapted from A-Jewel-A-Day: Elul 1 - Rabba Sara Hurwitz

---
Saving the environment for future generations

We all like to eat out, but there are various ways to eat out; you can go on a picnic, eat food at a sporting event or eat at a restaurant. What most people don't think about is how the environment is involved when people eat out. Of course, there's food, but what about the utensils that need to be used and the containers in which the food is placed – either for consumption or for transport? Oil, in some form, is needed to produce the containers and also in the transport of food-filled container either to grocery stores or your own homes.

During warm weather, people like to have picnics in the park, at the beach or in their own back yards. The utensils that are used for picnics, the forks, knives and spoons, are not recyclable. They end up in landfills.

One person has taken a hard look at what happens to the environment when refuse ends up in landfills and has started a company that saves plastic bottles and other recyclable items from landfills and turns them into carrying containers, among other things for picnics or backyard barbeques. Her name is Stephanie Bernstein, and her company is called To-Go-Ware.

Read about Stephanie and her company by clicking here.

--------------------------------------------------------------------------------------------


1. Look for inexpensive school supplies, buy them and take them to a city school or take them to your congregation and suggest a school supply drive.

2. Start a mitten and scarf collection in your school, congregation or community center. These items will be needed soon.

3. Clean out your closets. If you run across something you are not sure you should keep, remember there are adults and children who have very little clothing and would benefit greatly from your donation.

4. Start collecting pop tabs from canned drinks. If you collect 100, send them to Sharon Morton at 56 Ellendale Rd. Deerfield, Illinois, 60015. We will give you credit in the newsletter.

5. When you and your family go to the store, ask an older neighbor if he or she needs anything while you're there..It will be most appreciated.

6. Look up Milwaukee Children's Hospital on the web. Find out what supplies they need and send them in honor of Superman Sam, son of Rabbis Michael and Phyllis Sommer.



---
Donations
We would like to thank the following people for their donations to
GSA
From Sharon Morton-- in memory of Zena Singer, a fabulous grandmother.
From Sharon Morton in honor of Rabbi and Mrs. Harold Kudan.
We appreciate all donations made to GSA. All monies raised through GSA donations are used to further the work of the organization. This month, a portion of the money raised will be used to extend minigrants to intergenerational social action projects in St. Louis. Look for reports from the grant recipients in early 2013.

If you would like to make a donation please send your name, address and information for whom the donation is made. Include that person's name and address and the reason for the donation. Make out a check to Grandparents for Social Action and mail it to Sharon Morton, 56 Ellendale Rd. Deerfield, Illinois, 60015. We will send a donation card to the recipient and an acknowledgment for tax purposes to you.