El Centro de la Raza is proud to announce the award recipients of the Inaugural Roberto Felipe Maestas Legacy Award. The recipients are Dorry Elias-Garcia, Executive Director of the Minority Executive Directors Coalition of King County (MEDC); and Michael Ramos, Executive Director of the Church Council of Greater Seattle. Both recipients have served for many years on an impressive variety of issues and causes that are outstanding examples of Roberto's legacy.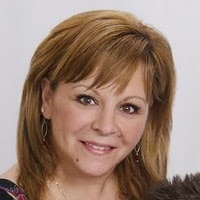 Dorry has worked for the last 30 years to bring diverse communities together to solve issues of poverty, racism, and social inequity. Through Dorry's leadership as executive director for the past 16 years, the MEDC is recognized for its tremendous success in advocating for people of color.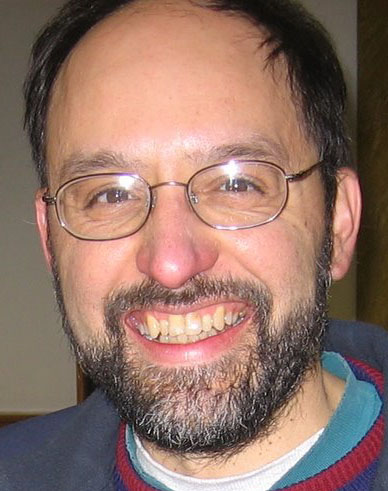 Michael has worked on a variety of social justice issues, including taking a lead role in the Sanctuary Movement, working for immigrant rights, organizing for nuclear disarmament, and advocating tirelessly for funding for vital social service programs.

Award recipients will be recognized at El Centro de la Raza's annual Legacy Awards and Auction Banquet on September 24, 2011 at the Washington State Convention Center. Click here to purchase tickets to the event. The Roberto Felipe Maestas Legacy Awards have been made possible by the Marguerite Casey Foundation. A $5,000 gift will be made to the charitable cause of the Legacy Award Recipient's choice.

Siempre bienvenidos, nuestra casa su casa.
Estela Ortega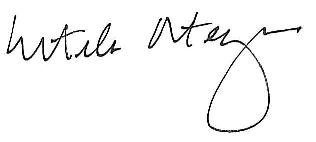 Executive Director

PS - And of course, visit our website to stay up-to-date on the happenings at El Centro and in nuestra comunidad—our community.


Roberto Maestas Festival Street Unveiling During Beacon Rocks! on August 28th from 3:00 - 4:00 PM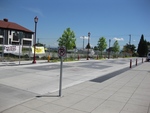 On April 25th, Seattle City Council passed the naming of S Lander Street between 16th and 17th to Roberto Maestas Festival Street. Please join us on August 28th from 3:00 - 4:00 PM during Beacon Rocks! to celebrate the unveiling of the newly named street. Click here for more event details and click here to read the press release.
2011 Legacy Awards & Auction Banquet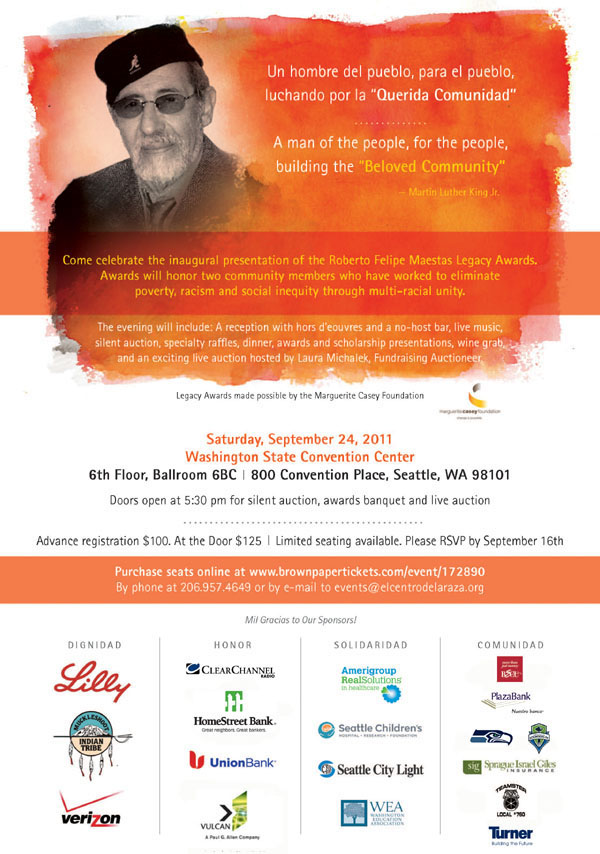 El Centro Helps Local Youth Turn Life Around

Marcos Rosales just finished his eighth grade year at Denny International Middle School in Seattle.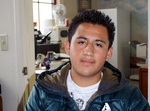 It was not an easy journey. When Marcos was in 6th grade, he was getting into fist fights on a regular basis, had straight D's, and a poor attendance record. "I used to go to two classes and leave. I also yelled at the teachers and walked out in the middle of class," he says.

Marcos' life turned around when he became involved with El Centro's Seattle Youth Violence Prevention and Hope for Youth Poetry Classes, as well as Proyecto Saber, a collaborative program between Denny and El Centro. He received help with anger management, learned the importance of education and school attendance, and received encouragement to pursue his goals. As a result, Marcos did not skip school once during all of 7th grade and became a straight-A student!

Marcos will start high school next month and hopes to study electrical engineering at the University of Washington after he graduates. "El Centro will always help you get out of a struggle and get through life," comments Marcos, "It has opened a lot of doors for me."

King County Bus Routes Preserved!
The votes are in! On Monday, the King County Council approved a temporary $20 vehicle license charge that will prevent the elimination of bus routes. Public input from King County

residents had a lot to do with the decision.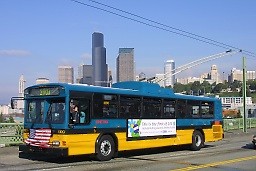 District Four Councilmember Larry Phillips wrote, "Please know that public input—both the overwhelming number of people who testified in support of the CRC, as well as a number of people who suggested alternatives—played a large role in the adopted legislation." Mil gracias King County Councilmembers and those that helped in the campaign to save our bus routes!
Families and Education Levy Campaign Going Strong
Th
e Families and Education Levy Campaign had their big "National Night Out City-wide Bus Tour" on August 2nd and it was a smash! Estela Ortega, Mayor McGinn, Deputy Mayor Smith, Councilmembers Burgess and Godden, and about 40 other supporters boarded a school bus turned party machine and visited block parties across the city during "National Night Out."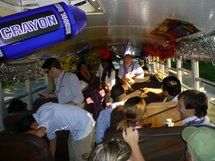 Click here to read more about the event and click here to view the video.

The campaign is also filming a TV commercial and is looking for kids to participate! Click here to learn more, and click here for more information about the campaign and to learn how to get involved!
Save the Date for El Centro Events!

Latino Juvenile Justice Steering Committee
at El Centro de la Raza
Wednesday, August 24th from 5:00-7:00pm
The Latino Juvenile Justice Steering

Committee is a group that meets monthly to craft recommendations designed to reduce the number of Latino youth incarcerated. The Steering Committee is comprised of individuals who work within the juvenile justice system, students, teachers, and community members. Their recommendations go to the school district, juvenile courts, detention centers, and other partners. It operates in partnership with Washington Models for Change under the MacArthur Foundation. The next Steering Committee meeting is August 24th from 5:00 - 7:00 at El Centro. Food will be provided. Please RSVP to jjwkstudy@elcentrodelaraza.org. For more information on the Steering Committee, contact Enrique Gonzalez: (206) 957-4640.
---
Come Plant and Learn About Rain Gardens!
at El Centro de la Raza
Sunday, August 28th from 10:00am-12:00pm
Come help make our community more sustainable by volunteering to help plant a rain garden at El Centro! There will be free refreshments provided. To sign-up for this exciting event, please contact our Interim Volunteer Coordinator Robin Swanhuyser: (206) 957-4602.
---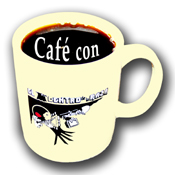 You're invited!

Café con El Centro
at El Centro de la Raza
Thursday, September 1st from 8:00-9:00am
How can you become an integral part of the community at El Centro de la Raza? You can start by RSVPing to an upcoming Café con El Centro!

The Café is a great way to introduce yourself to our executive director Estela Ortega, a member of our board, and staff from our programs. Learn the history of our roots, tour our building and programs, find out about ways to get involved, network with like-minded folks and share coffee and pan dulce with us.

Café con El Centro takes place the 1st Thursday of every month. Call 206-957-4652 or email to RSVP for the upcoming September 1st Café.
Coffee generously donated by Starbucks!
---
First Time Home Buyer Workshops
at El Centro de la Raza
Saturday, August 20th from 10:00am-3:00pm
Saturday, September 10th from 10:00am-3:00pm
The Homeownership Center will be holding first time home buyer workshops. The workshops are sponsored by the Washington State Housing Finance Commission. The dates are August 20th and September 10th. Both events will be held at El Centro from 10:00 AM - 3:00 PM. To RSVP, or to get more information, please contact the Homeownership Center at (206) 957-4610.
---
Alternatives to Foreclosure Workshop
at El Centro de la Raza
Saturday, September 3rd from 10:00am-1:00pm
Interested in learning more about alternatives to home foreclosure? El Centro is holding a workshop for interested individuals on September 3rd. The workshop will take place at El Centro from 10:00 AM - 1:00 PM. To RSVP, or to get more information, please call the Homeownership Center at (206) 957-4610.
---
"Know Your Rights" Training
at El Centro de la Raza
Wednesday, September 7th at 5:30pm
On the heels of a very successful "Know Your Rights" workshop on August 2nd in Tukwila that included the Tukwila Mayor, Police Chief, and Fire Chief, we are holding an encore presentation at El Centro. We are excited to welcome a guest speaker who will talk about student rights and how to advocate for your student in the disciplinary processes in schools; as well as teaching us about our rights with the police in our cars, homes, and on the street. Food will be provided. Please RSVP to jjwkstudy@elcentrodelaraza.org.
---
Spanish Classes
at El Centro de la Raza
Tuesdays and Thursdays, September 27th - December 1st, 6:00-7:30pm
Learn and improve your Spanish while you support El Centro de la Raza! Class fees help support our 32 Human Service and Community Building Programs. Adult beginner to intermediate level classes are available. Space is limited. Click here to sign up.
Anuncios y Felicitaciones - Announcements and Congratulations
Shots, (also known as vaccines or immunizations) help children fight many childhood diseases that could make them very sick. A lot of research has shown that shots are safe for your child to receive. Click here to view a chart that recommends when your child needs a shot.



To get more information about immunizations, please talk with your health care provider. For information on how to get quality and affordable health care for you and your family, please call the Community Health Plan customer service team at 1-800-440-1561 or go to www.chpw.org. If you are hearing or speech impaired, please call TTY 1-866-816-2479 (toll free).

Community Health Plan provides coverage for people in 39 Washington counties. Members receive services from more than 2,588 primary care providers and 13,571 specialists at more than 563 primary care sites and more than 100 hospitals.
---
El Centro Helps Establish Suspension Task Force
Through the advocacy efforts of El Centro de la Raza, a Suspension Task Force was established August 10th to look at the disproportionate discipline as well as overuse of exclusionary discipline policies such as suspension and expulsion among Latino youth. The Latino Juvenile Justice Steering Committee was instrumental in making sure Superintendent Susan Enfield heard our concerns about how our youth are being disciplined. The task force consists of middle school principles and other key personnel. We look forward to hearing the findings of the task force.
---
New Parent Involvement Program Continues to Enroll Youth
El Centro has a free program for Latino families with children six years and/or younger in Seattle and South King County who are not attending a child development center. The program offers individual support and interactive workshops that provide education on how parents can engage with their children with activities that will help the development of their child. For more information, contact Lucero Cueva-Estrella: (206) 957-4614.
---
First Parent Workshop a Success
The first workshop in a series of five, sponsored by the Foundation for Early Learning, was a success. Twenty-one families attended and learned how to improve their child's reading and writing skills. They also took home culturally-relevant educational toys. A representative from the Seattle Public Library will attend the next workshop on August 23rd to teach vocabulary words to parents. Mil gracias Foundation for Early Learning and Seattle Public Library!
---
Openings in Preschool Program for Four-year-olds
Interested in preschool for your four-year-old? If your child will turn four by August 31, please contact Maria James: (206) 957-4637 for more information about our part-day and full-day openings.
---
Join Our Team at El Centro Through AmeriCorps
El Centro is looking for an AmeriCorps member for September 2011 - July 2012. The position is with our Hope for Youth Program. Click here to apply.
News Roundup
IN THIS ISSUE:
DO YOU GOODSHOP?
Don't forget
- if
you use GoodSearch as
your search engine, or do
your online shopping through GoodShop, you can raise money for El Centro de la Raza without spending an extra penny (with coupons through Goodshop, you might actually save money!)
QUICK LINKS:
ONGOING EVENTS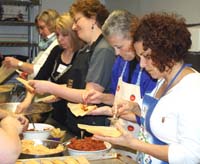 Tamale masters in the making during the March 12th class.
Tamale Making Classes
at El Centro de la Raza
Have you always wanted to learn how to make tamales? Now is your chance to learn from a master tamalera! The class fee is $75 per person and includes tamales. The fees go to support our Senior Wellness Program. Register here!

Classes are on the following Saturdays, from 10:00am to 12:30pm:

August 27th

For more information, please call (206) 957-4611 or email.
---
¡COMADRES!
Un grupo de apoyo y de conversación para la mujer Latina!
Reuniones continuarán en septiembre.

Para más información favor de contactor a Diana Mena: (206) 957-4641.
---
Parent Involvement Program
Programa de apoyo para la participación escolar.
Nuestros servicios incluyen (1) apoyo individualizado para los padres de familia con hijos en las escuelas públicas de Seattle y (2) ofrecemos talleres educativos para padres de familia.

Nuestro siguiente taller será miércoles, 7 de septiembre en El Centro de la Raza a las 5:30pm.

Para más información comuníquese con Maria Bocanegra: (206) 957-4642.
VOLUNTEER OPPORTUNITIES
Get more involved! Can you devote 2-3 hours or more a week, month, year, or just one time? We always have the need for volunteers. Check it out:
We are currently recruiting for day-of-auction volunteers for running our wine grab, silent auction, live auction, raffle ticket sales, and more! No experience necessary for most positions. Great skill-building and networking opportunity!
Email Robin Swanhuyser, our Interim Volunteer Coordinator, or call her at (206) 957-4602 for more details. Also, check out the volunteer section of our website for more information.
MIL GRACIAS TO OUR WONDERFUL
JULY & AUGUST FUNDERS!
El Centro de la Raza relies on donations from our individual supporters to keep our programs running.
But we are also fortunate enough to have corporate and foundation sponsors and grants for many of our programs and services.

►

Seattle Department of Neighborhoods

- Neighborhood Matching Fund award of $100,000 for seismic and plumbing upgrades to the building.

► Washington State Housing Finance Commission - Money for a full-time and part-time home default counselor.

► Verizon - $10,000 for College Readiness Program and College Fair.

►

Wells Fargo

Foundation - $6,000 for Senior Wellness Program.

► Tulalip Charitable Fund -

$2,000 for El Centro's Día de Los Muertos celebration.



Mil Gracias to all of our wonderful funders, sponsors and donors!
OUR BOARD OF DIRECTORS:
Ramon Soliz, President
Jeff Middelton, Vice President
David Gasca, Treasurer
Brenda Williams, Secretary
Roxana Amaral, Parliamentarian
Francisco Calderon
Ricardo Garcia
Christina Garcia-Valdez
Norma Guerrero
Victoria Kill
Pablo Mendoza
Madrienne Salgado
Urbano Santos
Billy Smith
EL CENTRO'S PROGRAMS:
With over 26,000 volunteer hours, El Centro de la Raza serves 23,565 individuals and 11,518 families annually through the following programs and services:
Basic Healthcare Enrollment
BEBES! Infant Mortality Program
Café con El Centro
College Readiness
Crisis Advocacy
ECR Transitional Housing
El Patio Apartments
ESL & Citizenship Classes
Eviction Prevention
Financial Literacy
Food Bank
Foreclosure Prevention
Homeless Assistance Program
Homeownership Program
Hope for Youth Poetry & Civil Rights History Classes
José Martí Child Development Center
Juvenile Justice Policy Advocacy
Luis Alfonso Velásquez Flores After School Program
Parent Involvement & Education
Senior Home Delivered Meals
Senior Nutrition & Wellness
Youth Violence Prevention
Veterans Services
Community Meeting Space
Community Service Site
Cultural/Political/Social Events
Immigrant/Human/Civil Rights SociaI
Justice Advocacy
Legal Clinic Site
Tax Preparation Site
Local, State, National & International Coalition Building
Service Learning Site